Parma is a city where food is almost a religion. It's hardly surprising. The home of prosciutto and Parmigiano is a veritable foodie Mecca. Sure, you could pass through Parma on a day trip. However, that would be missing the point. This is a city that demands time and a hungry stomach. Discover where to stay in Parma so you eat and drink your fill.
---
Pro-Tip: You'll want to bookmark this page so you can return later to book your perfect stay in Orvieto. Also, be sure to check out our free guides to where to stay in Bologna and Ravena.
---
Our Partnership with Booking.com If you like our content, please book by clicking on our Booking.com links. The price is the same for you. We get a small commission that helps support our blog. We've partnered with Booking.com because they have great options and prices with a solid loyalty program. Most hotels are on Booking, so our recommendations are genuine.
---
Why Stay in Parma?

---
Parma is the city of the twin 'P's. Proscuitto and Parmigano. As delicious as Bologna is, Parma is a real gastronome's delight. Here, food reigns supreme. The locals are almost religiously fervent about it. There are few places in the world where you'll find yourself debating the merits of where to eat prosciutto in the evening over your morning coffee. However, there is so much more to this region's second city.
Parma is endlessly elegant. A string of rulers with impeccable taste has lent the city an unexpected air of sophistication. The Farnese, the Bourbons, and, indeed, Napoleon's second wife, Maria Luisa, have all left their mark. The cathedral is impressive, but more importantly, the Baptistry and the frescos by Coreggio will take your breath away. Venture deeper, and you'll find more of the master's work. From the dome of San Giovanni Evangelista to the ceiling of Camera di San Paolo, his work is enchanting and romantic.
The city is also dotted with green parks (Parma's other big 'P') sprinkled with palaces and museums. You'll need to stretch your legs after a hearty lunch. Indeed, Parma is also a vibrant university town, so many locals choose to get around on bicycles. Rent one. It's a fun and calorie-burning way to get around town. And that's before we talk about Parma's wonderful opera scene. 'Verdi' is the city's favorite son, and there's an annual festival dedicated to him. Come Fall, this is the best experience in the city. However, you should book your tickets far in advance. It's a very popular event.
It's the perfect Northern Italian city. Small enough to explore on foot, but there's enough to keep you entertained for a couple of days. In short- why not? Parma is absolutely worth an overnight stay or even more—dealer's choice.
Central Parma
For culture lovers and history buffs. Explore one of Italy's most elegant cities with its rich art and divine food. Perfect for short stays and those who enjoy exploring on foot.
Parma Countryside
Perfect for gastronomes and lovers of slow food and travel. Explore Italy's most food-rich region at your own pace with the culture of Parma on your doorstep.
At a Glance| The best places to stay in Parma
---
Want to see the best of Parma but not sure you want to stay the night? Stay in Bologna instead.
---
Where to Stay in Central Parma
---
Room with a View in Parma
€€|Central|Historic|Views
---
Ask anyone in Parma where to stay on a first visit, and they'll recommend Palazzo Della Rosa Prati. This charming old-world guest house could not be more centrally located. It's next door to the Duomo and Baptistry in the very center of Parma. Indeed many of the rooms have views of the Baptistry and the main piazza. This is still a family-owned palace who are rightfully proud of their heritage.
Book the deluxe rooms or suites for a sense of aristocratic times gone by, with period furniture and rich fabrics. By contrast, the self-catered apartments are more spacious but plainer and more modern. It's something for everyone in the heart of Parma.
---
Not sure if Emilia-Romagna is for you? Check out our guide on Tuscany guide instead.
---
Penthouse with a Terrace in Parma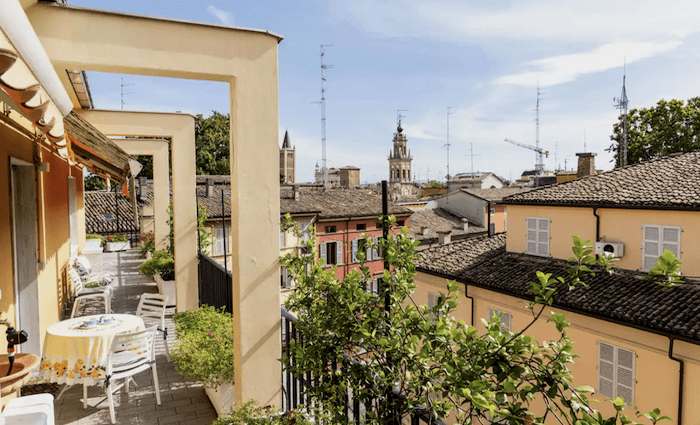 €€|Familes & Groups|Terrace|Views
A five-minute walk from the cathedral, you will find this private penthouse with a wrap-around terrace overlooking the city's rooftops. It's a spacious, modern, but homely space. With two bedrooms and bathrooms, it's ideal for families or groups looking for a convenient central spot to explore Parma. And, of course, sitting on the terrace, glass in hand, watching the sunset over Parma is glorious.
---
Looking for other city ideas? Check out our Bologna guide.
---
Minimalism in the Heart of Parma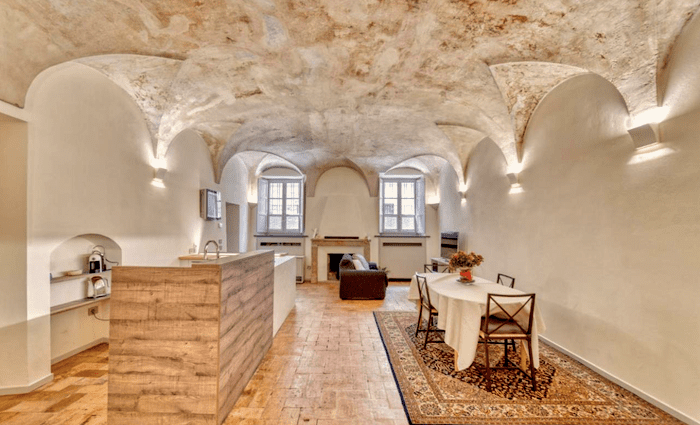 €€|Modern|Architectural|Central
On a quaint local street just five minutes on foot from the cathedral, you can stay in this simple but fresh apartment. It's an architectural gem. On the ground floor of an ancient palace, the lofty ceilings are almost cathedral-like. In addition, there's an original fireplace for chilly evenings. Enjoy Parma's history, with a touch of modern minimalism right in the center of Parma.
---
Want more self-catering options? Check out our Rome guide for the best apartments.
---
For the Stylish Traveler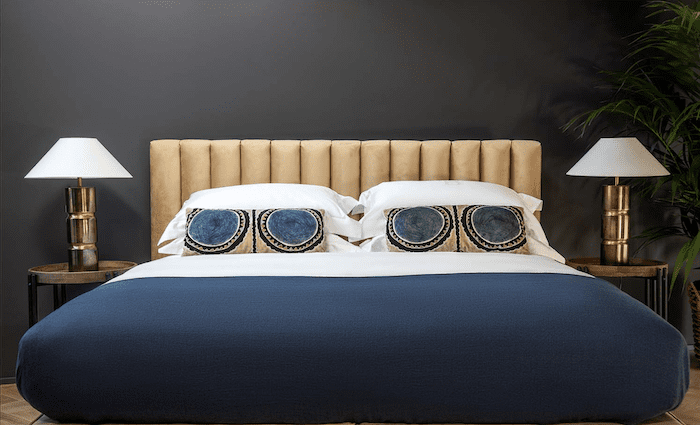 ---
€€€|Boutique|Couples|Stylish
This elegant 19th-century townhouse is just a five-minute walk from the cathedral. An intimate and sophisticated guesthouse, it has just ten rooms, with luxe fabrics and attention to detail. There's a welcoming courtyard where you can enjoy aperitivo in the summer or the lounge with an open fire for cozy winter evenings. It's an ideal bolthole for couples looking to explore Parma on foot.
Not what you're looking for? Check out our Venice ideas.
---
Where to Stay in Parma's Countryside
---
The Ancient Castle outside Parma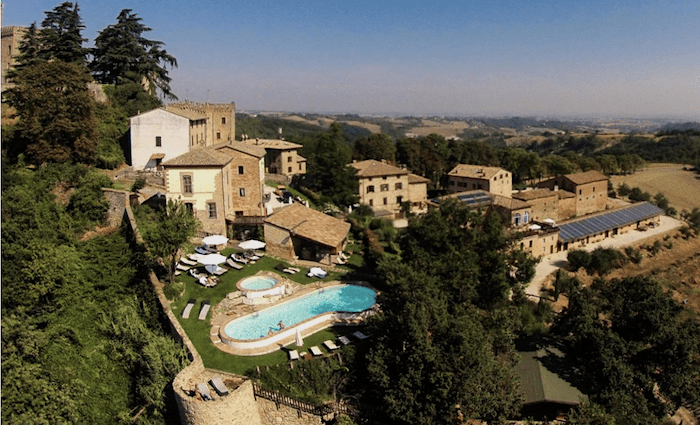 ---
€€€|Historic| Pool|Unique
Without a doubt, this is the most atmospheric and unique place to stay near Parma. Set in an ancient hamlet below a castle, this small resort has an authentic feel. It's been in the hands of the Corazza family for 150 years. The accommodation is spread around the estate, lending to the village feel. Inside, you'll find terracotta floors and wood-beamed ceilings; however, there's no shortage of modern luxuries, including a pool and a small spa.
For me, the highlight is the restaurant. Set in the village's former dairy, which produced Parmesan cheese and butter for centuries, it's utterly enchanting. And that's before the delicious local food. It's a perfect slice of Italy.
Not exactly what you're looking for? Check out our Bologna page.
---
A Gastronomic Pilgrimage in the Po Valley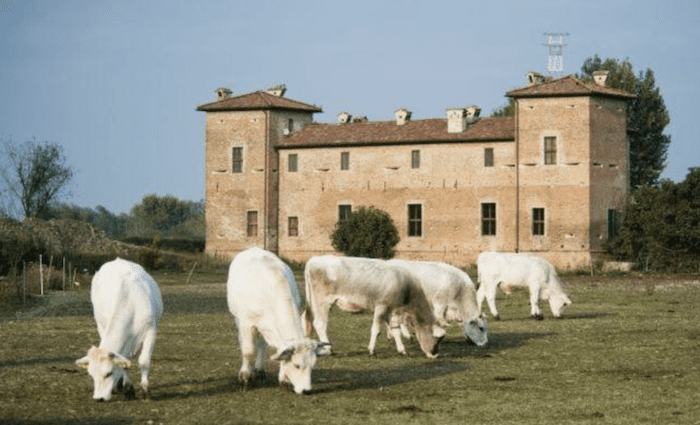 ---
€€€| Couples | Rural | Pool |Spa| Wine
Forty minutes from Parma, with views over the river Po in the gastronomic heartland of Italy, you'll find Antica Corte Pallavicina. By any estimation, this is a pilgrimage for the food lover.
Dating to 1320, this fortress-like farmstead has a long history. In fact, they have been curing the regional specialty 'culatello di Zibello' (a cured meat) here for nearly 700 years. The Spigaroli family, whose great-grandfather once farmed this land, have now lovingly brought the estate back to life.
Today the atmosphere is one of rustic authenticity. The rooms boast ancient frescos, open fires, and antique furniture. The estate also offers two dining experiences. An informal hosteria and a refined Michelin-starred restaurant. The produce is sourced from the land, and the cured meats and cheeses come from their own cellars. Fill your stomach and wander the grounds. Or perhaps visit their museum and try a cooking class. This gastronomic garden of Eden is a must for all lovers of food.
Not sure where to stay yet? Check out Ravena for more places to stay.
---
The Homely B&B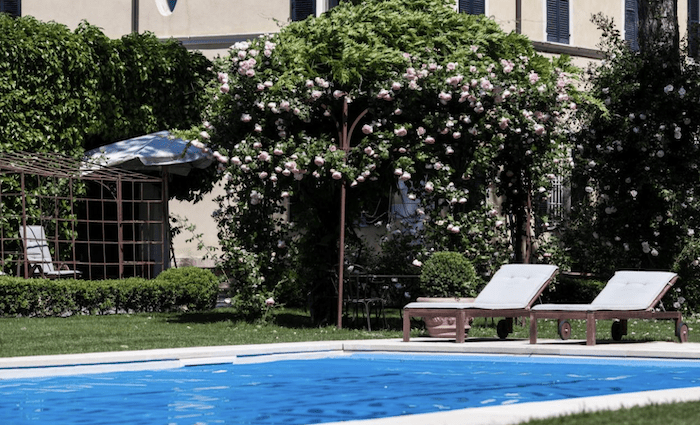 €€|Peaceful|Pool|B&B
For those looking for a charming and homely experience, look no further than Villino di Poporano. Elena and her family have transformed their old farmhouse and hayloft into an enchanting B&B. They live in the house just next door. The six guestrooms are decorated with great love and care. In the summer, there are peaceful mature gardens to relax in, along with a secluded pool. In the winter, head into the lounge with its stone pillars and open fire. Grab a book and cozy up. Your perfect home away from home, just 15 minutes from the city.
---
Not sure where to stay yet? Check out Bologna for more places to stay.
---
Where is Parma, and How Do I Get There?

---
By Air: Parma is easily accessible from many of Italy's major airports. Milan's airport (MXP) is the closest international hub. From here, you can either drive or take the train, which will take between 2 and 3 hours respectively. Alternatively, fly to Bologna. It's closer, about an hour by car and train; however, it's served mostly by local European carriers.
By Car: Exploring Parma by car will give you the most freedom to explore the surrounding area. However, I advise parking in one of the parking lots on the edge of town. Like many of Italy's historic cities, driving in the center is restricted. The 'Toschi' parking lot is accessible and central for most visitors.
By train: Parma is very accessible by train. Few of Italy's high speed trains stop here, however there are regular intercity lines that connect with Parma. The fastest is from Milan (50 minutes). You can also arrive from Bologna in 1hour 20 minutes. The train station is just a ten minute walk from the center, but it's also an ideal spot to rent one of the city's ubiquitous bicycles. Get around as the locals do!
---
Top Things to See in Parma
---
---
Recently on The Blog