Planning a trip to Stowe, Vermont is a must for skiers on the East Coast. It's one of the largest mountains in Vermont, and there are great hotels and restaurants to enjoy. The only question you need answered is where to stay near Stowe for your upcoming trip. Read on to find out my favorite recommendations.
---
Here's what you need to know about Stowe, VT: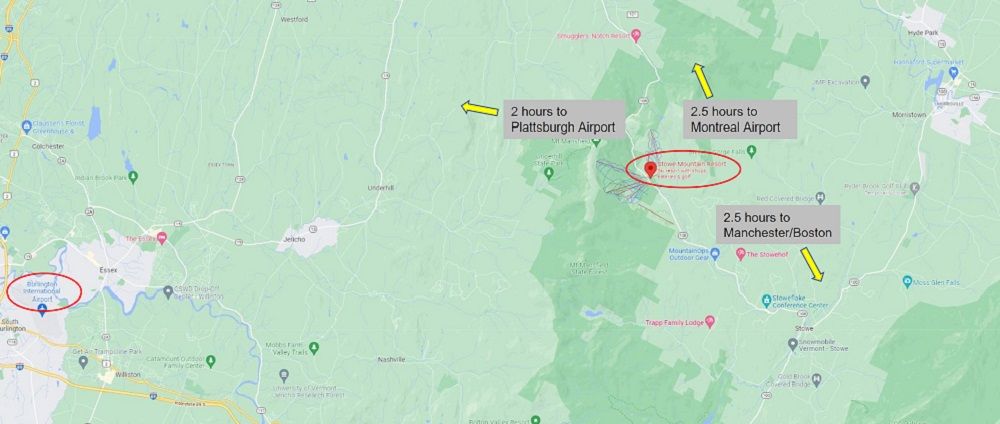 If you're flying into Vermont, your closest international airport is in Burlington—about 50 minutes away from the mountain. You can also fly into Burlington (BTV), Manchester/Boston Regional (MHT), or Plattsburgh (PBG). Or shoot up 89 if you are driving up from the south before peeling off onto Vermont Route 100. But if you prefer an even larger airport, it's worth looking at Montreal (YUL) and then driving about 2.5 hours or more over the border.
Stowe is the fifth largest mountain in New England and the fourth largest in Vermont. It has two peaks: Mount Mansfield and Spruce Peak that has a vertical drop of 2,360 feet. It is a great place to bring the family, or hang with a group of friends.
Stowe has a great village as well, with farm-to-table food and fantastic breweries to grab a drink. My personal favorite and world-renowned brewery is The Alchemist. Their IPA Heady Topper has received global awards. I would highly recommend making sure you visit the brewery during your visit in Stowe.
Below I will list a few places for you to stay mountain side or near the mountain. There are some great lodges and hotels for you to stay at with friends or family. Not to mention all the great pubs, attractions, and restaurants in the area.
Our Partnership with Booking.com and Expedia.com: If you like our content, please book by clicking on our links. The price is the same for you, and we get a small commission that helps support our helpful blog content. We've partnered with Booking.com and Expedia.com because they have the most options, great prices, and a solid loyalty program.
The Best Places to Stay Near Stowe, Vermont
Stowe is the largest town in Vermont with over 50,000 acres and a population of 4,000, according to Stowe's historic Green Mountain Inn website. The first ski trail was the Bruce Trail built in 1933, which is now backcountry skiing on Mt. Mansfield. Vermont—and Stowe specifically—has a rich ski culture, dating back to the single chairlift put into operation in 1940. Stowe is a great place to shred as well as embrace the history it brings to ski culture.
According to Boston.com, Goat, Lookout, and Starr are some of the hardest trails to ski on the East Coast. There is all sorts of terrain and no shortage of bumps, glades, and steeps. Their beginners area is one of the best on the East Coast and a decent park to pull out some 360s if that is your cup of tea.
Stowe is a classy mountain and is meant for good vibes and people who are looking to send it with all smiles. But now it's time to show you the best places to stay in Stowe, Vermont.
Why I Love Stowe:
Great restaurants with local farm fresh food
Amazing breweries that are world known
Apres ski vibes
One of the most visited mountains on the East Coast
Attractions Near Stowe:
Ben & Jerry's Factory
Cabot Cheese Factory
Trapp Family Lodge
Eden Ethical Dogsledding
Stowe Nordic
Stowe Bowl
Best Restaurants Near Stowe:
Trapp Family Lodge Lounge
Harrison's Restaurant & Bar
The Nest
Cliff House Restaurant
Sushi Yoshi
Ranch Camp
Best Hotels Near Stowe:
The Lodge at Spruce Peak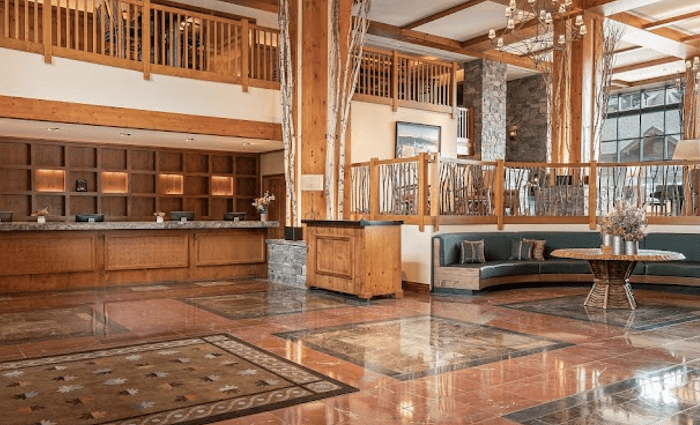 $$$ | 4 Star | Ski-in/Ski-out | Newly Refurbished
What doesn't this place have is the real question. A gondola on adjacent to the The Lodge will take you right to the mountain! They also have a swim tunnel that leads to the heated outdoor pool and hut tub (really cool if you ask me). Finally, they have two restaurants and a bar for you to après ski after a long hard day of shredding.
Trapp Family Lodge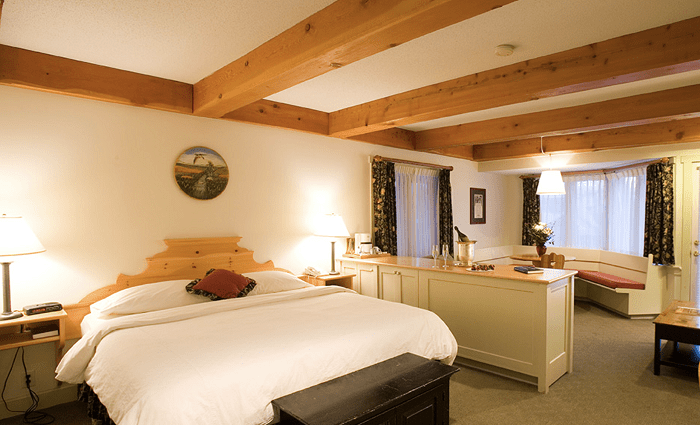 $$$+ | 4 Star | Brewery and Fine Dining | Hot Tub | Rooms, Suites, and Villas
This place gives off true Austrian Tyrol vibes. The rooms and suites are fairly spacious, and there's a nice patio to enjoy sunset views. Plus there are cross-country skiing trails nearby too. Make sure you visit the von Trapp Brewing company which has some of my favorite beers—Pilsner is my fav! For non-beer drinkers, they have a great wine cellar as well. Let's not forget the swimming pools and hot tubs too!
Stoweflake Mountain Resort & Spa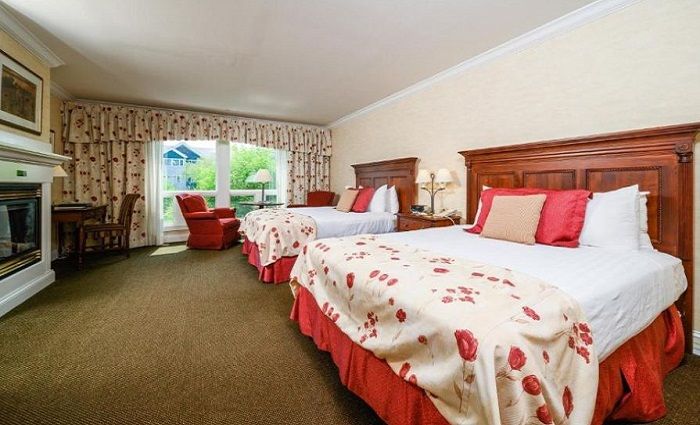 $$$ | 4 Star | Awesome Amenities | Spacious Rooms
Enjoy spacious rooms that are pet friendly here at Stoweflake where you're also close to boutique shops. They have a luxury award-winning spa to make your end-of-day rituals more relaxing. Winfield's Bistro is a 4-star restaurant right next to Charlie's Pub, both of which are in the hotel. If you go during the summer they offer private hot air balloon rides as well!
Innsbruck Inn at Stowe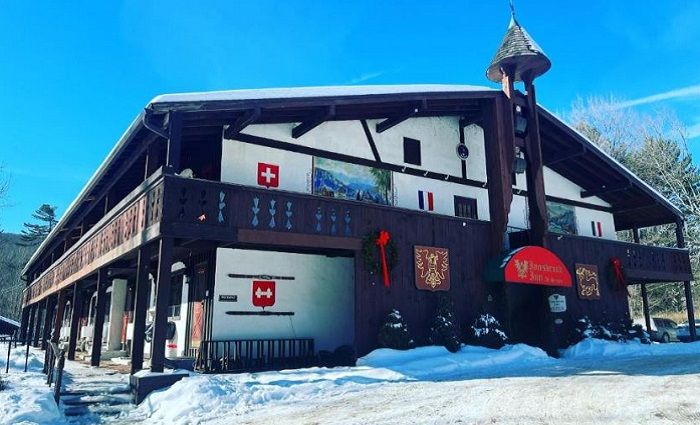 $$ | 3 Star | Gourmet Breakfast | Affordable
The Innsbruck Inn at Stowe offers a classic alpine experience! They have a lighted skating rink to enjoy all winter activities during a weekend stay. The rooms aren't fancy, but they're comfy and a great price. SkiMeister Cafè & Bar serves hot breakfast every morning, and lets not forget about the hot tub and swimming pool and sauna to relax the muscles after skiing.
The Stowehof Hotel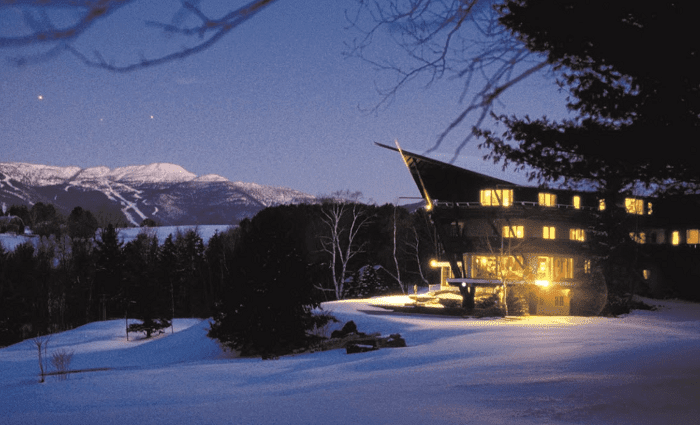 $$ | 3 Star | Amazing food | Cool Architecture | Epic Views
The Stowehof is a great spot when you want a hotel with cozy fire pits that have views of the mountain. The rooms are cozy and some come with Murphy beds if you have a larger group. You can also stay in after your ski day and spend an evening at the tasty Fritz Bar with some Vermont-Bavarian food—all locally sourced. And don't worry they have ski storage as well!
Timberholm Inn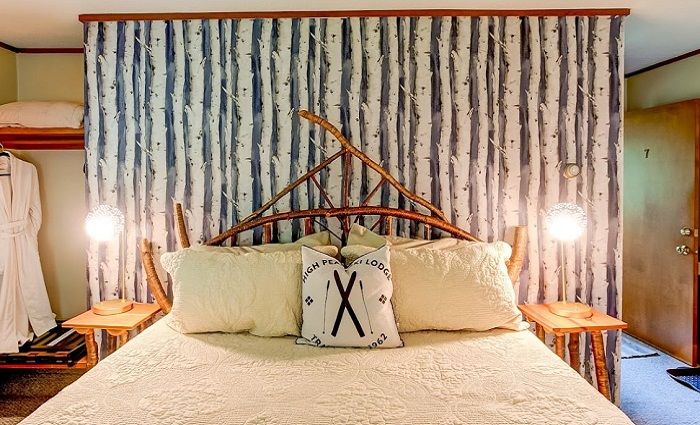 $$ | 3 Star | Ski Storage | B&B
Timberholm is a family-run bed and breakfast that's just 10 minutes away from the mountain. Very rustic New England vibes with a great common area and an outdoor hot tub. They offer a deluxe breakfast every morning so won't head to the mountain on an empty stomach.
Sun & Ski Inn and Suites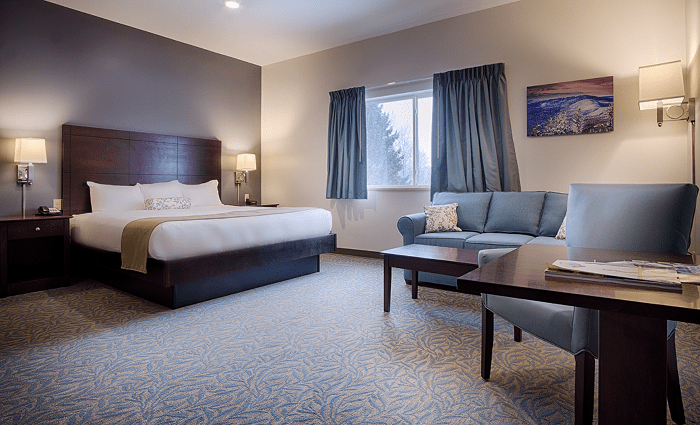 $$ | 3 Star | Spacious Rooms | Family Friendly | Unique Amenities
Sun & Ski Inn and Suites has some spacious rooms for families and cool amenities for everyone. Bowling or mini golf, anyone? (Technically mini golf is open in the summer, but still, it's a cool perk!) You'll also find a glass-enclosed swimming pool, so you can swim with a view and hang out in the hot tub. A great place to hang out with your family after a day of skiing.
Grey Fox Inn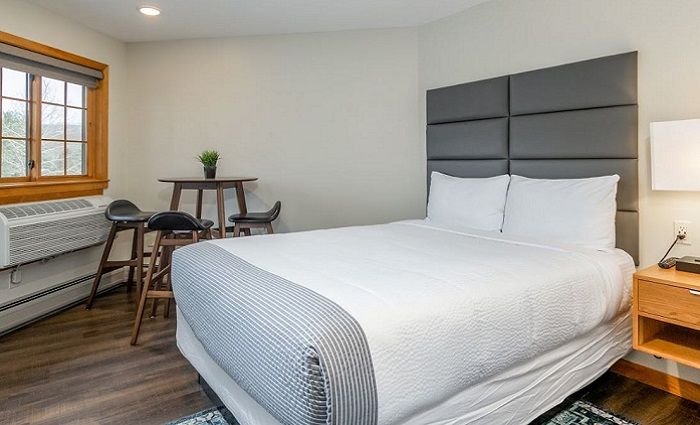 $$ | 3 Star | Central Location | Modern Rooms
You get great amenities with a pool, sauna, and hot tub here at Grey Fox Inn. They also have amazing views, and they're about 1 mile away from the resort. The rooms are fairly contemporary, comfy, and clean, with kitchenettes in the suites. It's a great place to crash, and there are a few bars and restaurants within walking distance.
Golden Eagle Resort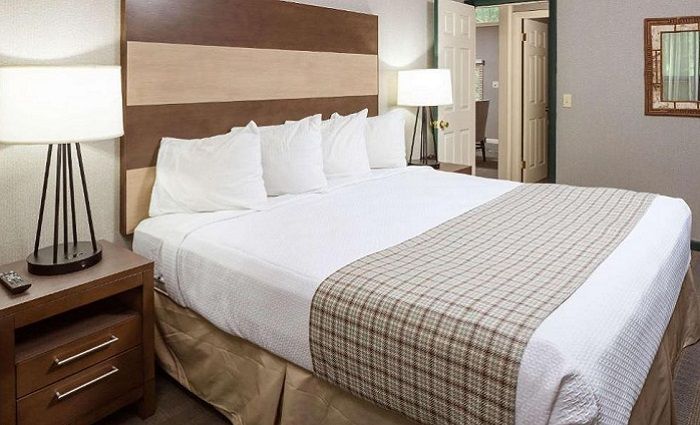 $$ | 3 Star | Family Friendly | Great Value
This is a great place to bring your family as they have ping pong and foosball, not to mention a 14-person hot tub and a heated pool! It is located roughly 5 miles away from the mountain but still on the main road. Walk to the on-site restaurant, The Nest, for a nice meal after skiing or snowboarding.
Green Mountain Inn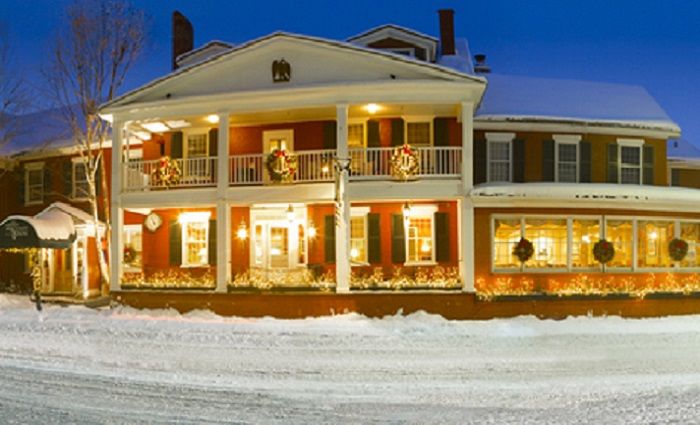 $$$ | 3 Star | Loved by Couples | Historic Inn
A stay at the 1833-built Green Mountain Inn is a historic stay for sure. Choose from rooms, suites, apartment, or even townhomes depending on how much space you need. I definitely recommend stopping at Whip Bar & Grill for farm-fresh produce and microbrews for a relaxing après ski after a long day of skiing. They offer outdoor hot tubs as well as a heated pool and a great common area. And don't miss the spa for a much-needed massage after using your legs to carve on those groomers.
Northern Lights Lodge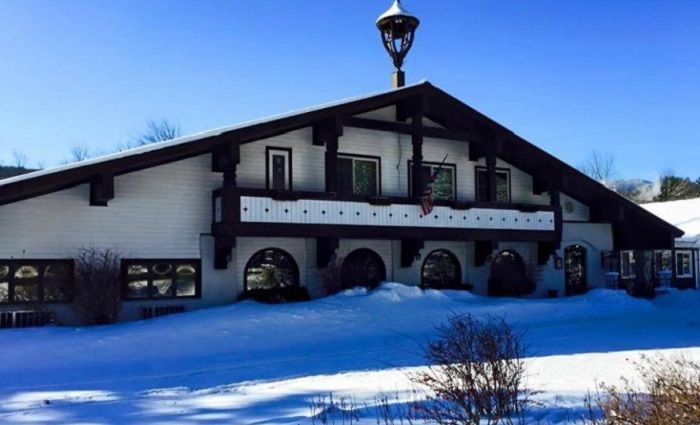 $$$ | 2 Star | Breakfast Included | Game Room
This little alpine lodge is located just 3 miles from the ski lifts at Spruce Peak. For amenities, they have a game room, indoor/outdoor pools and a hot tub to wind down after your ski day. Hot breakfast is served everyday as a nice bonus. Northern Lights is a nice place to kick up your feet and relax after dinner and a drink or two.