Historic Toledo is one of Spain's must-visit cities. It's small and easy to navigate but choosing where to stay might not be as simple. From palatial luxury to tranquil country vibes and areas preferred by locals, where you choose to stay will depend on your style and budget. In this guide, our local expert makes it easy for you. Read on to discover the best neighborhoods and places to stay in Toledo.
---
Pro Tip: It's easier to organize your trip when you have all your resources in one place. Bookmark this post along with our best Toledo tours from Madrid and the top things to see in Toledo.
Where To Stay in Toledo: Best Hotels and Neighborhoods
Toledo is just an hour south of Madrid but is too important to overlook. Fodor's travel writer Georgia Long described the city as "a huge tapestry that depicts all the elements that have contributed to the development of the civilization of Spain." Toledo tells its story through its architecture and its ancient skyline is guaranteed to take your breath away the first time you see it.
A tour through the city is like a lesson in Spanish history. Toledo is compact but there are fascinating sights at every turn and plenty of accommodation options to choose from across three popular areas—with super affordable prices. In this guide, we cover all the best options, so you can choose the best place to stay in Toledo for you.
Our Partnership with Booking.com. If you like our content, please book by clicking on our Booking.com links. The price is the same for you and we get a small commission that helps support our blog. We've partnered with Booking.com because they have the most options, great prices, and a solid loyalty program. Just about every hotel is on Booking so our recommendations are not incentivized.
Casco Historico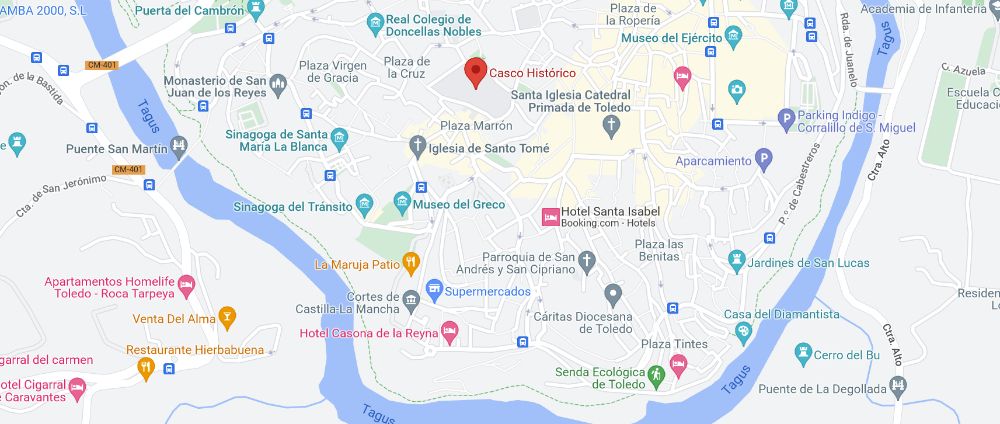 Toledo boasts one of Spain's most exquisite historic centers. The Tagus River circles the area, almost preserving it in time. Within the walls are more than a hundred monuments of interest from different creative periods. It is an incomparable city with a history that dates back 2,000 years and encompasses many cultures.
This UNESCO World Heritage site is brimming with structures in a variety of architectural styles. In just a few minutes, you can stroll past Mudejar, Romanesque, Gothic, and Renaissance buildings all beautifully preserved.
Monuments include Toledo Cathedral, the alcázar, the town hall, the Cristo de la Luz mosque, the Zocodover square, the church of Santo Tomé, the monastery of San Juan de los Reyes, and the synagogue of Santa María. This area is a tourist hotspot so accommodation is in demand. But there are plenty of options for those who want to be at the heart of historic Toledo.
Why I love Casco Historico:
A journey through time
Heritage value
Artisan shops
Rustic restaurants
Attractions in Casco Historico:
Toledo Cathedral
Monastery of San Juan de los Reyes
Alcázar of Toledo
Church of Santo Tomé
Manchego Cheese Museum
Best restaurants in Casco Historico:
Best hotels in Casco Historico:
Entre Dos Aguas Hotel Boutique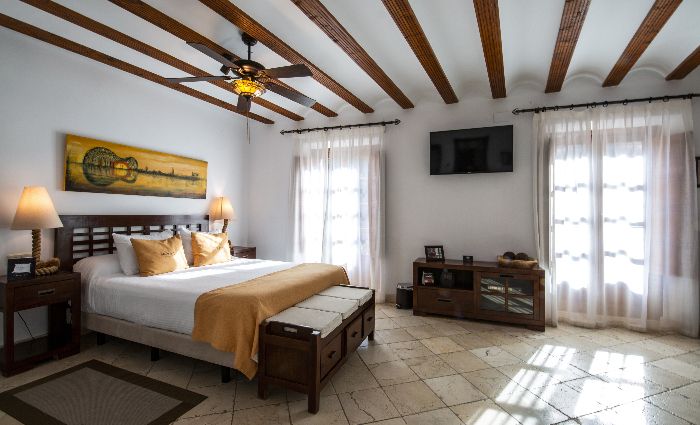 €€ | 3 Star | Central location | Musical Heritage | Great Restaurant
This is the perfect place for music buffs. Entre dos Aguas was once the home of legendary flamenco guitarist Paco de Lucia. The maestro's family approved the restoration work and there are musical nods throughout. It also has one of the best restaurants in the old town. Olé!
Casa Palacio Rincón de la Catedral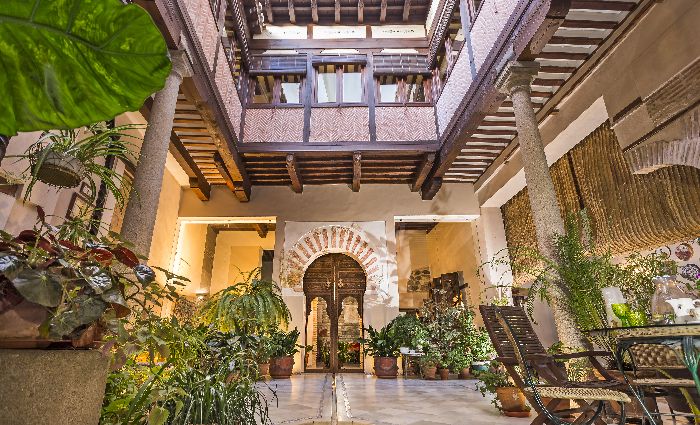 € | Guest House | Restored Palace | Romantic Feel | Perfect For Couples
This restored palace has a romantic atmosphere and sets the mood for discovering the local history—much of which is right on your doorstep! The decor is exquisite and the service is impeccable. The optional breakfast is also worth every penny.
Hotel San Juan de los Reyes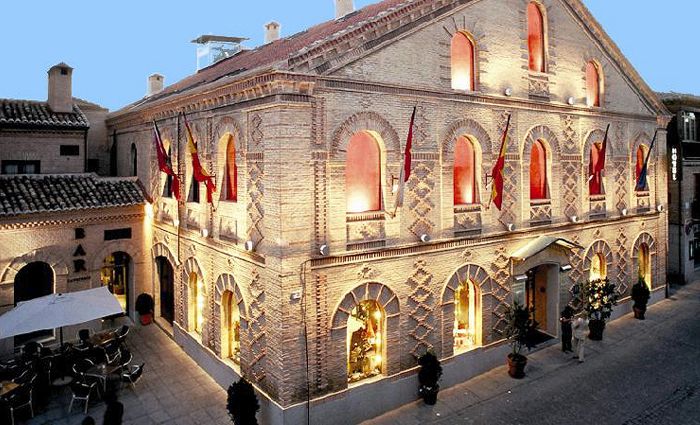 € | 4 Star | Close to Key Sites | Commitment to Sustainability
This impressive neo-Mudéjar-style hotel sits in Toledo's old Jewish Quarter on the edge of the old town. It's a short walk from the Monastery of San Juan de los Reyes, the city's two synagogues, and the El Greco Museum. The hotel boasts sustainable credentials, supporting various initiatives. There's also a good restaurant and parking on site.
Riad Medina Mudéjar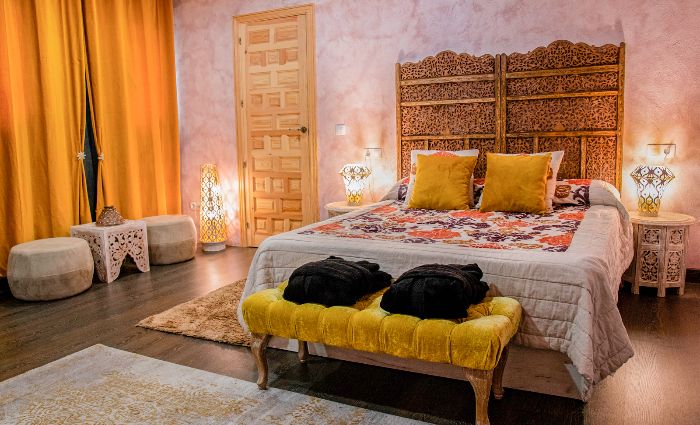 € | 3 Star | Arab Bathhouse | Spa Treatments
This charming hotel with Moroccan influences sits on a cobblestone street in the heart of the old town. The building is small with just five rooms, all immaculately designed. There's an Arab bathhouse with soak and massage facilities, as well as spa treatments. It's perfect for a relaxing city break.
Hostal La Posada de Zocodover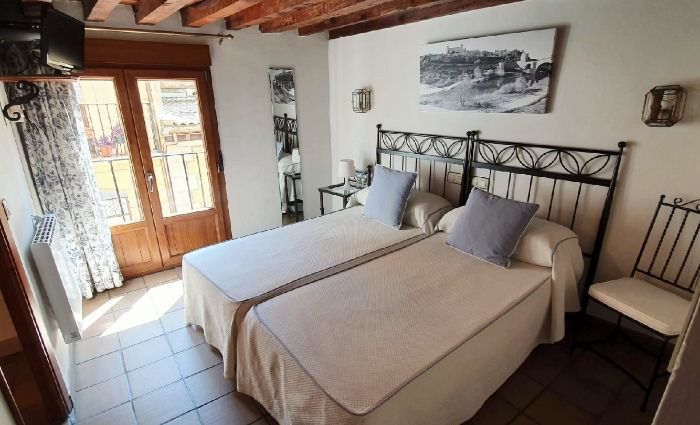 € | 1 Star | Budget Option | Homely Feel
If you're looking for a functional budget option with traditional decor in the heart of the city, this is a great choice. The attentive owners give this place a homely feel and will give you tips on what to do. There's good Wi-Fi, air conditioning, and parking available.
Hotel Carlos V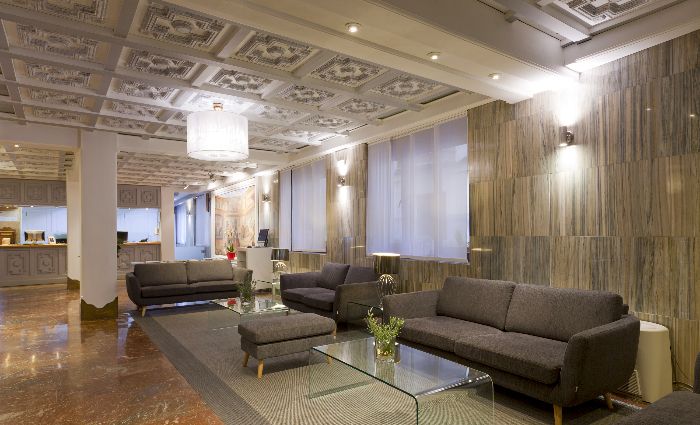 € | 3 Star | Rooftop Terrace | Old School Charm | Popular Restaurant
This hotel is the oldest still operating in the city. It opened its doors in 1951 and was recommended in Fodor's Guide to Spain as far back as the 1960s. The revamped hotel retains the charm of days gone but provides a modern and comfortable experience. It also boasts a rooftop terrace with some of the best views in the city. And a Mudéjar restaurant popular with celebrities.
Los Cigarrales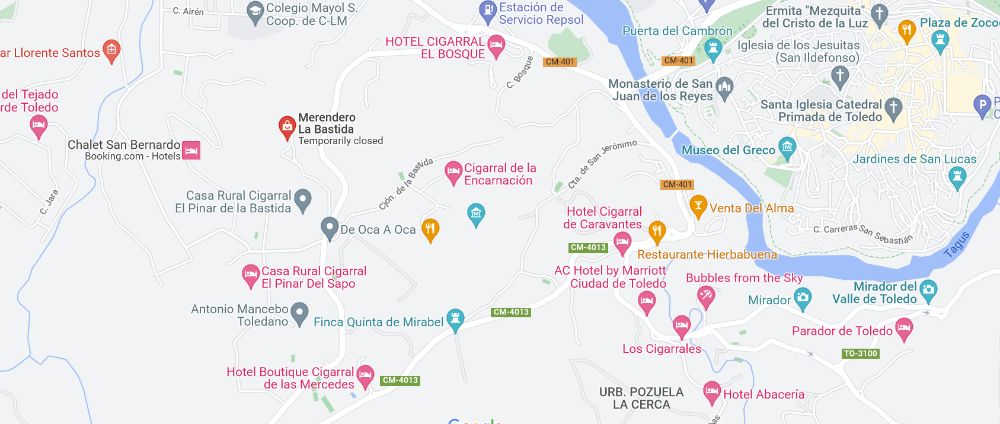 The rural area known as Los Cigarrales is located just south of the River Tagus. A cigarral is a traditional type of dwelling found in this zone. These properties were once places of recreation for the wealthy residents of the city. Typically, they are large stone-built homes surrounded by farmland and gardens. Today, many have been converted into rural accommodation.
Staying in Los Cigarrales offers the best of both worlds. You can get to the city centre in under 20 minutes and you can enjoy country walks with spectacular views of Toledo. Or, just relax in the peace of the countryside after a day's sightseeing.
Why I love Los Cigarrales:
City views
Hiking opportunities
Fine dining restaurants
Attractions in Los Cigarrales:
Mirador del Valle
San Martin's Bridge
Ermita de la Virgen del Valle
Best restaurants in Los Cigarrales:
Best hotels in Los Cigarrales:
Hotel Boutique Cigarral de las Mercedes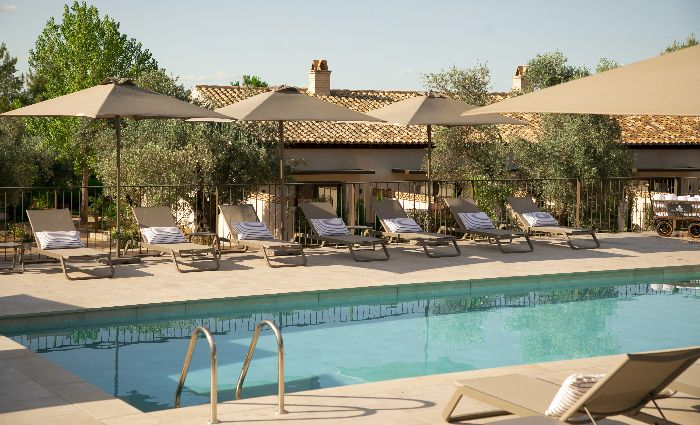 €€€ | 4 Star | Pet Friendly | Luxury Feel | 5 Acre Estate
This traditional country estate offers peace and quiet just a few minutes outside the city center with a touch of luxury. Set on extensive grounds, you'll enjoy great views of the city and boutique hotel vibes. There's a pool, hot tub, and a superb restaurant. They also welcome pets!
Hotel Los Cigarrales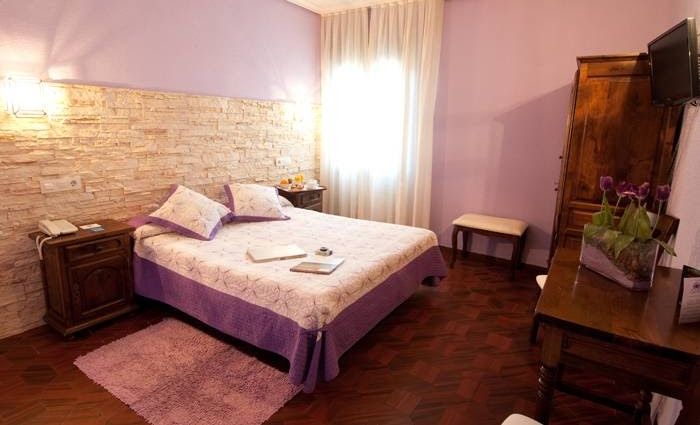 € | 2 Star | Great Value | City Views | Semi Rural Setting
This relaxed hotel is in a semi-rural setting 3km from the center of the old town. The traditional stone building features cozy rooms—many with balconies and city views. There's a bar, terrace, and swimming pool for guests, and parking is included.
Parador de Toledo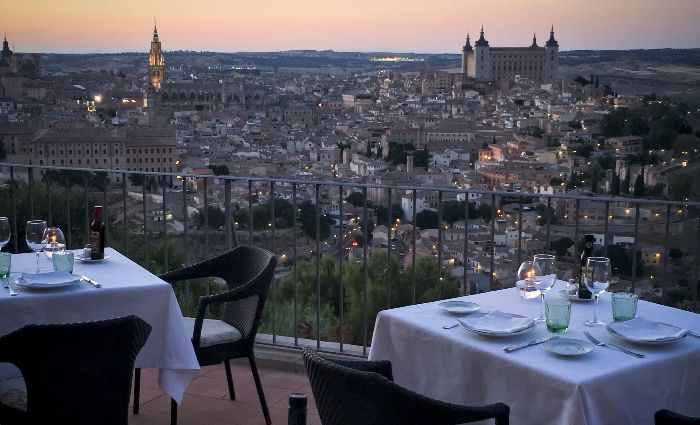 €€ | 4 Star | City Views | Countryside Location | Mudéjar Style
This traditional parador offers a sophisticated option in a countryside location. Set on a hillside, it overlooks the city, which is a just short drive away. The Mudejar-inspired building is feature-packed with wooden beams, staircases, and flooring. There's an outdoor pool and large terrace, which both offer impressive views of the Toledo skyline.
San Anton/Buenavista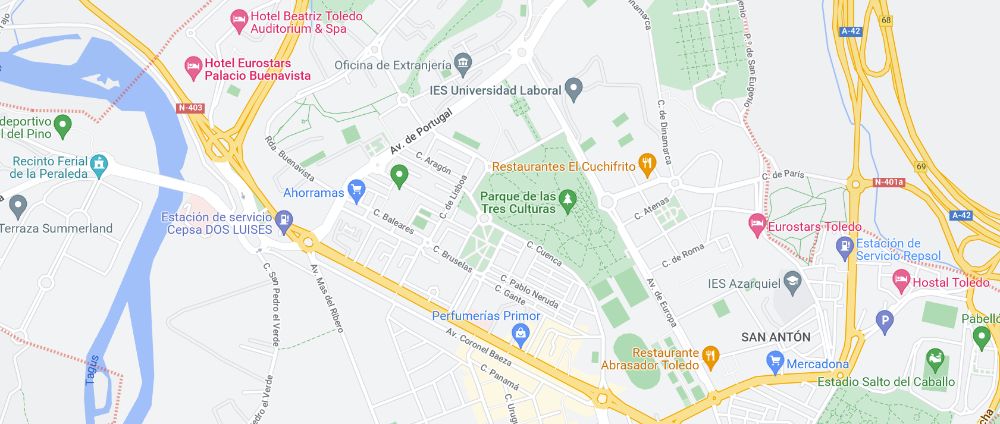 Just to the north of the city are the neighborhoods of San Anton and Buenavista. These are typical Spanish residential areas, which are set away from the tourist zones. They're great places to stay for those who like to get a feel for local city life.
You can mingle with locals, go shopping, and enjoy the many parks where residents go for their daily exercise. The area is just a short walk or bus ride from the old town and gives you a different perspective on the city. There are also plenty of bars and restaurants where you can eat high-quality food at budget prices.
Why I love San Anton/Buenavista:
Less touristy
Green spaces
Picturesque plazas
Attractions in San Anton/Buenavista:
Park of the Three Cultures
Local Shopping
Outdoor Cinema
Best restaurants in San Anton/Buenavista:
Best hotels in San Anton/Buenavista:
Eurostars Toledo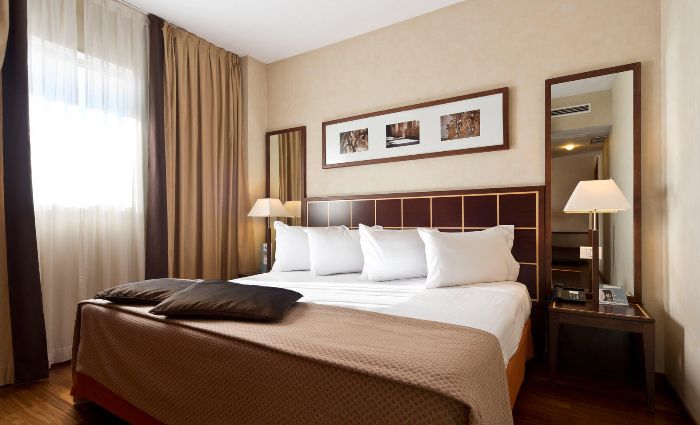 € | 4 Star | Tranquil Location | Restaurant | Good Road Connections
Eurostars Toledo is in the heart of San Anton next to the peaceful Los Gavilanes park. It is a €7 taxi ride from the center or a 15-minute walk past the bullring and parks. It offers basic facilities but great service and a buffet-style breakfast. There's also a restaurant on site.
Beatriz Toledo Auditorium & Spa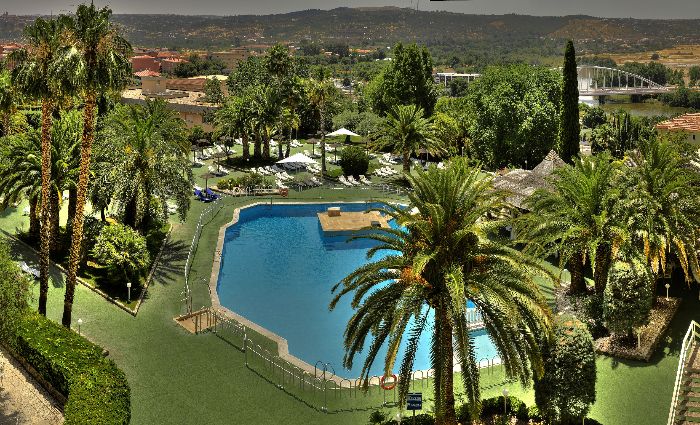 €€ | 4 Star | Resort Style | Spa | Great for Families
If you like a resort-style hotel, the Beatriz Toledo Auditorium & Spa Hotel is the perfect choice for you. This grand building is great for families thanks to its tropical-style gardens and pool area. It has two top-quality restaurants with seasonal menus and a poolside buffet. There's also a spa with a sauna, Turkish bath, and ice fountain!
Eurostars Palacio Buenavista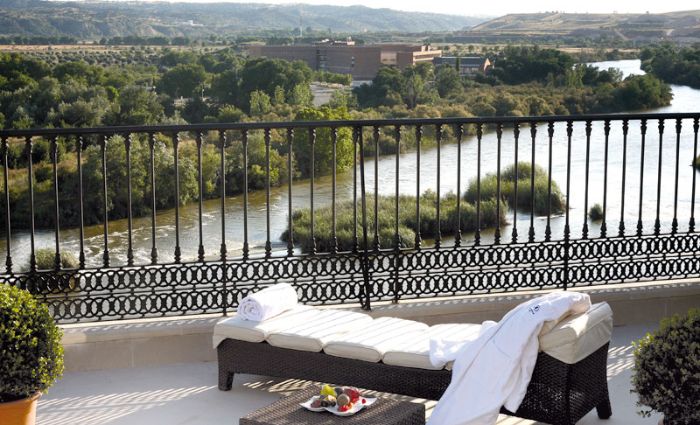 €€ | 5 Star | River Views | Grand Features | Great Value | City Shuttle Service
The Eurostars Palacio Buenavista boasts 5 stars but has the price of a 3-star establishment. It stands on the site of the Buenavista Palace and offers exquisite features and a luxury feel, particularly in the lobby bar and Restaurant Quixote. There's also a huge garden with river views. Access to the city is via a 10-minute shuttle service.