A fashionable hotspot for nobility and the glitterati since the 1800s, Taormina is again in the spotlight thanks to HBO's smash hit 'The White Louts.' So, if you plan on taking a trip to Sicily this year, you're not the only one. Thankfully we have you covered with our guide on where to stay in Taormina.
---
Pro Tip: If you are in the midst of planning a trip to Sicily, bookmark this article in your browser so you can circle back to it when you're ready to book.
Our Partnership with Booking.com. If you like our content, please book by clicking our Booking.com links. The price is the same for you, and we get a small commission that helps support our blog. We've partnered with Booking.com because they have the most options, great prices, and a solid loyalty program. Almost every apartment on Airbnb can also be found on Booking.com but with fewer fees.
Taormina

In 1866 a train line was built between the port city of Messina with the quant town of Taormina. Taormina would never be the same again.
By the end of the century, it had become a hotspot for the glitterati and nobility of Europe. Wagner and Brahms sought refuge and inspiration, King George V of England came for privacy, and Kaiser Wilhelm II returned year after year for a respite from cold, dark German Winters.
Later on, D.H Lawrence's wife supposedly had an affair with a local donkey driver prompting him to write 'Lady Chatterley's Lover.' And Elizabeth Taylor and Richard Burton declared their honeymoon in Taormina to be the only successful part of their first marriage, so much so that they returned after their second wedding to honeymoon again.
Today the success of HBO's White Lotus means Taormina is back in Vogue. Unfortunately, not all of us have a White Lotus budget, so here in our guide on where to stay in Taormina, we have something for every traveler.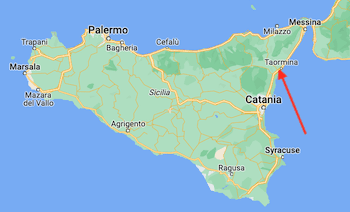 The Best Sites and Attractions Near Taormina:
Grotta Azzurra
Presepe Vivente di Trappitello
Teatro Antico di Taormina
The Best Restaurants in Taormina:
Not ready to book a tour? Check out our Where to Stay in Palermo article
The Best Hotels in Taormina:
San Domenico Palace 4 Seasons
$$$$+ | 5-star | White Lotus Filming Location | Everything You Want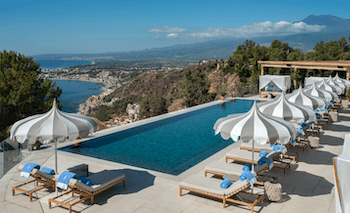 What do Oscar Wilde, Truman Capote, Joan Crawford, Marlene Dietrich, Ingrid Bergman, Sophia Loren George, and Barbara Bush all have in common? They all stayed at the San Domenico, of course. If money isn't an option, this is the spot. Just don't copy Elizabeth Taylor and Richard Burton's famous first night at the palace, where they had a blazing row on their balcony before 'Liz smashed a mandolin over Richards's head.
Mazzarò Sea Palace
$$$$ | 5-star | Personal Favorite | Private Beach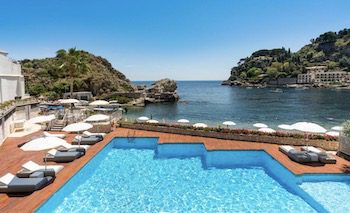 My wife tells me about her vacation here about once a month, I think she may want to go back. She was 16 from inner city Dublin, booked into a beautiful but fading 4-star gem. The hotel was overbooked, and they were upgraded for a two-week stay at the Mazzarò. It's safe to say the private beach, the white tuxedo-wearing staff, and the wonderful breakfast left a mark. My father-in-law still has his morning coffee in a Mazzarò cup that mysteriously disappeared from the breakfast room. Sorry Mazzarò team!
Atlantis Bay
$$$$+ | 5 Star | Pool | Sea View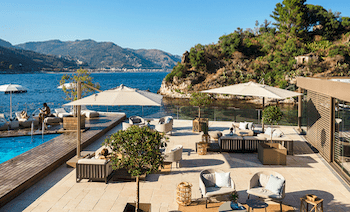 The Atlantis Bay Hotel is contemporary and luxurious. The views are stunning, and with beautiful terraces for lunch and dinner, this is an oasis within an oasis
Hotel Bel Soggiorno
$$ | 3 star | Great Views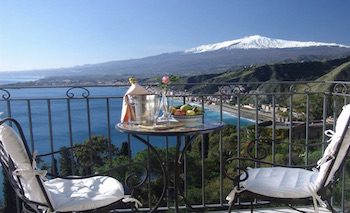 Quaint and characteristic B&B-style accommodation with great views! Love the terracotta floors, and the price makes it a great option for those on a budget
Villa Fiorita Boutique Hotel
$$$ | 4 Star | Boutique | Sea View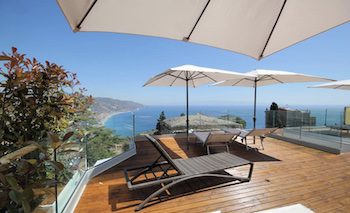 This beautiful boutique hotel sits about fifty yards from Taoraminas cable car, offering access to the popular beaches below. Don't want the hassle? Then don't worry. With a selection of beautiful terraces and a garden pool, you'll be more than comfortable passing the heat of the day while relaxing here.
---
Una Hotels Capotaormina
$$$$+ | 5 Star | Pool | Sea View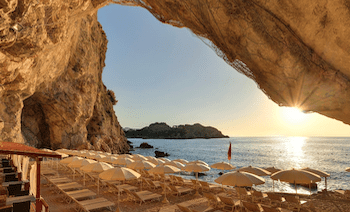 Una Hotel is in a great location right on the peninsula of Taormina. Tons of space, a private beach, and lots of amenities.
Hotel Villa Taormina
$$$ | 4 Star | Beautifully designed | Historic Building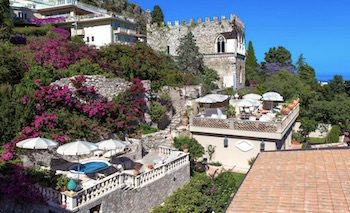 Built-in the early 1900s, Hotel Villa Taormina may be a historic building, but it lacks no modern amenities. The beautiful floral gardens give way to a lounge deck with a small (but refreshing) plunge pool. While the rooftop terrace offers wonderful ocean views in one direction and imposing Mount Etna views in the other. Located in the higher part of town but well connected to beaches by cable cars.
A Due Passi Dal Mare
$ | B&B | Close Beach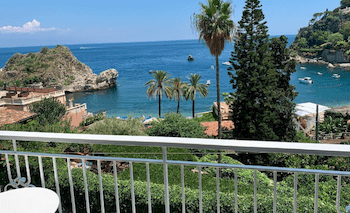 The name says it all, two steps from the beach. Great views of Taormina's best beach and clean rooms, and affordable prices.
---
Not ready to book a tour? Check out our Top Things to Do in Taormina article
---