No matter where you stay in this small, easy-to-explore city, you'll never be far from the main attractions. A great location is important, but you'll also want hotels that match your needs. With first-hand knowledge of the area, I've covered the most popular neighborhoods, the best hotels, and a variety of experiences. Read on to discover the best places to stay in Segovia.
---
Pro Tip: It's easier to organize your trip when you have all your resources in one place. Bookmark this post along with our exciting Segovia tours from Madrid, how to visit the Alcázar of Segovia, and the top things to see in Segovia.
Where To Stay in Segovia: Best Hotels and Neighborhoods
Segovia is only 45 minutes from Madrid and well worth a visit, either for a day trip or for a longer stay. The city is compact and fairly flat, which makes it easy to explore at your leisure. In fact, you can walk from one side to the other in 30 minutes.
However, with quite a few great things to see including seeing the iconic Roman Aqueduct and Alcázar, you'll want to spend a lot more than half an hour exploring. Segovia is steeped in history and surrounded by breathtaking scenery, which makes it a lovely stop on your Spanish adventure.
Depending on your interests and style, there are a few different areas in Segovia to stay with a variety of accommodation options. In this guide, we focus on the four main neighborhoods where the most popular attractions are located.
Our Partnership with Booking.com. If you like our content, please book by clicking on our Booking.com links. The price is the same for you and we get a small commission that helps support our blog. We've partnered with Booking.com because they have the most options, great prices, and a solid loyalty program. Just about every hotel is on Booking so our recommendations are not incentivized.
Casco Antiguo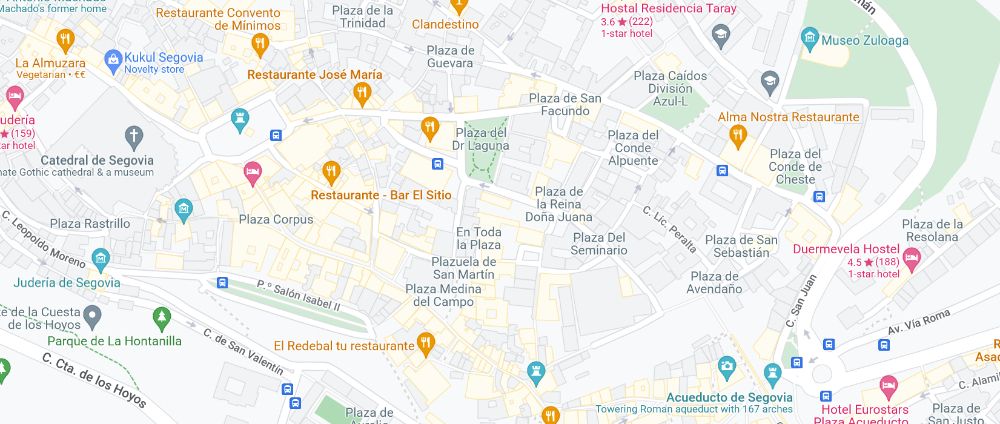 The Casco Antiguo is the historic center of Segovia. It's where you'll find the Roman Aqueduct, the Cathedral of Segovia, and the Plaza Major (main square), so it's a great area to use as a base to explore.
The area is the heart of the city and attracts many tourists in the summer. You'll get a feel for how the city looked centuries ago and see how the locals live today, balancing everyday life with a vibrant tourist trade.
You'll love wandering down the medieval back streets and discovering artisan shops. Or, you can watch the world go by from the many cafés, bars, and restaurants on the plaza. It's all possible in Casco Antiguo.
Why I love Casco Antiguo:
Sightseeing
Sense of history
Wandering the back streets
Sidewalk terraces
Artisan shops
Attractions in Casco Antiguo:
Roman Aqueduct
Segovia Cathedral
Plaza Major
Best Restaurants in Casco Antiguo:
Best Hotels in Casco Antiguo:
Áurea Convento Capuchinos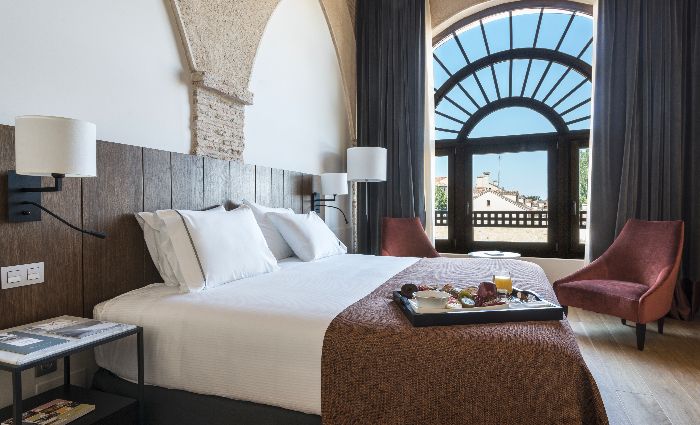 €€ | 5 Star | Central location | Spa, Sauna, and Turkish Bath | Garden
If you want 5-star service in the heart of Segovia, this is our top pick. Set in a 400-year-old convent with views over the Eresma Valley, it mixes period features with contemporary style. Best of all, you'll be within walking distance of the city's most popular attractions.
Exe Casa de Los Linajes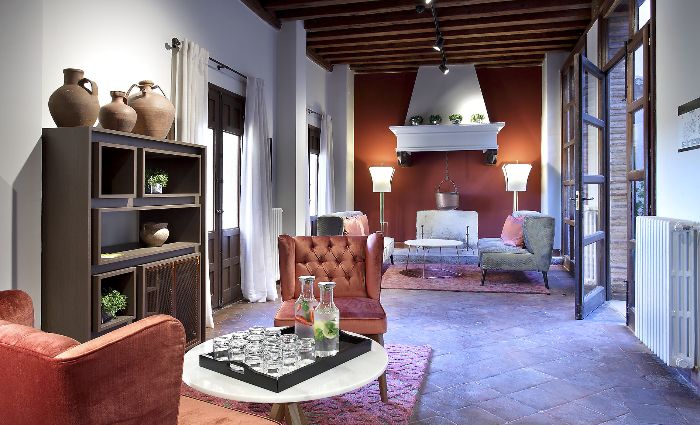 €€ | 3 Star | Restored Palace | Restaurant | Country Views
This 16th-century palace features Romanesque arches and traditional wood and tiled floors. The hotel's luxurious lounge and picturesque stone terrace give the place a five-star feel and it's just a five-minute walk from the main square.
Infanta Isabel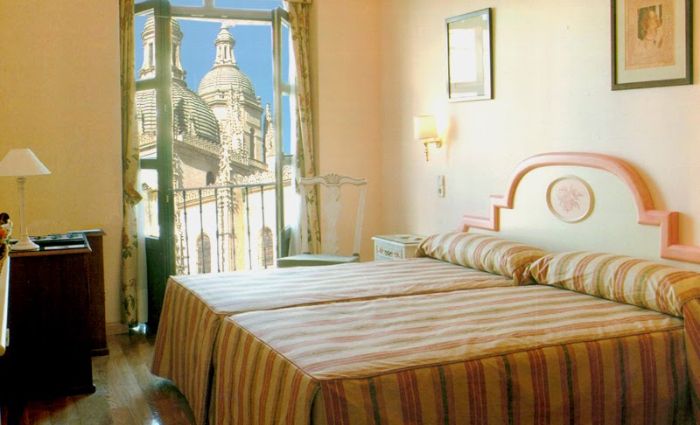 € | 3 Star | Budget Prices | Central Location | Pet Friendly | Traditional Restaurant and Bar
Want to be in the center of the action? Book a premium room and you can have a balcony overlooking Plaza Mayor—some with cathedral views! The 19th-century building offers warm and comfortable rooms in a relaxed setting, making it ideal for families.
Hostal Fornos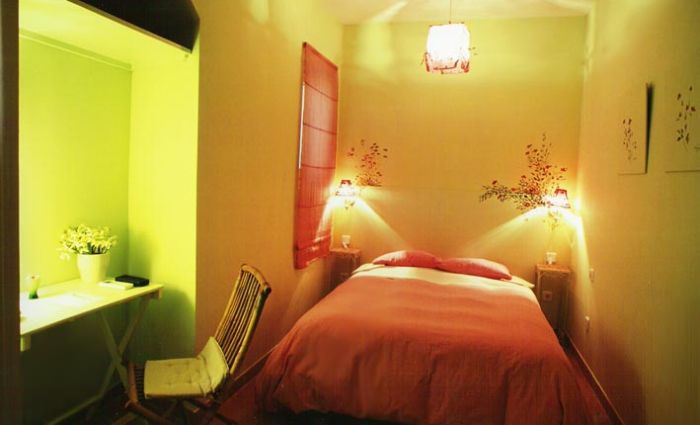 € | 1 Star | Great Budget Option | Artsy Vibes | Central Location
Located among some of the city's best bars and restaurants, this cozy hostel offers a budget option without compromise. The restored building has an artsy vibe with hand-painted murals. The spacious rooms and warm service make you feel right at home.
La Judaria (The Jewish Quarter)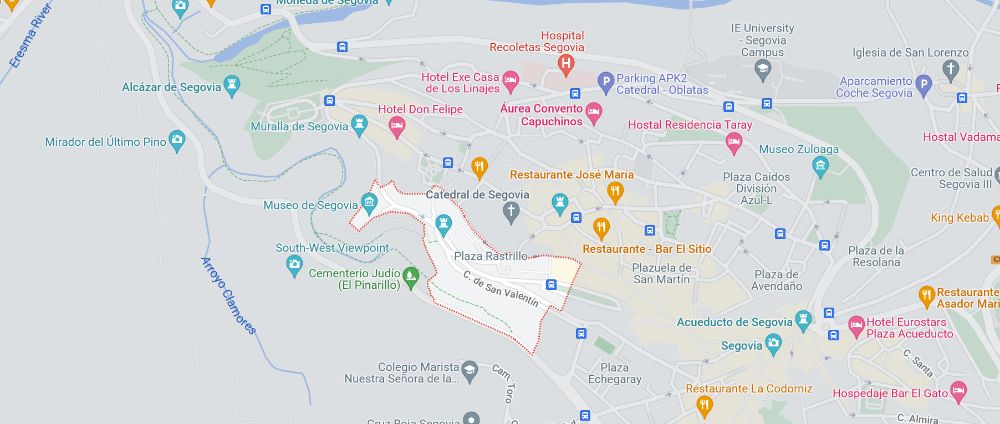 As the name suggests, this part of the city once housed Segovia's Jewish communities. It was one of the largest of its type in the Crown of Castile. Shortly before the expulsion of non-Catholics in 1492, the government erected a gate to enclose the area.
The neighborhood sits to the south of the historic centre and stretches from Plaza de Corpus Christi to Las Canonjías. The old high street, known as Calle la Judería Vieja, traverses the zone. The original layout remains almost intact. So, a walk through the Jewish Quarter is also a journey back in time. And there are surprises at every turn.
If you're interested in a cultural exploration of history and food, La Judaria will give you another perspective on times past as you see the Old Synagogue, St. Andrew's Gate, and have the opportunity to try different cuisines in local restaurants.
Why I love the Jewish Quarter:
Step back in time
Much of the original structure is intact
A different cultural perspective
Hub of art and culture
Attractions in the Jewish Quarter:
Jewish Museum and Education Centre
Old Synagogue—Convent of the Corpus Christi
St. Andrew's Gate
Museum of Segovia
Best restaurants in the Jewish Quarter:
Best hotels in the Jewish Quarter:
Hospedaje La Judería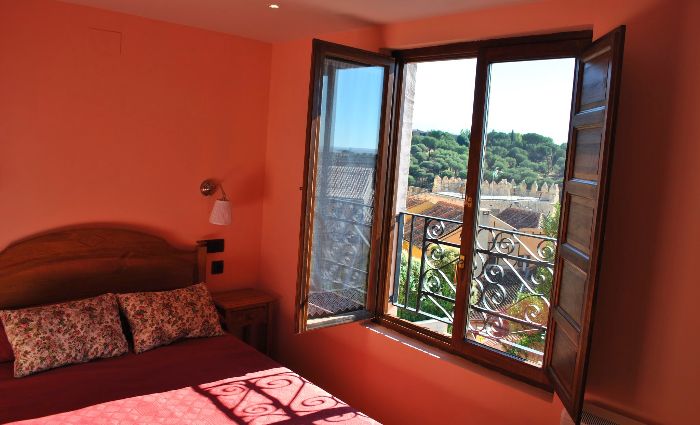 € | No Frills | Prime Location | Intimate Setting
This 16th-century building has seven rooms and is just a few steps from the cathedral. Rooms are compact but comfortable with original features, free Wi-Fi, and TVs. This is a great, low-key option in the intriguing Jewish Quarter.
Hotel Spa La Casa Mudejar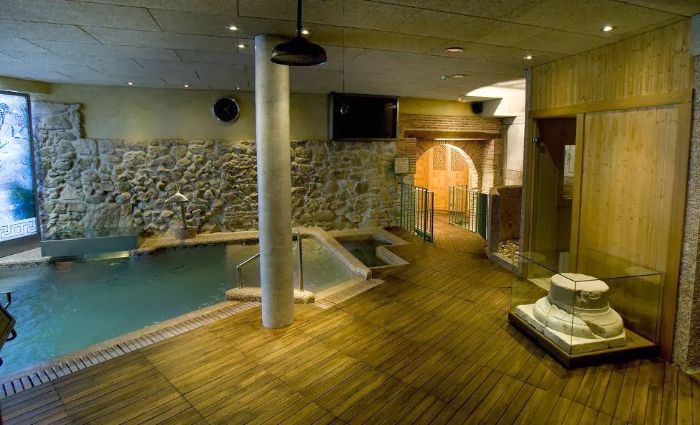 €€ | 3 Star | 15th-century features | Traditional Jewish Cuisine | Spa Treatments
This hotel and spa is set in a 15th-century mansion next to Plaza Corpus, which marks the entrance to the Jewish Quarter. It has original Mudéjar and Roman features. You can even get a free tour of the hotel's artwork and architecture. Try typical Sephardic cuisine in the restaurant!
San Millán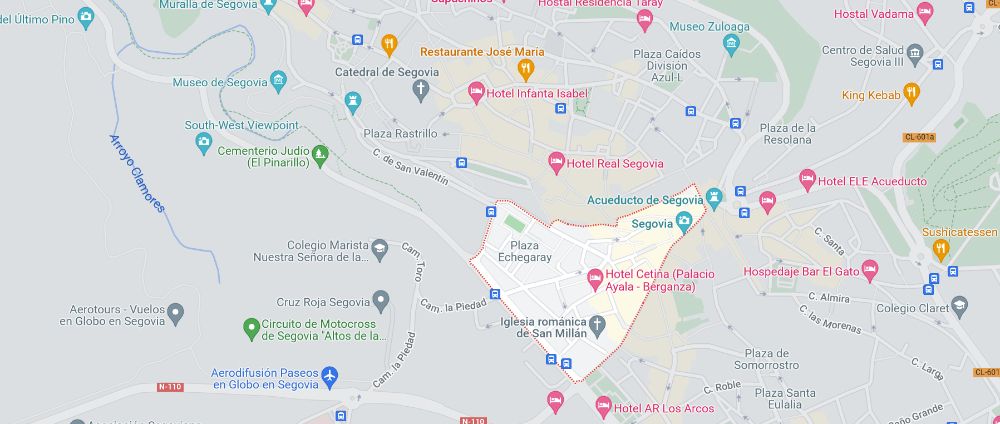 San Millán's 12th-century Romanesque church, with its Mudejar bell tower and horseshoe arches, serves as the neighborhood's focal point. Also of interest are the unique Casa de los Picos (a Renaissance-era house covered in stones cut into pyramid shapes) and the 15th-century Palacio Ayala Berganza, now a popular hotel.
The area also boasts a mix of high-street shopping and independent shops. It's a great place to stay in Segovia for anyone looking for a less touristy area with an interesting vibe of its own without being too far away from the main attractions.
Why I love San Millán:
Less touristy
Great local bakeries
Picturesque plazas
Attractions in San Millán:
Iglesia de San Millán
Shopping
Casa De Los Picos
Best restaurants in San Millán:
Best hotels in San Millán:
Real Segovia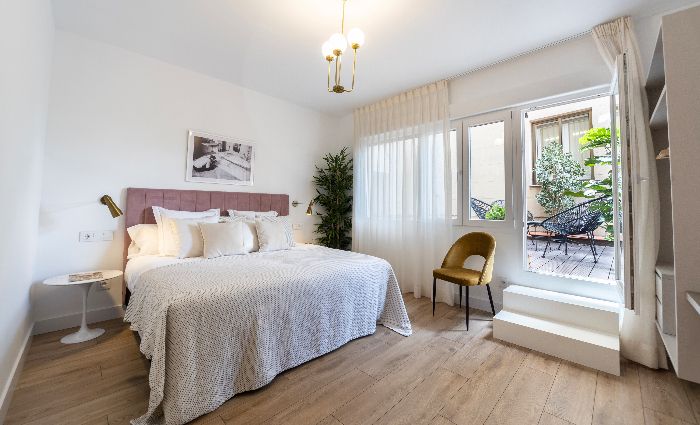 €€ | 4 Star | Stylish and Modern | Upscale Shopping | Rooftop Terrace
Set on a fashionable shopping street, the hotel has views of the Sierra de Guadarrama mountains and is just 5 minutes from the Aqueduct. The vibe is modern and stylish with services to match. Expect whirlpool tubs in some rooms and a rooftop terrace and bar, all at surprisingly affordable prices.
Hotel Cetina (Palacio Ayala – Berganza)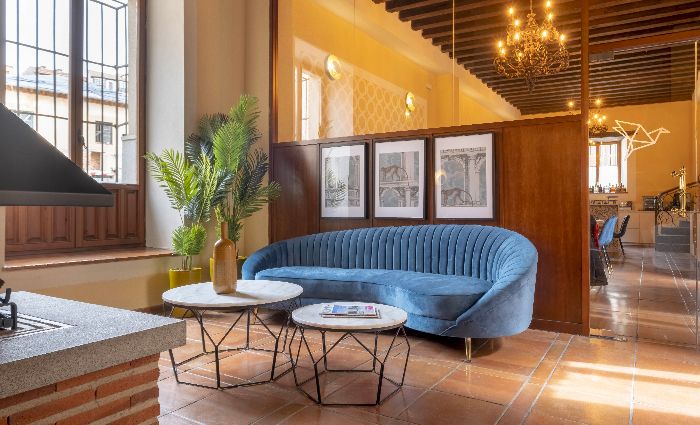 €€€ | 4 Star | Palace Setting | Great Breakfast | Close To Attractions
The hotel is set in a 15th-century former palace, yet the style is relaxed. The 12th-century church of San Millán and the Aqueduct are within a 5-minute walk. There's an excellent restaurant, garden, and patio to relax on. You'll even get a welcome drink on arrival!
Hotel Apartamentos Aralso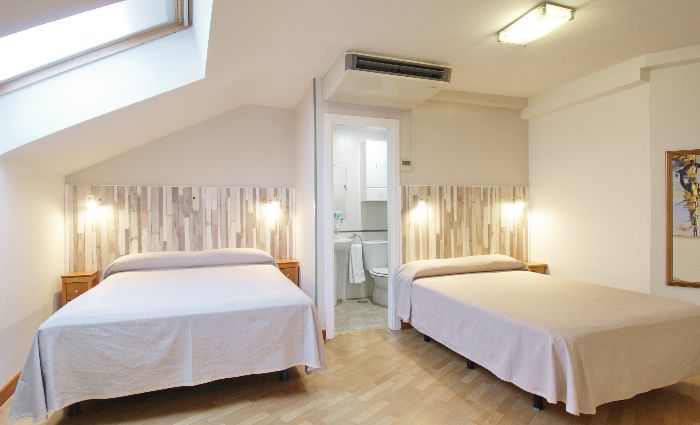 €€ | 1 Star | Less Touristy | Self Contained
This family-run place offers a different vibe with 10 self-contained studios across four floors. The owners are well-traveled, so they understand visitors' needs. You'll have your own kitchen and bathroom, so you can enjoy city life like a local.
San Marcos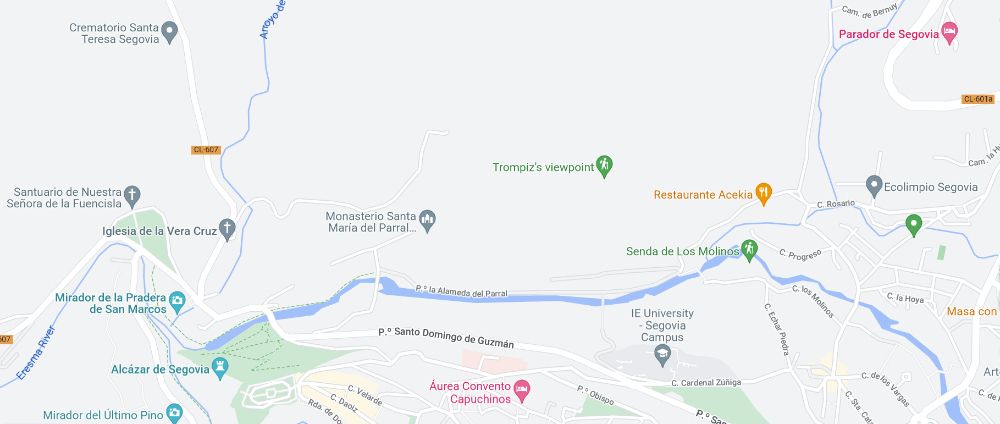 To the north of the city lies the zone of San Marcos. Most of the neighborhood is on the opposite side of the River Eresma and offers a more rural setting. There are country walks to enjoy and interesting sites with city views.
You'll be close to the Monastery of Santa María del Parral and the 13th-century Iglesia de la Vera Cruz. The Alcázar de Segovia also borders San Marcos and is a must-visit. For accommodation in Segovia with a country vibe, lots of opportunities for you to get outdoors, and beautiful scenery, San Marcos is for you.
Why I love San Marcos:
Rural setting
City views
Medieval sites
Attractions in San Marcos:
Alcázar de Segovia
Monastery of Santa María del Parral
Iglesia de la Vera Cruz
Mirador de la Pradera de San Marcos
Best restaurants in San Marcos:
Best hotels in San Marcos:
Casavillena Apartamentos Turísticos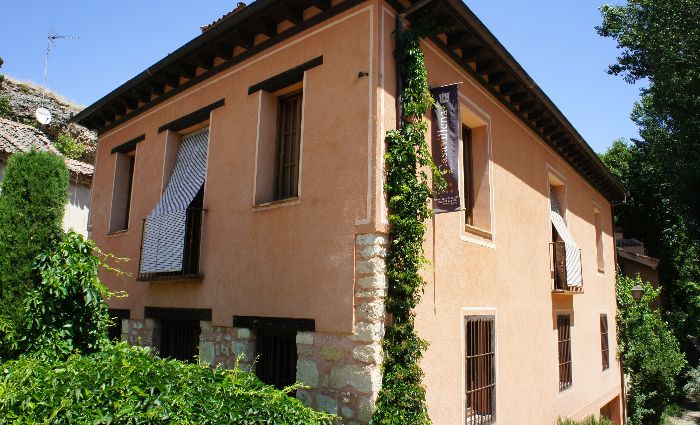 €€ | 3 Star | Away from City Hustle | Close to the Alcázar | Self Contained
This apartment option is set at the foot of the Alcázar in a green-belt setting with views of the walled city and the Cathedral. Here, you can enjoy the city and the countryside. It's the perfect choice for hikers and cyclists who want the best of both worlds.
El Mirador del Alcázar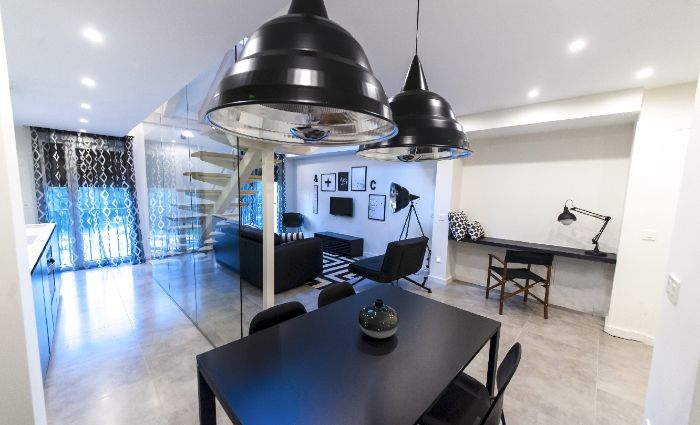 € | 4 Star | Urban Style | Country Setting | Stunning Views
This is urban loft-style living a step away from the countryside. Enjoy views of the nearby Alcázar and Alameda del Parral. A 15-minute walk from the historic city center, the eight apartments sleep two or four guests, making the price per apartment very reasonable.
Parador de Segovia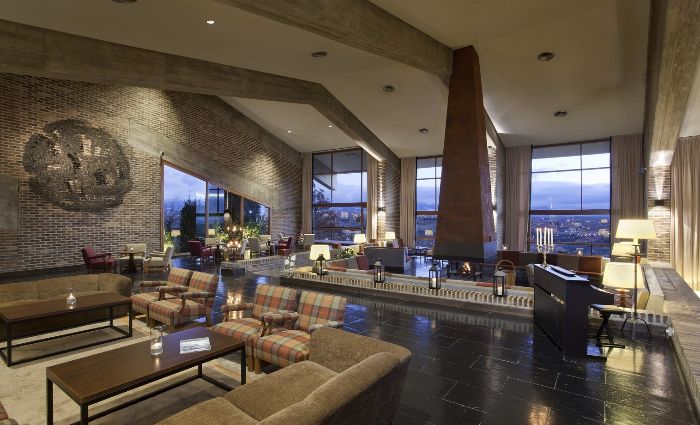 €€ | 4 Star | Rural Setting | Excellent Facilities | Upmarket feel
Unlike many paradors in Spain, the Parador de Segovia occupies a modern building with high-standard finishings and an upmarket vibe. The panoramic views add to the exclusive feel. Despite its rural setting, the hotel is only 3 kilometres from the historic old town and there's a restaurant, gym, tennis court, sauna, and indoor and outdoor pools.