Matera is one of the oldest inhabited cities in the world, with a continuous occupation that goes back at least 9,000 years. In the 20th century, poverty defined the region, and it became known as the 'Shame of Italy.' But UNESCO support, a booming tourist trade, and sensible policies have seen Matera enjoy a rebirth of sorts. Today, it is one of the most unique and fascinating cities to visit, not just in Italy but all of Europe. Find out why in this guide on where to stay in Matera.
---
Pro-Tip: You'll want to bookmark this page for future reference. Also, be sure to check out our Where to Stay in Lisbon, Top Things to Do in Sintra, and Top Things to Do in Lisbon to really get a feel for the area before you visit.
Top Hotels in Matera at a Glance
---
Where To Stay in Matera and Why?

---
Matera in Basilicata, located around three hours South of Naples and ninety minutes West of Bari International Airport, is best known for its chaotic collection of cave dwellings. Inhabited since the Paleolithic, the occupation of the Sassi (from the Latin Saxum, meaning great rock) goes back at least 9,000 years.
It is one of the few areas in the world where modern inhabitants can claim to live in the same homes as their Paleolithic ancestors. The warren of cave dwellings is as haphazard as it seems. The roof of one cave provides the street access for the next series of caves above.
In the 20th Century, the area became profoundly depressed and a site of extreme poverty, referred to as the shame of Italy. The artist and political activist Carlo Levi was exiled here by the fascist dictatorship of the day. His book 'Christ Stopped at Eboli' shone international light on the area, and the locals were forcibly relocated in the 1950s.
In recent years, aided by its UNESCO world heritage status and aided by tourism, the area has boomed, especially as many of the Sassi caves have become luxury accommodations and boutique hotels.
As the landscape remains remarkably unchanged by the years of history it has witnessed, Matera often steps in for Ancient Jerusalem in movies, particularly Mel Gibson's 'Passion of the Christ' and 'The Gospel According to St. Matthew' by Pasolini.
Today the visitor has a couple of options for staying in Matera. You can stay in the modern town, enjoying beautiful views of the Sassi. Alternatively, and far more fun, you can stay in the Sassi and get your Fred Flinstone on by living in a cave for a night or two.
---
The Best 5-Star Cave Hotel in Matera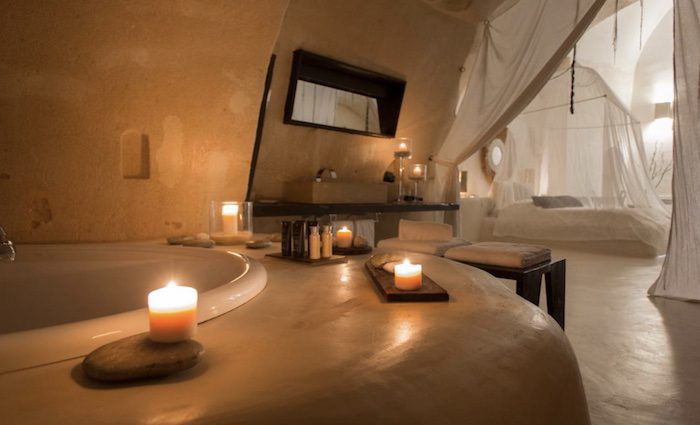 ---
5 Star | €€€ | Cave Delling | Modern Amenities
Nine thousand years of cave living tradition meets modern resort luxury. The Sant'Angelo combines twenty-one cave dwellings with modern amenities and luxury.
Set in the heart of the Sassi of Matera, it's a perfect spot to explore the wonders of this most ancient of cities. The onsite restaurant and bar provide a breathtaking terrace to allow the traveler to unwind.
---
Not sure if Matera is for you? Check out our guide to Venice, Florence, or Rome instead.
---

The Best 4-Star Cave Hotel in Matera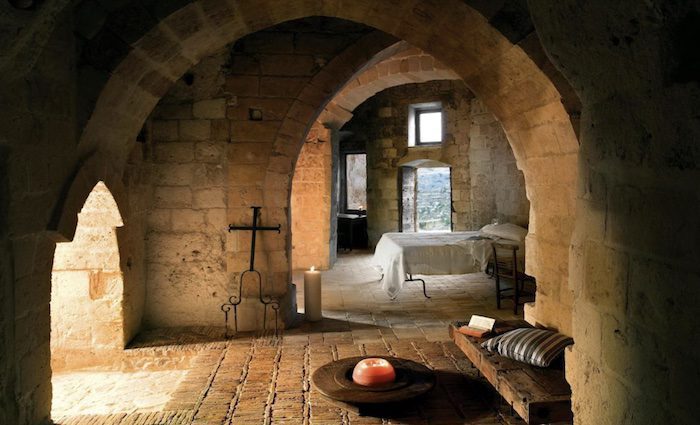 ---
4 Star | €€€ | Restored Caves | National Park Views
Ancient caves, antique furniture, and Wi-Fi. I mean, what's not to love, add on the panoramic terrace overlooks the Murgia National Park and the candle-lit dining room, and you have a recipe for a wonderful stay.
Traveling for a special occasion? Let Sextantio know, and they will arrange for you to have a private dinner inside the former church on the hotel's property.
Although there is no on-site parking, if you are planning on traveling by car, guests do enjoy discounted rates at nearby public hotels.
---
Not sure if Matera is for you? Check out our guide to Venice, Florence, or Rome instead.
---
The Best Mid-Budget Cave Hotel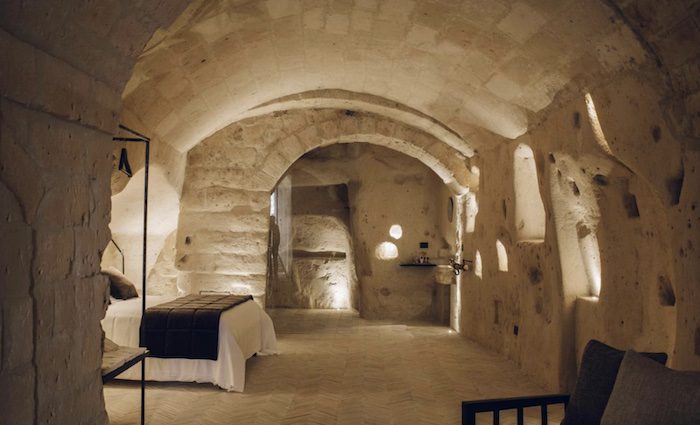 ---
Boutique Hotel | €€ | Restored Caves | Great Wine Choices
These beautifully restored caves provide a calm and tranquil home in the heart of the Sassi. Matera is, in many ways, the definition of slow travel, there is no urgency here, no need to rush to the next attraction, just relax and let 9,000 years of history wash over you.

The dining room and wine-tasting areas make this a must-visit destination even if you aren't staying in the hotel—a magical experience.
---
Not sure if Matera is for you? Check out our guide to Venice, Florence, or Rome instead.
---
The Perfect Cave Apartment for Families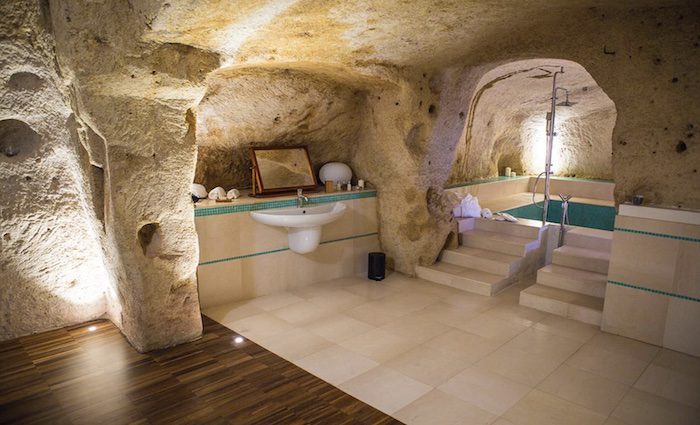 ---
2 Bedroom Cave House | €€ | Family Friendly | Terrace with Views
Look, Fred Flinstone didn't live in a cave bedroom, he lived in an entire cave house. Well, it's not quite Bedrock, but it's as close as you'll get. The shower in the bathroom, pictured above, is a particular highlight, with modern tiles surrounded by the cave walls.

This is perfect for those who want to travel even slower, maybe cook in a night or two, or just watch the sunset over the Sassi. I can't guarantee the under-sink food grinder will be a dinosaur, though. There is only so much we can do.
---
Not sure if Matera is for you? Check out our guide to Venice, Florence, or Rome instead.
---
The Best Cave Hotel With a Spa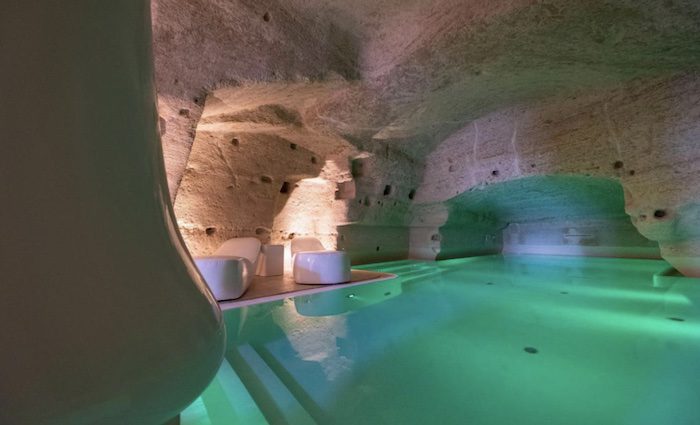 ---
5-Star Spa hotel | Modern | Family Friendly
The Latin phrase "Gutta cavat lapidem" ("the drop digs the rock") helps summarise this wonderful spa beautifully. Opened in 2009, the spa brings together the two elements that made Matera famous, the rock and the water that hollowed it.

With the onsite restaurant, you can dine by candlelight under the stars in the center of Sasso Caveoso. Or finish your day at the Spa, where all hotel residents are offered a complimentary sixty minutes during their stay.

For the adventurous, the hotel offers bike rentals to explore the area at your own speed.
---
Not sure if Matera is for you? Check out our guide to Venice, Florence, or Rome instead.
---
Where is Matera, and How Do I Get There?

---
Arriving by Air: The nearest international airport is Bari International, located about forty miles East. If arriving from America, it's likely you'll land in Rome, some five and a half hours further north.

By Train: There are trains from both Naples and Bari. From Naples, you are looking at a three-hour journey and five hours from Rome with a change in Salerno. Use the Ferrovie Appulo Lucane (FAL) from Bari, and you will arrive in Matera in around one and a half hours.

By Car: Renting a car is a good option for Matera as it is a fairly remote area. Driving in the ancient city is prohibited, but there are parking lots in the modern areas. Check with your hotel for the best options.

By Taxi: Flexibus is your best option, and you will find departures from most major Italian Cities.
---
Top Things to do in Matera
Best Restaurants in Matera
---
---