Are you heading to Bologna but are feeling overwhelmed by figuring out where to stay? Bologna is a vibrant city with many neighborhoods, each with a distinct personality. It can be a minefield to navigate. Let me do the hard work for you. I'll break down the city's best neighborhoods and show you some of the best places to stay in Bologna, so you can relax and enjoy the perfect trip.
---
Pro Tip: If you're planning a trip to Bologna, bookmark this page in your browser to easily find it later. Check out our Florence and Venice pages for more planning tips.
---
Our Partnership with Booking.com. If you like our content, please book by clicking our Booking.com links. The price is the same for you, and we get a small commission that helps support our blog. We've partnered with Booking.com because they have the most options, great prices, and a solid loyalty program. Almost every hotel is on Booking, so our recommendations are genuine.
The Best Hotels in Bologna at a Glance
---
Why Stay in Bologna?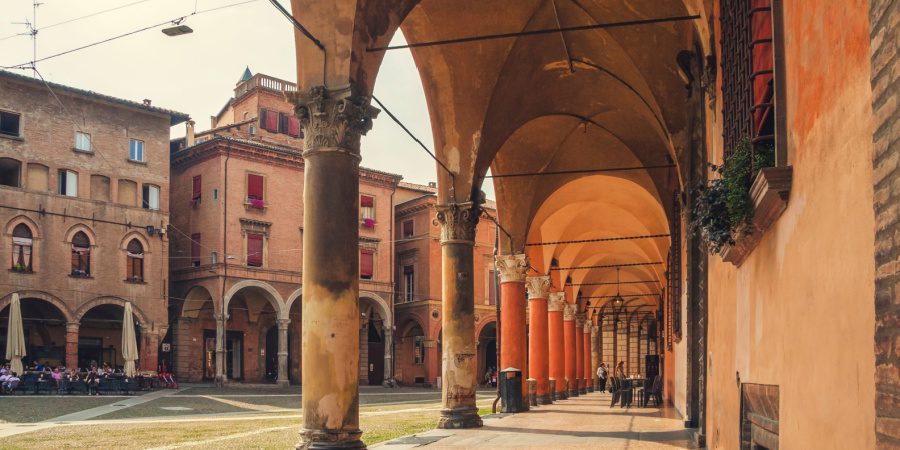 ---
Bologna, the regional capital of Emilia-Romagna, lies a mere 40-minute train ride from Florence (or about 1.5 hours from Venice). It's an ideal pitstop on your Italian adventure. And yet, often doesn't top most people's bucket lists. While a shame, it's also an opportunity for the savvy traveler.
It may be Europe's oldest university town (founded in 1088); however, that vibrant, inquisitive vibe remains. This is a creative and liberal Italian city where you can straddle the ancient with the modern. Head to the city center and find yourself in a Medieval and Renaissance wonderland. There are magnificent towers, humbling basilicas, and miles of arcaded porticoes to discover.
And the food! My god, the food. Eating here is like shooting fish in a barrel. You can't go wrong. Many of Italy's most famous food exports originate here. Ragù alla Bolognese, lasange, tortellini in brodo, mortadella. All regional specialties. Where better than Bologna to fill your stomach?
No wonder, then, that Bologna has earned quite a few nicknames over the centuries. 'La dotta' (the learned), 'la rossa' (the red; left wing), and 'la grassa' (the fat) each refer to an aspect of the city that combine to create Bologna's unique personality.
Bologna In or Out?
When figuring out where to stay in Bologna, you have two main options; 'dentro ou fuori della la porta' inside or outside the city gates.
Below I have broken Bologna into four distinct areas, follow the links, and you'll find full descriptions of each.
A Bologna Neighborhood and Area Guide
---
Check out our free Guide to Italy
---
Why Stay in Bologna's Centro Storico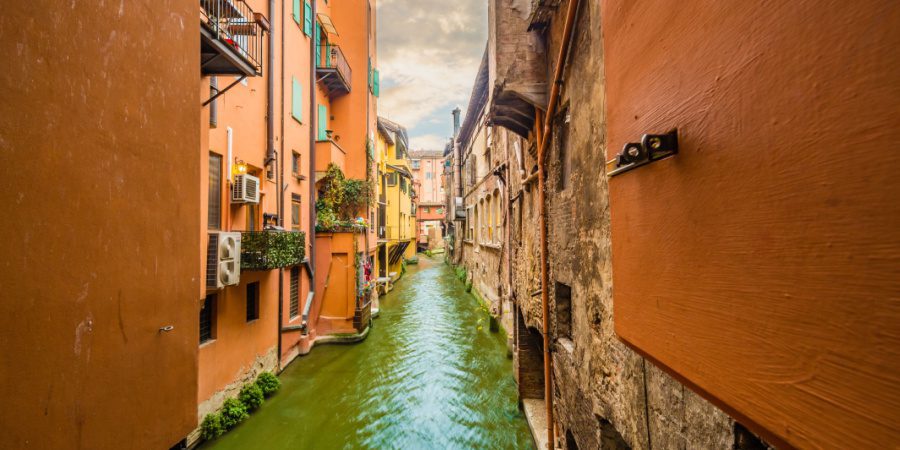 Our Favorite Hotels in Centro Storico
Grand Hotel Majestic già Baglioni | Palazzo Scappi Gardi Luxury Apartments | Art Hotel Commercianti | Hotel Corona d'Oro | Panorama Apartments
---
For first-time visitors, I recommend staying as close to the city center as possible. Whether you're a history buff, fiendish foodie, shopaholic, theatre lover, or you just love sitting on a piazza glass in hand while people-watching – the centro storico offers the full Bolognese experience. Step out of your hotel, and you'll be tripping over history with many of Bologna's major monuments on your doorstep – the iconic 'Due Torri' (Two Towers), Piazza Maggiore, Basilica di San Petronio, and the 'Quadrilatero,' to name but a few. It's ideal for those short time and who want to explore the city on foot.
Bologna's Jewish Ghetto (Ghetto Ebraico) straddles the centro storico and University district. However, due to its unique character, it deserves special mention. The architecture here is less Medieval. Built-in the 16th century, it has more of a Renaissance feel. On the edge of the Ghetto, you'll also encounter 'la piccola Venezia' (Little Venice). It's a little-known fact that Bologna was originally a city of canals. Most have long since been relegated underground. However, in the Ghetto, vignettes of Bologna's ancient past remain. Look down a side alley and find yourself immediately transported to the canals of Venice.
Besides the food, Bologna's biggest draw is its historic university. Founded way back in 1088 AD, it is the oldest university in the Western world. Past students include Copernicus, Petrarch, Marconi, Dürer, Erasmus, Dante, Umberto Eco, and a few popes. All have roamed this university's hallowed halls. This is still an active university, so the atmosphere is artistic and lively.
---
The Best Old-World Luxury Hotel in Bologna
€€€€+|5 star|Historic|Old-World Charm
---
Set in an 18th-century palace, the Grand Hotel Majestic già Baglioni is a grand dame among Bolgona's hotels. Indeed it is the only five-star hotel in the city.
The hotel has a long, storied history. In 1732, a Bolognese cardinal, who would later be pope, commissioned the building of an enormous new seminary. Today this, and parts of the adjacent Renaissance palace, form the Grand Hotel.
Welcoming guests for over a century, the Grand Hotel is popular with royalty, celebrities, and politicians. In fact, in 1944, a Nazi commander stationed here narrowly escaped with his life when the local resistance attempted to blow the hotel up. If War trivia isn't enough for you, then admire the 16th frescoes by the Carracci School or wander to the basement and marvel at the remains of a 2nd-century BC Roman road.
The hotel's decoration is classical Italian. Antique furniture. Murano-Glass chandeliers. Brocaded walls and heavy velvet drapes. This all might seem a bit heavy for some. However, if you want to indulge in the old-world charm of 'La Dolce Vita,' the Grand Hotel is for you. Book the Art Decó suite with a private 80 sqm terrace for spectacular panoramic city views. Come on, if had the cash, you would. Wouldn't you?
---
Not sure if Bologna is for you? Check out our guide to Venice, Florence, or Rome instead
---
The Modern Pied-à-Terre in Bol0gna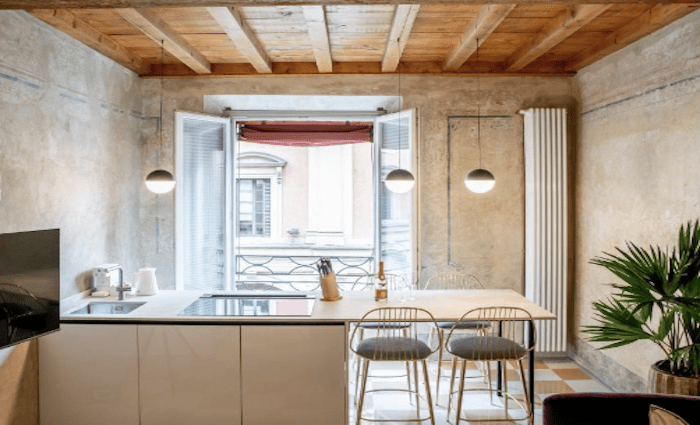 €€€ |Central| Historic | Modern
Gosh, I love this place. Located in the ancient Palazzo Scappi, the Gardi Luxury apartments are a new arrival on the Bologna scene. Steps from the center, this recently renovated palace features seven modern and elegantly appointed apartments.
Choose from the penthouse with a balcony, the suite with a private sauna, or my favorite, the 'Topaz' apartment, complete with 17th-century frescoes. It's perfect for sophisticated travelers looking for privacy in the heart of Bologna.
---
Want to make your trip perfect? Check out our free Tuscany Travel Blog
---
Perfect Hotel for History Buffs in Bologna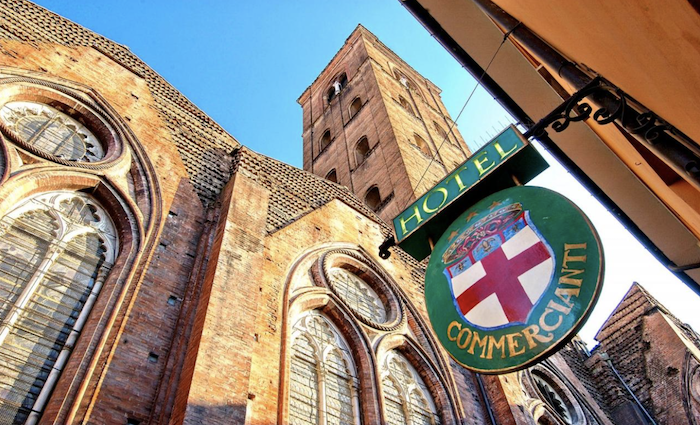 €€€ | Apartment | Groups | Great Location
In a building dating originally to the 11th century, you can find this cute and quirky family-run hotel. The Orsini family has been its custodian for three generations. But this is a Medieval treasure trove with a colorful past. Once Bologna's town hall, it has played host to local merchants, university scholars, and esteemed professors for centuries. Traces of its history lie in every nook, from the heavy wood beams to the frescos, the Etruscan pottery on the walls, and the ancient well in the breakfast room.
Each room has a theme relating to an aspect of the city's past, with charming little explanations dotted everywhere to explain the history. The family also hosts local artists with exhibitions in the lounge. Ideal for history geeks with a sense of fun.

---
Not sure if Bologna is for you? Check out our guide to Venice, Florence, or Rome instead
---
The City Center Classic Hotel in Bologna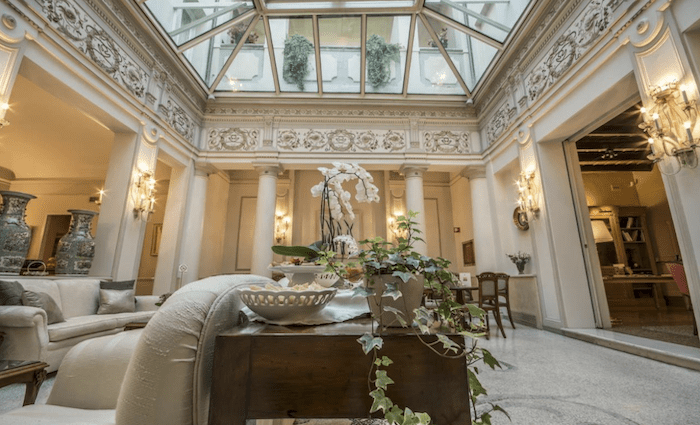 ---
€€€ | Old World | Central | Historic
This classic hotel enjoys a privileged position in the very heart of the city—an ideal spot for travelers looking for a peaceful oasis in the center of Bologna.
Originally a 13th-century Palazzo, the Corona d'Oro opened its doors as a hotel in 1890. The whole space exudes classical Italian elegance. For me, the highlight has to be the tranquil glass-ceilinged lobby. Decked out in the 'Liberty' style, it's a tranquil, lush space filled with plants and dotted with antiques – a perfect winter garden refuge after a day's sightseeing.
The 40 bedrooms are calm and spacious. Some rooms have small balconies – a rarity in the city center. Several suites boast painted wooden coffered ceilings – a fantastic glimpse into the building's Medieval past. The hotel's most recent addition arrived in 2021. The refined Casa Azzoguidi restaurant offers a contemporary interpretation of Bolognese cuisine.
Not exactly what you're looking for? Check out these dreamy vineyards with accommodation.
---
The Bathtub With a View in Bologna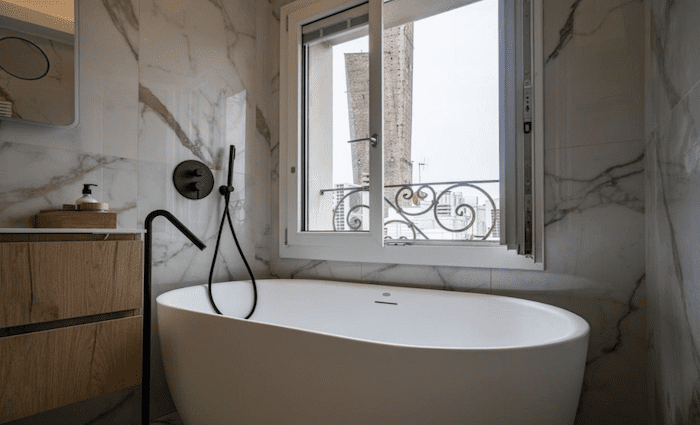 ---
€€ | Unique | Pool |Historical
This smart, inviting, and spacious two-bedroom apartment couldn't be more centrally located. It's a comfortable bolthole with all the modern conveniences you'd expect, including a small terrace. Step outside and find all the city's main sights on your doorstep. Although, the view from the bathtub might make it hard to leave.
---
Not exactly what you're looking for? Check out these dreamy vineyards with accommodation.
---
The Artsy Couples Retreat in Bologna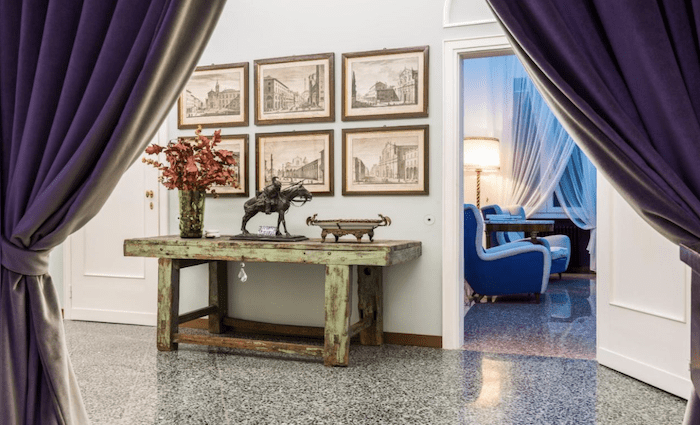 Once a private family home, Casa Bertagni now welcomes guests into their eclectically decorated small family guesthouse. The owner's grandparents built the house in the 1950s, so many vintage family treasures sit alongside the more contemporary, playful decor.
The six-bedroomed bed and breakfast sits on a quiet street in the University area, a mere 15-minute walk from Piazza Maggiore and the main sights.
The amenable staff can organize extra activities and are happy to make recommendations and reservations to enhance your stay. Ideal for couples or friends looking for a unique and cozy stay. However, I'd hesitate to recommend it to families with so many precious antiques begging to be toppled over.
---
Not sure where to stay yet? Check out our free guide on where to stay in Italy
---
Why Stay Around Bolognina & The Central Station?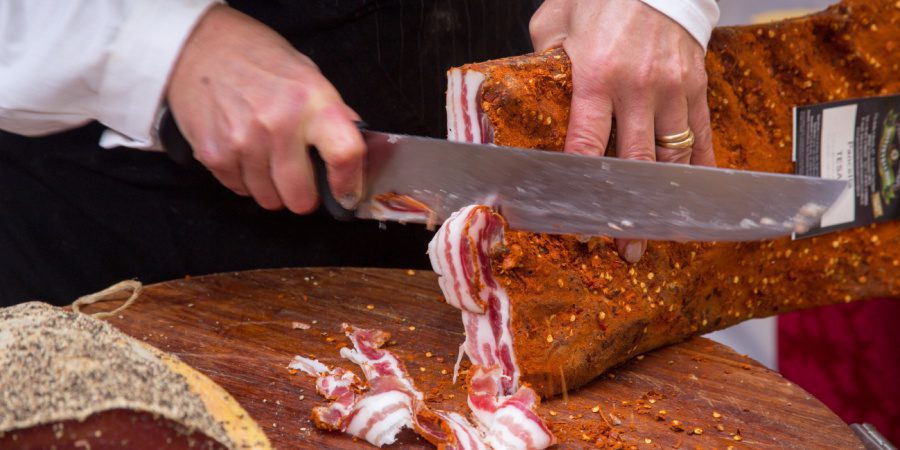 Our Favorite Hotels in Centro Storico
B&B Design | I Portici Hotel Bologna
---
If you want to be close to all the main sites and the station, have a car, or desire a calmer, more local neighborhood, then check out the areas of Bolognina and the Central Train Station. Bologninia, especially, is a gem of a community. It's Bologna's most diverse area – the streets are teaming with young families, immigrants, artists, students, and a charming older population. As an area, it offers excellent value, a bit more space, and a real old-school neighborhood vibe – something more tricky to find in the center. Like all of Bologna, it's well connected.
---
Top Hotel For Urban Design Lovers and Groups
Tucked away in the uber-cool Bolognina neighborhood, this apartment exudes northern Italian designer chic. Hardly surprising since the owners are interior designers.
Opt for the two-story industrial loft with a secluded terrace or one of their two private rooms. All are decorated with a refined, worldly, and restrained taste—my top pick in this neighborhood.
---
Not sure if Bologna is for you? Check out our guide to Venice, Florence, or Rome instead.
---
The Best Hotel For Food Lovers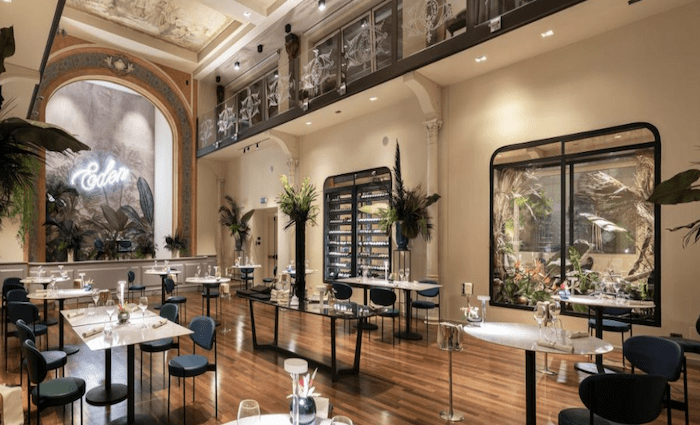 For a touch of belle-époque glamor, you could certainly do worse than check into the I Portici Hotel. The hotel occupies the former 19th-century Maccaferri Palace, just a few blocks from the train station.
It was built by a wealthy engineer just as the technological marvel of the railway rolled into the city for the first time. Once, it housed one of Bologna's most fashionable cafes. Even now, it boasts frescos and architecture in the elegant 'Liberty' style, the Italian Arte Nouveau.
Today, the hotel still retains a twinkle of glamor, including a one-star Michelin restaurant bursting with art nouveau details and a ballroom atmosphere. The cellar houses the former 'ghiacciaia' or ice-house. Once used by the wealthy before the days of refrigeration, it is today an intimate private dining space adjacent to the wine cellar. Roll on the roaring Twenties.
---
Not sure if Bologna is for you? Check out our guide to Venice, Florence, or Rome instead.
---
Why Stay in Colli Bolognesi or San Mamolo?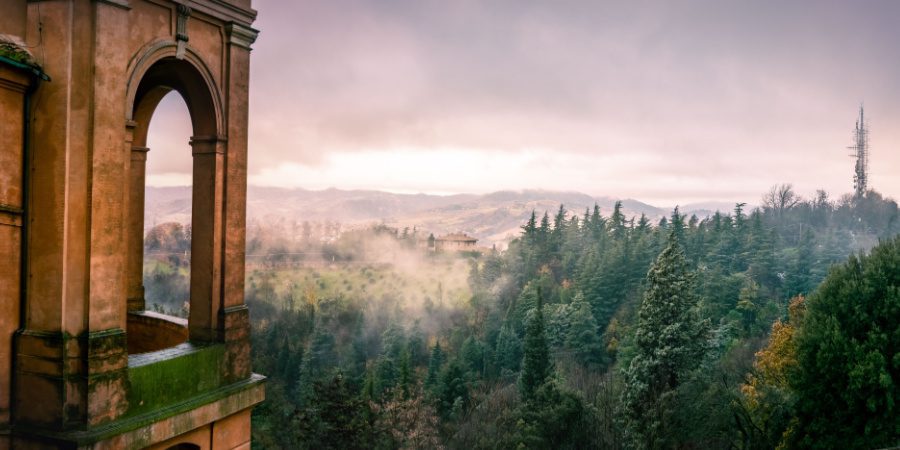 Our Favorite Hotels in Colli Bolognesi
Villa Gotti | Casa Fluò Relais
---
Look no further than the gates south of the city for a touch of local suburban chic. If you find yourself chatting with someone from Colli Bolognesi, rest assured the Gucci handbag ain't fake. Colli Bolognesi has a reputation for being the 'Beverly Hills' of Bologna. However, this area and its neighboring suburbs have much to offer. Depending on where you stay, you can find yourself in a secluded country retreat or a charming family guesthouse surrounded by lush parkland just minutes from the center. This an ideal destination if you have a car and want to explore the more relaxed side of Bologna's culture just next to the city.
---
The Best Hotel For Couples in Bologna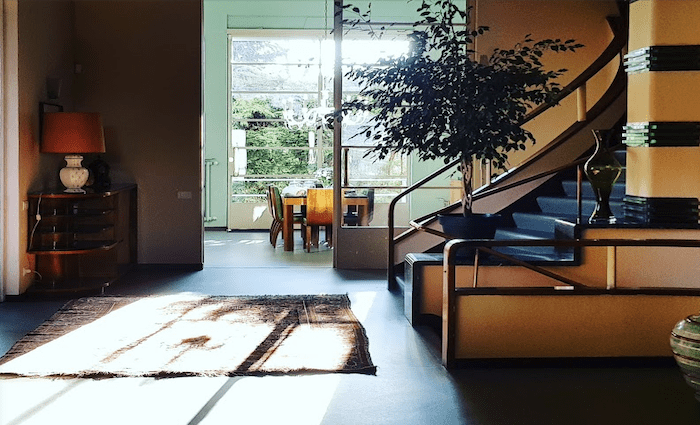 ---
For lovers of iconic 20th-century architecture, Villa Giotti is a pilgrimage. A rare example of the Italian 'Rationalist' style, it was designed by Enrico De Angeli in the 1930s. Due to the War, he fled and designed little else. As a result, Villa Giotti is a unique piece of architectural history.
The villa has since been maintained with astonishing attention to detail. The decoration and furnishings remain faithful to the original style. However, it provides everything in terms of modern comfort. This is a polished grown-up space. Despite being out of the center, it's only a twenty-minute walk from all the sights. Ideal for those who want an authentic refuge away from the crowds.
---
Not sure if Bologna is for you? Check out our guide to Venice, Florence, or Rome instead.
---
The Perfect Hotel Relaxing Retreat in Bologna
Set in the hills just 15 minutes away from the hustle and bustle of Bologna's center, you'll find this peaceful family-run rural retreat.
The centuries-old farmhouse accommodates guests in just four rooms. Making this an intimate escape from the modern world. You can hike the hills around the estate, hire a bike, or indulge in some mindfulness and relaxation with a massage or yoga lesson.
However, Casa Fluò Relais's highlight is its excellent restaurant with a spectacular terrace overlooking the countryside. The menu changes seasonally, mainly using organic zero km products sourced from local farmers or their own fields. Similarly, the wines are the estate's own. This restaurant is a big hit with the locals – and the Bolognese know a thing or two about
---
Not sure if Bologna is for you? Check out our guide to Venice, Florence, or Rome instead.
---
Why Stay Outside of Bologna?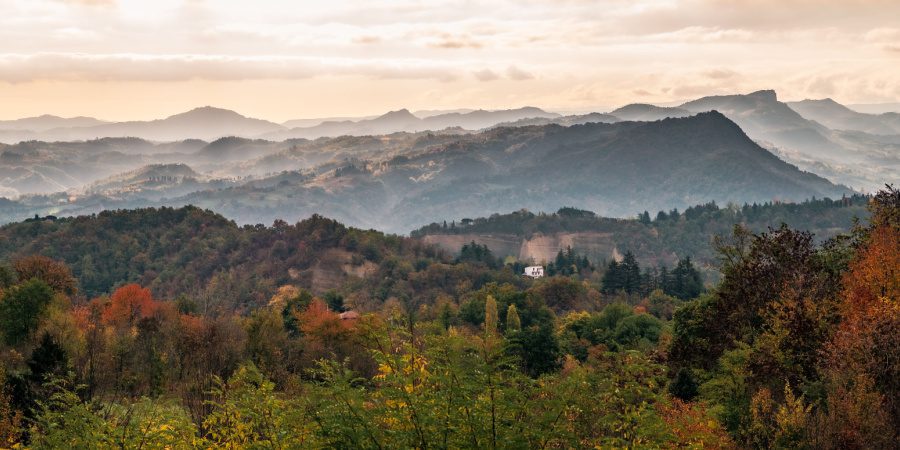 ---
Outside the city, the sky's the limit. There are estates, vineyards, and family homes galore to explore. For the independent traveler, it's an easy place to base yourself outside Bologna. You can explore the city's splendor and dive deep into its rich countryside and exquisite food.
---
The Ideal Hotel For Independent Souls in Bologna.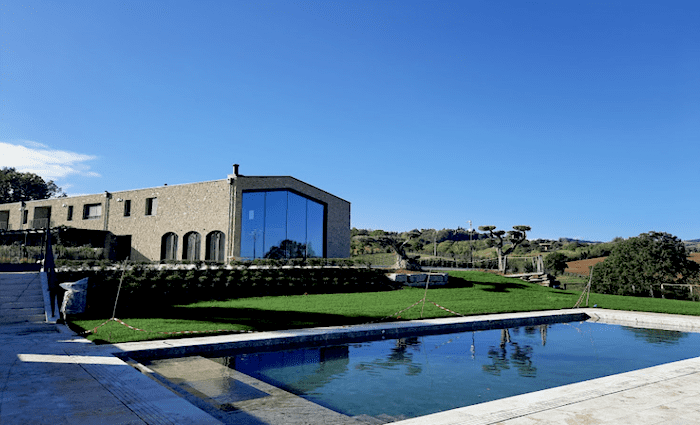 If you want to be close to Bologna but experience the tranquillity of the countryside, then Oliveto sul Lago is your perfect escape. It's about a 35-minute drive away from the city.
This sustainable farm-stay results from a careful and loving restoration of a countryside home destroyed during the War. The building's bones remain, but inside, it has been transformed into a calm and fresh space.
Take in the views, chill by the pool, or sleep in the former chapel, now an intimate suite—the ultimate getaway.
---
Not exactly what you're looking for? Check out these dreamy vineyards with accommodation.
---
Where is Bologna, and How Do I Get There?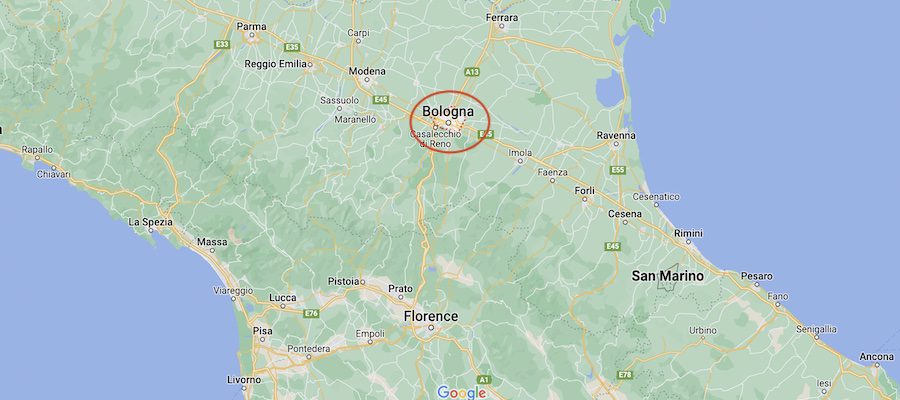 ---
By Air: Bologna's closest airport (BLQ) is close to the city. However, it's a regional airport. Accessible mostly by local European carriers. Most international visitors will arrive through Rome (FCO). Bologna is a 4-hour drive or a 2-2.5 hour drive from the capital.
By Car: Bologna and Emilia-Romagna is a region best discovered by car. This gives you the freedom to explore at will. However, be aware driving inside the city walls of Bologna is restricted. You may need to park outside or check with your accommodation beforehand. There is public parking outside the historical center.
By train: Bologna is fortunate to be on one of Italy's best train lines. The Freccia Rossa will whisk you from Florence to Bologna in just 30-odd minutes. More traditional lines will take longer. From Rome and Venice, it takes about two hours plus, depending on the service.
---
Top Things to Do in Bologna
Le due Torri: Garisenda e degli Asinelli
Piazza di Maggiore
Basilica di San Petronio
Portici di Bologna
Le Quadrilatero
Bologna University
Pinacoteca Nazionale
MAMbo – Museo d'Arte Moderna
Sanctuary of the Madonna di San Luca
Where to Eat Bologna
Ahimè
Ristorante Diana
Ristorante Da Cesari
Bottega Pappagallo
Trattoria di Via Serra
I Portici
Drogheria della Rosa
NOI – Mercato delle Erbe
Salumeria Simoni
---
---
Recently on The Blog