Your best bet to get to Italy and back to the US is to plan ahead and get your Covid-19 test results booked ahead of time. Here is everything you need to know about COVID-tested flights to Italy.
---
Update April 2022: Please see our other article about getting a Covid-19 test in Italy for the most current information.
We've received communication directly from The Italian Ministry of Health Ordinance of June 18, 2021 (GU General Series n.145 of 19-06-2021). Effective from June 21, 2021, the following updates as regarding entering Italy from the USA:
1) anti-SARS-CoV-2 vaccination, including the completion (at least 14 days) of the prescribed cycle of one of the vaccinations recognized by the EMA. Those vaccinated in the U.S.A. can prove this via the "white card" bearing a CDC logo;
2) recovery from COVID-19 (with a medical certificate outlining any necessary information);
3) negative rapid antigenic or molecular PCR test carried out within 48 hours of departure (proved via certification from the laboratory that performed the test).
entry from the U.S. via these Certificates exempt travelers from fiduciary isolation (so called "quarantine") upon arrival in Italy.

minors accompanied by a parent/caregiver with one of the above certifications must always take the pre-departure Covid test if they are 6 years old and over; minors under 6 years old are, in any case, exempt from the pre-departure Covid test.

Even with these Certificates, all passengers entering Italy are required, prior to departure, to complete a specific location form in digital format (https://app.euplf.eu/). Alternatively (in the event of technical difficulties), passengers can compile the specific self-certification form in paper format(https://www.esteri.it/mae/resource/doc/2021/04/modulo_rientro_sintetico_25_aprile.pdf).
When Italy announced they would open up their borders for leisure travel to American tourists, I got on my laptop and booked a flight to Rome. It has been over a year since I visited Italy and I jumped at the opportunity of seeing the country without crowds of tourists. Yes, I had to take some extra steps, but for me it was well worth it!
What are the requirements to get into Italy?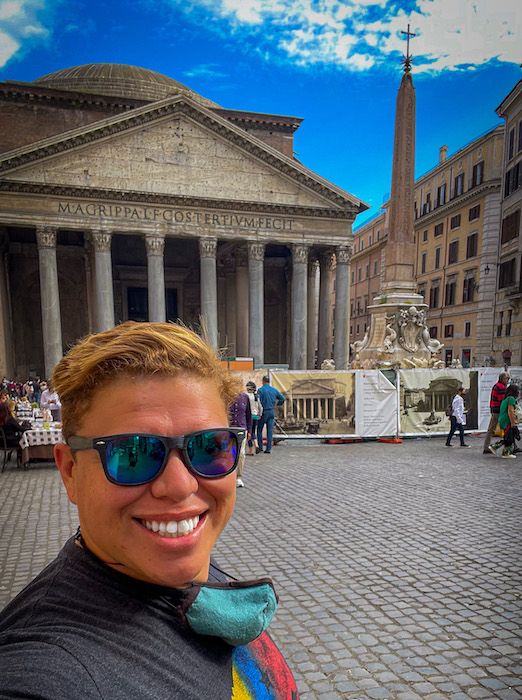 As of 2021, the big 3 airlines — United, American and Delta — are offering COVID Tested Flights  (sometimes called COVID Free Flights) allowing travelers from the USA to bypass the mandatory fourteen-day quarantine. The airlines made an agreement with the airlines to execute and help enforce the current regulations and requirements. They are flying from major cities in the USA to Milan or Rome. 
At first, it was confusing because COVID tested flights (Or Quarantine Free Flights) from the USA were only departing from major airline hubs in the USA. The list of cities has expanded to several major cities in the USA to facilitate those connections.
I booked so early that it was unclear if my American Airlines flight from Dallas would be labeled a COVID tested flight. After some calls to my airline, my flight was officially listed as a COVID tested flight.
So it's not a matter of booking the flight. The real issue is whether the flight is labeled as a COVID tested flight and meeting the requirements.
What are the requirements to fly on a COVID tested flight?
Passengers must present a negative COVID test (PCR or Antigen) 48 hours before boarding or 72 hours before arrival. The Antigen test option gives many travelers an affordable and less time consuming for testing.
The wording and execution varies by airline. In the case of American Airlines, unlike a COVID test result to return to the USA, the physical paper test needs to be shown at check in. United has an online portal for uploading results.
All passengers must fill out the EU passenger locator. The form is in English and can quickly be filled out before departure. I recommend filling this out a day in advance. The form generates the necessary QR code to enter the country.
There is also an app recommended by American Airlines named VeriFly which walks your through the semi-complicated process step by step to make it easier. Read more about it on American Airlines.
Getting Tested Before Departure
Even though I have traveled extensively during the pandemic, the testing process before my trip was challenging. I flew the day after Memorial Day, which presented limitations to scheduling my test. I was limited to an Antigen test because I departed on Tuesday, after the holiday, and Sunday, many testing centers were closed.
Tests are generally free in my area, so I scheduled two tests just in case I did not receive the results. My rapid Antigen test results were submitted on Sunday, and I received the results of my PCR test well after I arrived in Italy.  I recommend the antigen test from experience.
Please see our updated article about getting Covid-19 tests in Italy for the most current information!
The Day Before Departure
A passenger locator form is a standard form required by all of those traveling within the EU. It took me about ten minutes to fill out. I instantly received the email confirmation and QR code. After saving that email, taking a screenshot of the QR code, and having a paper copy, I moved onto the other requirements.
While researching information on the Italian government website, I came across a link to book a COVID test upon arrival. Since this is mandatory for entry, I looked into this more. Delt books and covers the cost of the test upon arrival. American and United do not cover the cost of the test. These airlines also do not cover the 20 EUR cost. Booking an appointment would be a huge time saver when I arrived in Rome (FCO).
Here is What You Need in Hand
It's advisable to have paper copies of all of the documents needed:
A copy of a negative COVID test result
EU passenger locator from American Airlines typically uses the Verifly app for passengers returning home from the USA to upload their negative COVID test results. Unfortunately, this is not the case for COVID-tested flights to Italy. Therefore, checking in online the day before is not possible on American Airlines. That meant budgeting more time at the airport the morning of departure.
The Day of my COVID Tested Flight to Italy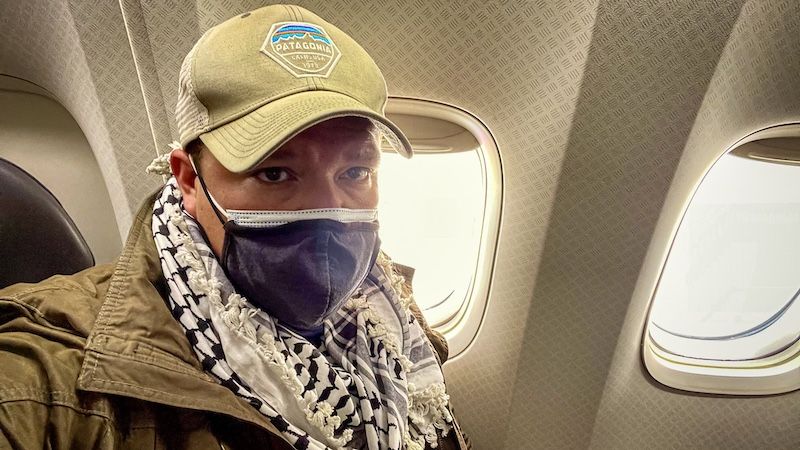 I arrived much earlier than usual for my flight since check-in was not possible the night before. Also, monitoring for documents is compulsory. So even though I was connecting to Dallas from Los Angeles (then onward to Rome), all documents were checked in LA by the check-in counter.
Other than the check-in counter, the flight to Dallas from LA was routine.
My final flight from Dallas to Rome (FCO) was slightly unusual. They announced at the gate for passengers to have our QR codes ready to show at boarding.
Due to airline staff's lack of training and confusion, it's best to have proof of all documents ready. They are not responsible for your entry into Italy. You are!
During my COVID Tested Flight
During the flight, the crew did not mention the mandatory COVID test upon arrival. The flight operated as if it was any other international flight. The lack of arrival information about COVID tested flight requirements upon arrival was noticeable to me. We cannot rely on the airlines, even though they hold the operational keys to the kingdom.

Arrival in Rome (FCO)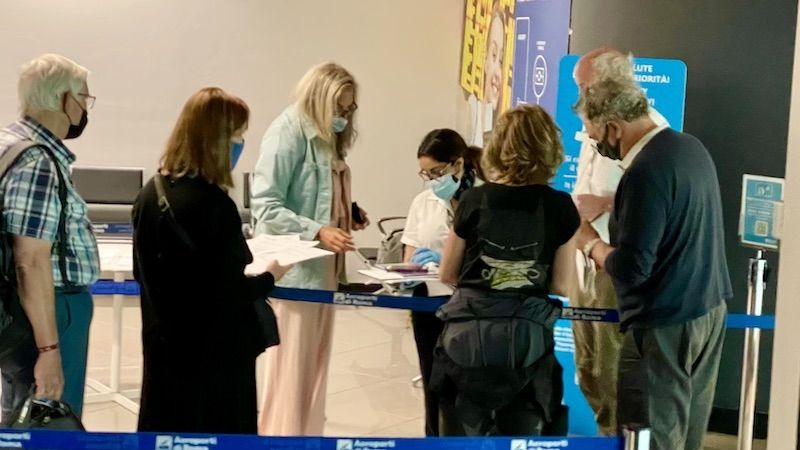 Immediately upon deplaning, all passengers made their way through the queue to the first gatekeepers. These airport officials were looking for the QR code from the EU passenger locator form. The passengers who did not have it ready, available or completed, could not leave that area and were asked to step aside.
What else do I need to know about COVID tested flights to Italy?
Regardless of vaccine status, testing again upon arrival is mandatory for all passengers. The administration of rapid tests at entry points (Milan or Rome) is a new procedure for passengers arriving from the USA. The cost of the test is 20 EUR, payable by credit card. I recommend booking an appointment for this test to save time. Booking ahead helped me immediately walk into the testing interview section. Those who didn't book a test had to wait in a long queue and fill out another form.
For those visiting Rome you can book an appointment here.
What to do upon Arrival in Rome (FCO)
Some basic questions were asked of me while sitting in front of a testing official behind a plexiglass cubicle. After a brief 5 minute interview and signing some documents, I followed the marked signs to the testing room.
As soon as I walked into the testing room at FCO, I was directed to a numbered cubicle and given a number. Even though COVID swabs are never pleasant, the test itself was not unpleasant. My passport was requested while awaiting the results of my test. Surrendering my passport is something that always makes me nervous.
Getting Tested in Rome (FCO)
The covid testing room is spacious, and there is plenty of space to social distance. The COVID administrators, military, and airport officials, far outnumbered the passengers this early morning. The nervous ten-minute wait to receive my results finally came to an end.
It felt good to have my passport in hand, along with a negative COVID test certificate. That document was checked, stamped, and collected before getting to passport control. I quickly snapped a pic of it just in case.
That whole process added an extra 20-25 mins to my arrival experience. After passport control, I was officially in Italy and ready to live my best dolce vita life.
Is it worth it to take a COVID-tested flight to Italy?
While I don't believe COVID-tested flights will be around for much longer, they are definitely worth the extra steps. When you book a flight for 2021, you have to assume that you may have to take these extra steps and for me, it was no different than getting a vaccine to go to a Sub-Saharian country for a safari.
Again, as of June 2021, it is currently the only way to get into Italy without a mandatory quarantine. Returning to the land of Michelangelo, incredible Unesco World Heritage sites and one of the world's greatest cultures is well worth the little time spent taking a COVID test or filling out a form. At the arrival airport, an extra 15-20 mins to take another COVID test is painless.

More links:
From AA:
https://apply.joinsherpa.com/travel-restrictions/ITA?affiliateId=americanairlines&anchorLocation=DirectURL&title=travelrestrictions&originCountry=USA
From Foreign Ministry Italy:
https://infocovid.viaggiaresicuri.it/returningtoitaly.html
From Health Ministry Italy:
https://www.salute.gov.it/portale/nuovocoronavirus/dettaglioContenutiNuovoCoronavirus.jsp?lingua=english&id=5412&area=nuovoCoronavirus&menu=vuoto&tab=7
https://www.salute.gov.it/portale/nuovocoronavirus/menuAChiRivolgersiNuovoCoronavirus.jsp?lingua=english&area=nuovoCoronavirus&menu=CovidInfoline
From Tourism Board:
http://www.italia.it/en/useful-info/covid-19-updates-information-for-tourists.html
Passenger Locator Form:
https://www.euplf.eu/en/home/index.html
Regional Phone Numbers:
https://www.salute.gov.it/portale/nuovocoronavirus/dettaglioContenutiNuovoCoronavirus.jsp?lingua=english&id=5371&area=nuovoCoronavirus&menu=vuoto
Rome Airport COVID Test Booking