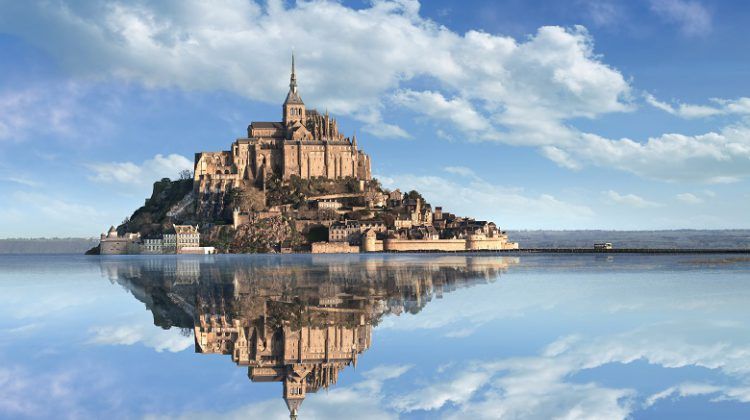 Mont Saint Michel is considered by many to be one of France's most breathtaking sights. Set in the mesmerizing bay where the regions of Normandy and Brittany merge, it has been listed as a UNESCO World Heritage Site since 1979. While the island is normally surrounded by large sandbanks, tourists mostly recognize Mont Saint Michel from photos taken when the tides are high and it becomes entirely surrounded by water, only accessible by the bay. The spectacular effect of the island and its abbey rising out of the water gives it a fantastic appearance that is simply hard to beat.
---
Hey, we sell tours too!

While the information provided here is free, we also provide tours at reasonable prices. Experience the beautiful Paris countryside on one of our Paris day trips. See the splendor of France outside of the City of Lights. Visit the rolling hills of Normandy and pay homage to the fallen at Omaha Beach and National D-Day Memorial on our day trip from Paris to Normandy. Explore France's rolling hills and vast countryside with The Tour Guy!
What Exactly is Mont Saint Michel?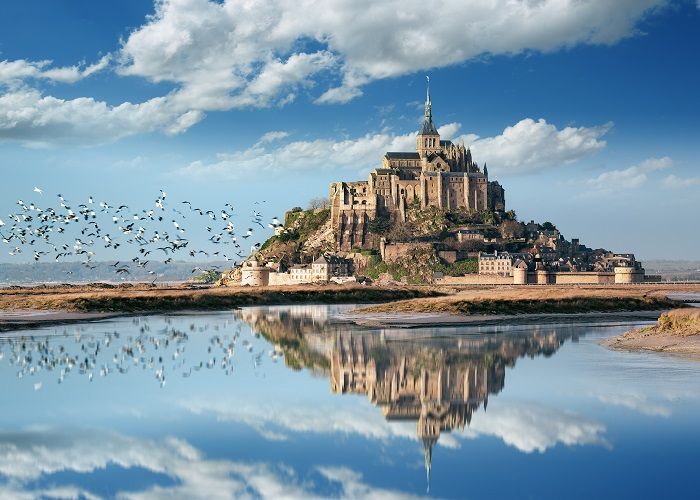 So why did Mont Saint Michel (also known as Le Mont Saint Michel) get so well known, and what's the story behind it? The island came to be what it is today early in the eighth century when a bishop of a nearby town claimed that the Archangel Michael convinced him to build a church on top of the island.
Soon after, it became a pilgrimage center and in 966 a Benedictine abbey was built there. Throughout the centuries, Mont Saint Michel has stood strong and only increased in popularity.
While not many visit it as a pilgrimage center today, people still come from around the world to admire its architectural beauty and unique setting.
Alright, I Want to Go! Now How Do I Get There?
Unfortunately, getting to this amazing spot is not as easy as one would hope. There is no direct train to access Mont Saint Michel. From Paris, you can take trains to the cities of Caen or Rennes but then will have to take a bus or smaller train to get closer to the island. While it's possible, it will definitely take some time to organize and might be a little difficult if you're not a savvy traveler.
The easiest way to get to Mont Saint Michel from Paris when you're on limited time is with a tour group. Multiple tour operators run round-trip day trips from Paris to Mont Saint Michel, often with lunch and a guide/audio guide included. Visiting the island on a day trip doesn't allow you unlimited time to visit, but it will easily and conveniently get you there without you having to do much organizing. While Mont Saint Michel is an incredible place to see, the majority of visitors probably won't feel like they need more than a day or two to explore everywhere on the island, so a day trip is far from a bad option.
If you have the time, driving a car is another way to get to Mont Saint Michel. It's about a four-hour drive from Paris, although it can be longer depending on traffic. Visitor parking lots are available near the island, but you'll still have to take a shuttle there once you park – there is no tourist parking directly on the island.
What Is There to See?
The biggest attraction of Mont Saint Michel is Benedictine Abbey. Visitors can discover the history behind the abbey and admire its medieval architecture either with a tour or on their own. Adult tickets cost 10 euros for an individual visit. Besides the abbey, there are also many things to see on the island, including multiple museums, hotels, restaurants and boutiques. The most famous restaurant on the island is La Mère Poulard, which has been serving up fluffy omelets since 1888.
If you stop into some shops, you'll also find La Mère Poulard biscuits. These buttery, flaky biscuits are a perfect gift to take back home as souvenirs to friends and family, so think about grabbing some before you leave. Otherwise, the true magic of Mont Saint Michel simply comes from wandering its winding streets and soaking it all in.
There's no bad time to visit the island, although it does get very crowded during high season (mostly in the summer months). If you have the chance to spend the night on one of the island's hotels, we highly recommend it. But even if you're only able to visit for a few hours, we guarantee you won't regret visiting Mont Saint Michel, a gem that deserves to be on everyone's bucket list.
---
I Want More Paris!
Not sure what to do in Paris? Check out our step-by-step guide about how to do Paris in a Day. If you'd rather let us guide you, check out our Paris tours.
Parlez-Vous Francais? Learn some of the most important French phrases before your trip to Paris.