Going to see a show is without a doubt one of the most iconic activities in Las Vegas. Between comedy, magic, and thrilling acrobatic feats, Vegas shows truly dazzle and inspire. We know it can be overwhelming to pick which show to see, so our local has put together a helpful guide! Read on to find out about the best shows in Vegas for each category.
---
Find Out What Shows Are in Vegas
The great thing about Las Vegas shows is that you're sure to find one perfect for your group. There are shows appropriate for children, shows with a more adult sense of humor, and everything in between! What's more, there are also many famous musicians with residencies in Vegas. That means that for a few months at a time, that musician will play a show at a certain venue every night.

One of the most famous shows in Vegas is the Cirque du Soleil shows. These are mind-bending acrobatic shows with lights and music unlike any you have seen before! Each Cirque du Soleil show has its own theme.
Another thing to note for shows in Vegas, most of them are located inside some of the biggest hotels on the Strip, which means it can take a few minutes to get inside and find the venue. Plan to get there early to make sure you have plenty of time to find it.

We've separated the best shows in Vegas into a few categories. In this guide, you'll be able to find the best comedy shows, the best magic shows, and the best Cirque du Soleil shows. Additionally, we include a list of the current residencies of top musicians in Vegas.
The Best Comedy Shows in Las Vegas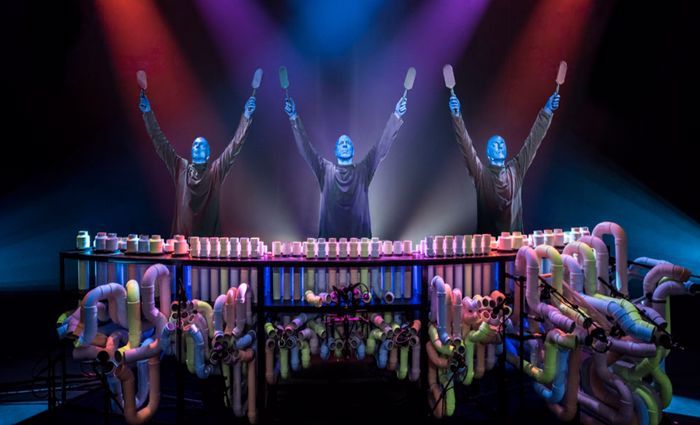 Piff The Magic Dragon:
Like many Vegas comedy shows, Piff the Magic Dragon toes the line between comedy and magic. As the name suggests, Piff is a dragon suit-clad magician who wows his audiences with various tricks.
However, the show has such a comedic twist that we thought it belonged in this section. Like we said, he's in a dragon suit! He also has a pet companion, Mr. Piffles, whom audiences love.

The show's tagline is "fun for some of the family," and we agree that some of the humor in the show may be more appropriate for slightly older kids. Keep that in mind when you book!

Address: 3555 S Las Vegas Blvd, Las Vegas
Cost: starts at $52.95
The Blue Man Group
This slapstick show is led by leaping men who are painted, well, entirely blue. Although the Blue Men never speak, they play music, do tricks, and perform wordless comedy sketches. What's more, if you're a fan with shows of audience participation, this is a good one to check out. Members of the audience are heavily involved in the performance (with consent, don't worry!)

Please note that if you're in the front few rows, the crew will hand you and your group ponchos. Some paint from the performance may get splattered into the first few rows, so this just to protect those sitting in those rows. If you aren't sitting in the first few rows, you won't get splattered!
The show runs for about 90 minutes and is appropriate for children! However, the show does include loud music and some smoke rings for effect. Keep this in mind if you have younger children. Otherwise, the Blue Man Group is a unique Vegas show experience for the whole family.

Address: 3900 S Las Vegas Blvd, Las Vegas (at the Luxor)
Cost: starts at $49
Brad Garrett's Comedy Club
This club features rotating touring comedians. Shows are usually hosted by the club's namesake, Brad Garrett from Everybody Loves Raymond. Brad Garrett's Comedy Club is inside the MGM Grand and is a great spot for date night.
Please note that Brad is not always present, so it's worth checking the lineup before purchasing tickets! The comedy club prides themselves on always having funny comedians, many of whom you may have heard of. However, keep in mind that the comedy is likely not kid-friendly.
Address: 3799 S Las Vegas Blvd, Las Vegas (at MGM Grand)
Cost: starts at $59.95
Carrot Top
Another show at the Luxor Hotel, Carrot Top has been performing in Vegas since 2005. The red-haired comedian delivers fast-paced comedy with cool lighting and sound effects. His jokes are geared towards adults, so this isn't a good one to bring your kids to.
If you like quirky humor, however, this is a good show for you! Frequently utilizing self-deprecating humor, Carrot Top also uses unique props to drive his jokes home. The props make his show unique and a must-see. There's a reason this show started in 2005 and keeps getting renewed!
Address: 3900 Las Vegas Blvd S, Las Vegas (at Luxor)
Cost: starts at $40
V- The Ultimate Variety Show
If you want to take your kids to a Vegas show without breaking the bank, this is the one! Held in Planet Hollywood, this show features impressive acrobatic stunts as well as jokes to keep you laughing for the entire length of the show. Some of the jokes are PG, but it is still a great family-friendly show in Vegas.

V really is a variety show! It's full of plenty of comedy, magic, and amazing acrobats. We put this in the comedy section of our guide because of the opening act, which is basically stand-up comedy. Throughout the show, the hosts will jump in and deliver comedic narrations between the awesome acrobat acts.
Address: 3663 S Las Vegas Blvd #360b, Las Vegas (at Planet Hollywood)
Cost: starts at $99.99
The Best Magic Shows in Las Vegas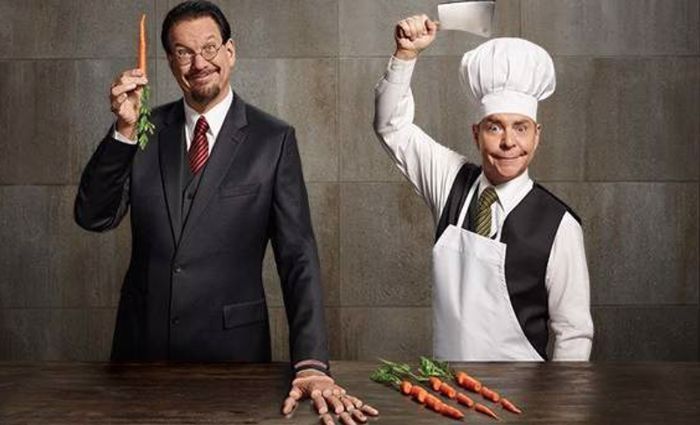 Penn & Teller
You've likely heard of the famous magician duo Penn & Teller. Now, you can see them up close and personal! Giving shows every Thursday through Sunday in the Rio Hotel, Penn & Teller wow the audience with illusions and card tricks.
What really sets them apart from most other magicians is that they explain to their audience how they do their tricks! Even so, audience members usually leave stunned and impressed.

As with most of the other shows on this list so far, there's a comedic element, and some of the jokes head into PG-13 territory. Penn & Teller heavily involve the audience in their performance. There's also a live jazz band that plays before they start! If you're a fan of card tricks and fun, don't miss this classic Vegas show.

Address: 3700 W Flamingo Rd, Las Vegas (at Rio)
Cost: starts at $75
Mat Franco Magic Reinvented Nightly
With "Magic Reinvented Nightly," Mat puts on a family-friendly magic show in a small theater. What's more, he interacts with the audience, and sometimes even pulls audience members onstage. Unlike Penn & Teller, Mat doesn't reveal his secrets.
Visitors to Vegas love seeing Mat Franco because of his enthusiastic, positive energy! Located in the LINQ Hotel, this interactive show is a cool family magic show.
Address: 3535 S Las Vegas Blvd, Las Vegas (at LINQ)
David Copperfield
You've likely heard of famous illusionist David Copperfield before, and his "Live The Impossible" show has been astounding people for years. This show is an interactive magic performance that tells a story. Copperfield achieves amazing feats, including a trick involving making a car appear—seemingly out of thin air! (We wish he would tell us how like Penn & Teller do.)

Held at the MGM Grand, this show is definitely family-friendly. If you and your kids love magic, and want to experience a show that tells a story, David Copperfield is a great pick.
Address: 3799 S Las Vegas Blvd, Las Vegas (at MGM Grand)
Cost: starts at $71
Nathan Burton Comedy Magic
Located inside of the Miracle Mile Shops at Planet Hollywood, this kid-appropriate magic show is full of astounding tricks. Nathan Burton likes to involve the audience, like many of his fellow magicians. However, the audience participation is completely voluntary, so don't worry!
This is a great money-saving pick if you'd like to see a show while you're in Vegas, but don't want to splurge too much. Expect magical illusions, entertaining dance routines, and jokes to have the whole family laughing.
Address: 3663 S Las Vegas Blvd, Las Vegas (at Planet Hollywood)
Cost: starts at $20
Shin Lim: Limitless
If you love classic magic tricks up close, go see Shin Lim. His talent is "limitless" as he performs his tricks. Mostly full of astounding card tricks, this show is also appropriate for all ages. It's held at the Mirage, so make sure you catch their famous free volcano show before or after you see Shin Lim!

Shin is usually joined onstage by another magician, Colin Cloud. Audience members love how the two magicians play off each other, creating a truly awesome show.

Address: 3400 S Las Vegas Blvd, Las Vegas (at Mirage)
Cost: starts at $39.99
The Best Cirque du Soleil Shows in Las Vegas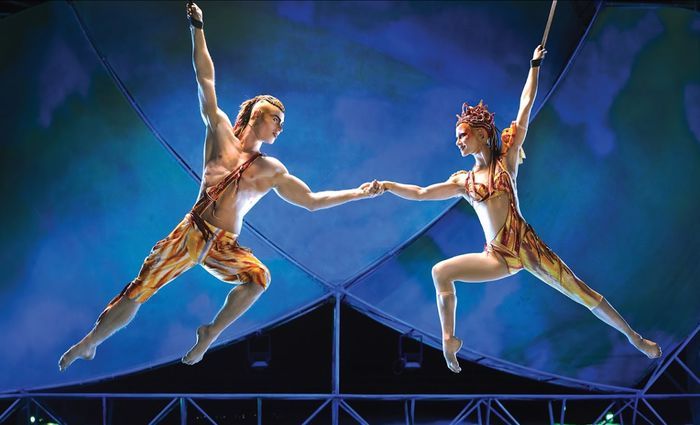 The Beatles LOVE:
As we mentioned earlier, Cirque du Soleil shows are full of incredible stunts and stunning visuals that are hard to describe as they're unlike most other shows. Each one has a very different theme, providing a different experience at each show.
Inspired by music by the Beatles, the Beatles LOVE is a rock n' roll journey that even non-Beatles fans will enjoy. The Beatles LOVE is jam-packed with acrobatic feats, bright colors, and of course, amazing music. Held at the Mirage, this show features props to make you feel like you've stepped back in time to the Beatles era.
Address: 3400 S Las Vegas Blvd, Las Vegas (at Mirage)
Cost: starts at $69
Mystère
With prices starting from $75, Mystère tells a wild story with flying performers and mind-bending illusions. Held at the pirate-themed Treasure Island Hotel & Casino, Mystère runs for 90 minutes.
It's full of feats that will make it hard to believe what you're seeing. If you feel like high-rolling, they also have a VIP experience available, where you can sip on champagne as you enjoy the show.
Address: 3300 S Las Vegas Blvd, Las Vegas
Cost: starts at $75
KÀ
This Cirque du Soleil show is different from the rest in that it includes two moving platforms! The platforms float and turn sideways as the daring acrobats leap about them. Cirque du Soleil performers are already incredibly impressive, but just wait until you see them navigate a moving platform!
Adults of all ages, as well as children five and older will enjoy this action-packed performance also at the MGM Grand. (Dang, there's a lot of shows there!)
Address: 3799 S Las Vegas Blvd, Las Vegas (at MGM Grand)
Cost: starts at $69
Michael Jackson ONE
Any fans of Michael Jackson will love this one-of-kind MJ tribute! Michael Jackson ONE features astounding dance performances and acrobatic feats, all set to Michael Jackson songs. This show also features amazing visuals since it's part of the Cirque family of shows.
It's held at Mandalay Bay, so if you have children in tow, you can visit the Shark Reef Aquarium before the show!
Address: 3950 S Las Vegas Blvd, Las Vegas
Cost: starts at $69
O at Bellagio Hotel & Casino
This 90-minute show will make you feel like you're underwater—or perhaps on another planet! Acrobats, swimmers, and other creatures perform above a gigantic pool onstage. The pool makes this show unlike any others in Vegas!
You'll find this one-of-a-kind show at the Bellagio Hotel. Make sure to catch the free Bellagio fountain show before you head in to watch O!

Address: 3600 S Las Vegas Blvd, Las Vegas
Cost: starts at $79
Musicians With Current Residencies in Las Vegas
Katy Perry at Resorts World (May through August 2022)
Barry Manilow at Westgate Casino (September through December 2022)
Silk Sonic at Park MGM (August 2022)
Rod Stewart at Caesar's Palace (September 2022)
Shania Twain at Planet Hollywood (August 2022 through September 2022)
Usher at Park MGM (July 2022 through October 2022)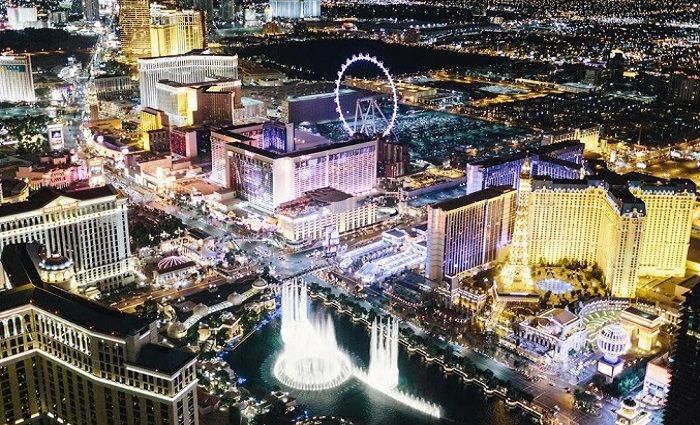 Find the best places to stay
Where to Stay in Las Vegas
Discover some of the most iconic and best places to stay in Las Vegas to make this trip the most memorable of all your trips to the Strip.