With hundreds of wineries studding the Napa Valley, figuring out which one you'd like to visit during your stay can be a daunting task. Though you really can't go wrong with any of Napa's world-class wineries, we've compiled a list of some of our favorites to give you some locals-approved inspiration. Read on to plan your visit to any of the top wineries in Napa Valley!
---
The Best Wineries To Visit in Napa Valley
The Napa Valley is home to hundreds of wineries with new businesses opening their doors often. Technically, there are probably even more wineries in Napa Valley, but not all of them are open to visitors or tastings. Most wineries require advance reservations, so don't wait to book your trip to any top wineries in Napa Valley.
So for the many wineries that you can visit, we have compiled a list to help narrow down your itinerary. Whether you're a first timer to the valley or just looking for some inspiration to add to your wine country bucket list, read on to find wineries well-worth visiting.
Pro tip: We recommend booking a max of 2-3 wineries per day. Wine tasting is a lot more tiring than you'd expect. The last thing you'll want to feel is rushed while drinking wine among the vines under the California sun.
11. Grgich Hills Estate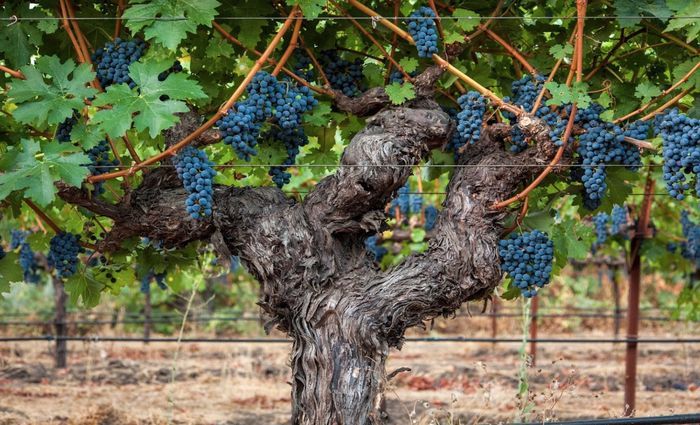 Mike Grgich, who is the oldest winemaker in the valley, is famous for being one of the original Napa winemakers that put Napa wines on the map during the Judgement of Paris in 1976. The Judgement of Paris was a wine competition in which California wines surpassed the quality of French wines in a blind taste test. A proud moment in California history, to be sure!
Thanks to our victory during the Judgement of Paris, Napa became widely respected as a world-class wine producing region from that day on. This winery offers seated tastings, picnic experiences, and grape-stomping experiences during harvest season. For a true taste of Napa Valley history, we highly recommend visiting Grgich Hills Estate as one of the most historic wineries in Napa Valley.
Pro tip: It's pronounced "ger-gitch."
Address: 1829 St Helena Hwy, Rutherford
10. Schramsberg Vineyards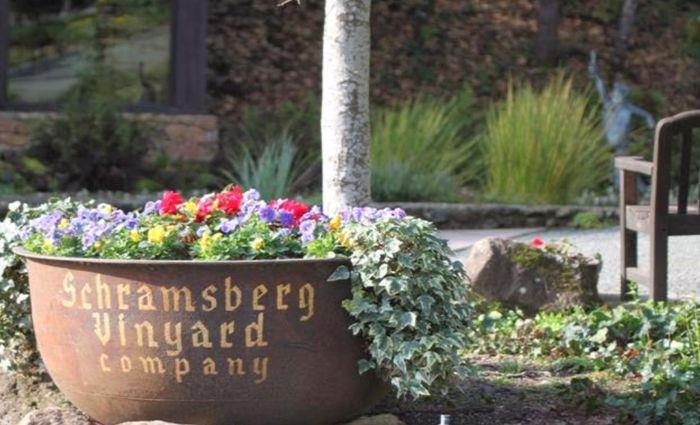 Schramsberg Vineyards is indisputably the best in the valley for sparkling wine. For over 50 years, the Davies family has produced top-quality sparkling wines for discerning oenophiles. The property offers appointments-only tasting experiences from May through October and tasting packages with full cave tours year round. Schramsberg also offers its visitors wine and cheese pairings.
The original Schramsberg estate was built in the 1800s, but was abandoned until Jack and Jamie Davies found the crumbling and overgrown property. With their vision, the Schramsberg vineyards quickly grew to the place for sparkling wine. If you are a self-proclaimed sparkling wine snob, Schramsberg Vineyards is a must.
Pro tip: If you're having trouble getting a reservation at Schramsberg, check out their sister property, Davies.
Address: 1400 Schramsberg Rd, Calistoga or Davies at 1210 Grayson Ave., St. Helena
9. Ashes & Diamonds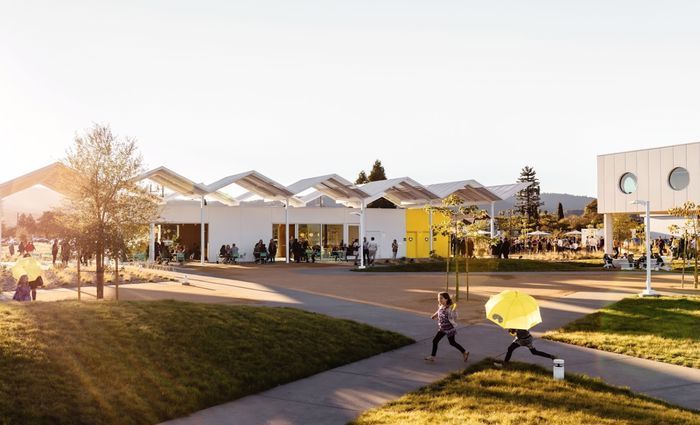 Inspired by mid-century architecture, Ashes & Diamonds features iconic design aspects such as zig-zag roofing with porthole windows and trendy furnishings. The winery refers to itself as "a love letter to Napa Valley as it was when it took the world stage in the 1960s."
Beyond the unique and stylish architecture and interior design aspects, Ashes & Diamonds boasts an incredible selection of mountain collection and single vineyard wines. Ashes & Diamonds takes an old-school approach to winemaking and aims to mimic famous wines produced during the middle of the 20th century, but with a trendy new spin for a younger generation. For an Instagram-worthy winery, Ashes & Diamonds is your best bet.
Pro tip: Ashes & Diamonds is located right next door to Bistro Don Giovanni, which is known for having some of Napa Valley's best Italian food. We suggest planning your itinerary to include a reservation there before or after your tasting. You can thank us later.

Address: 4130 Howard Ln, Napa
8. Domaine Carneros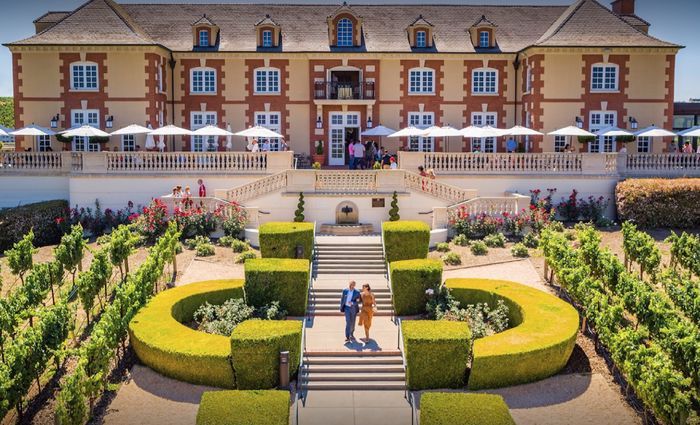 No Napa Valley winery list is complete without Domain Carneros. This iconic location boasts beautiful gardens, gorgeous views, and a reputation for having some of the best sparkling wine and pinot noir in Napa Valley. You'll love the French-inspired chateau here and impeccable gardens to explore when you're not sampling their wine.
The winery offers special sabrage demonstrations, caviar pairings, and sparkling wine flights. As with almost everything around the valley, reserve your spot online before you arrive to guarantee a tasting at this top winery in Napa Valley.
Address: 1240 Duhig Rd, Napa
7. Round Pond Estate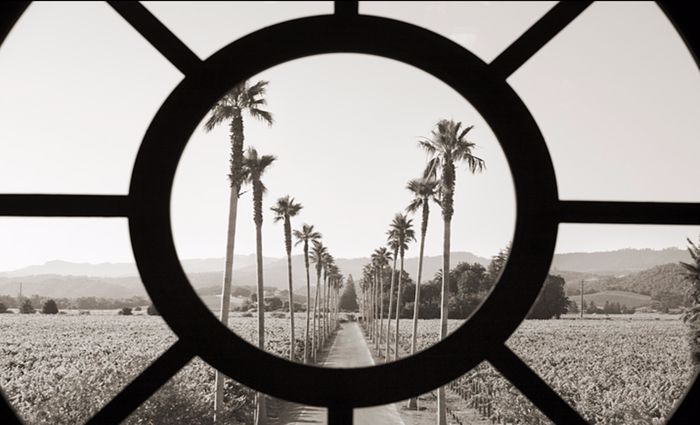 Round Pond Estate is known for its world-class wines and olive oils. With a driveway lined by palm trees and acres of gorgeous vineyards, each visitor truly gets a beautiful California wine country experience as they make their way to the estate. They also make their own local olive oil, cheese plates, and offer incredible farm-to-table dining experiences.
It is located smack dab in the middle of Napa Valley, which makes it an easy stop on your day of wine tasting around other vineyards. Call ahead for reservations. And when you're back at home after your wine country getaway, you'll love that you can order those amazing olive oils and wines directly on Round Pond Estate's website.
Address: 875 Rutherford Road, Rutherford
Planning your trip to Napa Valley? Check out our list of the must-do activities around Napa, plus where to stay around the Napa Valley!
6. Castelo di Amarosa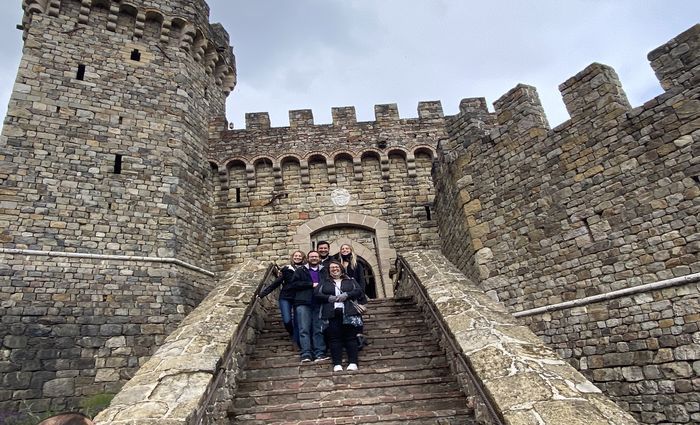 According to their website, the Tuscan-style Castelo di Amarosa Winery took over 15 years and $40 million to build, which won't surprise you once you see this vast, carefully constructed, gorgeous castle located at the top of a hill in Calistoga.
This castle is the largest stone building in California, and the architectural masterpiece is complete with all of the intricate details of an authentic 13th-century castle. The Castelo di Amorosa is complete with a drawbridge, moat, five towers, courtyards, and even a torture chamber — just for show, of course. There are 107 rooms in the castle and no two are alike. (What are you waiting for?!)
After taking a tour of the castle, you will be able to taste incredible Italian-inspired wines that are only available for purchase at the castle. To book a tasting tour, make a reservation on their website in advance.
Pro tip: Visit the castle during a weekday to avoid the crowds.
Address: 4045 St Helena Hwy, Calistoga
5. Raymond Vineyards
For a truly one-of-a-kind experience in the valley, look no further than Raymond Vineyards. The winery hosts tastings either outside in the grove or in their crystal cellar with mannequins and Cirque de Soleil airing on a projector. Raymond Vineyards also has one-of-a-kind private spaces such as the JCB Lounge and The Red Room, which is clad in red velvet, crystal glassware, and features unique books galore.
The property also features interactive experiences such as "avenue of the senses" where visitors can smell distinctive flavor notes from vintage French perfume bottles. Or guests can visit the animal farm and tour their bio-dynamic farming methods.
Additionally, the winery also offers a Winemaker for a Day package, where guests can learn to make their own Napa Valley Bordeaux-style blend. After you blend your own wine, you will cork it and even have the option to create a custom label. Raymond Vineyards is easily one of the most memorable wineries in Napa Valley.
Pro tip: For appointments in the red room or JCB lounge, call ahead.
Address: 1584 St Helena Hwy, St Helena
4. Eleven Eleven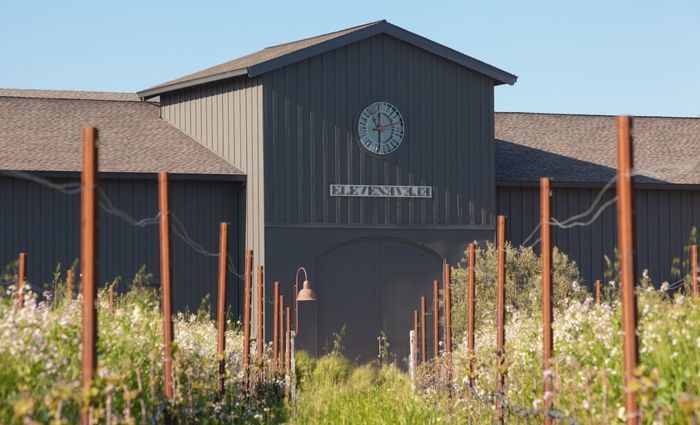 Found off the beaten path, Eleven Eleven is a boutique winery just a short drive outside of downtown Napa. They have recently renovated their stylish tasting room which reopened to the public in 2021. Beyond the lush grounds and modern industrial interior design, Eleven Eleven has some of the most elegant wine that the valley has to offer.
Their wines are all 100 percent, single-vineyard, single-varietal that allow the high quality fruit and boutique production to really shine through. The winery also offers cheese and charcuterie pairings as well as tours of the facilities. For a truly boutique and top-tier wine tasting experience, we highly suggest Eleven Eleven.

Address: 620 Trancas St, Napa
3. Shadybrook Estate Winery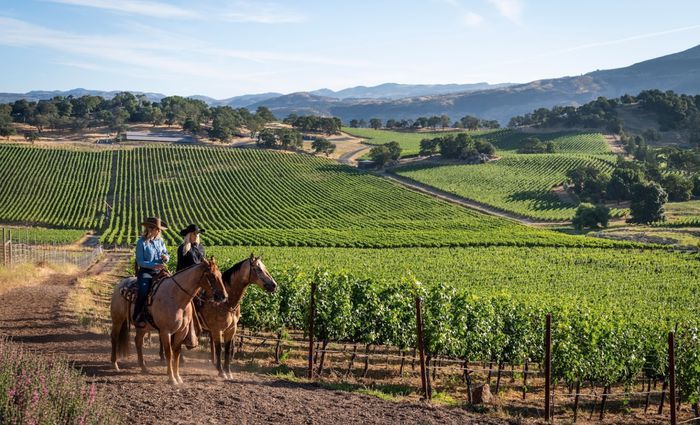 Along with having high caliber wines and breathtaking views of the surrounding rolling hills, Shadybrook Estate Winery is known for allowing their visitors to take a tour of the Rapp Ranch on horseback. This tour features either a 30- or 50-minute horseback tour of their ranch, then includes a tasting of their delicious estate wines paired with cheese, charcuterie, fruit, and nuts.
This experience is a little off-the-beaten path, but it's worth booking if you have even a hint of an adventurous bone in your body. The horseback riding tour is designed for any skill level since it's just a leisurely ride through the vineyard, but the memories will last forever.
2. AXR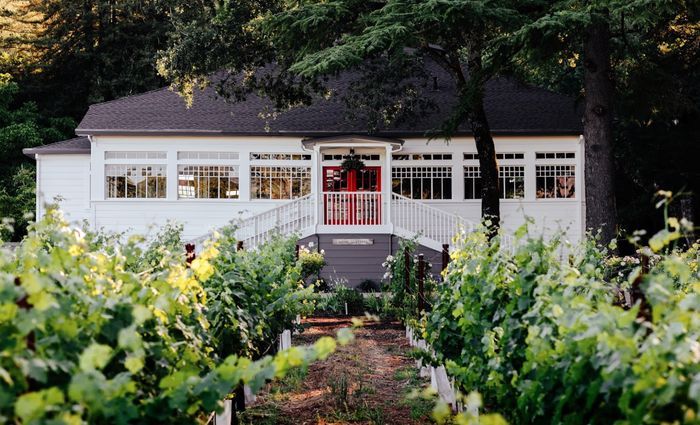 This 134-year-old estate has been an inn, saloon, and even a brothel in its past lives where love, heartbreak, and even murder coincided. When you visit AXR, you'll feel the history that's built into the bones of this estate that remembers its past but looks to innovation in the future. The gregarious wine educators do fabulous job of storytelling about their beautiful wines and the history of this iconic estate.
AXR is located in a patch of lush redwood trees with gorgeous Victorian-style architecture, vineyard views, and rich history. It is for these reasons that AXR is truly like no other winery in the valley.
This winery in Napa Valley offers either a tour and tasting of its estate wines, or their single vineyard wines. We suggest the single vineyard tasting for visitors who would like to understand the nuances of each unique grape. We definitely suggest adding AXR to your itinerary for a change of scenery during your time in the Napa Valley.
Address: 3199 St Helena Hwy N, Calistoga
1. Rutherford Hill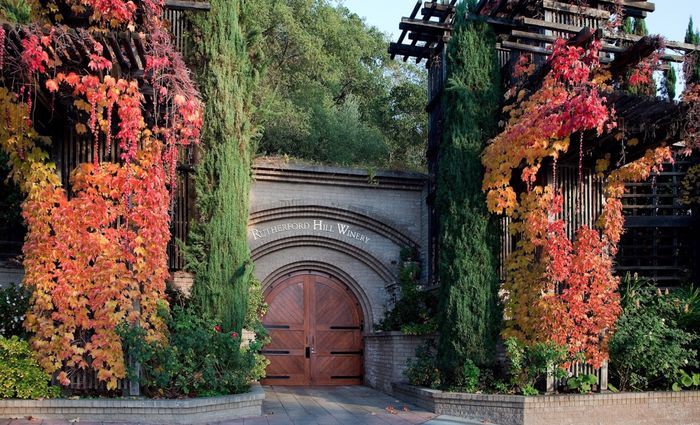 Rutherford Hill Winery is located at the top of Rutherford Road between Lake Hennessey and St. Helena. The property indisputably has the best views of any winery in the valley. In addition to their vast selection of world-class wines, they offer cave tours, proposal packages, and host private events.
Rutherford Hill is one of the few wineries in the valley that allows guests to bring their own picnic lunch. We suggest taking advantage of this and enjoy your lunch in their scenic oak grove that overlooks the valley. The winery also offers special occasion private dining specials such as hillside farm-to-table lunches or golden hour dinners.
Their golden hour dinners feature wine and hors d'oeuvres at sunset followed by an elegant cave dining experience. For a truly romantic and memorable Napa Valley experience, look no further than Rutherford Hill. No doubt it's one of the best wineries in Napa Valley.
Address: 200 Rutherford Hill Rd, Rutherford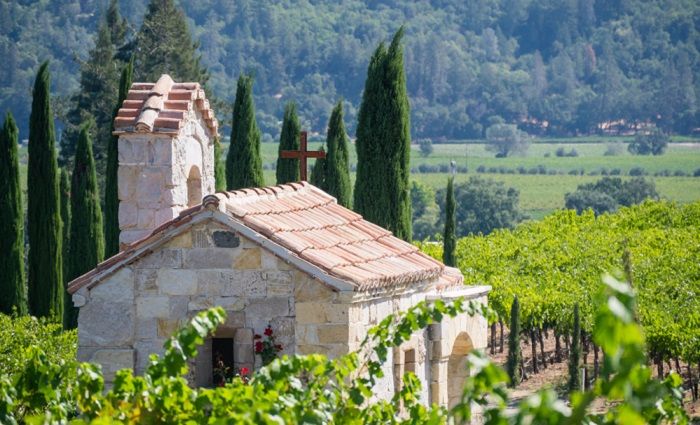 Find the best places to stay
Where to Stay in Napa Valley
There's more than just downtown Napa to explore here. Choose from among the best places to stay when you come to wine and dine in the Napa Valley.