With a population of almost 9 million people, Mexico City is the largest city in North America and also one of the oldest. The city was founded by the Aztecs in the 14th Century and has been continuously inhabited ever since. It is home to some of the best food, museums, parks, history, art, architecture, and neighborhoods in the world. I would be hard pressed to think of any destination that is more deserving of my wholehearted recommendation. I have been to Mexico City over 20 times, and these are my top 11 things to do there.
---
Pro Tip: Planning a trip to Mexico City? Organizing your trip is easier when you have all your resources in one place. Bookmark this post so you can access it again and again. Don't forget to check out our Where to Stay in Mexico City guide.
The Best Things To Do and See in Mexico City
Mexico City is having its moment. The city flew under the radar for far too long but the secret is out. International travelers have begun to descend on the city, lured by stylish neighborhoods, great weather, friendly people, and one of the world's best food cultures.
To really experience the best that Mexico City has to offer, you should plan to stay at least 3 days. Planning a trip to such a large, sprawled out city can be overwhelming, but don't worry: I cover it all in my complete guide to Mexico City.
1. Zocalo, Metropolitan Cathedral and Templo Mayor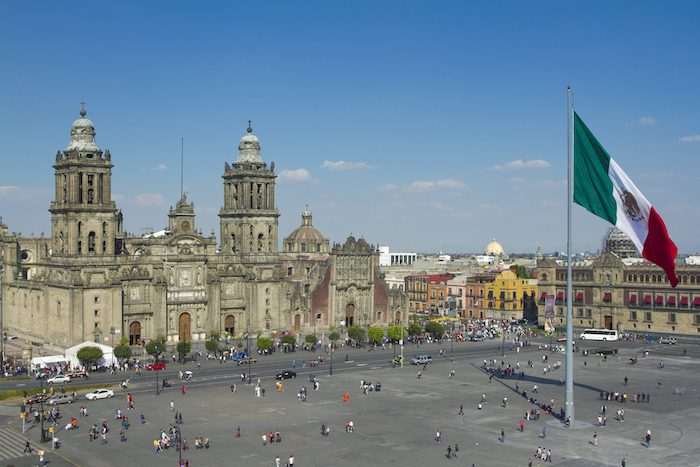 Mexico City's main public square, known as a Zocalo, is one of the largest public squares in the world. Every first time visitor to Mexico City should begin their trip at this exact spot. It is the best way to truly understand the history of the city.
On the north end of the zocalo sits the Metropolitan Cathedral. The Spanish began building this cathedral around 1573 upon their conquest of the Aztec capital of Tenochitlan. It took over 250 years to build and the architecture shows it – it has a mix of gothic, baroque, and neoclassical elements from having spanned so many different eras in design. The inside is beautiful and absolutely worthy of a visit. It rivals some of the most impressive cathedrals in Europe.
Surprisingly, the most interesting thing about the cathedral was not discovered until 1978! Workers laying electrical cables underground nearby as part of the city's subway system discovered the remains of the Aztec Templo Mayor ("Great Temple") underneath the cathedral. And indeed, the Spanish built their cathedral directly on top of the sacred Aztec ceremonial center. Today, you can visit Templo Mayor and its museum just to the east of the cathedral. As it turns out, there are numerous temples and pre-hispanic buildings located directly underneath the cathedral and the centro's Spanish architecture. The excavation is ongoing. By law, any time workers work on electrical cables or repair water pipes underground, an archaeologist must be present.
Insider Tips:
Morning is the best time to visit. Grab breakfast on the rooftop of the Gran Hotel at the southwest corner of the square to take in the dramatic views of the Zocalo and see the hotel's incredible tiffany stained glass ceiling.
Centro has some beautiful historic hotels. Check out our favorite in our Where to Stay in Mexico City guide.
2. Palacio Nacional and Diego Rivera Murals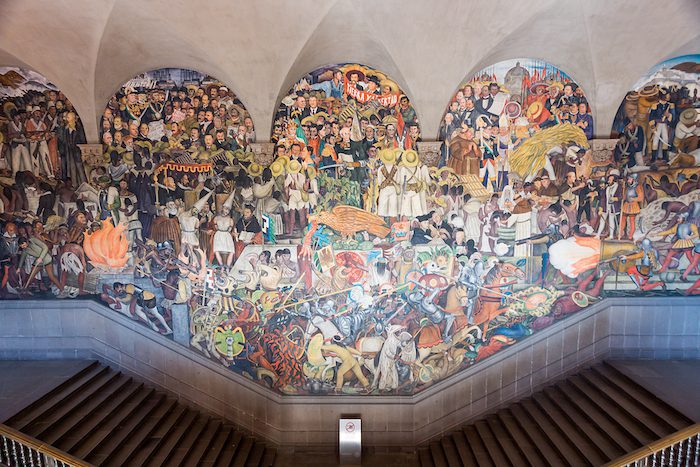 ---
Don't leave the zocalo area just yet. You'll want to visit the Spanish colonial Palacio Nacional, on the eastern edge of the square. It was once the home of Hernan Cortez and it remains an important site for government meeting and events. You can visit on your own; it's free. Go in, walk around. The reason you're here is to go directly to the second floor to see famed muralist Diego Rivera's History of Mexico masterpiece.
The mural was completed in 1935 and it traces the country's history from Aztec times to Rivera's imagined future. It follows the struggles of the Mexican people against the Spanish all the way to Karl Marx and the Soviet flag (Rivera and his wife, Freida Kahlo were socialists).
Insider Tips:
You should be able to grab an english speaking guide from near the entrance. Visiting the Palacio Nacional is about a 30 minute stop, maximum.
---
3. Lunch Break: Tacos al Pastor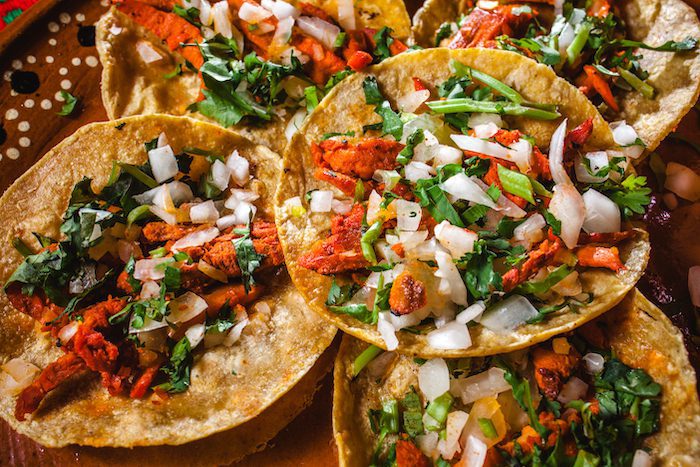 ---
Cliche? Of course. But no one is too cool to have tacos al pastor in Mexico City. Pastor is spit-roasted pork – a style of cooking similar to shawarma that was indeed introduced in Mexico by a wave Lebanese Immigrants that began to come in the 19th century.
My favorite place for tacos al pastor is another cliche but I don't care – El Huequito claims to be the first to serve tacos this way. They are a chain but that doesn't matter. Their pastor especial is one of the best things you will ever eat.
Insider Tips:
The El Huequito in Centro is the best one.
4. Stroll Around Stylish Colonia Roma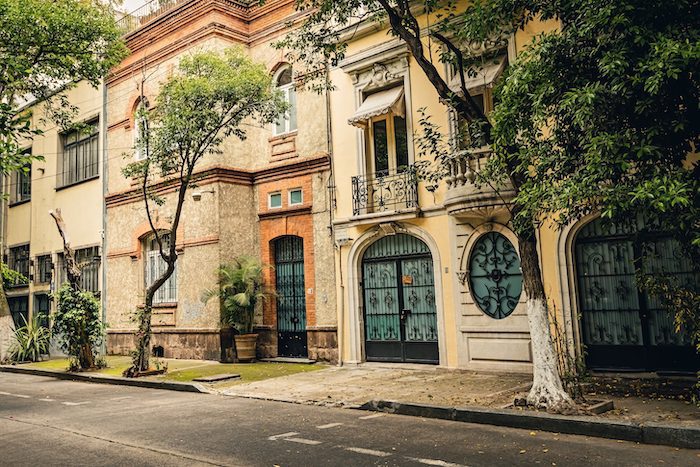 ---
I love strolling around neighborhoods and Mexico City's Roma is one of the coolest ever. You may have see Alfonso Cuaron's 2018 movie, Roma that was based on his upbringing here. Roma is technically two different Neighborhoods, Roma Norte and Roma Sur. Roma Norte is the larger of the two and can best be described as the Brooklyn of Mexico City, the hipster heart of town.
You'll find stylish boutiques, great coffee shops and some of the city's best restaurants amid leafy streets with a mix of colonial and art deco architecture.
Insider Tips:
Go to Contramar for coastal-style seafood lunch where you will enjoy tuna tostadas, soft-shell crab and whole fish with mexican spices and flavors. Seafood in Mexico City is excellent. Not many people know that the city is home to the world's second-largest seafood market (after Tsukiji in Tokyo).
Check out our favorite Roma hotels in our Where to Stay in Mexico City guide.
5. La Condesa Neighborhood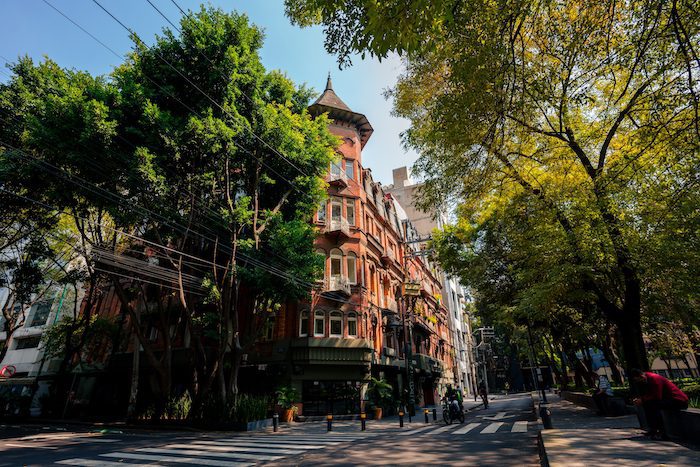 La Condesa is the residential neighborhood of my dreams. Tree-lined boulevards, sidewalk cafes, and beautiful parks. The area is home to several parks, including Parque México and Parque España, which are popular spots for jogging, picnics, and outdoor activities.
Like Roma, La Condesa's architecture is a mix of Art Deco and French-style buildings, with many of them having been restored and transformed into stylish cafes, restaurants, and bars.
Check out our favorite hotels in Condesa in our Where to Stay in Mexico City Guide.
6. Bosque de Chapultepec (Chapultepec Park)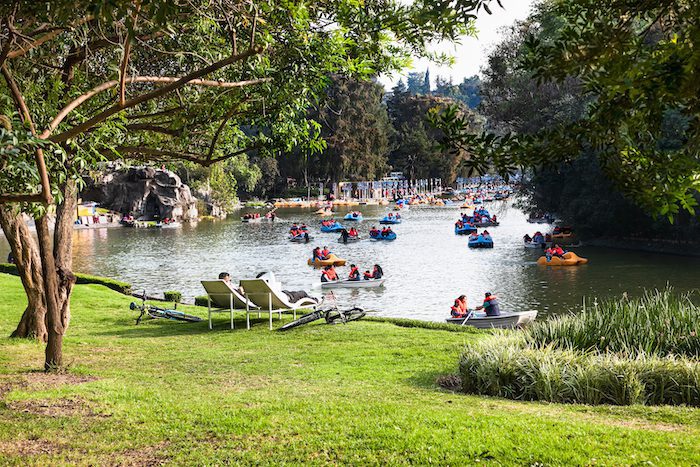 ---
Mexico City's Chapultepec Park is larger than New York's Central Park. In fact it is actually nearly double its size.
The park is home to several museums, including the National Museum of Anthropology (see below), and the contemporary Tamayo Museum that features a collection of Mexican and international modern art, including works by Rufino Tamayo, Diego Rivera, and Frida Kahlo.
In addition to the museums, there's a carousel, a botanical garden, several lakes, hiking trails, and bike paths. There's also a free zoo there, but you didn't come all the way to Mexico City to go to the zoo.
Chapultepec Park is also home to several historic landmarks, including the Chapultepec Castle which served as the residence of Mexican presidents from the mid-19th century until the early 20th century. It sits on a hill that you can climb with views of the whole park and the neighborhoods beyond.
Of course, one of the best parts of the park is the endless vendors selling street food and toys. Come hungry and get some elotes and mango on a stick with chile.
7. Museo Nacional de Antropología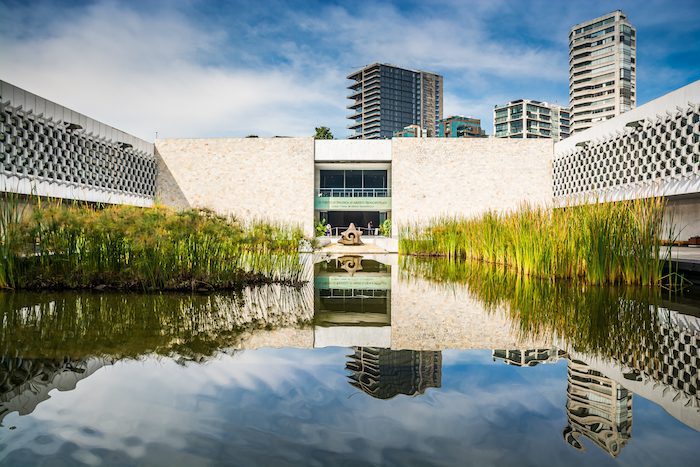 ---
The National Museum of Anthropology inside Chapultepec Park houses one of the world's largest collections of pre-Columbian artifacts. The museum is a must-visit for anyone interested in the history and culture of Mexico and features exhibits on the Aztecs, Maya, and other indigenous peoples.
The museum really showcases the rich cultural heritage that makes up Mexico and its people. Give yourself time here. The museum is over 850,000 square feet. Yes, it's huge.
Insider Tips:
There's a cafe inside but I wouldn't waste a meal there.
---
8. Grab a Drink at Hotel Geneve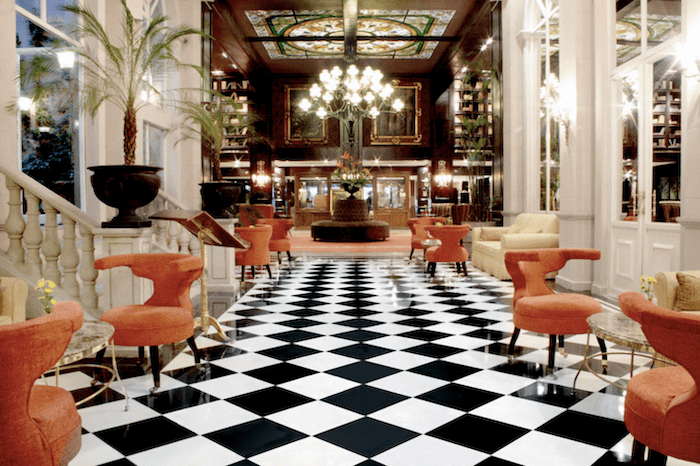 Mexico City has its fair share of super luxurious, modern hotels. The Hotel Geneve is not one of them. You won't pay more than $200/night for a room but one step into the elegant lobby and you can imagine the days when Sophia Loren and Paul Newman used to stay here.
This European style hotel was built in 1908, and you're here for one reason: one of the best and most unique hotel bars in the whole world – The Phone Bar. Decorated with antique phones, including a London-style phone booth in the middle of the bar with more antique phones inside, it's a great way to end a long day of sightseeing. They also have backgammon there.
9. Coyoacan and Frida Kahlo's House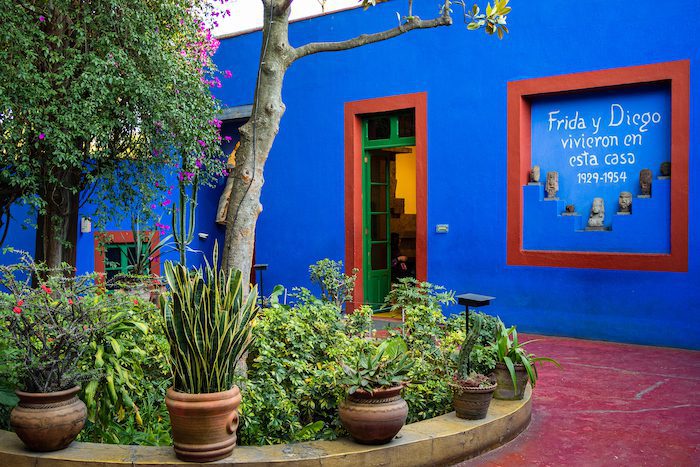 Casa Azul was the home of Frida Kahlo and Diego Rivera. The house, located in the Coyoacán neighborhood of Mexico City, is now a museum that showcases Kahlo's life and artwork. It's worth seeing for sure but it won't take all day. For me, the real thrill of going to Casa Azul is spending the day in peaceful Coyoacán. It feels like you've been transported to a smaller and quieter Mexican city. Stroll around the market which has excellent street food and while away a day people watching in the peaceful square.
Coyoacán is easy to reach from the center of the city by subway.
10. Float Away in Xochimilco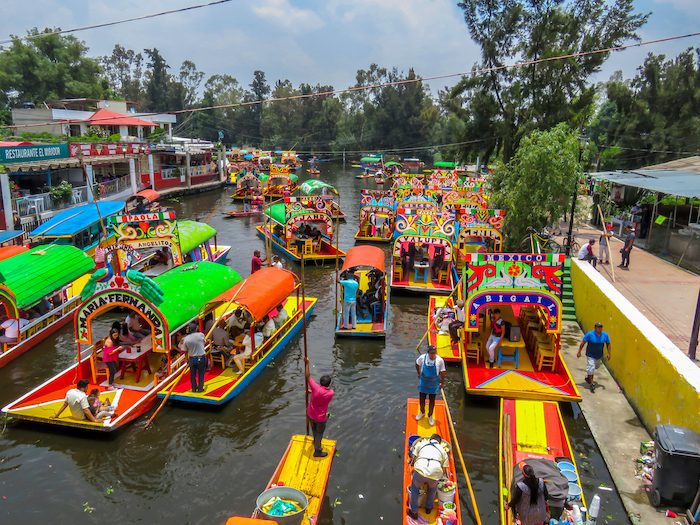 Xochimilco is a neighborhood in the southern part of Mexico City known for its network of canals, colorful boats, and floating gardens. It is a popular destination for both locals and tourists and is a UNESCO World Heritage Site.
In Xochimilco the thing to do is rent a boat driven by a trajinero, which is kind of like a gondalier. The trajinero navigates the canals and is responsible for steering the boat. You can spend a whole day on the boats which are decorated with flowers and have tables and chairs, making them perfect for a relaxing afternoon on the water. As you cruise through the canals, vendors on boats will ride alongside where you can buy everything from margaritas and tacos to fresh flowers and balloons. They even have boats full of mariachis for hire.
11. Teotihuacan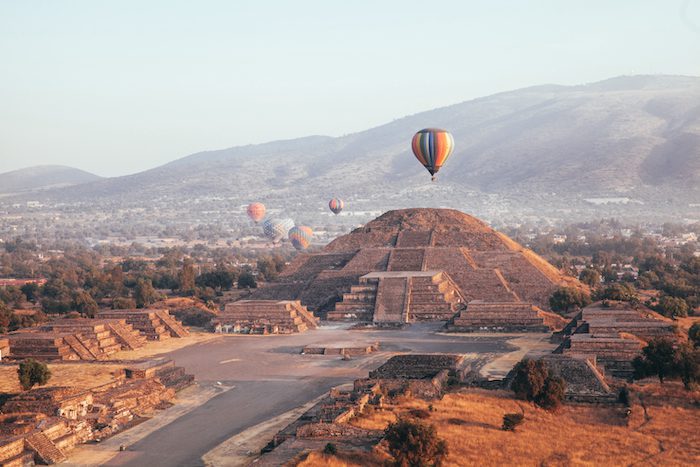 ---
Teotihuacan is an ancient Mesoamerican city located about an hour's drive outside Mexico City. It was once the largest city in pre-Columbian America during its peak, from about 100 BCE to 650 CE.
The city's original name is unknown, as the people who lived there did not leave any written records behind. The Aztecs, who discovered the ruins of the city in the 14th century, called it Teotihuacan, which means "the place where the gods were created."
There are three main pyramids there: the Pyramid of the Sun, the Pyramid of the Moon, and the Temple of the Feathered Serpent. Getting a guide here is worth it. You will learn how these massive structures were constructed with simple tools made from stone, wood, and bone, and how they relied on human labor to transport and shape the massive stone blocks used.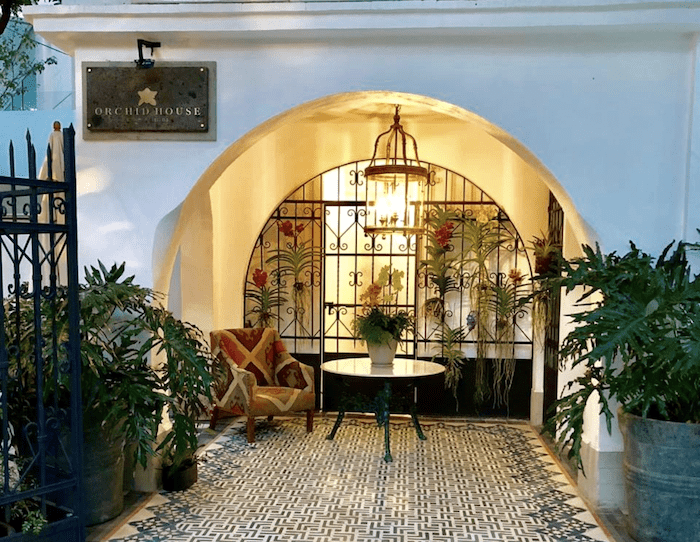 Find the best places to stay in Mexico City, Mexico
Where To Stay in Mexico City
Have you ever wished there was an article that explained which neighborhoods of a city are the best choices for different traveler types? Our where-to-stay articles focus on neighborhoods, then suggest hotels.
---