Paris is well known for its monuments like the Eiffel Tower or Panthéon but there are many other iconic buildings and places you should have on your radar. This article is dedicated to our top outdoor monuments and attractions in Paris.
---
Top 11 Attractions in Paris
It is important to mention that I, Sean from Youtube, always go inside of monuments on my radar. Often the admission is the same as a couple drinks you could skip and it might be the highlight of your trip.
Also, it is important to say "yes" as much as possible on vacation. It keeps things positive which can be contagious for the rest of the group and will increase how many memories you get to take home with you. An eventful trip is a memorable trip.
---
11. Père-Lachaise Cemetery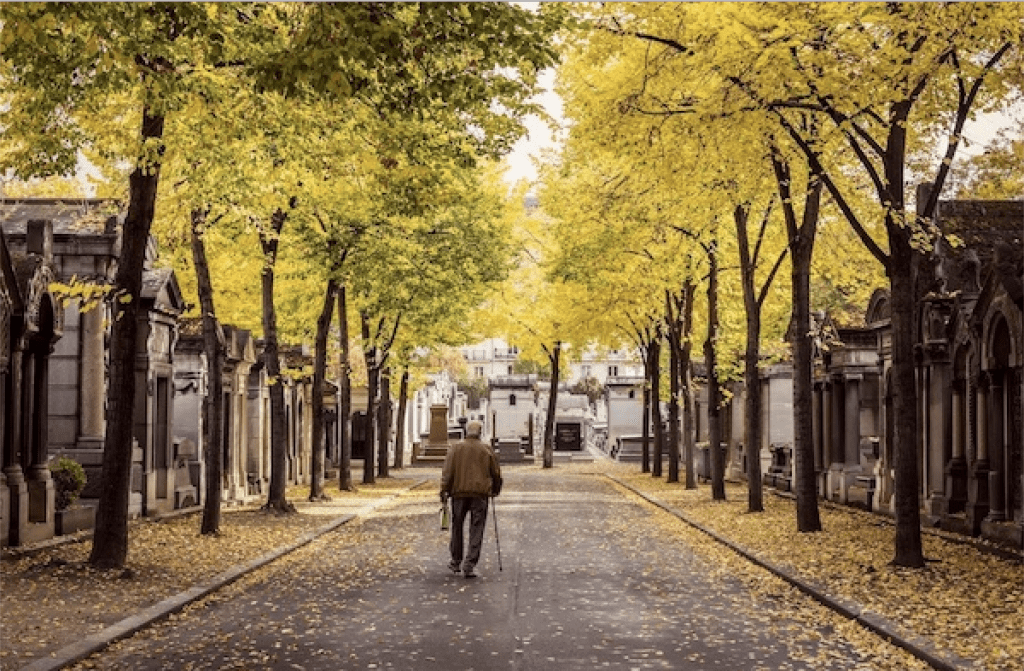 This may come across as one of the more unusual or creepy things to do in Paris but it is a really beautiful place. I recommend it most in the fall and spring when the leaves are at their most colorful points.
You'll find incredible mausoleums one after another lining beautiful cobblestone paths. Père-Lachaise Cemetery is located in a more elevated area of Paris which creates a cool effect on the landscape. Lots of staircases and layers.
You can visit a few famous graves while walking through including Jim Morrison, Chopin, Oscar Wilde, and Édith Piaf. Many of the graves are very "festive" in nature. For example, often you'll see speakers playing music in Chopin's grave and lipstick marks all over Oscar Wilde's grave. It is a pretty cool experience if you are looking for something unusual to do in Paris.
Address: 16 Rue du Repos
Hours:
8am – 6pm M-F
8:30 – 6pm Sat
9am – 6pm Sun
10. Hôtel de Ville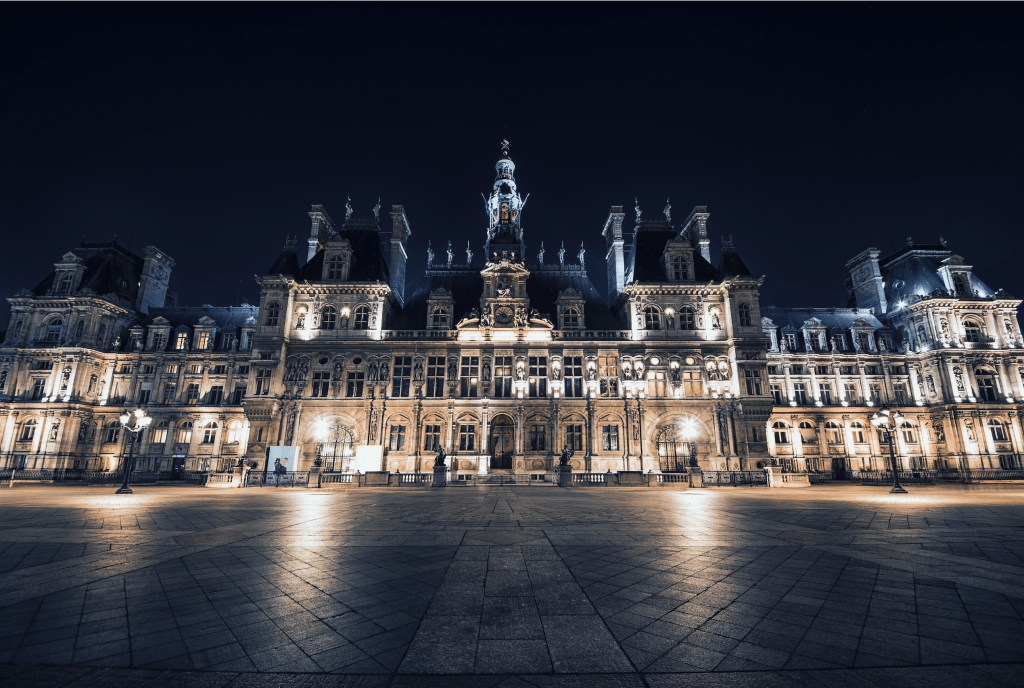 The property was first purchased by the Mayor of Paris in 1357 and has been the mayor's office ever since with the exception of a 20-year lapse in the 19th century after a rebellion-led fire of the building.
Today, it is a beautiful town hall and center of the city. It is crazy to think that this place was the center for many executions for about 500 years until 1830 when the square saw it's last head removed from a body.
During the day it is a beautiful landmark to stroll by and admire. At night, it is magical – especially during the winter and Christmas time when there is almost always a skating rink or carousel set up.
It is very close to many of Paris' best bars and restaurants so don't forget to include an evening stroll by!
Address: Place de l'Hôtel de Ville (4th arrondissement)
Hours: 8am – 7:30pm (M-F)
Our Best Guided Tours of Paris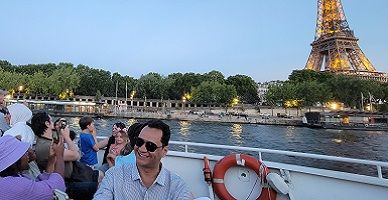 Likely to Sell out
Privileged Access Eiffel Tower Night Tour With Seine River Cruise
Sometimes the most amazing moments happen by chance. Other times, they are orchestrated by professionals. Our Eiffel Tower tour takes you on a cruise down the Seine River for incredible views of Notre-Dame and the Eiffel Tower. Champagne included, of course. Then you'll be guided to the Eiffel Tower, skip the long lines, and head up the elevator to the second floor for a night to remember.





See Prices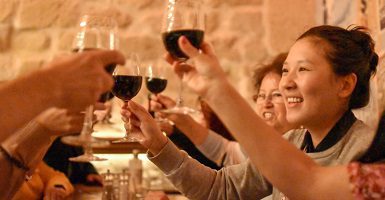 Top Selling
Ultimate Taste of Paris Food Tour in Le Marais
Embark on a culinary journey in Le Marais—one of the hippest neighborhoods in Paris. Most food tours in Paris offer cheese and wine, but we include a full, sit-down meal! Enjoy a feast of French cheeses, oysters, street food, boeuf bourguignon, crème brûlée, and more. This 3-hour food tour combines the best of Paris' culinary heritage and you won't find a better deal out there!





See Prices
Not ready to book a tour? Check out Paris Guide for more resources.
9. Palais Royal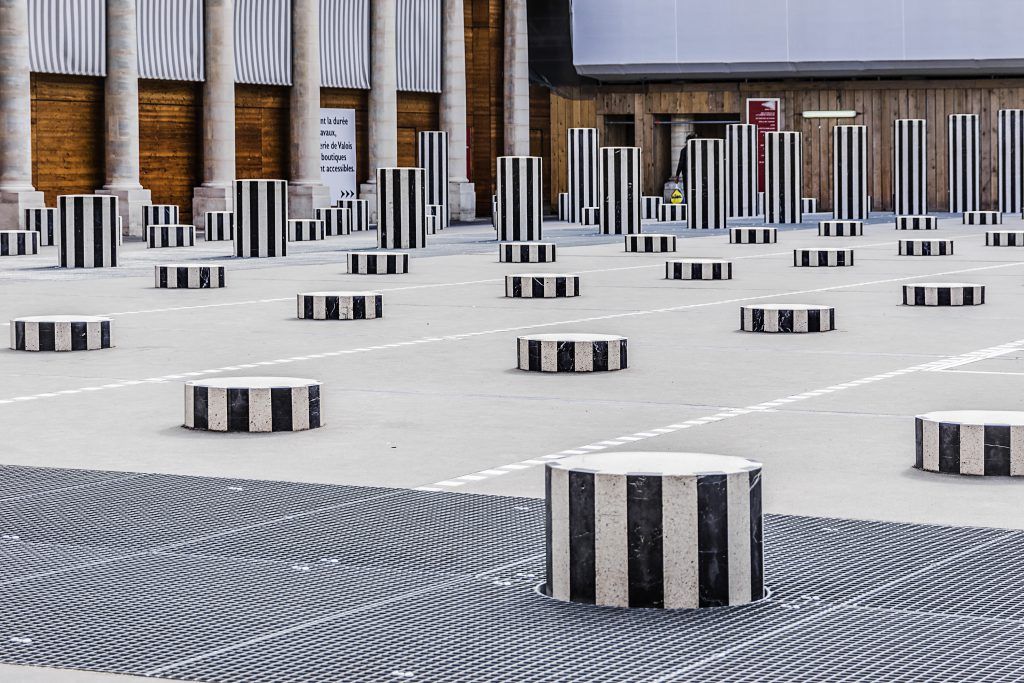 Palais-Royal or the Royal Palace is a pretty massive structure that you should definitely pass through on your trip to Paris. Seriously, you could literally just cruise through it on your way to somewhere else and be met with joy and surprise!
This 17th century construction was orininally built for Cardinal Richeilieu who died three years after moving in. It then became property of the King, Louis XIII (not the bad one), who died a year after moving in.
You can find more about it's history in our full article but definitely mark it down as a place to pass by. There are a few really cool elements including the Columns of Buren that won't cost you a dime to see but will be great for a photo.
Address: Palais Royal (1st arrondissiment)
Hours: 24/7
For facts, history, hours and tips check out our other articles
History of Palais Royal, Paris (Coming Soon)
8. The Pantheon
Built between 1758 to 1790 from the architectural designs of Jacques-Germain Soufflot and commissioned by King Louis XV. It was intended to become a church dedicated to Paris' patron saint, Genevieve.
However, the French Revolution had a large impact on these buildings' final purpose. Most likely due to pressure from the French Populus and a general feeling of injustice between classes, the monument was converted to a mausoleum for distinguished French citizens.
Among the remains, you'll find Victor Hugo, Voltaire, and Alexandre Dumas
Address: Place du Panthéon (5th arrondissement – Latin Quarter)
Hours: 10 am – 6:30 pm (every day)
7. Hôtel National des Invalides & Musée de l'Armée
This massive structure is most commonly known for being the tomb of famed French Emperor, Napoleon Bonaparte.
The structure is 351 ft tall (107m) topped with a golden dome. Yes, real gold. About 30 pounds of gold leaf (12.65kilos).
The exact meaning of "invalides" is the disabled, but the translation doesn't serve it much justice in this case. It refers more to the departed persons.
It is a very cool building and houses a military museum behind the tomb. Admission will run you 14€ which I thought was a little high for what you get. I would probably only recommend it to deep lovers of military history.
There is a military museum in the adjoining complex which is included with the ticket (Musée de l'Armée).
Address: 129 Rue de Grenelle
Hours: 10am – 5pm daily
For more Napoleon, check out our article on the Louvre.
6. Trocadéro & Palais de Chaillot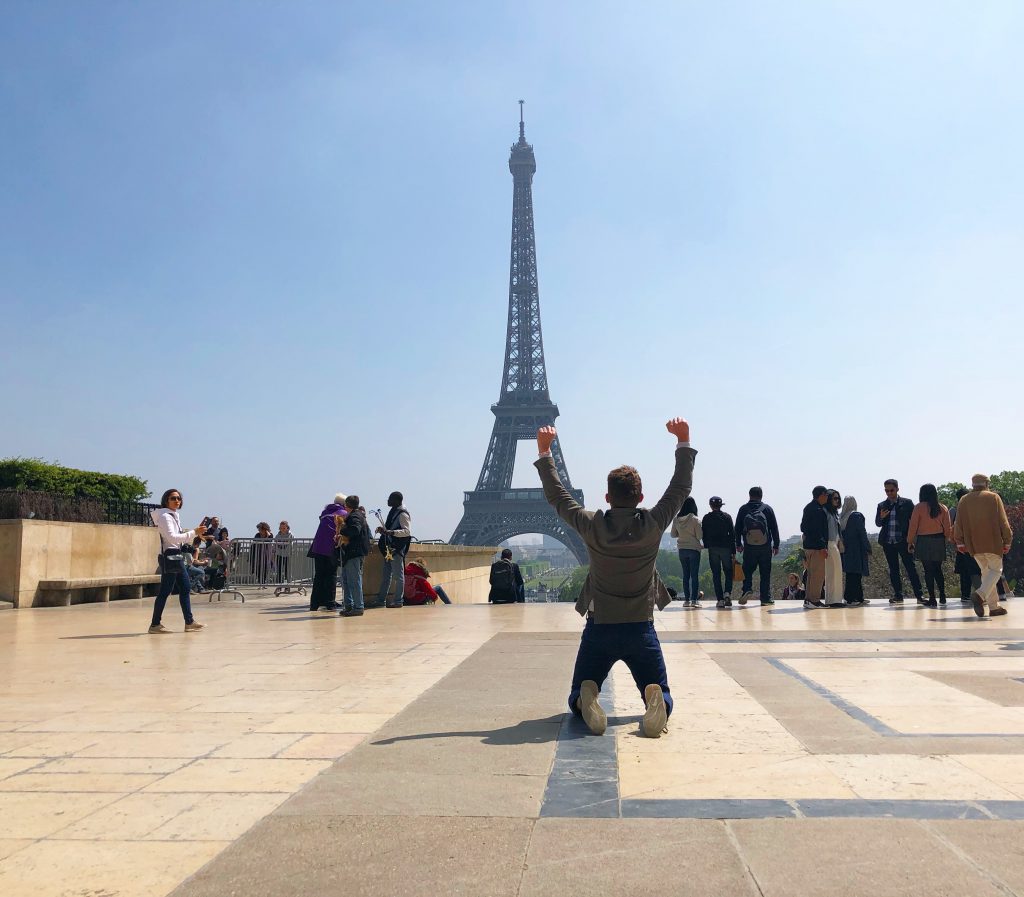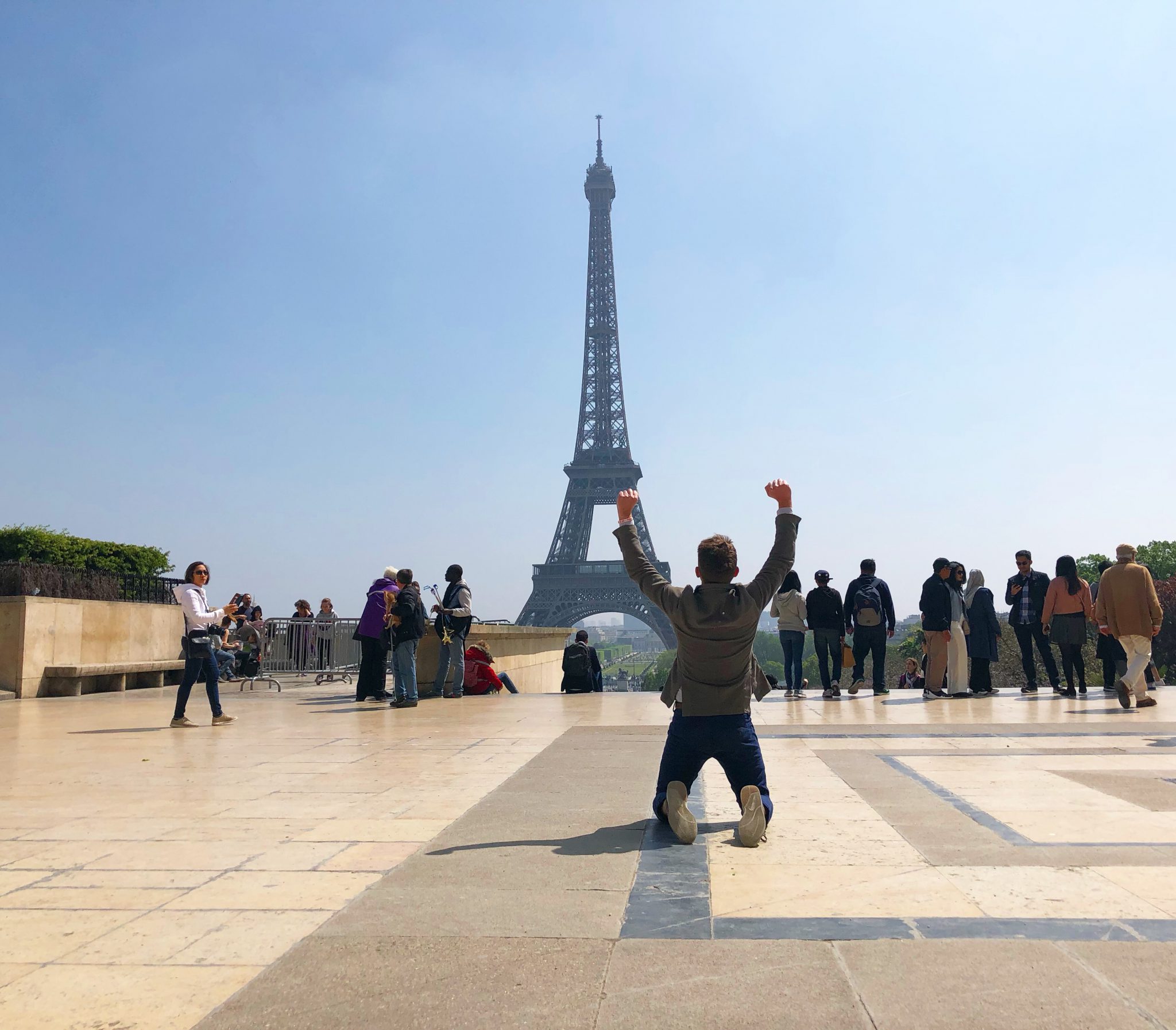 Trocadéro doesn't sound French to you? That's because it's named after an island in Spain known as Isla del Trocadero. This was the venue for a famous battle won by France against Spanish rebellion forces in 1823.
The French was not fighting to take over Spain. They were actually fighting to help restore King Ferdinand VII's power. A little help from your neighbors. The result- King Ferdinand comes back into power and a beautiful park is built that will eventually offer the best Eiffel Tower photo opportunity.
In this area there was once a massive and beautiful palace named Palais du Trocadéro. It was demolished to make way for Palais de Chaillot which stands today. The former palace was a more beautiful structure and the current structure is definitely the best place to view the Eiffel Tower.
If you get off at Trocadéro metro station you will not be able to miss the Eiffel Tower no matter how hard you try. The platform is the Palais de Chaillot and an incredible place to take a photo. After, you can walk all the way to the Eiffel Tower – no directions needed ( ;
Address: Place du Trocadéro (16th arrondissement)
Hours: 24/7
5. Sainte-Chapelle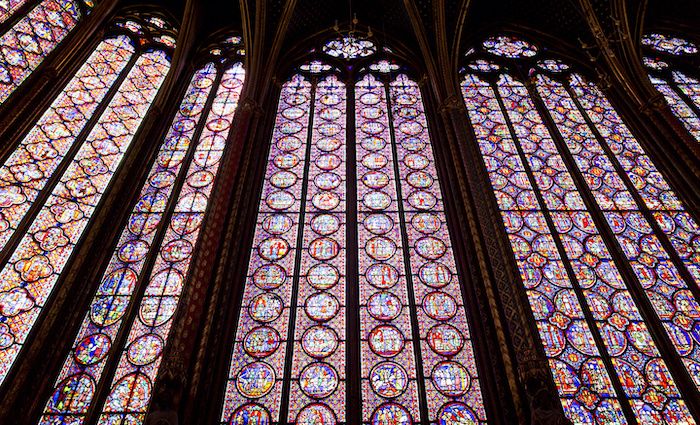 What makes a church the most beautiful church on Earth? How about 15 stained glass windows that are 49ft (15m) tall detailing 1,113 scenes from the Bible? It is definitely a good start.
The church has a long history starting in 1238 with its construction being commissioned by King Louis IX and carried out by an unknown architect. It was built to house one of the most important Christian relics, Christ's Crown of Thorns.
It is a short walk from Notre Dame Cathedral on Île de la Cité. Admission to the chapel will run you 11.50€, which is one of the more expensive admissions you can pay to enter a church. I wish it cost less but regardless it is worth the price. I am sure maintaining a structure of this magnatude costs quite a bit.
Address: 8 Boulevard du Palais (1st arrondissement)
Hours: 11 am – 7 pm (Daily)
4. The Arc de Triomphe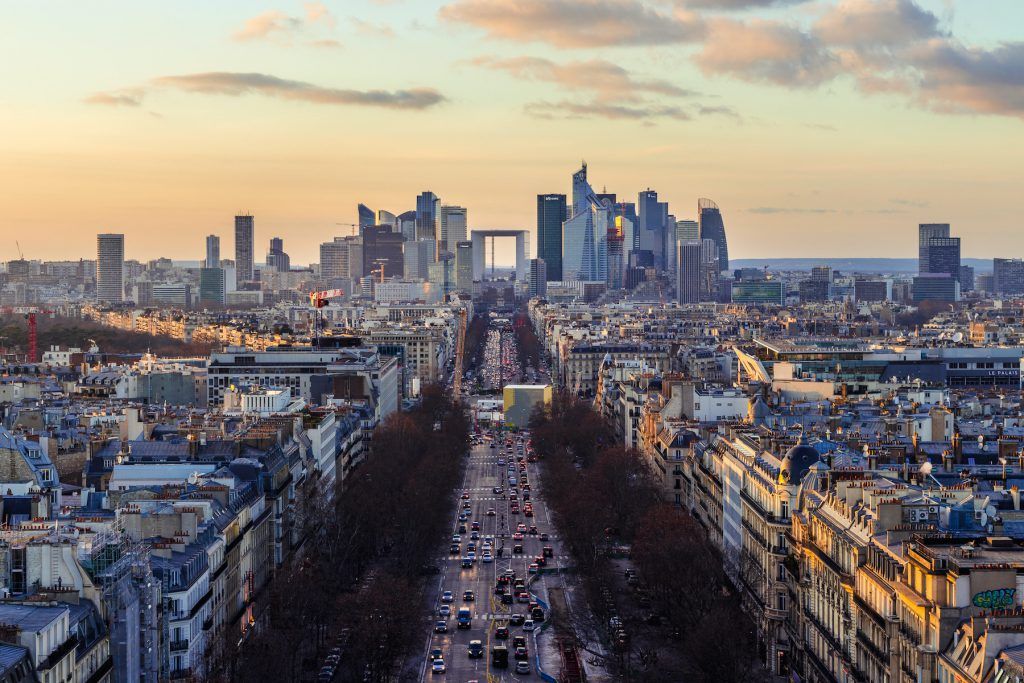 The triumphant arch is one of the many recognized symbols of Paris. It is one fo the main tourist attractions in the city of Paris and for good reason.
The arch was built to commemorate those who gave their lives in the French Revolutionary and Napoleonic Wars. You will find all the French victories and names of generals etched into its inner and outer surfaces.
The tomb of the unknown soldier (WWI) lies beneath the arch. History aside, it is a cool monument to visit. Many have argued that the view of Paris is better here than on top of the Eiffel Tower.
The ticket will run you 12€ and you still have to climb 284 steps for that 165ft (50m) high view of Paris.
Address: Place Charles de Gaulle (16th, 17th & 8th arrondissiments)
Hours: 10am – 10pm Daily
3. Sacre Cœur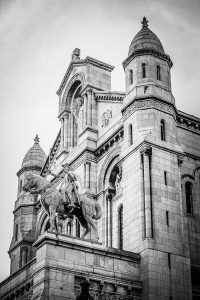 Visiting Sacre Cœur Basilica or the Basilica of the Sacred Heart of Paris is a must for your visit. I have three great reasons to see it:
Stunning architecture
Amazing view of Paris
Montmartre is a cool neighborhood with great food
What else do you need?
Sacre Cœur basilica is free to enter, but if you want to climb up the dome to the top for an even better view, it will cost you 5€.
Address: 35 Rue du Chevalier de la Barre (18th arrondissiment – Montmartre Neighborhood)
Hours: 6am – 10:30pm (Daily)
For more on Sacre Cœur in Paris including facts, history, and places to eat nearby you can check out our more in-depth articles:
2. Notre Dame Cathedral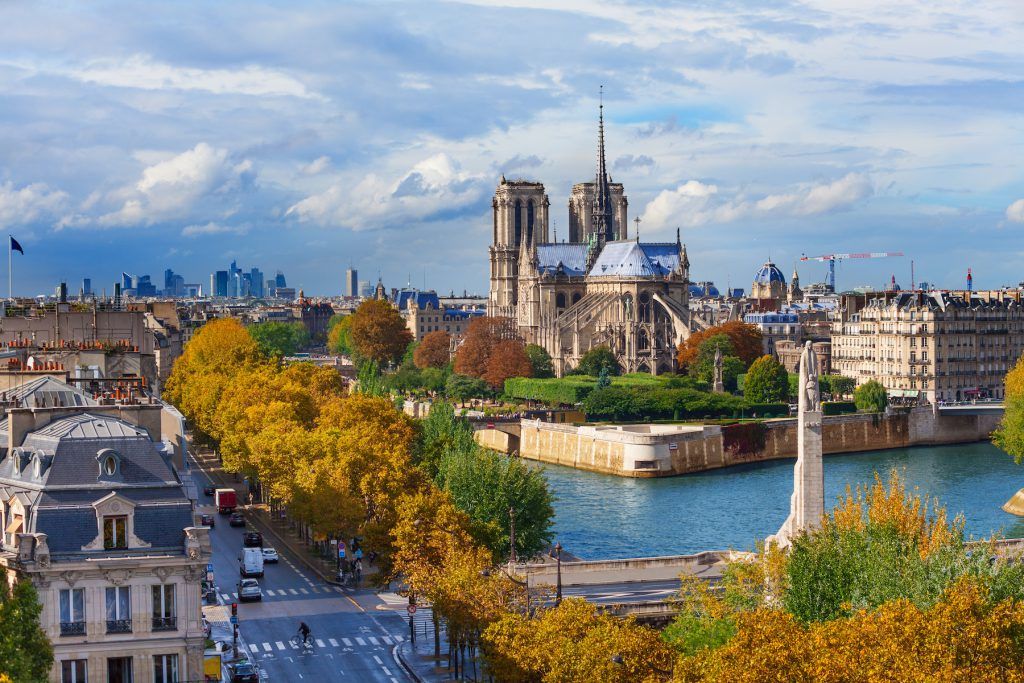 While the Eiffel Tower is the iconic symbol of Paris, it would be difficult to argue that it has more historic importance than Notre-Dame cathedral.
Notre Dame underwent almost 200 years of construction from 1163 to 1345. It has remained in reasonable good condition until the fire on April 15th, 2019. You can read more about this in our guide to visiting Notre Dame below.
Currently, you cannot enter into the Notre Dame cathedral due to restorations and unsafe conditions after the fire.
When will Notre Dame reopen? The cathedral is scheduled to reopen in 2024 but time will tell.
The cathedral's facade is still in excellent condition given the circumstances and should definitely be visited on your trip to Paris. Set your GPS to Place Jean-Paul II and you'll find yourself right out front. The square opened in May 2020, more than a year after the fire.
Pro Tip: Walk 360 degrees around the cathedral to see Fountaine de la Vierge and the beautiful trees behind the cathedral. This area is currently being used for construction parking but it is worth taking a look anyway.
Address: 6 Parvis Notre-Dame (4th arrondissement on Île de la Cité)
For more info on tickets, hours, restaurants, tours and facts, read our other articles specifically on the Eiffel Tower:
Visiting Notre Dame Post-Fire: Everything You Need to Know (Coming Soon)
Our Best Guided Tours of Paris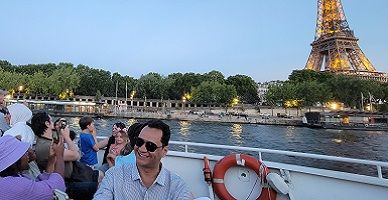 Likely to Sell out
Privileged Access Eiffel Tower Night Tour with Seine River Cruise
Sometimes the most amazing moments happen by chance. Other times, they are orchestrated by professionals. Our Eiffel tower tour cruises by the famed monument as it lights up and you drink champagne. After, you'll have tickets to enter the tower and ascend to the 2nd level with an elevator.





See Prices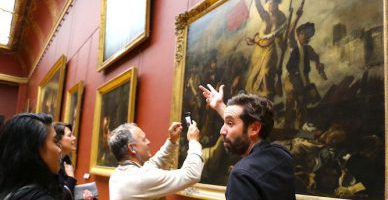 Top Selling
Secrets of the Louvre Museum Tour with Mona Lisa
The Louvre is the largest art museum on Earth and the crowning jewel of Paris. It embodies the French vigor for life. Join a passionate English speaking guide for a tour of the most famous artwork. Skip the line admissions included.





See Prices
Not ready to book a tour? Check out Paris Guide for more resources.
1. The Eiffel Tower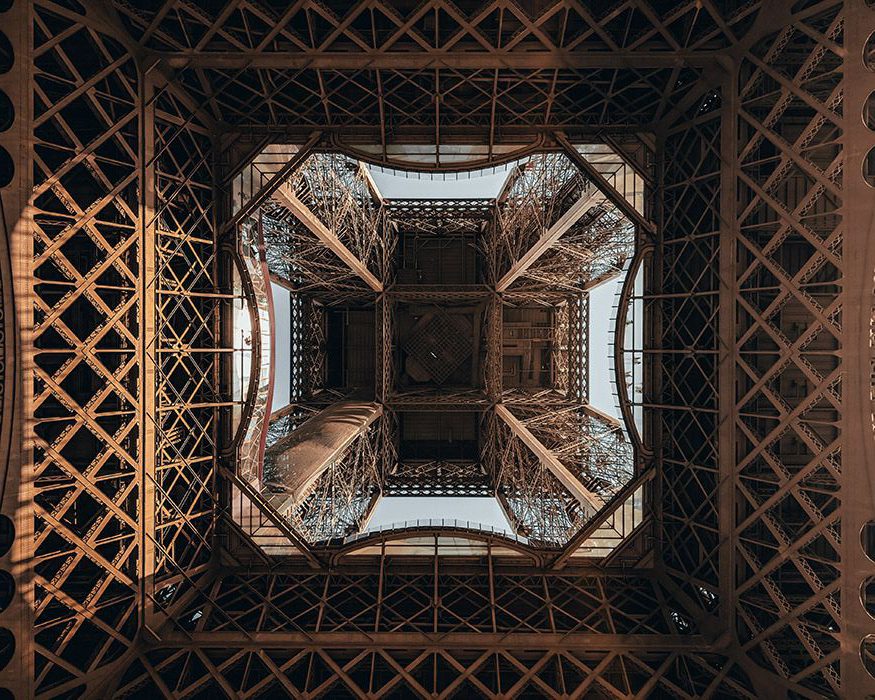 Gustave Eiffel was a French civil engineer and architect born in the 19th century. He put his pants on one leg at a time like everyone else, but when they are on he builds the Eiffel Tower!
His impact on globally recognizable national emblems did not stop there. Ever been to New York City? Yep, he made serious contributions to the building of the Statue of Liberty. Good old Gustave is 2 for 2.
In all seriousness, the Eiffel Tower is the unmistakably and unarguable national icon of Paris and France. It makes any and every list of the most recognizable monuments on Earth.
The Tower is home to two restaurants; Le 58 Tour Eiffel and the famous Michelin-Star rated Jules Verne. It is recommended you plan ahead if you want to guarantee a table at either restaurant. See our guide to eating & drinking at the Eiffel Tower.
Address: Champs de Mars 5 (7th arrondissement – you can't miss it)
Hours: 9 am – 12:45 am
Tour Option: Privileged Access Eiffel Tower Tour with Champagne on the Seine
For more info on tickets, hours, restaurants, tours and facts, read our other articles specifically on the Eiffel Tower:
Paris Overview
Paris is the capital of France and home to over 2 million people in the 35 sq mile city (87 sq km). The Seine river splits the city into two sections, the Right Bank and the Left Bank with two islands, île Saint -Louis & Île de la Cité. It is a relatively flat city with two more elevated areas, Montmartre and Belleville which are home to fabulous views!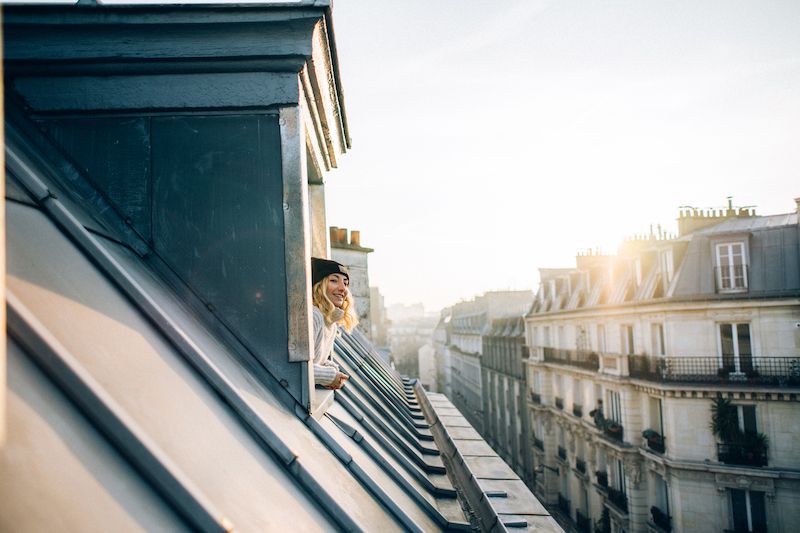 Find the best places to stay
Where To Stay in Paris
With a city as magnificent as Paris, it can be hard to find the perfect hotel at the perfect price. Explore the best hotels and places to stay in these incredible neighborhoods in Paris.