The Eiffel Tower is instantly recognizable and stands as a beacon for architecture. For most travelers, it will be a top highlight of their stay in Paris. Every year, over 7 million people climb the tower to see the breathtaking Parisian views.
Because it's so busy, it's a good idea to plan ahead, especially if you are traveling from afar. To make sure your experience of the Eiffel Tower is hassle-free and filled with positive memories, you need to know a few important things.
On this page, you'll find all the practical information you need to prevent long waits, avoid disappointment, and make the most of your visit.
---
Eiffel Tower Ticket Prices
Before you visit the Iron Lady, you need to think about how far up you want to go and how you want to get there. The Eiffel Tower lift price is slightly more money, but it will save you plenty of time and energy. The Eiffel Tower stairs price is more economical, but also more exhausting.
Ticket with Access Lift (second floor):
Adult – 16,60€
Youth (12-24) – 8,30€
Child (4-11)/Disabled – 4,10€
Under 4 – Free
Ticket with Access Lift (top floor):
Adult – 25,90€
Youth (12-24) – 13,00€
Child (4-11)/Disabled – 6,50€
Under 4 – Free
Ticket with Access Stairs (second floor):
Adult – 10,40€
Youth (12-24) – 5,20€
Child (4-11)/Disabled – 2,60€
Under 4 – Free
Ticket with Access Stairs+Lift (second and top floor):
Adult – 19,70€
Youth (12-24) – 9,80€
Child (4-11)/Disabled – 5,00€
Under 4 – Free
Eiffel Tower Hours and Opening Times
Visiting the Eiffel Tower is a magical experience regardless of when you visit. Seeing the "Iron Lady" during the day allows you to take in every inch of the structure and viewing it at night is one of the most romantic vistas the city has to offer.
Seasonal Hours and the Rest of the Year
To accommodate 7 million visitors a year, the Eiffel Tower is open all year round and even has extended hours of operation so that it can host as many travelers as possible.
Eiffel Tower Hours from June 13 – August 29:
9:00 a.m. – 12:45 a.m. by lift
9:00 a.m. – 12:30 a.m. by stairs
Eiffel Tower Hours the rest of the year:
9:30 a.m. – 11:45 p.m. by lift
9:30 a.m. – 6:30 p.m. by stairs
When is the best time to visit the Eiffel Tower?
When people contact us about the Eiffel Tower, they typically want to know if they should visit the Eiffel Tower during the day or at night.
The truth is, you're going to have a unique experience regardless of when you see the Tower. If possible, try going at night and during the day. Trust us, you could see the Tower one thousand times and you would walk away with a new perspective each time.
Eiffel Tower During the Day
As a general rule of thumb, going during the day will offer you a better opportunity to see the finer details of the structure and of the city, especially when you are on the second level looking out over the Parisian skyline. When the sky is clear, you can see over 50 miles away.
From the second level, you can see a whole swath of famous sites and monuments, including Notre Dame Cathedral, the Louvre Museum, Hôtel de Ville, and the Arc de Triomphe. You can practically see all of Paris' architectural beauty in a single view.
Want a selfie with a panoramic view of the city in the background? Yea, you're going to want to go during the day.
Eiffel Tower at Night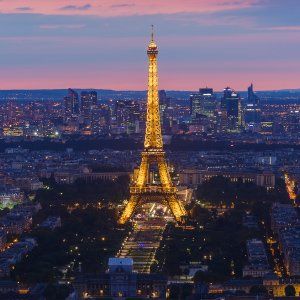 Everyone loves to see the Tower during the day. We get it. You want to see it in all of its glory. But if you want to see magic, then you have to see the Tower at night.
Every night, there an Eiffel Tower light show that we can't possibly put into words (but we're going to try to). The Tower is powered by 336 spotlights that feature a twinkling effect that brings the tower to life for the first five minutes of each hour from nightfall to 1:00 a.m.
If you go to the second level of the Tower, you'll also be able to see other illuminated monuments, such as the Notre Dame Cathedral, the Louvre, and more.
Did you know? During commemorations, Christmas, and other world events, the Tower has a special light concept that is completely unique to that event.
Please keep in mind that no matter when you go, hours are subject to safety recommendations. Before you journey to the tower, make sure you check for inclement weather, because admission and hours of operation may be temporarily restricted.
Eiffel Tower Address and How to get there
The Eiffel Tower is located on the Champs de Mars at 5 Avenue Anatole France in the 7th arrondissement of Paris.
Metro/Rer
The best way to get around Paris is by train. It helps you avoid traffic jams and save you time. Depending on what app you use, if you enter the Eiffel Tower's address into your smartphone you'll likely see one of four lines:
Bir-Hakeim
Line 6 (Metro) Ecole Militaire
Line 8 (Metro) Etienne Marcel
Line 4 (Metro) Champ de Mars – Tour Eiffel, (RER C line)
Bus
If you're not familiar with the metro system, it might be a good idea to take a bus to the Eiffel Tower. There are several stops that will take you close to the base of it:
Tour Eiffel
Line 42 Tour Eiffel
Line 82 Champ de Mars
Line 82 Champ de Mars
Line 87 Champs de Mars
Line 69 Champs de Mars
Eiffel Tower Access for the Mobility-Impaired
If you or a loved one is mobility-impaired, the Eiffel Tower has reserved access to the pillars that removes steps and turnstiles.
People with reduced mobility will have complete access to the first and second level via elevator. Unfortunately, the very top of the Tower is inaccessible for safety reasons.
Eiffel Tower Tour Tickets
While the Iron Lady is wonderful if you journey it by yourself or with friends, the historical value is often lost on people. Joining a small group tour of the Eiffel Tower guarantees you get to skip all of the lines, learn from a professional historian, and see Paris' most famous structure in all of its splendor.
With the Eiffel Tower Night Tour, you'll take a tranquil evening boat ride on the Seine where you'll cruise by beautifully illuminated landmarks such as the Louvre, Musée d'Orsay, and the Eiffel Tower. During your trip, you'll enjoy a complimentary glass of champagne as your historian tour guide delves into detailed stories of how the city was built.
The Eiffel Tower Night Tour also grants you priority access and allows you to skip the crowded lines, so you can soak in a panoramic view of Paris from the second level. If you want to explore the City of Light in style, this is the guided tour for you.
Things To Do Around the Tower
When you're done visiting the Eiffel Tower, your journey isn't complete. You should check out the Trocadéro Gardens, which provides excellent views of the Tower and Warsaw Fountain.
Also nearby is the Champs de Mars gardens – a great spot because it offers some of the best views of the Eiffel Tower.
Going to see the Louvre? Make sure you read our Know Before You Go Louvre Travel Guide to have an amazing experience.