We believe your most important choice in planning is not which hotel to pick but where to stay–meaning which neighborhood. We asked our local guides to list their favorite areas of Barcelona, created a map for orientation, and listed some things to do, restaurants, and of course, hotels that have been vetted by our travel experts. Here's where to stay in Barcelona.
---
Pro Tip: Planning your trip to Barcelona? Organizing your trip is easier when you have all your resources in one place. Bookmark this post along with our Barcelona Guide for more planning resources, our top Barcelona tours for a memorable trip, and how to see Barcelona in a day.
The Best Hotels in Barcelona at a Glance
---
Where To Stay in Barcelona: Best Hotels and Neighborhoods
Barcelona is a unique cosmopolitan city with vibrant art and culture. The main attraction is the Sagrada Familia—the stunning cathedral that's still under construction today.
Choosing the perfect area can make or break a trip, so we've broken down this article into our top four areas to help you choose the right neighborhood in Barcelona. You'll find our top hotel picks in each area at every price point.
Our Partnership with Booking.com. If you like our content, please book by clicking on our Booking.com links. The price is the same for you and we get a small commission that helps support our helpful blog content. We've partnered with Booking.com because they have the most options, great prices, and a solid loyalty program.
---
Bari Gothic Quarter

The Bari Gothic Quarter of Barcelona is arguably the most desirable area to stay in, which is why it gets so much foot traffic. It's close to many of Barcelona's most popular attractions and has many great restaurants—another reason why people love it.
The Gothic Quarter shares a border with La Rambla and El Raval (listed below), and it's my favorite area to hang out in Barcelona during the day because of all the action. Staying in the Gothic Quarter is cheaper, but Barcelona is far less expensive than other cities like Paris or Rome.
I love staying in the Gothic Quarter if I'm traveling with my wife as we like to shop and go out for drinks at night. The area has some cool hotels, which is why many travelers have the area at the top of their list. Be aware that the area can be a bit seedy at night, but it's safe enough to enjoy during the day.
Why I Love the Gothic Quarter
Amazing historic feel
Great restaurants and nightlife
Great for younger crowds
Close to the beaches of Barceloneta
Top Attraction in the Gothic Quarter
La Rambla (shared with El Raval)
Barcelona Cathedral
Picasso Museum
Citadel Park
Placa Reial
---
Best hotels in Barcelona's Gothic Quarter:


Hotel Neri Relais & Chateaux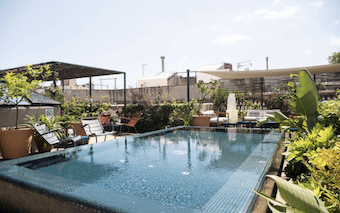 5 Star | €€€ | Medievel Luxury | Rooftop Pool

Located in the square of Sant Felip Neri, just a short walk from Las Ramblas, it's a perfect location to explore the city from. Modern rooms blend with medieval architecture and mix that with a great rooftop bar and a small but beautiful pool, and there is everything you could possibly need for a relaxing trip.


Location, Photos, and Booking

---
Ohla Barcelona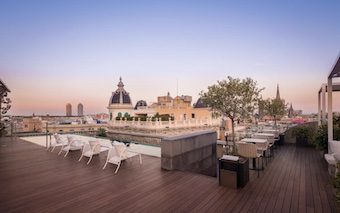 €€€ | 5 Star | Great Rooftop Pool

Romain Fornell heads up the wonderful in-house restaurant specializing in fantastic Catalan cuisine. The rooms are modern and spacious with all the modern amenities you could ask for. Add in the rooftop bar and the pool with city skyline views, and it's easy to understand why Ohla is one of Barcelona's most popular hotels.
---
H10 Cubik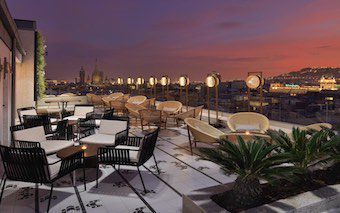 €€ | 4 Star | Great Rooftop Pool | Excellent Prices | Sustainable

There are a lot of rooftop pools in this city, right? This doesn't make the H10 Cubiks rooftop any less special. The H10 scores high on the sustainable charts as well, with 100% renewable energy used to power the hotel and water-saving features throughout. On top of that, they reinvest a portion of profits into local community projects and sustainability projects. A great choice if you trying to make your trip as sustainable as possible.
---
Duquesa de Cardona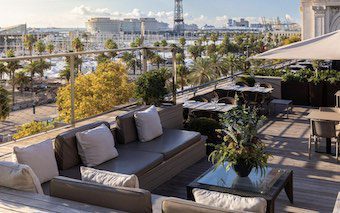 €€€ | 4 Star | Rooftop Pool | Harbor Views

Located in a stately building dating to the 1850s and sitting right opposite Barcelonas Port Vell, the Duquese is a stately yet modern choice. With a beautiful rooftop terrace overlooking the harbor and live music most weekends, this is a great spot to make your base.


Location, Photos, and Booking

---
Eixample

---
If I'm headed to Barcelona with my family, I prefer to stay in Eixample. The entire neighborhood is nice, and there are some super posh areas too. It's far enough from Ciutat Vella that the busy nightlife doesn't bother us, but it's ideally located for exploring the city on foot.
As you can see in the map above, the Eixample district is massive. So, my recommendations for staying in Eixample refer mostly to the areas around Passeig de Gràcia between Plaça de Catalunya and Plaça Cinc d'Oros. It's close to the Gothic Quarter border, so you get the best of both areas.
Pro Tip: "Eixample" is pronounced eye-SHAM-plah.
Why I Love Eixample
Slightly more low-key than Ciutat Vella (Family Friendly)
Passeig de Gracia shopping
Upscale and spacious hotels
Clean with beautiful architecture
Top Attractions in Eixample
Casa Milà
Casa Batllò
Sagrada Familia
---
Best hotels in Barcelona's Eixample neighborhood:

Monument Hotel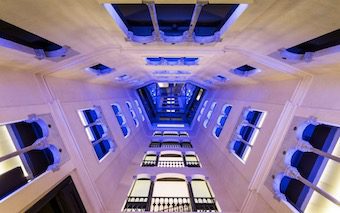 €€€ | 5 Star | Very Modern | Stylish

A beautiful and stylish hotel located in the fashionable Paseo de Gracia. If the modern rooms, rooftop pool, and onsite spa aren't enough to entice you, then how about a gastronomical delight? Martin Berasategui (holder of 12 Michelin stars) heads up the wonderful Lasarte, the 3-star Michelin restaurant located in the hotel is Chef Berasategui's homage to Barcelona.

Location, Photos, and Booking

---
Cotton House Hotel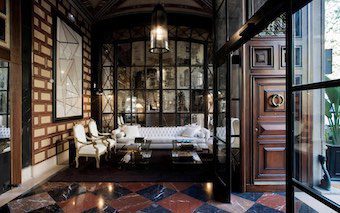 €€€€ | 5 Star | Historic | Sustainable

Once the Association of Cotton Producers headquarters, now a classy and elegant hotel in an excellent location. With a swimming pool, gym, and massage center, this is a great spot to rest and refresh after a long day of exploring.

Location, Photos, and Booking
---
Condes de Barcelona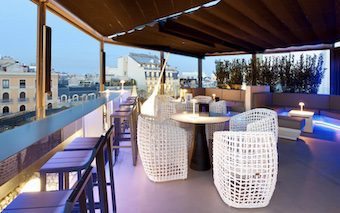 €€€€ | 5 Star | Modern | Contemporary

With soundproofed rooms, a small balcony, and views of the Passeig de Gracia, you won't have to worry about being fresh in the mornings. And you can kick that exploration off early with a local metro 100 yards away and Plaça Catalunya just a ten-minute walk

Location, Photos, and Booking
---
ME Barcelona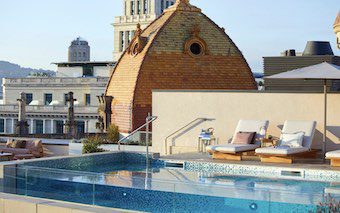 €€€ | 5 Star | Cultural Hub | Amazing pool

The ME Barcelona has amazing city views and one of the most beautiful pools in the city. With two fantastic restaurants on the premises, the ME is a great space for

Location, Photos, and Booking
---
Hotel Royal Passeig de Gracia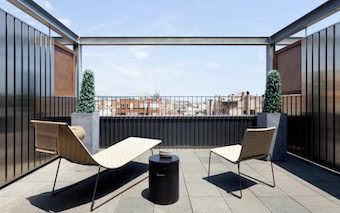 €€ | 4 Star | Affordable | Amazing pool

Located within fifty yards of two metro stations, this makes it the perfect place to explore Barcelona. Although there is a restaurant in the hotel, the real selling point here is how close it is to so many wonderful cafes and restaurants. You can check out of full restaurant guide here.
---
Not ready to book a tour? Check out our Sagrada Família Guide for more resources.
El Raval

---
El Raval is another area that's full of life and things to do. It's a great Barcelona neighborhood for younger travelers, couples, and the more adventurous tourists. If you like to party and aren't bothered by evening nightlife, then this is definitely the place for you. You can always ask if your preferred hotel has great soundproofing too.
You'll find a lot of university students here, so you can expect a growing foodie scene too. This is also home to a great arts scene, a contemporary art museum, and a harbor where you can find medieval boat replicas. Talk about old meeting new!
Why I Love El Reval
Great nightlife
Close to the Gothic Quarter
Great restaurants for foodies
Bohemian arts scene
To Attractions in El Raval
La Rambla (shared with Bari Gothic)
El Gatto de Bottaro
La Boqueria Food Market
Bar Marsella (Hemingway and Picasso loved this bar—it opened in 1820)
Barcelona Museum of Contemporary Art
---
Best Hotels in Barcelona's El Raval Neighborhood:
---
Hotel Bagués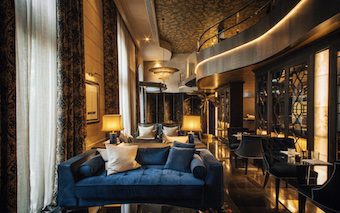 €€€ | 5 Star | Good Value | Amazing Location

A beautiful 5-star boutique hotel set in the restored El Regulador Palace. The building was once a jewelry workshop, and the rooms are decorated with ebony and gold leaf to reflect that past usage. A romantic spot perfect for couples.

Location, Photos, and Booking
---
Catalonia Ramblas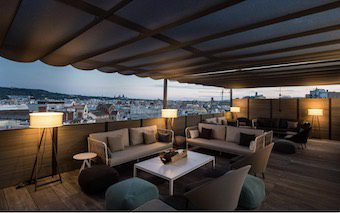 €€ | 4 Star | Family Friendly | Private Pools Available

A great option for families, with family suites and double rooms available. A number of the junior suites come with a private pool, perfect for those who want to relax but don't want to deal with the crowds of a public pool.

Location, Photos, and Booking
La Barceloneta

---
La Barceloneta is the place to be if you prefer active nightlife, beach vibes, and chill days. You're not too far from the main attractions in the Gothic Quarter or Eixample, but you can be right on one of several beaches. La Barceloneta is known for delicious seafood restaurants that have the freshest fish available since it's also where you'll find the harbor.
There are a few family-friendly beaches to enjoy and a clothing-optional beach if that appeals to you. Definitely stop in at a chiringuitos (beach bar) for a refreshing drink to enjoy on your lounge chair.
But if you're looking for a little activity, then rent a bike and pedal along the beach bike bath and find the Christopher Columbus statue. For a laid-back vacation in Barcelona, the beaches of La Barceloneta are a top place to stay.
---
Why I love La Barceloneta:
Gorgeous beaches
Barcelona harbor
Fresh seafood restaurants
Tons of clubs and nightlife
Top attractions in La Barceloneta:
The beach
Christopher Columbus statue
Family-friendly or clothing-optional beaches
Beach bike path
---
Best Hotels in Barcelona's Beach Neighborhood:
---
W Barcelona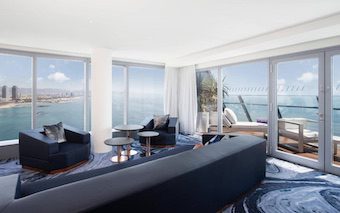 €€€€ | 5 Star | Family & Pet Friendly | Sea Views

A great option for families, with family suites and double rooms available. A number of the junior suites come with a private pool, perfect for those who want to relax but don't want to deal with the crowds of a public pool.

Location, Photos, and Booking
Sofitel Barcelona Skipper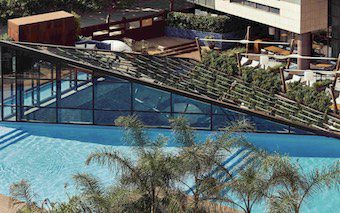 €€€€ | 5 Star | Family Friendly | Great Pool

Located next to Barcelona's Olympic port and just round the corner from the Barcelona zoo, this is a perfect option for families, with two seasonal cocktail bars, a rooftop pool, a modern gym, and a spa, it's a perfect spot just 100 yards from the beach.

Location, Photos, and Booking
---
H10 Marina Barcelona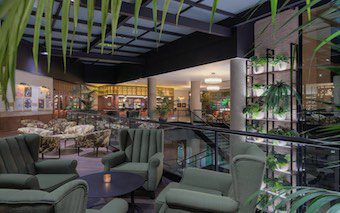 €€€ | 4 Star | Great Nightlife | Affordable

A modern hotel located next to the beaches and Parc de la Ciutadella it's a great place to set up base. With an on-site spa, pool, and bike rentals, you'll have plenty of options to keep you entertained.


Location, Photos, and Booking
---
---