Most Covid-19 test requirements have been dropped, but if you still need one, testing is easy and results are fast. It can be a hassle figuring out how to get this done easily in a foreign country. Fortunately, I have traveled to Amsterdam, and written this article to help you know where to get a Covid-19 test in Amsterdam.
---
Update June 12, 2022: As of midnight on June 12, 2022, the United States will no longer require a negative Covid-19 test result for travelers flying into the U.S. If you are traveling elsewhere, please check with your local authorities, airline, or cruise ship for current requirements.
Update April 19, 2022: The government of Netherlands has updated their travel restrictions on their website. Travelers can only enter the Netherlands if they come from the EU or an approved country. You must also show proof of vaccination or an EU-DCC proof of recovery. You no longer need to fill out a health declaration form upon entry either. However, travelers returning to the US must still present a negative Covid-19 test result.
Headed to Amsterdam? Great idea! Take a look at our Amsterdam guide and bookmark it if you want to have the best experience possible. It's free and full of lots of advice on how to plan your trip! Definitely check out our Amsterdam tours for the most memorable experience.
Private Testing Centers
Variety of Options | English Websites | Central Locations
We were in Amsterdam recently, and researched where to get a Covid-19 test in Amsterdam. Unlike Paris or Rome, there are a variety of private testing centers throughout Amsterdam. These independent testing centers are usually not inside a medical center or pharmacy. We received our results via text and email the same day. Our testing experience from the time we walked into the testing site, took no more than 15 minutes.
Reservations are necessary to take a Covid-19 test in Amsterdam, but that doesn't mean you can't quickly get an appointment time, even for the same day. Don't forget to bring your passport with you! While the type of Covid-19 test required for travel depends on your destination, the cheaper antigen test will suffice for travel. 
Check our recent adventure in Amsterdam!
Where to Get a COVID Test in Amsterdam City Center
The following sites will allow you to book a Covid-19 test appointment within the city center of Amsterdam.
For testing near the Central Station, check out Vaccinaties O Preis
If you are staying or near Anne Frank's House, check out Test Clinic
Close to the main touristy Damrak road, check out Corona Snel Check
Cost: €35 for rapid antigen or €79-120 for PCR
Private Testing Locations in Amsterdam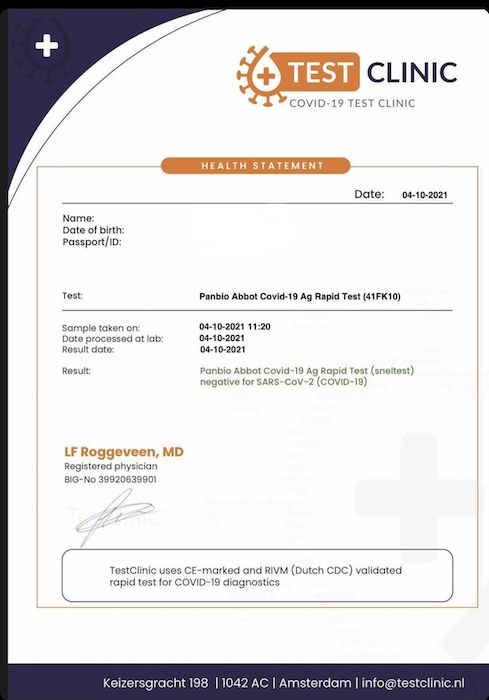 Schiphol Airport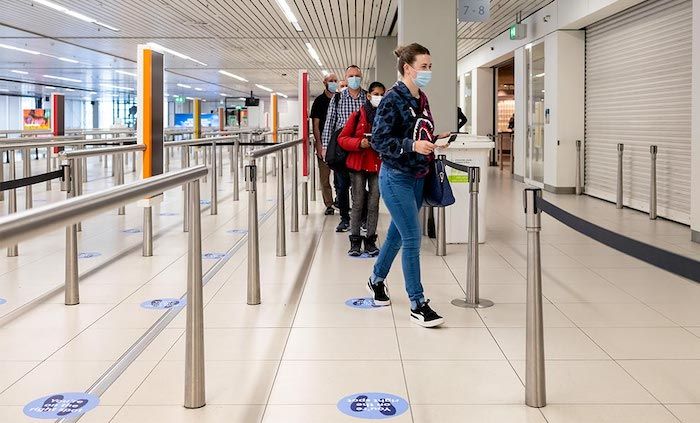 Appointment Needed | Last-Minute Option | Convenient Location
Where can you get a last-minute Covid-19 test in Amsterdam? If you want to wait until the last minute, the Schiphol Airport has a convenient testing center. Appointments are required, so be sure to book your appointment time in advance. Since a negative Covid-19 test result is necessary to fly to most destinations these days, taking a Covid test is the first thing travelers should do upon arriving at Schiphol—if they haven't done it ahead of time.
It is nice to have a last-minute option, but this option does require extra time at the airport. I view the Airport as a last resort option because I prefer not to have additional stress and time constraints on a travel day. However, test results are received in just a few minutes, just like at a private clinic or pharmacy.
Getting a Covid-19 test at the airport will also be too late to upload results to your airline's app. That means you will have to fill out the paper version of the health declaration form required to enter the United States.
How to Get a Covid-19 Test at Schiphol Airport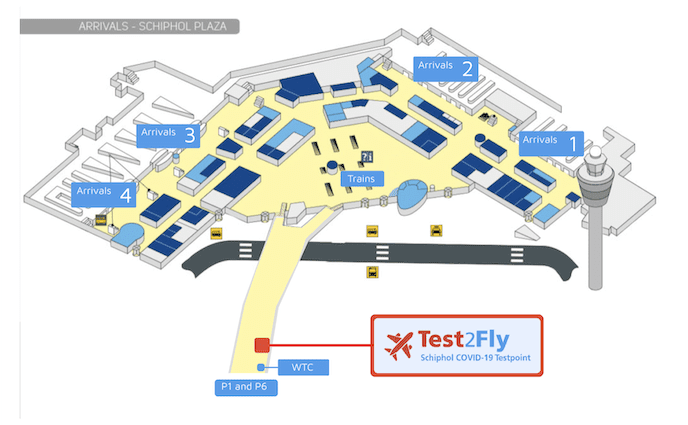 You can book your test via the Sneltest website (€89) or Test2Fly (€79). Appointments are compulsory so do not show up without an appointment. No matter which site you use, choose the Schiphol Center. Do not choose General Aviation.
The testing center is located between Schiphol Plaza and P1 Parking. If you take the train from Central Amsterdam, the testing center is just a short walk inside the airport. Just follow the signs to the testing center or to P1.
Operating hours of the Covid-19 testing center at Schiphol is 7 am to 9 pm. Rapid antigen test results will be received within 20-30 minutes.
Cost: €79-89
Location
Bonus: Take Home Tests
Take-home tests purchased in drug stores before leaving the USA are becoming increasingly popular. I think they are a good backup option, but I have never taken one. They cost about the same as a test in Italy and can take about the same time as getting a Covid-19 test in Italy.
The most significant caveat is that you never know how long it will take. The tests that are acceptable for travel require an online consultation. This summer, several outlets reported outrageous wait times for travelers. The discrepancy among wait times was a huge turnoff for me, and I would prefer to research ahead of time where to get a COVID test in Amsterdam and take 20-30 minutes out of my day as I'm exploring the city.