Most Covid-19 test requirements have been dropped, but if you still need one, testing is easy and results are fast. If you are planning a trip to Rome, where do you get a Covid-19 test? Don't stress, I have you covered. This article will explain testing requirements, where and how to get an antigen test, and even how you can book and reserve your test online today!
---
Update June 12, 2022: As of midnight on June 12, 2022, the United States will no longer require a negative Covid-19 test result for travelers flying into the U.S. If you are traveling elsewhere, please check with your local authorities, airline, or cruise ship for current requirements.
Update April 30, 2022: All Covid-19 restrictions to enter Italy have been dropped for all travelers. Please check specific rules at hotels, restaurants, and attractions.
Update March 2022: Starting March 1, 2022, you only need to present a vaccine card to enter the country without quarantine or random testing. Unvaccinated travelers must show a negative test result and quarantine for five days upon arrival and test again at the end of those five days. These rules are expected to be relaxed even further on April 30, 2022.
Click the button below to reserve your Covid-19 rapid antigen test for the day before your departure in Rome.
Covid Test at Rome Pharmacy (Farmacia)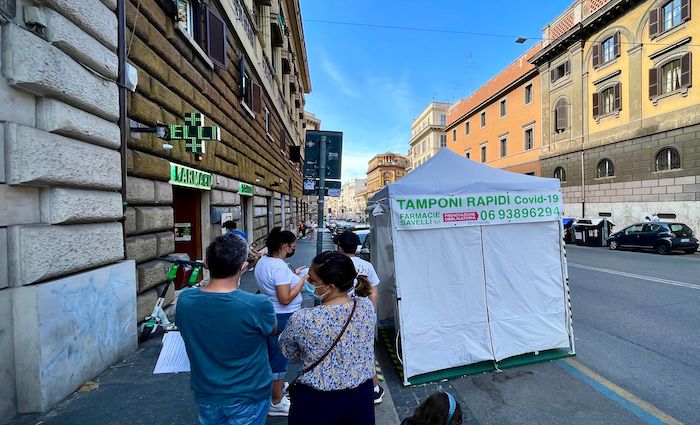 Budget-Friendly | Quick Results | Various Locations
There are a wide variety of pharmacies all over Rome that offer antigen or PCR tests. You can ask your hotel to reserve or book a Covid-19 test with us at a location like the one I visited. The result is just about the same, but reserving in advance adds a lot of peace of mind and keeps your vacation less stressful. The advantage of booking with us is that you can bypass all walk-in customers!
On my way to Termini station, while going down via Cavour, I noticed a pharmacy not far down the street from my hotel, The Monti Palace Hotel. The whole process to take a Covid-19 test at this pharmacy in Rome took 27 minutes. I showed up without having an appointment because I first went to the train station (which is further down via Cavour) and decided to return after noticing the long lines at the station.
The white testing tent is on the street directly in front of the pharmacy. I walked into the pharmacy to ask if I could have a test without an appointment. The pharmacist told me to get in line and fill out the paperwork in line. I stood in line with my mask on for 10 minutes before entering the pharmacy. I also had my passport and payment method.
The pharmacist verified my info and scanned a copy of my passport. The next step was to register my negative result with my identity document in their government system.
They then handwrote my information on the testing form, including my name and birthdate. I asked her also to handwrite my passport number to be sure. She stamped and initialed my negative test result.
Cost: €22
Covid Test at Rome Fiumicino Airport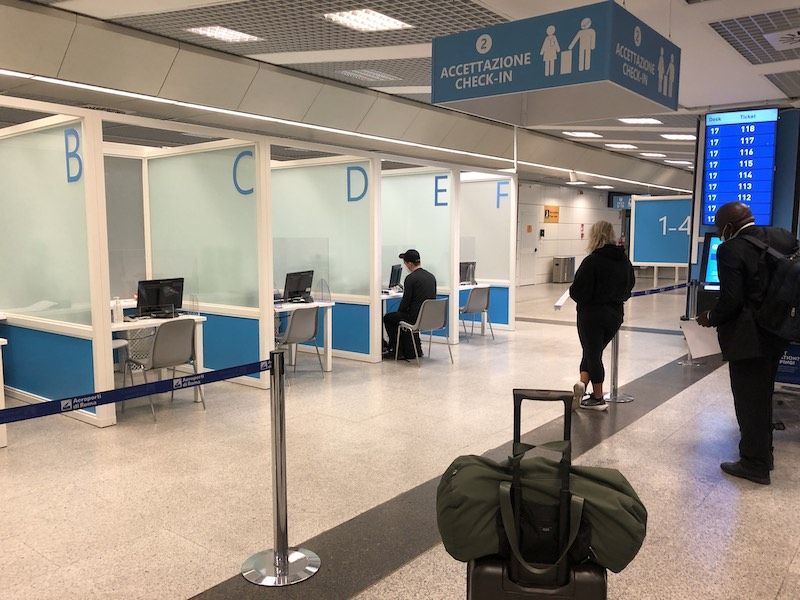 No Appointment Needed | Last-Minute Option | Convenient Location
If you want to wait until the last minute, the airport does have a testing center. I described the step-by-step process in my How to Get a COVID test in Italy article.
It is nice to have a last-minute option, but you must plan extra time at the airport. I'm not too fond of unnecessary stress on a travel day, so I view the airport as a last resort option. The good thing is that just like the train station and pharmacy, you can receive your results within minutes. You will need to present your negative Covid-19 test results upon checking in and boarding.
Another drawback to getting a Covid-19 test at the airport is that it will be too late to upload results to your airline's app or use Verifly if you fly British Airways or American Airlines. It also means you will have to fill out the paper version of the health declaration form required to enter the United States.
Cost: €22
Location
Popular Rome Tours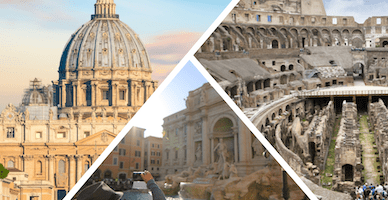 Best Selling Tour
Rome in a Day Tour with Colosseum and Vatican Museums

The best way to get your bearings all in one day. Visit the Sistine Chapel, Colosseum, Trevi Fountain, and more with a licensed and fun English-speaking tour guide. They'll add tons of insights and make the entire experience so much more memorable. Also, you'll get a feel for the city so it's great on one of your first days in the city. All admissions and transport included although there will be a lot of walking.





See Prices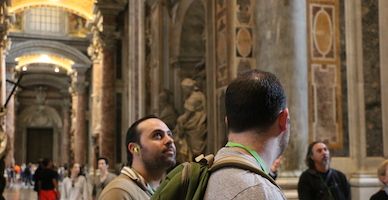 Best Price!
Skip the Line Vatican Tour with Sistine Chapel & St. Peter's Basilica
One of our most popular Vatican tours since it is such an amazing value. Skip the line to get inside with a super-knowledgeable English-speaking guide that will bring the museum to life. Stories of the artists, popes, conspiracy, love, and of course tragedy! Admissions included.





See Prices
Bonus: Take Home Tests
Take-home tests purchased in drug stores before leaving the USA are becoming increasingly popular. I think they are a good backup option. They cost about the same as a test in Italy and can take about the same time as getting a Covid-19 test in Italy.
The most significant caveat is that you never know how long it will take. The tests that are considered acceptable for travel require an online consultation. For more information on my experience with take-home tests, see my article on getting a COVID test in London.
What Happened to the Red Cross Covid Testing Center at Roma Termini Station?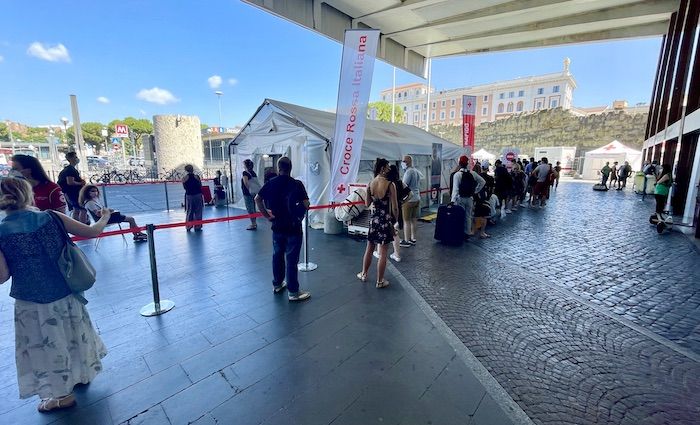 Recent travelers to Rome have communicated that the free Red Cross tent is closed and our team in Rome has confirmed this. One of the main reasons I originally listed this location was because it was a free testing station, and I want to save people money when I can. Now your best choice is to pre-book your Rome Covid Test on this site considering how important it is for travel at this time.
Cost: €20 – 30
Location
Need a PCR Test in Rome for Cruising or Onward Travel?
I've had great experiences at private clinics and recommend them in Italy, especially if you need them for a PCR test. Synlab has several labs throughout Italy in the major cities, and you can book everything online.
In Rome, there are several locations in the city center. Receipt of PCR results is within 24-36 hours, but you can pay extra to expedite the results within 24 hours. The site is in Italian so if you don't speak the language, use a browser that will translate.
The price tag for 24-hour result is steep at 100€. If you want to reserve at a pharmacy for under $50 per person, be sure to book your appointment with us.