Coming to the Amalfi Coast and looking for some beach time? Not all the beaches are so obvious to get to and there are some amazing beaches where locals go. We have put together this list together with our local tour guides to give you the best beaches along the Amalfi Coast!
---
Pro Tip: Bookmarks are the key to organizing a great trip. Bookmark this post in an "Italy" folder in your browser. This way you can circle back to it while you are traveling. Also, check out our top-rated Pompeii tours – Pompeii needs some explaining.
Top 15 Beaches on the Amalfi Coast & Nearby Islands
The Amalfi Coast is located in a small corner of Southern Italy between the Gulf of Naples and the Gulf of Salerno in the Province of Salerno. The region is a 1.5-hour drive to the south from Naples, the closest big city.
The actual coast is about 30 miles ( 50 km) long and follows a winding two-lane road with the sea on one side and mountains on the other. At first glance from the road you don't see many actual beaches where you can lay a towel down and get some sun. That's because many of them are hidden, but we are here to unveil them to you. Ready? Let's go to the beach!
1. Regina Giovanna Bath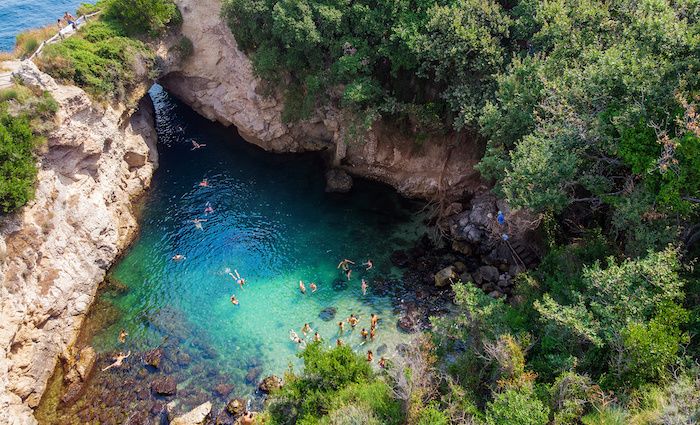 Regina Giovanna Bath is a magical little cove that is a 10-minute drive from Sorrento. From the looks of it, the water eroded away at some rocks bringing seawater into a cove-like area.
It is pretty magical and just far away from Sorrento that it isn't completely overrun with tourists. If you have a vehicle you can drive out and look for parking. If not, take bus 5070 and get off at Caposorrento. From there it is another ten minutes by foot.
Address: Traversa Punta Capo, 80067 Sorrento
2. Marina Grande, Positano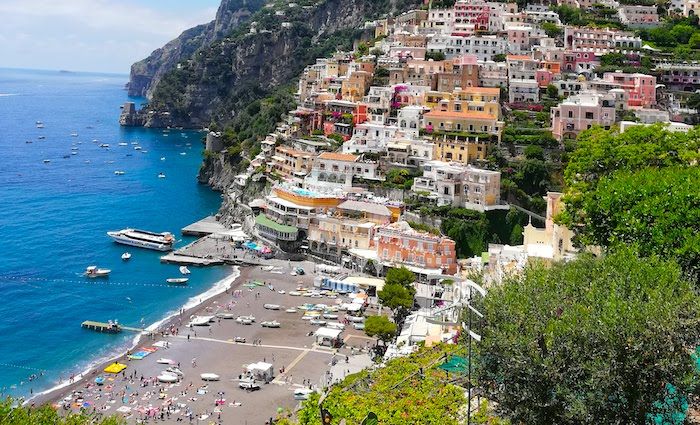 Positano's main beach is a hotspot for travelers looking for a beach with all the amenities. To arrive here it's super easy, all you have to do is keep walking down from the top of the city and you will eventually run right into it.
You can rent beds (chairs) for the day, take a swim, check out the shops in town and have a long (hopefully boozy) lunch on the beach! I can't think of any better way to enjoy your vacation.
Address: Via Marina Grande Positano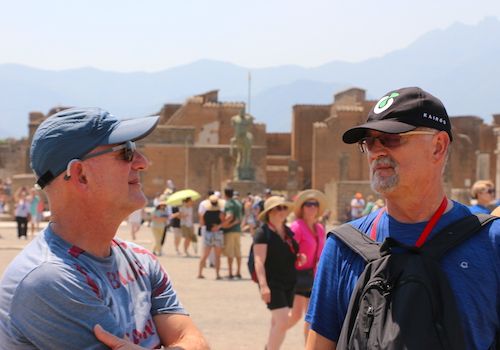 Pompeii Tours from Rome, Amalfi Coast, and Pompeii
We offer plenty of tour options including transportation from Rome and the Amalfi Coast or from the gates of Pompeii. We offer private tours and small group tours of Pompeii which means we are able to hit every price point!
3. Fiordo Di Furore, Furore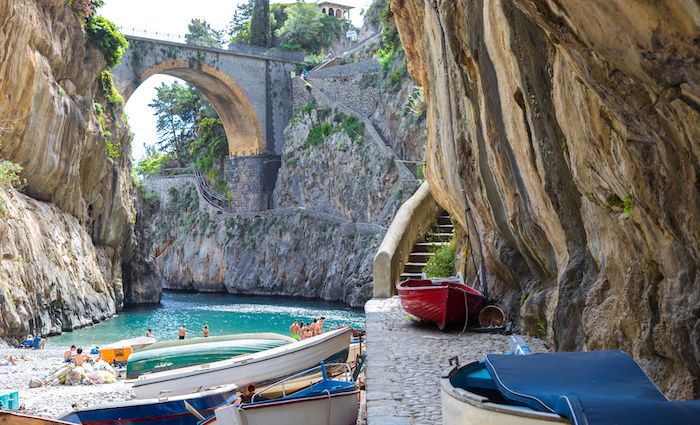 You may have seen this beach on Instagram if you follow any travel influencers. It is one of the most unique beaches along the Amalfi Coast but Italy is peppered with beaches surrounded by cool rock formations. One of the reasons the "boot" is one of the most sought-after and multi-facet destinations on Earth.
Fiordo di Furore is between Praiano (the town south of Positano) and Ravello. It is the perfect destination for a few hours before heading to lunch in Ravello followed by a visit to some of Ravello's famous villas.
Address: Via Marina di Praia, 2
4. Spiaggia Di Cauco, Erichie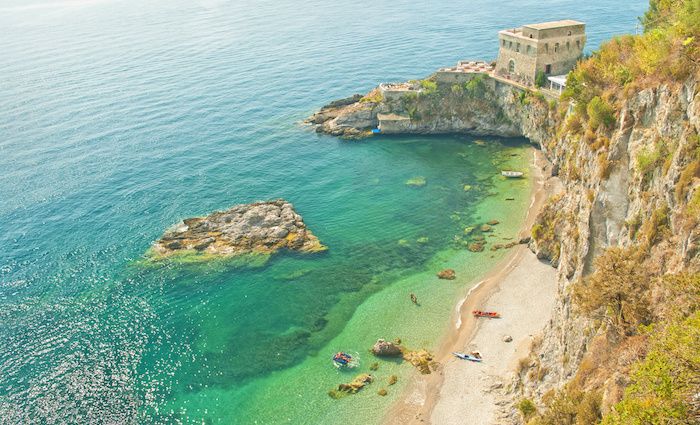 Spiaggia di Cauco is one of my favorite beaches and attractions along the Amalfi Coast due to its beauty and seclusion. It is located in the last stretch of the southern part of the Amalfi Coast close to Salerno. It is in the town of Erchie.
The beach will fill up with umbrellas and there are some cool places to eat nearby. Get there early and grab a letto (bed/chair) before the beach fills up. Great beach to watch a sunset if you pack some extra supplies and can last all day on the beach!
Address: Via Provinciale, 2
5. Marina di Praia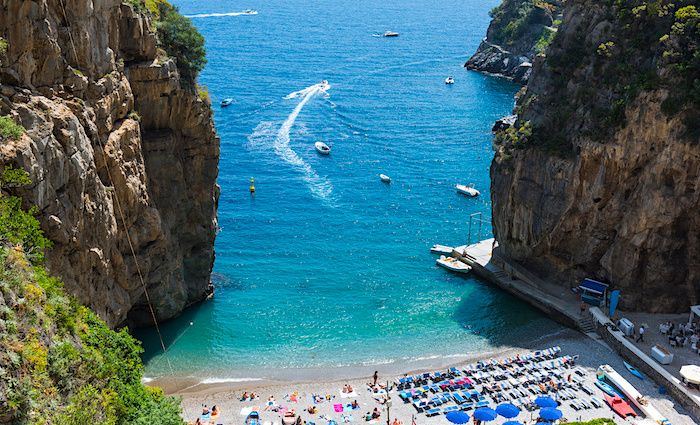 This is personally my favorite beach on the coast. It might be for more sentimental reasons than anything else, since this was the first beach I ever went to along the coast. To get down to it you either have to go by car along the road, or there are stairs directly from the street to get you there.
One of the best things is that this beach is completely hidden from view if you are on the street, so you need to have the inside info! Once you are on the beach, the view is epic since you have two massive cliffs on both sides of you. Another bonus about this beach is that right behind it are some great restaurants to go eat fresh seafood. Fried Calamari anyone?
Address: Via Praia, 84010 Praiano
6. Marina di Cetara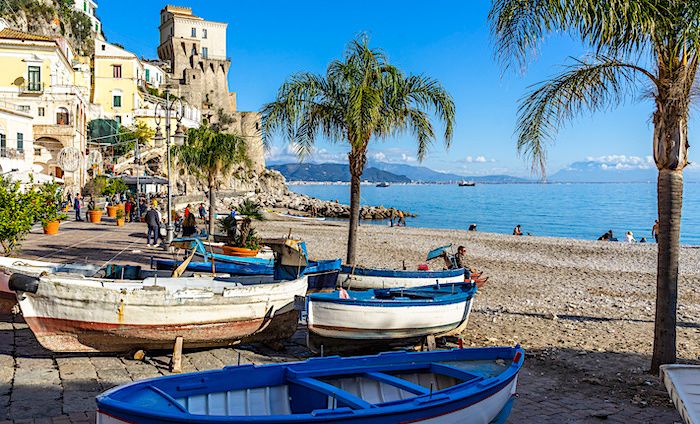 While Cetara is best known for their dominant trade in anchovies, they also possess a nice, sandy beach. The promenande is town is lined with Palm trees and the picturesque port brings you back in time.
If you are looking for a local beach, then you have come to the right place. Tourists usually pass right over this beach and therefore you will find yourself surrounded by locals on all sides. Pick up some essential Italian words and live the real local experience.
Address: Via Lannio, 2, 84010 Cetara
7. Santa Croce, Amalfi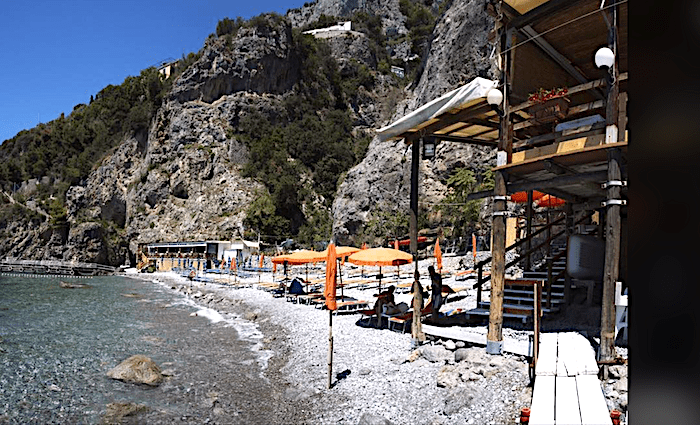 This is one of the secluded beaches along the coast. The only way to get there is by boat. It is tucked away along the inlet. you will find two beach clubs there, Santa Croce and Da Teresa and both of them offer ferry services from the main pier.
Amalfi is small and therefore can get quite crowded. You owe it to yourself to get away from the crowds for a day. Grab a sunbed and umbrella and enjoy a spritz at Da Teresa while looking at the dark blue waters.
Address: 84011 Amalfi
8. Spiaggia Arienzo, Positano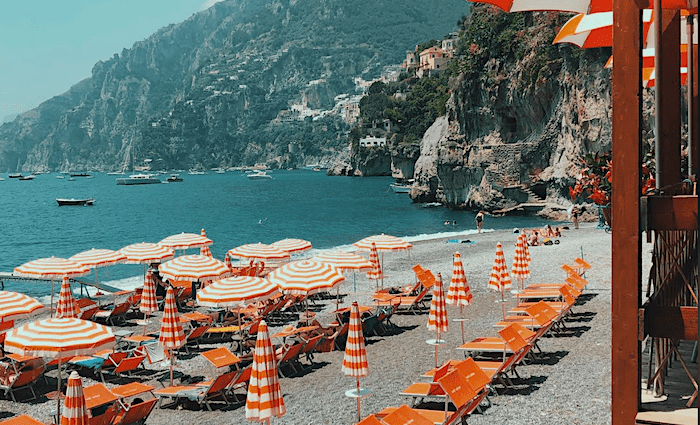 While you can definitely enjoy the rays at the big brother beach of Marina Grande in Positano, you can make a trek out here on day 2 to get a different vibe. As with everything in Positano, there are stairs to reach the beach- 300 of them! There is also a ferry service with small wooden boats.
When you arrive there is a beach club there called Bagni d'Arienzo Beach Club and they can provide a sunbed and umbrella for you. You can also enjoy some typical Amalfi Coast food as well. Stay with anything on the menu that is seafood.
Address: Via Arienzo, 34, 84017 Positano
9. Maiori Beach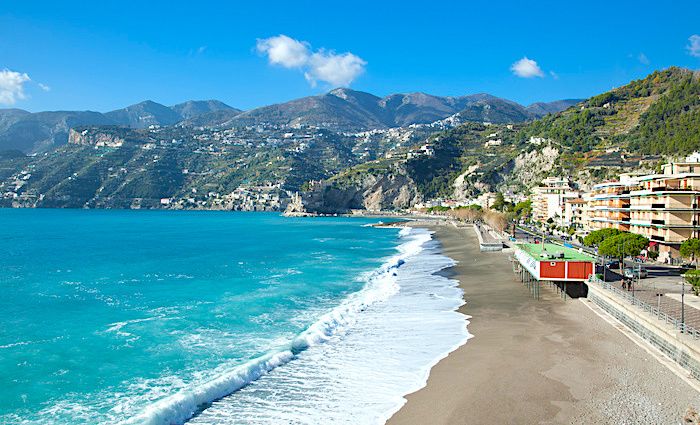 Everyone wants to go to a private or secluded beach. The problem is that they are not always so easy to access and if you have kids this is a problem. This is why I wanted to put the general beach in Maiori. I have stayed at a hotel here and taken my kids to this beach and it is super kids friendly.
There will definitely be crowds, but that is not necessarily a bad thing. You have beachfront restaurants with plenty of meal options and you can also rent sunbeds and umbrellas along the beach. I am a huge advocate of the hard-to-access beaches but sometimes, especially with kids, all you want is a nice beach with easy access. Now you have found it.
Address: Strada Statale Amalfitana, 84010 Maiori
10. Gavitella Beach, Praiano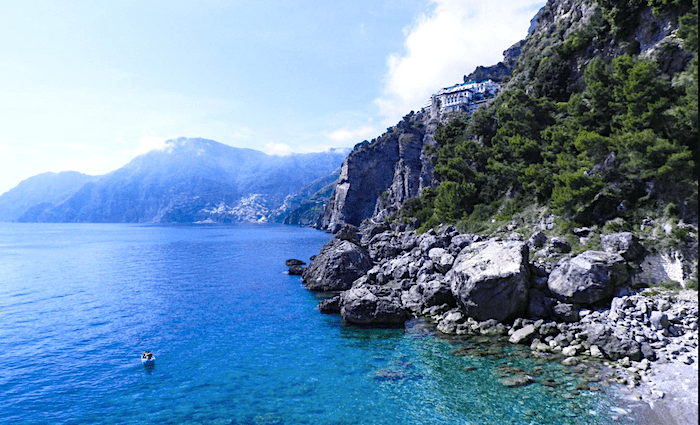 This is definintely a hidden gem to visit while staying in Praiano. The way the beach is set up ( by nature of course) is that you have full sun well into the early hours of the evening and can even see the sunset from here!
There is a beach club, Cala della Gavitella beach club, where you can get sunbeds and an umbrella. There is a concrete platform there where you will see locals just laying down a towel, so that is possible as well.
Address: Via Gavitella, 1, 84010 Praiano
11. Vietri sul Mare
Similiar to Maiori, Vietri has a huge coastline of beach at the beginning of it. These beaches get crowded, but that is because they are easy to access. Don't worry about climbing up or down hundreds of stairs or taking a private boat to get there.
There are restaurants along the beach for a delicious lunch of pasta with seafood. There are also snack bars in case you don't want a sit down meal. Along the beach, get there early to grab a good spot and also a sun-bed and umbrella.
Address: 84019 Vietri
12. Duoglio Beach Amalfi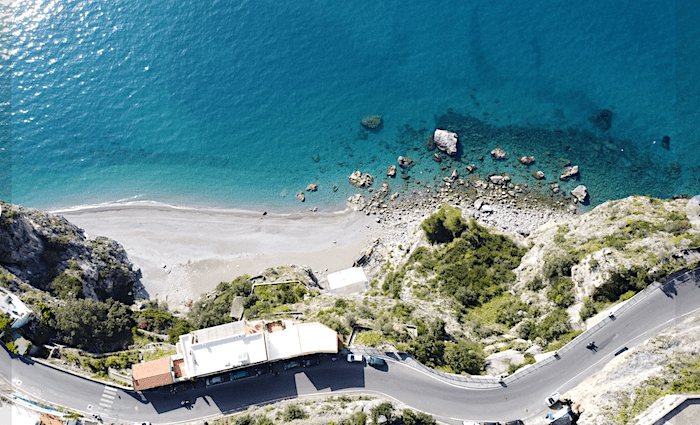 Just a bit away from Amalfi town, you will find this beach. Of course to access it you have to go down the 400 stairs! Locals say that the water here is some of the cleanest along the coast, however I have found that the water is clean everywhere along the coastline.
The beach club, Lido degli Artisti, offers the usual sun-beds and umbrellas, but also various water sports equipment. For example, jump on a paddle boat and paddle your way through the Mediterranean, crystal-clear blue waters! For the more adventurous types, there is even windsurfing!
Address: Via Mauro Comite, 25, 84011 Amalfi
13. Marina di Mulo ( Capri)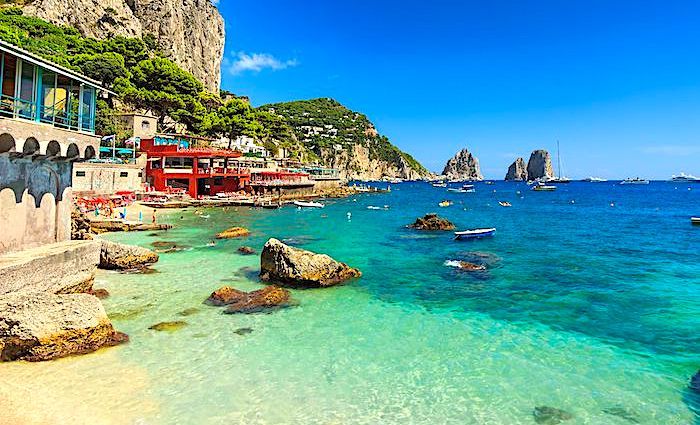 You will find this beach on the southern part of the island. Generally, on the southern part of the island, you will find beaches that are much less crowded today. Back in the day, this was where the stars came and were quite the glitzy area.
While you won't find many stars here anymore, the beach is still spectacular. If you decide on this beach, come early to make sure you grab a seat and also because the sun disappears around 4 PM.
Address: Piscina di Venere, 80076 Capri
14. Bagni di Tiberio ( Capri)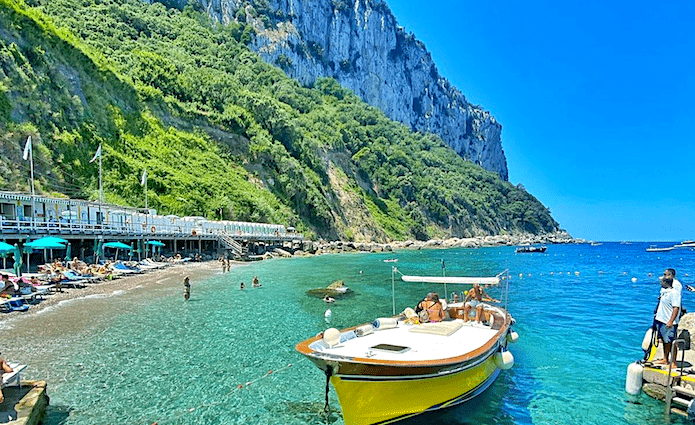 I think most people would agree that this is Capri's best beach. It is named after the Roman Emperor Tiberius who pratically gave up his power in Rome to become a secluse here in Capri. Hard to blame him since Capri is one of the most beautiful places on earth.
This beach is good for children and there is a beach club to set up sunbeds and umbrellas. There is also a restaurant which serves up great dishes of pasta and other kinds of seafood.
Address: Via Torra, 80076 Marina Grande
15. Marina Grande ( Capri)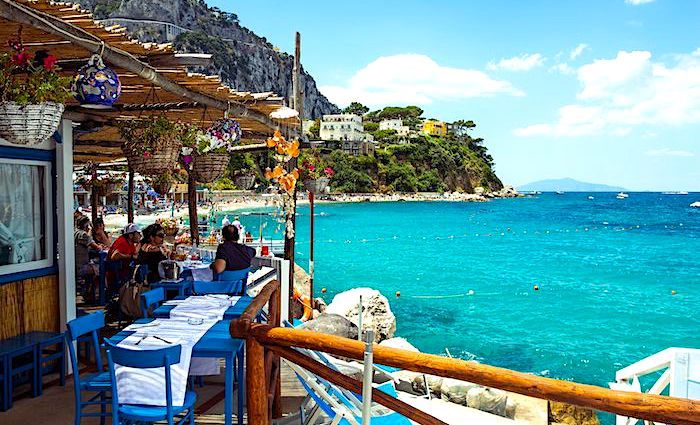 This is Capri's biggest beach. It is also very close to the port, so it therefore attracts the most visitors and can be quite busy. If you are just arriving to Capri for the first time, chances are you will come and visit this beach.
This beach is very safe for children due to the shallow waters. There are also refreshment stands nearby to get snacks and drinks. Take some awesome photos and soak in the beauty that is Capri.
Address: Via Marina Grande, 80073 Capri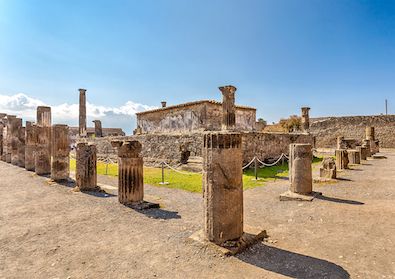 Rome to Pompeii Day Trip with Stunning Sorrento
Join us on an adventure from Rome to Pompeii and Sorrento with roundtrip transportation. Embark on an in-depth exploration of the well-preserved Pompeii ruins. Take in the stunning views on the relaxing drive. Then, enjoy some time in the jewel box seaside town of Sorrento.