Italy opened up international tourism on May 17th of 2021 and has been steadily making things easier and easier for travelers. You used to have to get a test before arrival and now a vaccine card is all you need. No matter how easy Italy makes things for Americans, to return home you'll need to present a covid test which has travelers stressed out. The good news is that I have done it and it was super easy so no need to worry. Here is how to get a covid test to return to the USA from Italy.
UPDATE DEC 2, 2021: Those traveling to the USA from Italy will need a negative COVID test result to enter their final destination. Today President Biden is announcing stricter testing requirements for passengers traveling to the United States. Regardless of vaccination status and nationality, the new tightened testing window requirement is one day before departure. This new testing window may be a change, but I always get my tests taken the day before I fly back to the USA, and so does the rest of the Tour Guy team. You will see below that it's still possible to get tested the day before your trip to the USA. 
---
Headed to Italy? Great idea, the sites are practically empty and you won't get a chance to see them like this in the future. Definitely check out our Italy tours for the most memorable experience. We take away the guesswork with getting inside and a guide will elevate your visit to the next level!
Requirements to Return to the United States from Italy and Europe
Here are some common FAQs that I have been receiving on how to get a covid test to return to the USA from Italy.
Do you need to get a covid test to return to the states?
Quick Answer: Yes (Look at the last updated date at the top of the article. If it has been updated within 2 weeks of today, the article is up to date)
As of publishing this article, July 8th, 2021, all passengers need a PCR or Antigen test to return to the United States. This is currently mandatory even if you are vaccinated or not. The good news is that an Antigen test offers rapid results, 20 mins or less, and costs anywhere from free to 100€ depending on where you go in Italy.
When should you get a COVID tested in Italy when returning to the USA?
Quick Answer: Day before your departure before noon.
I recommend a day prior at a red cross-site or a private clinic. The airport works, but you're definitely adding extra stress on the day of departure. A savvy traveler will take care of it in advance. The Antigen test has to be taken within 3 days of flight departure. So day before is usually the best since Antigen results come within a couple of minutes or hours. I received my Antigen result yesterday just hours after my test at a private clinic in Como.
Do I have to schedule my test in advance?
Quick Answer: If you don't want to wait, yes.
There are many places in Italy, especially in Rome or Milan, where you can get your test without an appointment. We will cover those below. I'm flying home from Milan because I'm ending my trip in Lake Como. I had to schedule an appointment because there are only private clinics in Como. There are red cross centers in Rome and Milan that do not require appointments.
Also, the airports do not require appointments for COVID tests either. So if you are testing at a private clinic, you need to schedule in advance. I'll discuss my process for scheduling my appointment in Como down below in the Milan section.
What is the cost of a COVID test in Italy
Quick Answer: Free to 100€. Avg 20€ – 35€.
Antigen tests are either free or inexpensive in Italy. Especially compared to PCR tests. That's another reason to visit Italy during this time. At a private clinic in Milan, I paid 35 Euros. At the Airport in Rome, Sean paid XXX. For another trip, I took a PCR test at a private clinic in Milan. That cost 100 Euros.
Which train stations in Italy have free tests through the Italian Red Cross?
You'll find an Italian red cross tent offering free tests in front of these train stations:
Bari
Bologna
Cagliari
Florence Santa Maria Novella
Naples Centrale
Palermo
Reggio Calabria
Turin Porta Nuova
Venice Sant Lucia
Popular Rome Tours
We take away the guesswork with getting tickets and a guide will elevate your experience and make it more memorable!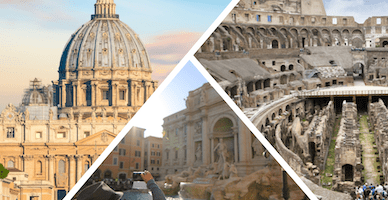 Best Selling Tour
Rome in a Day Tour with Colosseum and Vatican Museums

The best way to get your bearings all in one day. Visit the Sistine Chapel, Colosseum, Trevi Fountain, and more with a licensed and fun English-speaking tour guide. They'll add tons of insights and make the entire experience so much more memorable. Also, you'll get a feel for the city so it's great on one of your first days in the city. All admissions and transport included although there will be a lot of walking.





See Prices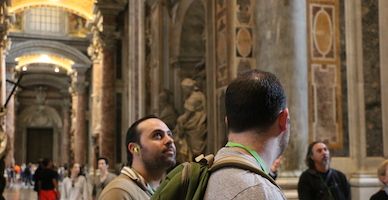 Best Price!
Skip the Line Vatican Tour with Sistine Chapel & St. Peter's Basilica
One of our most popular Vatican tours since it is such an amazing value. Skip the line to get inside with a super-knowledgeable English-speaking guide that will bring the museum to life. Stories of the artists, popes, conspiracy, love, and of course tragedy! Admissions included.





See Prices
How to Get A COVID Test in Italy
After reading the above FAQ, you know that you need a test so here is how to get it!
Where to Get A COVID Test in Rome
Termini Station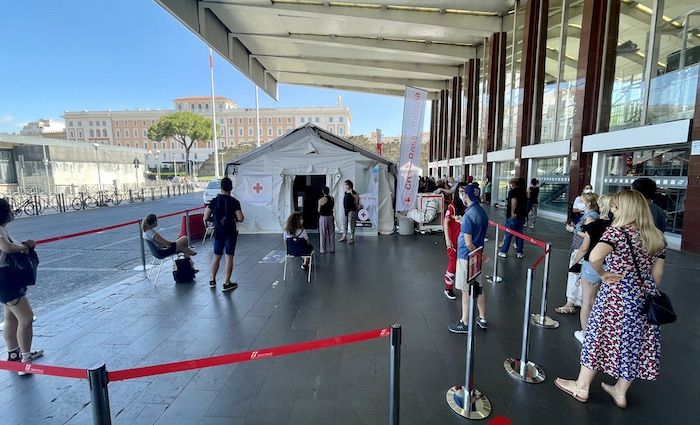 The Italian Red Cross is providing free rapid antigen tests every day from 6:30 to 14:00 at the entrance to the Roma Termini station – Piazza dei Cinquecento at the corner of the Servian walls. If you walk out of the train station the white tent is on the right-hand side. The last swab will be performed 30 minutes before the closing time.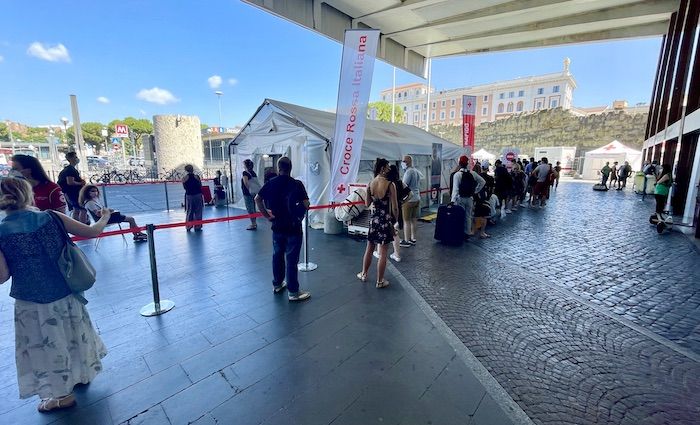 This has been confirmed by our team. We've also heard reports that it can take hours to get through the queue at Termini. Allow plenty of time in your schedule for the free COVID test at Termini Station.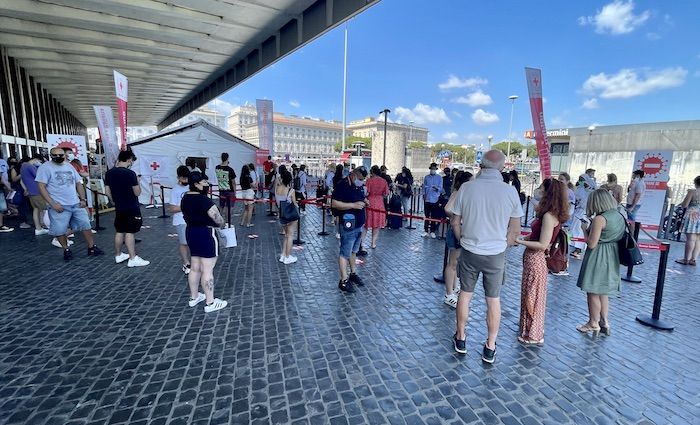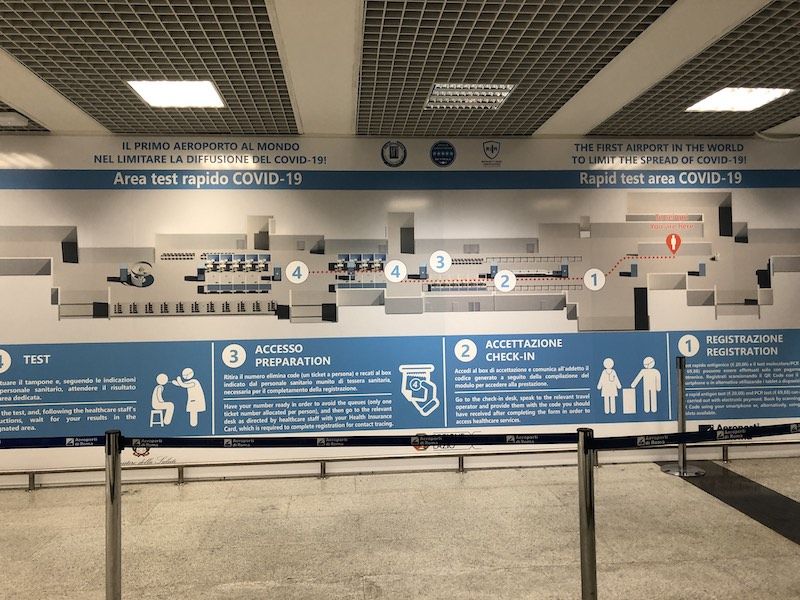 Getting a COVID Test at FCO Airport
The testing center is located in departures terminal 3. If you saw my Instagram stories or pictures from my previous article on taking a COVID-tested flight, it's in the same place.
Sean just flew back home, and he walked through the door at 05:00 to get his test. Operating hours are from midnight to 16:00. If you have a flight after four o'clock in the afternoon (16:00), get to the airport well before it closes, or better yet, don't wait to take the test there. Two people directed him to the test center.
Before arriving at the airport, you must register for your test by using this link to get a COVID test at FCO Airport in Rome.
In the early morning, the whole process took 26 minutes total.
This infographic on getting a COVID test at the airport is noticeable and helpful.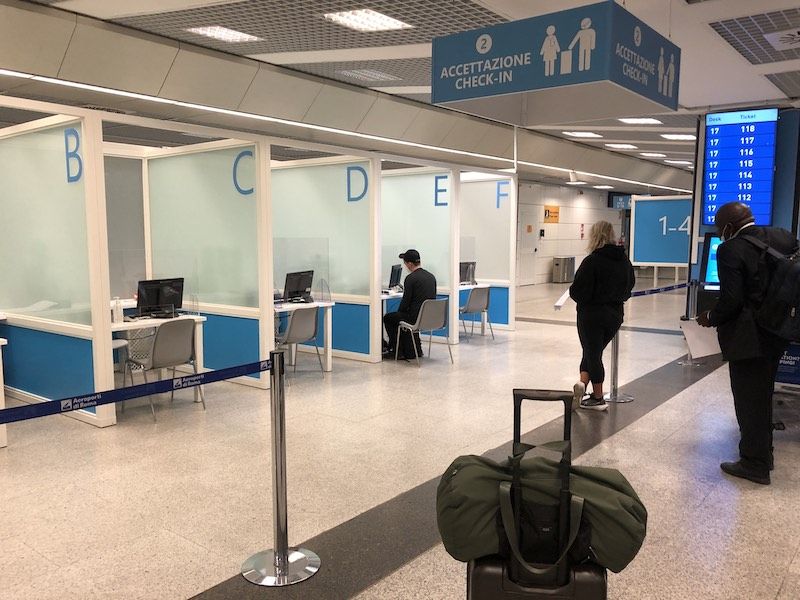 You turn left, and there is a small queue to approach a series of desks. You can barely see it, but you must grab a number from the screen pictured below.
The man from Senegal standing in the queue was very lost during the whole process. Sean filled out his paper for him, and they denied him testing because they said he needed a PCR test to enter Senegal.
He didn't have a credit card, so Sean was prepared to pay for his test. What a mess! The man from Senegal purchased his plane ticket from a travel agency office without being instructed on anything regarding his trip home. We don't want this to happen to our readers.
So you get a number, and they "sign you in." These stations are where they take your rsvp number from the online confirmation.
To summarize, you need
Online RSVP number
Ticket number from the airport computer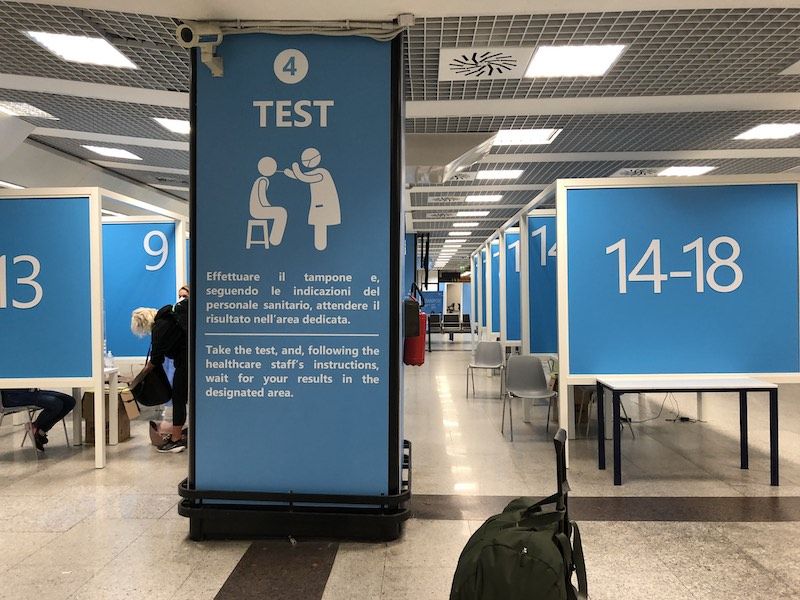 Next is the testing center. They take your passport, hold it, and then take the ticket number from the airport computer.
Once they have that information, you cross from the left side, where the blond woman below is pictured, to the right side of the room. That's where the test is administered, and there is a party in your nose where everyone is invited.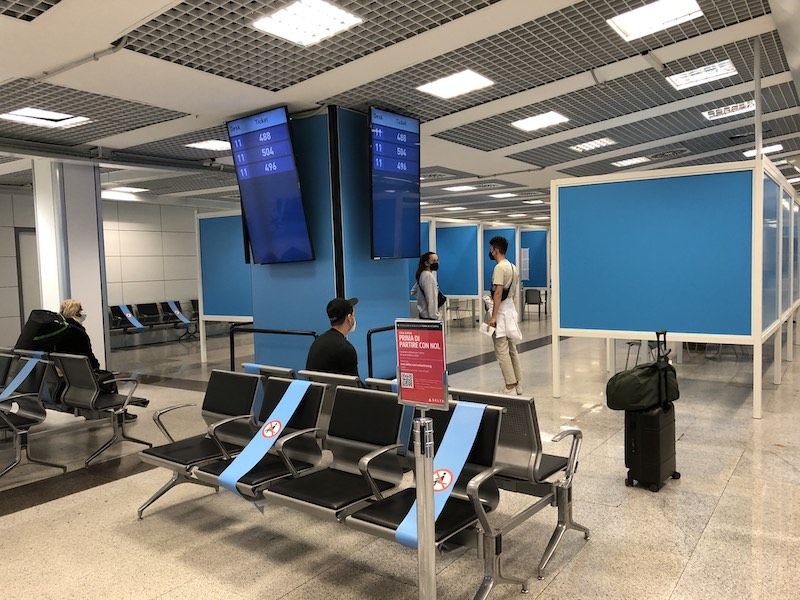 After the test is administered, you walk away without your passport. The same thing happened when I arrived at the beginning of June, which is always scary. You then have to wait in the area pictured below. The wait time can be anywhere from 15-30 minutes.
The Ticket number from the airport computer appears on the screen when your results are ready. They give you a particular document for your final destination country and put a sticker on your boarding pass.
The escalator to departure is right next to where you come into terminal 3 arrivals.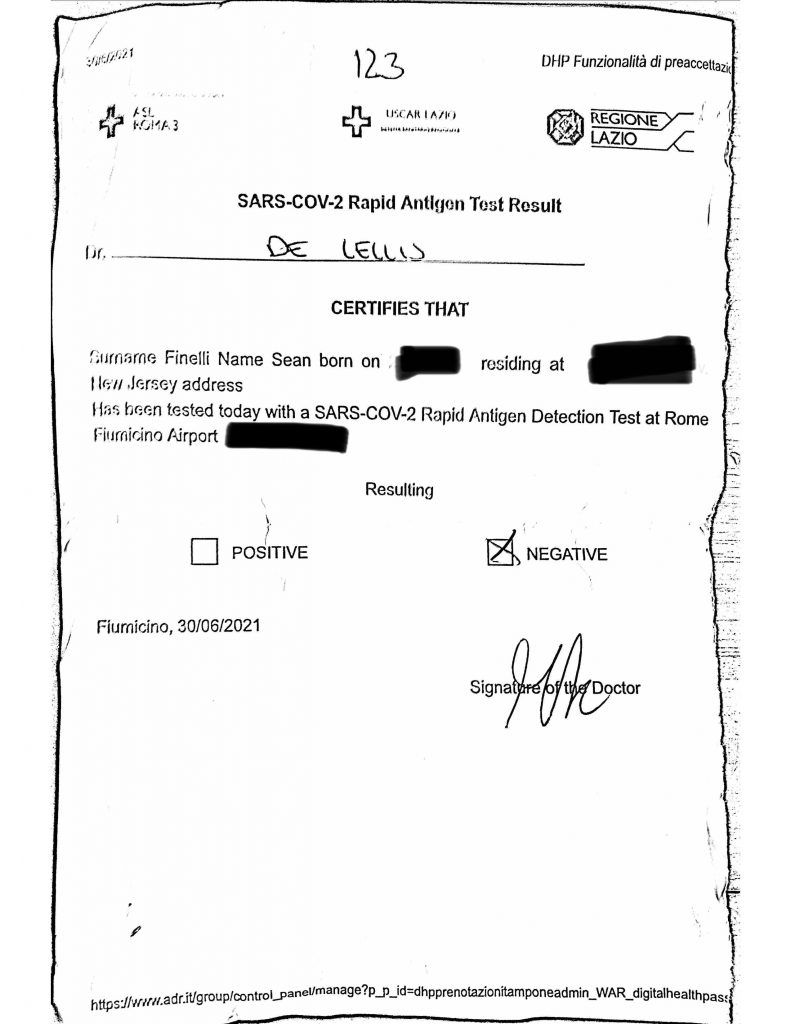 Tours of Pompeii & Amalfi Coast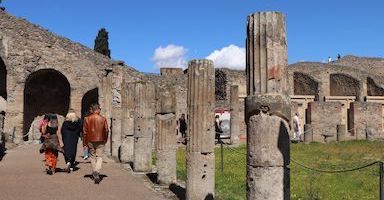 Best Selling Tour
Rome to Pompeii Day Trip with Stunning Sorrento
Join us on an adventure from Rome to Pompeii and stunning Sorrento with comfortable, round-trip transportation. Skip the line access with an expert guide and make the most of your time in Italy and leave all the details to us. All you have to do is enjoy yourself!





See Prices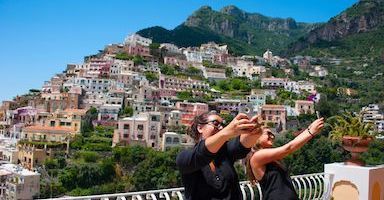 Amazing Experience
Pompeii and Amalfi Coast Tours
There are many options for your trip to the Amalfi Coast, whether you're taking a full trip or just a day trip from Rome. One of the best archeological sites on earth, Pompeii was destroyed by Mount Vesuvius in 79 AD. The combination of plunging cliffs, history, and charm make the Amalfi Coast one of our favorite places in Italy.





See Prices
Where to Get A COVID Test in Milan
Geting a COVID Test at Milano Centrale Train Station
The Italian Red Cross is administering free rapid antigen tests every day from 7:30 to 15:30 at the Milano Centrale station, Galleria delle Carrozze (on the street level of Piazza Duca d'Aosta, entrance to the subway ). If you are walking out the front, the testing site is on the left side. If you are walking toward the Sixt car rental kiosk, turn around, it is in the opposite direction of Sixt. It is a white tent that you can't miss.
To perform the test it is necessary to register with your personal data by going in person to the station. After registration, you will be notified of the time slot to return to the workstation and carry out the test on the day of registration. Considering Milan has a great metro system, this shouldn't be a problem. My suggestion is to go make your registration when you go visit the Duomo & Galleria Vittorio Emmanuel.
The last swab will be performed 30 minutes before the closing time at 19:30 sharp.
Given the high demand from users, the number of people who will be able to access the service may vary depending on the turnout; therefore, in order to ensure the correct management of the acceptance flow, the queue can close early.
Getting a COVID test at Malpensa Airport
Travelers wishing to take an antigen test at Malpensa airport in Milan must register in advance by using this LINK HERE. The website to register for an Antigen Test at Malpensa is a bit tricky. Sometimes the location is listed as Palazzo Della Salute, but you will take the antigen test at Malpensa. The cost is 36 Euros. For more details, please visit the Malpensa Airport site.
The COVID19 rapid antigen test is available every day, 8 am to 16:00 in arrivals. The testing center is located in the arrivals section of Terminal 1 at door number 4 on floor zero. On the map below it is located at D4 in arrivals. Registration beforehand at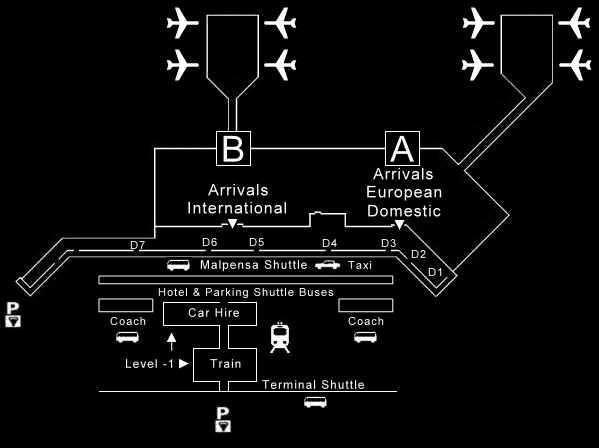 A Private Clinic
Getting an Antigen test at a private clinic in the Milan area is also another option. There are various clinics located throughout the city. This is also a good option if you are ending your trip in Lake Como like I just did. I've tested at two different private clinics in Lake Como and both processes were very similar. One clinic, Analisi, had a great English-speaking staff. Bianalisi called me to confirm my appointment in English.
The first step to take an antigen test at a private clinic for returning to the USA is to register online. In Lake Como, the clinics and testing centers will be in Como town. If you are staying in Bellagio, Tremezzo, or Lezzeno, you will have to go to Como for your test.
For Analise I registered using this LINK HERE. For Bianalisi, I registered using this LINK HERE. Both are located in Como.
At Analise clinic, located in the center of Como, all of the registration was done ahead of time. I showed up for my appointment at 10 am. At the front desk, I showed them my confirmation email for my appointment and then paid for my test. The test was a quick swab of the nose. And I was out within 10 minutes. I received an email with my results later that day.
The Bianalisi experience took a little longer because there was still some paperwork to be done at the clinic. You grab a number when you walk in. Present it to the front desk. They ask for your confirmation email. Then they have you fill out another basic form with your basic information. After that, I paid 35 Euros for my test. The swab for a rapid antigen test was taken from the nose and mouth. I received an email later that evening giving me instructions on how to download the results.

There are three clear big benefits to getting the test early at the train station or At a private clinic. The first is the elimination of unnecessary stress by getting it done ahead of time. Second, you will have your test in hand, and if you fly American Airlines as I do, you can use the Verifly app to upload your results making check-in at the airport simple and straightforward.

Third, and probably most importantly, is the códice fiscale, which is kind of like an ID number, is generated by the private clinic. The códice fiscale is often asked for when taking a Covid test in Italy. The private clinics provide a little bit more service and answer more questions for you.
The only extra step I had to take at the check-in this morning was to show my Verifly pass and that was it. I didn't need to show my Covid test or any sort of printout. I flew American Airlines back to the United States. All of those extra steps, questions, and forms are done directly through the app after the negative Covid tests results are uploaded.