Yes, for the unforeseeable future Covid Tests are part of travel. The good news is, testing is easy and results are fast, but where do you get a covid test in Florence? Don't stress, I have you covered. This article will explain testing requirements to return to the USA from Italy (Florence), where and how to get an antigen test, and even how you can book and reserve your covid test in Florence online today!
---
Current Travel Testing Requirments (Updated Dec 2nd): Regardless of vaccination status and nationality, the new testing window requirement is one day before departure, which means that you need to get tested the day prior to your departure. i.e. if you leave in the evening on Tuesday, you can get tested as early as Monday morning.
The change doesn't make a big difference for most. The Tour Guy team has gotten tested the day prior or day of departure since the pandemic began – no big deal!
---
Headed to Florence? Great idea, the sites are practically empty because of the lack of foreign students and mass tourism in the city. You won't get a chance to see Florence like this in the future. Definitely check out our Florence tours for the most memorable experience. We take away the guesswork with getting inside and a guide will elevate your visit to the next level!
3) Booking a Test Right Now at a Local Pharmacy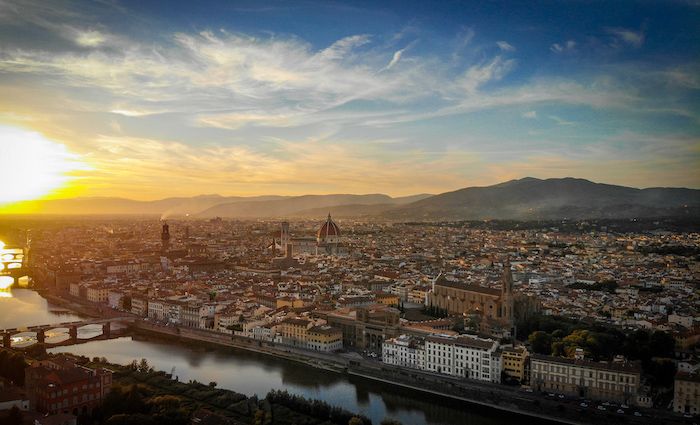 Stress-Free | Convenient | Travel Compliant | Super Central Location
There is no doubt that booking and paying for your COVID test for your return to the USA or onward travel will give you peace of mind. The Tour Guy has partnered with a local pharmacy in the center of Florence to make it easy for all travelers who need a covid test in Florence, Italy for travel. If you are staying anywhere in Florence or just passing through, the location is convenient. The test booking is for a Rapid Antigen test, and the results are within an hour. The test sample is taken as a nasopharyngeal swab. Booking this method now is the most stress-free option for getting a COVID test in Florence.
Cost: $36.80
Location
2) Private Clinic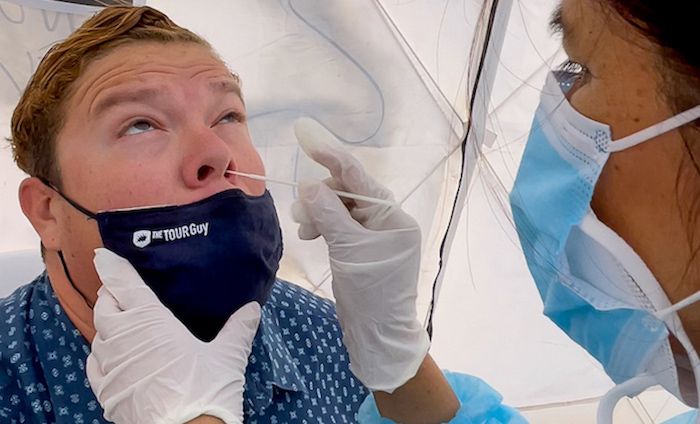 PCR Test | Quick Results | Various Locations
I've had great experiences at private clinics and recommend them in Italy, especially if you need them for a PCR test. Synlab has several labs throughout Italy in the major cities, and you can book everything online. In Florence, there are several locations. Receipt of PCR results is within 24-36 hours, but you can pay extra to expedite the results within 24 hours. The site is in Italian so if you don't speak the language, use a browser that will translate.
Another private lab to consider in Florence is Fanfani, and they offer PCR results within 6 hrs for 105 EUR. Booking for rapid PCR tests can be online on their site.
Cost: 50 EUR + 50 EUR (if expedited 24 hours)
Location
1) A Local Pharmacy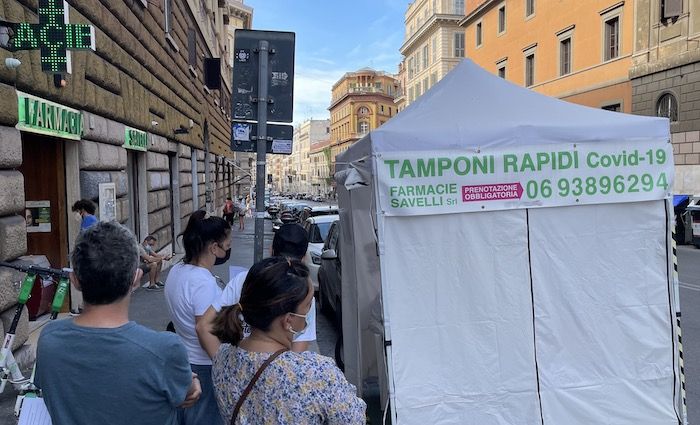 Mostly Appointment Only | Easy Option | Convenient Location
The local option for a rapid antigen Covid test in Florence is a pharmacy, and there are locations throughout the city. Due to the popularity and increased demand, many pharmacies require an appointment. The tests take 15 minutes to administer, and results are received either in person or digitally within an hour. Don't forget to bring your passport or identity papers with you to your test.
Cost: 22-25 EUR
Location
A Word about Take Home Tests
Take-home tests purchased in drug stores before leaving the USA are becoming increasingly popular. I think they are a good backup option. They cost about the same as a test in Italy and can take about the same time as getting a COVID test in Italy. The most significant caveat is that you never know how long it will take. The tests acceptable for travel require an online consultation. For more information on my experience with take home tests see my article on getting a COVID test in London.