Visiting or just visited the Pitti Palace & Boboli Gardens in Florence? Museum-ing can definitely work up an appetite and now you're looking for a place to eat. You are in luck! Our local guides in Florence built this amazing list of restaurants nearby to the Pitti Palace in Oltrarno. Enjoy!
---
10 Best Places to Eat Near Pitti Palace & Boboli Gardens in Florence
The Pitti Palace was purchased from the Duke of Tuscany by the Medici Family who were rich and influential. More than anything, the Medici were patrons of the arts and their house is adorned with masterpieces. Due to the vast collection of art and beauty of the grounds, visiting will spark your appetite.
The Pitti Palace is in the Santo Spirito neighborhood which is filled with beautiful churches like the Basilica of Santo Spirito. The Basilica was built by famed architect Brunelleschi who also built the dome of the Duomo. The beautiful architecture and the existence of the Medici in Santo Spirito made it a cultural hot spot. Due to that, the area has attracted some of Florence's best bars and restaurants. This makes it a great place to explore so plan on spending time in the area after visiting the Pitti Palace.
Osteria Cinghiale Bianco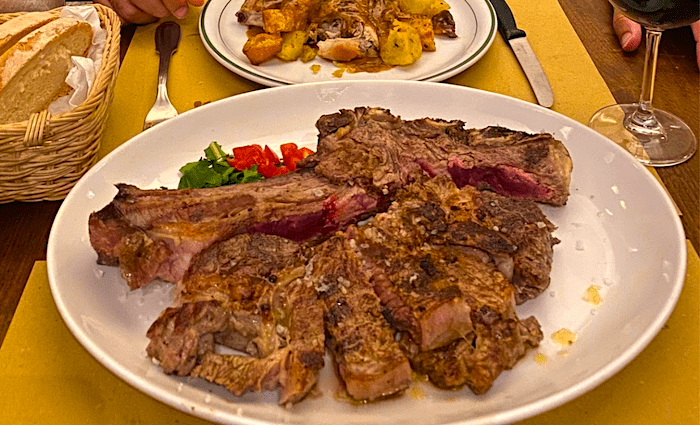 €€ | Tuscan & Florentine Cuisine | Family Friendly | 👣 from Pitti Palace
An Osteria originally was a place you could bring your own food too. Sound strange? Instead of serving food, they'd function more like a low-key bar and serve wine or charge for table service only. They later evolved to having a daily changing menu with one of two options of warm cheap food. Today, they are much more elaborate but Osteria Cinghiale Bianco has that traditional feel and hearty dishes. This is why we've recommended Cinghiale Bianco for almost ten years.
At Cinghiale Bianco, they serve traditional Tuscan and Florentine dishes. It is probably the most traditional restaurant near the Pitti Palace in Santo Spirito which makes it a great choice. For all of the above reasons, I love this quaint little place and almost always make a stop there while in Florence.
Address: Borgo S. Jacopo, 43
Hours: Daily 7 – 10:30 pm | 12 – 2:30 Sat & Sun
Gurdulù Gastronomia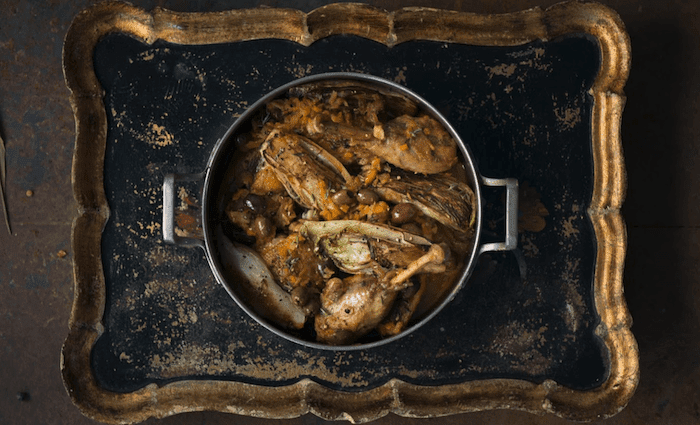 €€€ | Contemporary Tuscan | Outdoor Garden Seating | 👣 from Pitti Palace
I am a sucker for contemporary restaurants and Gurdulù is exactly that. Chef Entiana Osmenzeza has created a very cool dining atmosphere and her dishes reflect the space. Osmenzeza has taken traditional Florentine and Tuscan dishes and executed them in a contemporary fashion that creates a dining experience that will be remembered.
I highly recommend this for dinner or even drinks as they make incredible cocktails. You can come here after visiting the Pitti Palace or make a journey to Santo Spirito just for this restaurant.
Address: Via della Caldaie, 12R
Hours: 10:30 am – 9:30 pm | Closed Wednesday
Tours of Chianti & Florence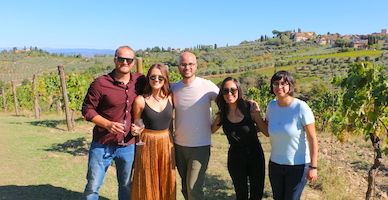 Top Rated Experience
Chianti Day Trip from Florence with Vineyard Lunch
Want to have an epic experience in Tuscany? Remove the guesswork and logistics by joining us on a day trip to Chianti from Florence including Siena. Transportation, lunch, and lots of wine included!





See Prices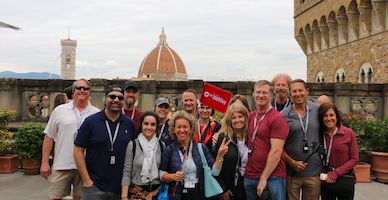 Best Selling Tour
Florence in a Day Combo Tour with David & Uffizi
This tour is your best value in Florence. See Michelangelo's David statue in the Accademia Gallery with a licensed guide and the Uffizi Gallery. It also visits the Florence Cathedral (outside), Baptistry Doors, Ponte Vecchio, and more. All your admissions are included to skip the lines and visit these great museums with an English speaking guide.





See Prices
Il Santo Bevitore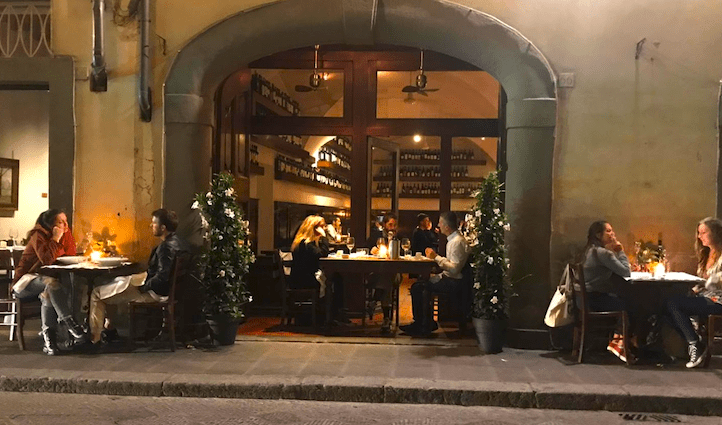 €€ | Some Outdoor Seating | Contemporary | 👣 from Pitti Palace
It's hard to understand how Il Santo Bevitore manages to create contemporary Tuscan dishes, present them so well and do it all for reasonable prices but I am happy they do! This little gem also has a great atmosphere which makes it a fantastic spot for a group of friends to have dinner and drinks in Santo Spirito!
Address: Via Santo Sprito, 64r
Hours: 12:30 – 2 pm | 7:30 – 11 pm | Dinner Only Mondays
Da Gherardo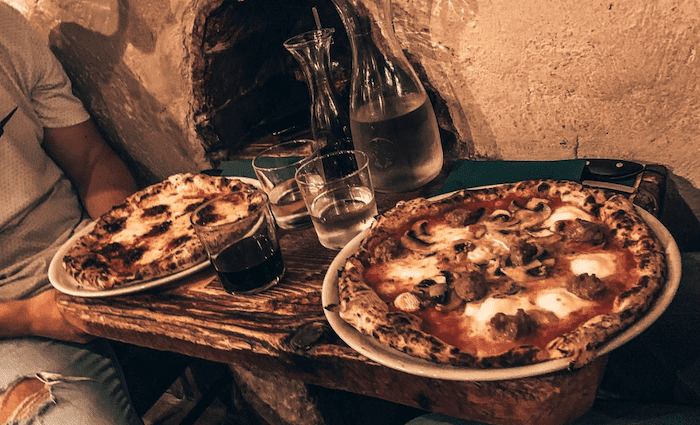 € | Pizza! | Family Friendly | Dinner Only
Da Gherardo is possibly the best pizza place in Florence and very likely the best in Oltrarno. It is among the best because the food is great, the prices are low and the atmosphere is no frills. Above all, they use high quality ingredients which is why they have so many great reviews. They also have created a super authentic feel mostly because they are authentic people. It is it is my low-cost choice for eating near the Pitti Palace.
Address: Borgo S. Frediano, 57R
Hours: 7 – 11 pm | Closed Tuesday
Tamerò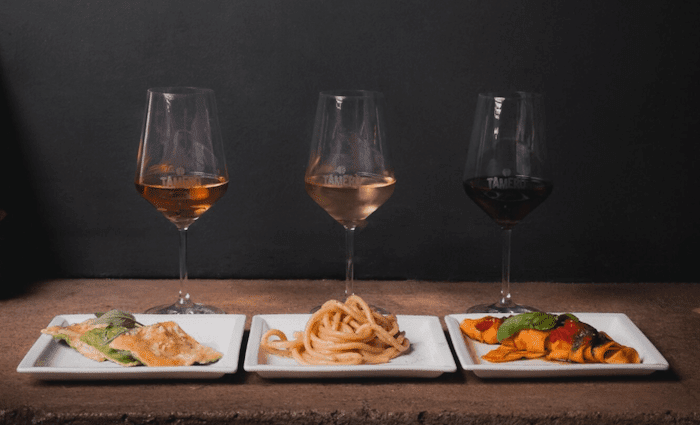 €€ | Late Night | Outdoor Seating | Family Friendly | 👣 from Pitti Palace
Tamerò is known for creative food, cool ambiance and a ton of outdoor seating. They are in Piazza Santo Spirito which places them at the heart of the neighborhood. The restaurant is run by a group of young chefs and they mix traditional Tuscan cuisine with international fusion food. To sum it all up, Tamerò has great food, cool menu and perfect location which means they fill up fast. Did I mention the prices are reasonable?
You can get pizza, pasta, salads and even octopus. The expansive menu makes it perfect choice if you are getting tired of eating pasta for every meal. However, I recommend calling in advance to reserve a table outside as the outdoor seating fills up fast.
Address: Piazza Santo Spirito, 11r
Hours: 6 pm – 1 am Monday – Saturday | Sundays Noon – 1am
Panificio La Favola
€ | Bakery | 👣 from Pitti Palace
Panificio translates to a "bread-maker" in English but the Italian word extends past the English word. In English, bread is bread. In Italian, bread could consist of pizza, rolls, cake, and more. All in all, a panificio makes products from dough.
Panificio La Favola has a wide variety of foods and treats you can purchase over the bar from pizza to cannoli. It is walking distance from Pitti Palace and Giardino Corsi which makes it the perfect place to stock up on picnic treats!
Address: Via Romana, 77
Hours: 9am – 2pm | 4:30 – 8:15 pm | Closed Sunday
Trattoria Giovanni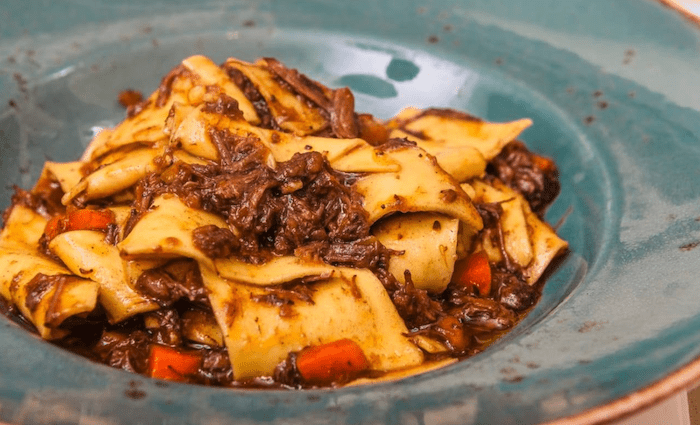 €€ | Traditional Tuscan | Family Friendly | 👣 from Pitti Palace
This little hallway of a restaurant has some of the best reviews I have ever seen. That is probably because they have really good food at really good price. That and amazing Tiramisù.
Address: Via Sant'Agostino, 38
Hours: 12 – 3pm | 7:30 – 10 pm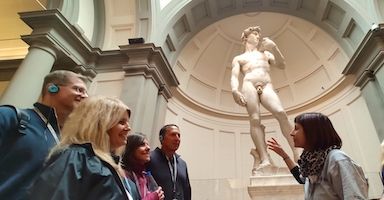 Best Selling Tour
Florence Walking Tour with Statue of David
Michelangelo is considered the greatest Renaissance artist and the David statue is widely known as his masterpiece. Join our English speaking guide as you skip the line to Accademia and see David. Then venture out to see the center of Florence including the Duomo (outside), Baptistry Doors, Leather Market, and more. Admissions included.





See Prices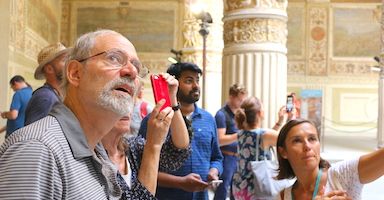 Top Rated Tour
Skip the line Uffizi Gallery Tour
The Uffizi Gallery is the most visited museum in Florence for good reason. Join our English speaking licensed Uffizi guide for a journey through the Medician Renaissance. Learn all the stories behind the very art that brought our world out of the darkness. All admissions included.





See Prices
Trattoria l'Raddi
€€ | Traditional Tuscan | Family Friendly | 👣 from Pitti Palace
This is another local favorite in Santo Spirito. They make traditional Tuscan cuisine at great prices which is why locals and visitors love this place. This is a great lunch or dinner option for after your visit to the Pitti Palace.
Address: Via D'Ardiglione, 47
Hours: 12:30 – 2:30 pm | 7:30 – 11 pm | Sunday Lunch Only
Trattoria la Casalinga
€€ | Traditional Tuscan | Family Friendly | 👣 from Pitti Palace
Trattoria la Casalinga is my "go-to" pick for lunch on a cold and rainy day because they have these hearty soups and dishes that warm you up. They have fantastic steaks and other Florentine-Tuscan fare that will do the trick. Great prices and wonderful food.
Address: Via dei Michelozzi, 9r
Hours: 12 – 2:30 pm | 7 – 10 pm | Closed Sundays
We hope you enjoyed our restaurant recommendations. If you did, check out our Florence food tour which is led by some of the same local guides that help build this list!
---