Attention all city slickers, urban dwellers, and sophisticates! Here are your top cities in Ireland for 2022…
---
---
Pro Tip: If you're planning a trip to Dublin, consider bookmarking our dedicated Dublin page, with articles on The Cliffs of Moher, Giant's Causeway, Titanic, and more!
The Top 10 Cities In Ireland
---
Due to Ireland being a size 0, it only has a handful of main cities on offer. As one would expect, they are all located in the four corners of the island: Galway = east, Dublin = west, Belfast = north, Cork = southwest, and Waterford = southeast. There's also Limerick city, but I wouldn't recommend this area for tourism. Each city has something different in terms of landscape and cultural activities, but I've also included some large towns. These towns don't qualify as cities, but they get just as much footfall! The reason for including them is because these locales are really worth visiting as a string of pitt stops, to compensate for the lack of big cities available on the island.
Furthermore, I've curated a list of the best places to stay in the cities of Galway, Cork, or Dublin. This should help massively, once you've decided which cities to focus on for your impending 2022 vacation. Now, let's crack on!
10. The Towns of Castlebar and Westport in County Mayo
Castlebar is the largest town in County Mayo and is typical of most Irish towns on the west coast. While you're in the neighborhood, you'll find plenty of attractions to swoop in on. You have The National Museum of Ireland, which is a mansion estate with an art gallery, on the grounds of Turlough Park. Furthermore, you'll have plenty of walking trails around Lough Lannagh, Raheens Wood, and in the mountain ranges of Croaghmoyle and Nephin.
In Castlebar's town center, there's the Mayo Peace Park, which commemorates fallen soldiers from all the major world wars. There's plenty of quirky cafes and restaurants as well, like Rua Cafe (great lattes), and Caroline's for amazing cakes and pastries. As with all Irish towns, you'll also have an assortment of pubs on your doorstep – for example, The Rendezvous Bar and The Shamrock Bar are my favourite haunts.
Moving onto the town of Westport (which is a 16-minute drive from Castlebar), you'll have more small-town charm to unearth. Westport has a 300-year-old house and gardens to explore, as well as the famous Croagh Patrick mountain hike, and a kid-friendly pirate adventure center. You can rent a bicycle and cycle the Great Western Greenway, or else play a round of golf at Westport golf club. In terms of food, there are Michelin-starred restaurants like An Port Mór, Cian's on Bridge Street, and Cronin's Sheebeen. Lastly, the fun continues late into the night, with live indie gigs over at McGing's Bar, or nearby Matt Molloy's.
9. The Towns of Killarney and Dingle in County Kerry
Killarney and Dingle are two extremely popular towns in county Kerry, and you'd be crazy to miss out on them during a visit to Ireland. To start, Killarney is known for its 19th-century matchstick buildings and old-timey vibes. Regarding activities, visitors can head to Muckross house and gardens. There's also The Irish Whiskey Experience back in the town center, as well as Ross Castle, which is an 8-minute drive away. Casual foodies love the proper, traditional Irish food over at Bricin restaurant, as well as the more gastronomic choices at Danu at The Brehon restaurant.
Afterward, simply hop in the car and head one hour further west along to Dingle town. Dingle is one of the prettiest and well-kept towns in Ireland, with neon-colored cottages, thatched houses, craft shops, and a slow way of life. A lot of visitors flock down here during the summer, but if you go in the early spring, you'll get in before the crowds. I tend to think this is the best time of year for sunny weather too. You'll find slightly more to do in Dingle than in Killarney, namely the Dingle Distillery, Gallarus Oratory, the famine cottages, and The Woollen Mills. There is also a phenomenal Michelin-starred seafood restaurant called Out of The Blue. You seriously have to book a table for dinner, if you plan to visit Dingle.
Overall, I recommend stopping through both Dingle and Killarney as you drive your way around The Ring of Kerry and The Wild Atlantic Way. It will be a welcomed break after a long stretch in nature on the roads.
8. The Towns of Doolin and Lahinch in County Clare
People who go to county Clare are usually there for The Cliffs of Moher, but there's so much more to discover in the region! To illustrate, the two most popular towns, Doolin and Lahinch, are just a 17-minute drive apart. Doolin, in particular, has a thriving music and folk scene, with tons of year-round concerts, gigs, and festivals. Furthermore, pictured above, is Anthony's restaurant and bar for a leisurely bite to eat in the best part of town.
A stone's throw away is the nearby town of Lahinch. It's admired by surfers and kayakers, alike, for its big 'ol beach and thunderous waves. If you're in Lahinch for the night, I'd highly recommend glamping in one of these ultra-cool pods before venturing over to the Cliffs of Moher. The majority of your visit to Lahinch will generally be spent surfing. There is a range of surfing schools in the area, where you can rent a surfboard, booties, and a wetsuit. After that, folks head down to P. Frawley's pub for a well-deserved pint of The Black Stuff. In the morning, Joe's cafe is also good for a hearty fry-up breakfast.
7. The Towns of Bray and Greystones in County Wicklow
Wicklow is one of the most gorgeous parts of Ireland, located just under the capital of Dublin, and along the east coast. You have two main towns in Wicklow at your disposal, known as Bray and Greystones. There are a number of other amazing tiny-towns in Wicklow, such as Enniskerry (where they filmed Disney film Maleficent), Blessington (for the lakes), Roundwood (Victor's Way – Erotic Sculpture Park), and Laragh (where Clara Lara Adventure Park is located). These are well worth a visit, but too small to be considered towns or cities.
The town of Bray in Wicklow is one of the bigger towns. It has a big stoney beach and long walking trail along the coastline, which stretches to Greystones. For the dreaded drink, try The Harbour Bar for live music and pints. You also have a number of fantastic eateries in the area, such as Creole Food, Platform Pizza Bar, and Fika Rooftop. You can go kayaking out in the sea with Bray Adventures, and do much the same out in the nearby Greystones, which is a little more picturesque.
In talks of Greystones, pictured above is The Happy Pear. It's run by twin brother "health activists," Dave and Steve, who serve healthy vegan food to visitors from far and wide. It's so popular that people scurry here regardless of if they are vegan or not. In fact, check out the Netflix show "Somebody Feed Phil," and watch out for the Dublin episode, where Greystones and The Happy Pear are extensively featured. Moving on from that, there's another gem in Greystones called Mrs. Robinson pub, which serves stellar cocktails, pints, and also does live music. As it's becoming clear, you can have a lot of fun in Irish towns. Just as much as in the major cities.
6. The Medieval Kilkenny City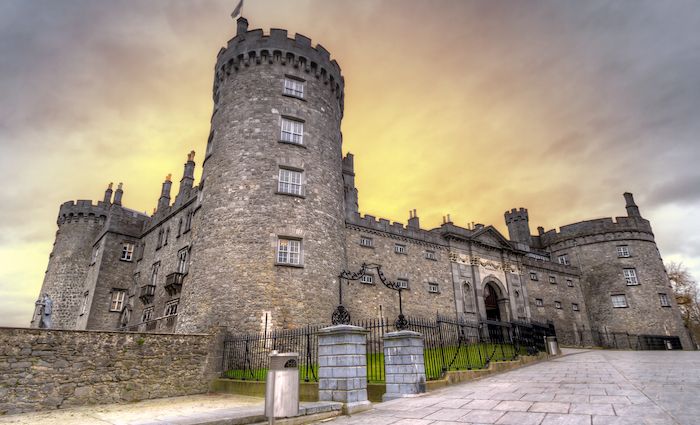 Kilkenny is a funny place. It's where I was bred and buttered, but it's also a medieval contradiction. Some theorists don't consider it a city, which has been the center of debate for 400 years (but trust me, by all accounts – it's a city). Also, the locals used to have their own currency in the global recession, which was called "The Cat" (now they accept Euro though, so don't worry!)
Currency and semantics aside, Kilkenny is a seriously creative and quaint place. You have comedy festivals like "The Cat's Laughs," as well as weekly market stalls and art exhibitions. In terms of the cityscape, Kilkenny's medieval look is accredited to 12th century Norman times. So, expect lots of stone.
Kilkenny is also geographically inland, so you'll see lots of green fields, rivers, and mountains. Namely, Brandon Hill and "the three sisters" interconnecting rivers (The Nore, The Suir, and The Barrow). Going back to the city, you can pop over to the Butler Gallery and ogle some traditional art. Alternatively, head over to Kyteler's Inn for a dose of Irish food, or pick up some beautiful Irish textiles at the National Design & Craft Gallery. Venturing outside the city, why not try your hand at glassblowing at Jerpoint Glass? Or visit the picturesque, Wisteria-lined walls of Inistioge village. Not to mention, Kilkenny is a great stopover spot for going to the west of Ireland.
5. The Viking City of Waterford=
Just yesterday, The Irish Times news outlet hailed Waterford as "the best place to live in Ireland." I wholeheartedly agree. Now, I'm biased, seeing as I was partly raised in this southeastern city… But there's genuine truth to this statement. First of all, it's the oldest Medieval city in Ireland. We get a reminder of this every day when modern Waterfordonians refer to themselves as the "Déise" [day-shah]. To explain further, the Déise were an Irish tribe who settled in Waterford during the 8th century.
As far as cultural attractions go in Waterford, you have the whole kit and caboodle. Pictured above is just one example of the dozens of large-scale art murals that line the streets. This is all down to the 'Waterford Walls' initiative, who work hard to source celebrated street artists from across Ireland, as well as from all over the world. This alone should be a good reason to visit Waterford, but it doesn't stop there. You have SPRAOI, an annual street theater festival that runs in July. There are also regional foods like the Waterford Blaa, which is a delicious floury bap. You then have buzzing nightlife over at The Apple Market (a section of town with cool bars like Geoff's, The Kazzbar, and also gastro restaurants like Bodega).
Furthermore, you can find a superb fillet steak over at the five-star Waterford Castle, which resides on a private island. It also neighbors the popular seaside resort of Dunmore East and the amusement parks of Tramore. Overall, I can't stress this enough: if you love entertainment and the arts, come on down to Waterford.
4. Galway City
Now, we're getting into the major cities in Ireland (which would probably be considered small towns in The US). For me, Galway is the fourth best city in Ireland because – while incredibly scenic – it doesn't offer as many activities as the other three major Irish cities. That said, it's definitely a city that encompasses the look of "old" Ireland, which I think keeps visitors coming back.
On a visit to Galway city, I would put "Tigh Nora" gin bar at the top of your list. Moreover, "Tigh Coilí" pub is THE place to be, if you're looking for traditional Irish music. In terms of food, Dela is a great option for easy European brunch in the mornings. Across the road you'll then find "Aniar," which is a Michelin starred restaurant, as well as Kai restaurant for continental food, a bit further down the road. In the ever popular Latin Quarter, there's plenty of gift shops, Irish pubs, and winding streets, to include gourmet food stalls.
On top of that, Eyre Square is the most central part of Galway city. During the Christmas period, there's an abundance of markets, where you can purchase local foods and crafts. Lastly, if you're looking for nearby accommodation, check out our list of fabulous hotels in Galway! Furthermore, here are a selection of our other articles about Galway:
3. Cork City
Many argue that Cork should have been the true capital of Ireland, seeing as it's larger in size than Dublin with just as much going on. The Cork people are also what my farming father would call less "affected." In other words, a community of people who are down to earth, not too affected by the conveniences of city life, and don't have grand ideas about themselves. In Irish culture, that would be seen as a positive.
In terms of what Cork has to offer, my #1 picks for food would be The English Market for picnic foods, Elbow Lane Smokehouse for meats, Ichigo Ichie for sushi, and Michelin starred, Bastion, for fancy stuff. Regarding nightlife, I absolutely adore "Sin É" pub in The Victorian Quarter for cozy nights with traditional Irish music. In fact, all the pubs are good around that area. Particularly the ones on MacCurtain Street.
Those looking for cultural activities can head to Crawford Art Gallery to ogle the large collection of traditional artwork. Generally speaking, though, most experiences tend to be found outside Cork city center, such as visiting Spike Island, Fota Island, The Baltimore Beacon, Kinsale village, and The Gougane Barra. Overall, I'd focus on Cork city for food and nightlife, going to rural Cork for the activities. If you want to delve deeper, of course, see our other Cork highlights for 2022:
2. Belfast City (Northern Ireland)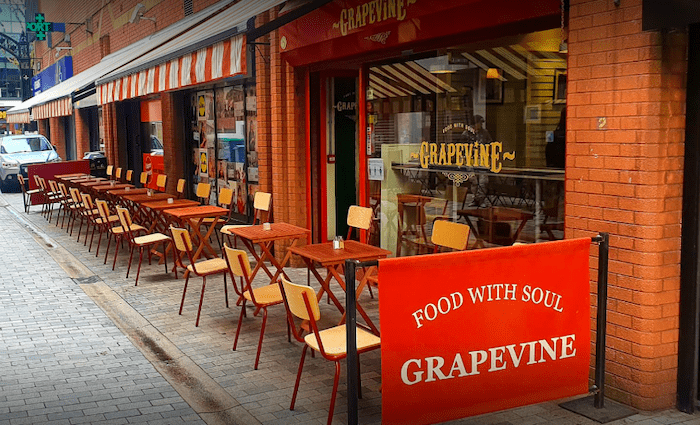 So, you're in the North of Ireland. This means you get to experience two countries in one vacation! Everything is different in the North due to it being occupied by The United Kingdom. So, expect a different currency (British sterling instead of Euro), different phone providers, accents, culture, and architecture. For all the above reasons, I really enjoy getting up to Belfast. It's a big change from what I'm used to in The Republic.
There's a lot to do in the city, especially with nightlife and food culture. The Art Department is a newish nightclub that younger crowds like to get lairy in. The Perch is a fantastic rooftop bar, which is perfect for cocktails and romantic date nights. In terms of pubs, Belfast city has a bit more of an English vibe than Irish. You have the famously narrow building where the "Bittles Bar" resides, as well as The Duke of York pub, Whites Tavern, and The Crown Liquor Saloon. Foodies, take note of Michelin YuGo restaurant, The Muddlers Club, and OX restaurant.
Also, The Tour Guy do a full day tour to The Giant's Causeway and Titanic Belfast. This particular excursion gives you luxury coach transportation to and from Dublin, as well as all-inclusive access to The Titanic Museum and The Giant's Causeway. There is a further pit stop to Dunluce Castle and the Game of Thrones hedges. This tour is for people who want to mix the history of industrial Ireland with the environmental history of the land.
1. Dublin City aka The Big Smoke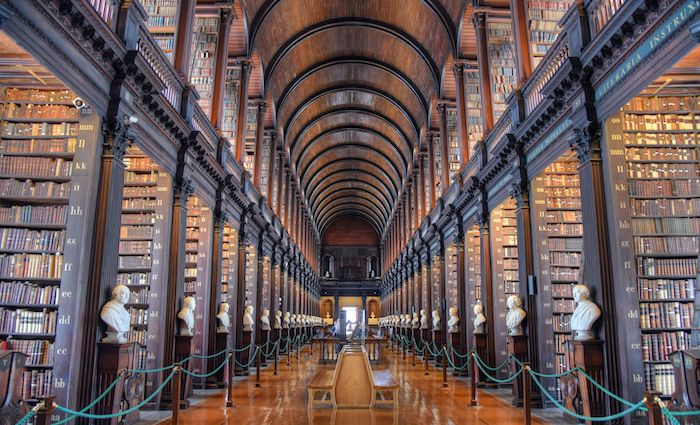 One of the most interesting things about Dublin is that you can go from the city center to the wilderness within half an hour. You have both land and sea at your disposal, such as the Dublin mountains, or the expansive coastline of Dublin Bay. In fact, there's so much to offer, that over a quarter of Ireland's population lives there! Which, of course, brings vibrancy and life to the place. You'll see this not only in the people, but in the street art, pub windows, excitable food plating, and even latte art.
As a visitor, you can experience some of this vigor through Candelit Tales (a night of Irish Mythology storytelling), or else through guided tours at The Leprechaun Museum (or honestly through any of Dublin's museums, distilleries, or breweries).
As a result, Dublin is a good choice for both introverted and extroverted travelers. You can come here for the drinking culture in Temple Bar (and preferably beyond), or else embark on a quest into nature, such as through the cliff walks in Howth or Killiney. Regarding cultural activities, you can do underground comedy nights at The Stag's Head. Perhaps fancy cocktails at The Vintage Cocktail Club, then Michelin Starred food at Locks Windsor Terrace or else indie gigs at Whelan's pub.
Considering Dublin is the capital of Ireland, there's so much to see and do. I couldn't possibly explain the city in two paragraphs, so I've written about it extensively in other articles. See below, if you're interested in reading more for 2022: