Some say Hercules may have had a hand in the construction of this iconic monument in Segovia—it's that impressive! But really it's down to incredible Roman engineering and no trip to Spain would be complete without seeing it. Here's everything you need to know about how to visit the Aqueduct of Segovia from getting there to guided tours, where to eat nearby, and more!
---
Pro Tip: Planning your trip to Segovia? It's easier to organize your trip when you have all your resources in one place. Bookmark this post along with our Madrid Guide for more planning resources, our best Segovia tours from Madrid for a memorable trip, and the top things to see in Segovia.
Visiting the Aqueduct of Segovia: What We'll Cover
The Aqueduct is famous for being one of the most impressive and best-preserved Roman aqueducts in Europe. That's why it's also a UNESCO-preserved site and one of its most impressive arcades is located right in the city center of Segovia.
In total, the aqueduct runs for about 15 km and has become one of the most emblematic sites in Segovia. It's a popular touristic attraction well worth the visit. Want to see it for yourself? In this guide, you'll find everything you need to know about how best to visit the Aqueduct of Segovia. Here's what we'll cover:
Not ready to book a tour yet? See our Segovia Guide for more info.
Segovia Aqueduct: Opening Hours and Tickets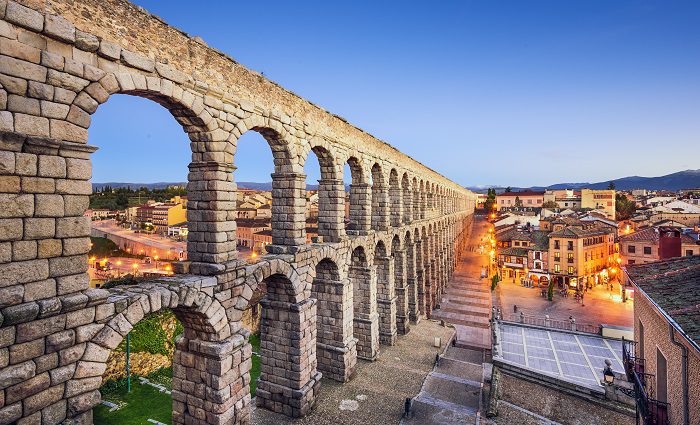 You can visit the aqueduct literally any day and at any time. One of the greatest advantages of this monument is that it's a public space. Because of its length, you can also admire it from different vantage points.
You may want to take advantage of this, particularly at certain key moments of the day like sunrise and sunset. Then, the lighting makes the experience quite moody and charming.
Opening Hours:
You can visit the aqueduct at any time of the day or night. I recommend seeing it at different times of the day to see how the light changes!
Tickets:
No tickets are required to see the aqueduct of Segovia. It's free to enjoy! However, I highly recommend visiting the nearby Interpretation Centre that details the construction of this amazing aqueduct. Tickets start at €4.50.
Facilities:
This very much depends on where you are visiting the aqueduct. If you're around Azoguejo square, you'll be right in the city centre of Segovia. This means you'll have access to shops, cafés, and public services. So, you should be able to find seating, toilets, and food easily.
The further away you go from here, finding seating and toilets will become complicated. Also note that if you want to get to one of the vantage points to admire the Aqueduct from a certain height over this square, it will be complicated access for wheelchairs and prams.
Access to these top tiers is mostly by stairs. However, the city centre of Segovia is otherwise very walkable and relatively flat. Therefore, you can admire the aqueduct from other areas, even if you have accessibility needs.
Address: Plaza del Azoguejo, 1, Segovia
How Long To Spend at the Segovia Aqueduct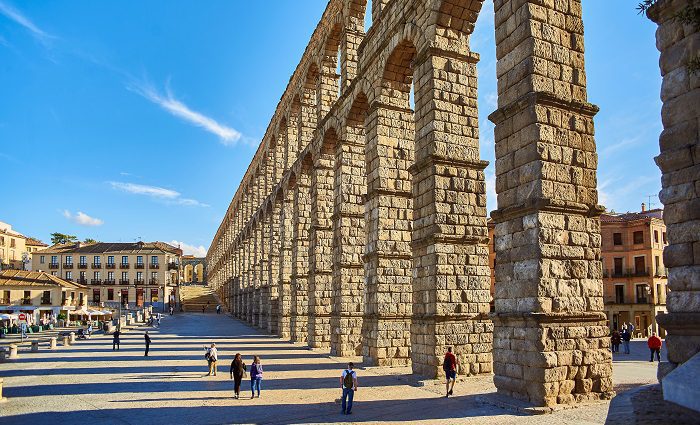 Short answer: 30 minutes
That said, this very much depends on how much time you have on your hands and how interested you are in this monument. If you're pressed for time, a few minutes would suffice.
However, you'll probably want to view it from a few different angles, which we highly recommend. Photography enthusiasts will definitely want to spend more time here. I personally loved all the shots I could take of the Segovia aqueduct. I spent the better part of 30 minutes in the square taking photos.
If you want to know more about its history, then you may want to visit the Interpretation Center. While it isn't nearby, it is within walking distance. If you include this in your visit, you need to allocate at least an hour and a half to your aqueduct visit in total.
Really want to experience the enormity of this Roman structure? You can also walk the length of the aqueduct. From one end to the other, walking the 15 kilometers in one day is just about doable. Ready to go?
How To Get To the Aqueduct of Segovia
Getting to the Aqueduct is very easy since it extends over a great portion of the city center of Segovia. You're bound to find it one way or another. However, here are some recommendations for getting there from Madrid or from the Alcázar of Segovia if you're already in Segovia.
You can get from Madrid to Segovia by train or by car. You can catch the regional train run by Renfe in Madrid, which takes about two hours. To drive, take the A-6, exiting on the AP-6 and AP-61 for about 83km. Then, you'll need to take the exit onto San Rafael, which will lead you into the city center of Segovia and to the Aqueduct. Please keep in mind this is a toll road.
If you're not keen on dealing with train timetables or driving from Madrid to Segovia yourself, we can take care of that for you. We offer a number of day trips from Madrid to Segovia with round-trip transport included. So, there's no need to worry about car rentals, driving in a new city, directions to Segovia, or paying tolls. It's a fun and easy way to visit Segovia.
If you're already in Segovia, walking from the Alcázar to the Aqueduct is very easy. The walk takes about 20 minutes. Once you get out of the complex of the Alcázar, the route is very simple. Follow one main road: Calle Daoiz, which merges into Calle Marques de Arco all the way to Plaza Mayor. Then, follow the road onto Isabel la Catolica and Calle Juan Bravo. Eventually, Juan Bravo will turn into Calle Cervantes and that will end up right at Plaza Azoguejo.
Not ready to book a tour yet? Check out our Segovia Guide for more info.
What To See at the Aqueduct of Segovia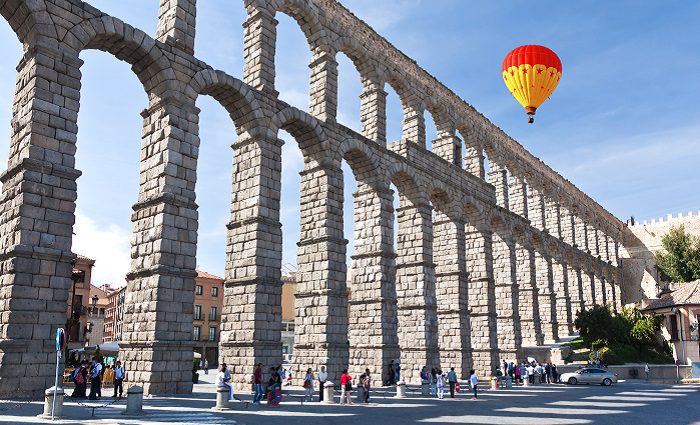 More than what to see exactly, we'll share the best ways to see the Aqueduct of Segovia itself. Here are our top suggestions for places to go to get the best views of this great monument and learn a bit more about it:
See the best front view from Azoguejo square.
Check out the side view from the stairs to the vantage viewpoint on Azoguejo square known as the mirador del Postigo.
Head to the interpretation center at the Real Casa de la Moneda to learn more about it.
See the Aqueduct from afar at the viewpoint in the cemetery of Segovia.
See the length view from opposite Azoguejo square—you'll have access to the viewpoint by the statue of El Diabillo, in Calle Colon.
Take in the view from the air. There are local providers who will show you Segovia and the Aqueduct from the air in a hot air balloon or small plane!
Visit the origin point—travel to the spring in the Sierra de Guadarrama known as Fuenfria.
Visit the end point. The Aqueduct ends at the Alcázar of Segovia, so you can take a walk there to see the meeting point between the two monuments.
The Aqueduct of Segovia Tour Options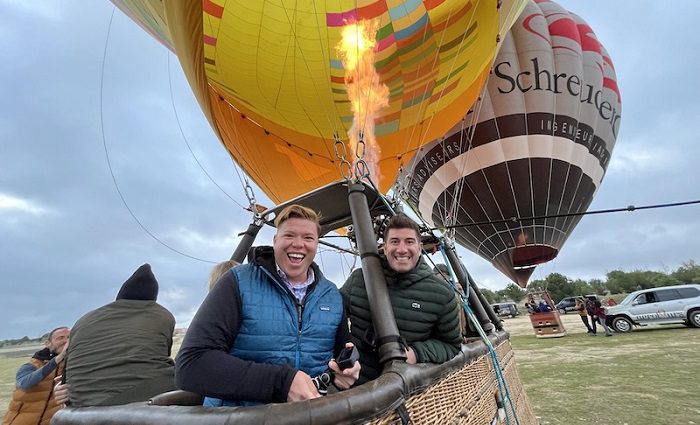 Guided Day Trips
The Old Town of Segovia and its Aqueduct, including the Alcázar of Segovia are UNESCO World Heritage-listed sites for their cultural significance and beauty. We run different day trips from Madrid that will give you a unique and fun way to discover this gorgeous area. Here are our best tours to discover the Aqueduct and Segovia:
Take to the skies and see this gorgeous part of Spain in a hot air balloon ride. That's on everybody's bucket list, right?
Back on the ground, your expert guide will lead you on a walking tour of Segovia's Gothic cathedral, its incredible Roman aqueduct, and the fairy-tale Alcázar. This is for anybody looking for a unique experience without any of the pains of organizing it.
See tour itinerary, price, and description
If you want to see it all, this tour is for you. In one day from Madrid, you'll explore the Toledo cathedral, the Roman walls of Ávila, and the Alcázar of Segovia.
That's a whole lot of history with a passionate local guide and all the logistics taken care of. If you're in Madrid with a day to spare, don't miss exploring this incredible part of Spain.
See tour itinerary, price, and description
The highlights of this roundtrip from Madrid that you can't miss include an authentic cochinillo asado (suckling pig) lunch in Segovia and a visit to the renowned El Escorial palace. Of course, you'll also get to hear all about the rich culture and history of Segovia on a walking tour of the city's top sites.
You'll even explore the Alcázar, the cathedral, and the jaw-dropping Roman aqueduct. This small group (max eight people) day trip is a fantastic and easy way to see more of this beautiful area.
See tour itinerary, price, and description
Not ready to book a tour yet? Check out the top things to see in Segovia.
Facts and History of the Aqueduct of Segovia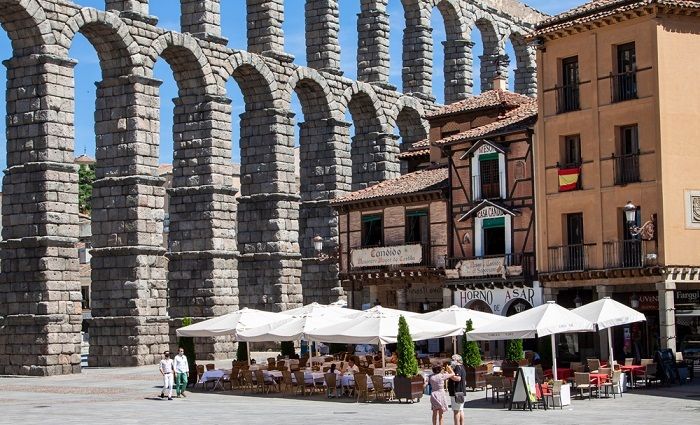 Did you know recent studies date the construction of Segovia's iconic Aqueduct to the 2nd Century A.D.? In preparation for your visit, here's some surprising info about this ancient structure. If you're interested, you can read more incredible facts about the Aqueduct.
The Aqueduct of Segovia, like many Roman aqueducts, served not only to bring water into the city but also as the main entrance. When you arrive in Segovia on foot or by road, you too will likely enter through the monumental arches of the Aqueduct onto Plaza del Azoguejo.
The daily volume of water the Aqueduct channeled into the city is also impressive. Scientist Francisco Granero Martin's research indicates that 180,104 cubic feet of water traveled from the Frio river to Segovia at a velocity of about 2.5 feet per second every day!
The Aqueduct is an incredible feat of Roman engineering considered to be the most important in all of Spain. At its tallest, it measures 93.5 feet (28 meters) and features double arcades with a total of 165 arches. And it was constructed entirely without cement and mortar!
According to Narciso Casas, the Romans build it with 25,000 slabs of granite. No wonder the construction of the Aqueduct inspired a few myths and legends. There's even a story that Hercules or his children might have helped build this monumental structure.
Parts of the Aqueduct were damaged during the Spanish Reconquista in the 11th century. These were later reconstructed in the 15th century. Today, the Aqueduct is inscribed on the UNESCO World Heritage list in celebration of its magnificent state of conservation.
Places To Eat Nearby
There are plenty of great places to eat near the Aqueduct of Segovia—some will even give you stunning views of the monument from the terrace! You can check out the best restaurants in Segovia, but here are our top picks for places to eat nearby.
Restaurante Mesón de Cándido: €€ | Right beside the Aqueduct—Want to eat a typical Segovian lunch in a historic restaurant right in the shadow of the Aqueduct of Segovia? This is the spot.
Restaurante Asador Maribel: €€ | Terrace Views of the Aqueduct—This is a popular place to try Segovia's famous roasted suckling pig with views of the Aqueduct from the terrace.
Restaurante El Bernardino: € | Rustic Charm | Traditional Cuisine—As one of the oldest restaurants in Segovia, you can expect hearty local fare but with some modern influences.
De bote en bote: € | Vegetarian Options | Tapas—Locals rate this the best place for traditional and innovative tapas, so it's a great place to take a break and have some snacks. There are also vegetarian and vegan options.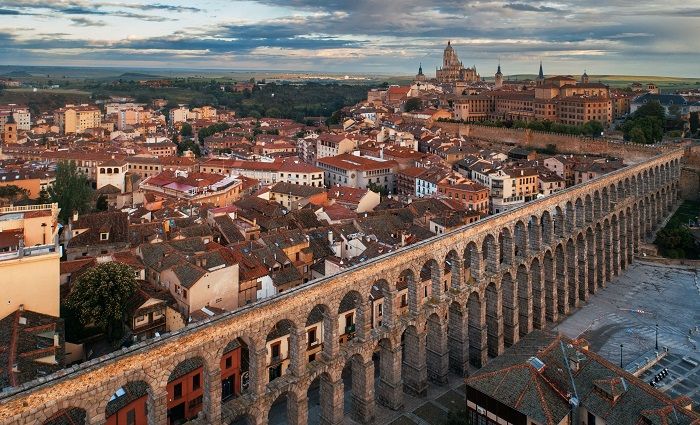 Find the best places to stay
Where To Stay in Segovia
Come to Segovia, Spain, to see the Roman Aqueduct, the Cathedral, and enchanting Alcázar. Find out where our local experts recommend staying in this ancient city. You'll find great hotel deals to make your stay memorable.