Most Covid-19 test requirements have been dropped, but if you still need one, testing is easy and results are fast. If you are planning a trip to Athens, where can you get a Covid-19 test to return home and what are the requirements? This article will explain testing requirements to return to the USA from Athens, Greece, where and how to get an antigen test, and even how you can book and reserve your test online today!
---
Update June 12, 2022: As of midnight on June 12, 2022, the United States will no longer require a negative Covid-19 test result for travelers flying into the U.S. If you are traveling elsewhere, please check with your local authorities, airline, or cruise ship for current requirements.
Update April 2022: As of March 15, 2022, the Greek government has removed the requirements for vaccinated travelers from the US to show a negative test result upon arrival. Unvaccinated travelers may show proof of recovery with a recent antigen test or a negative test result from within 72 hours before arrival. They have also dropped the requirements to fill out a passenger locator form. However, travelers returning to the US must still present a negative Covid-19 test result.
Please note that some restaurants, hotels, and entertainment venues are still requiring vaccine papers to enter.
Want to reserve a travel test in advance to return home? We've partnered with a local testing site to allow you to reserve before you travel. Click the link below to start the easy reservation process.
Headed to Athens? Great idea! Check out our popular Athens tours!
The Best Options for Covid-19 Testing in Athens
Greek law currently restricts access to most public areas (bars, cafes, retail shops, restaurants, museums, entertainment venues, malls, etc.) to those with proof of full vaccination, recovery from COVID-19, or a negative rapid antigen test no older than 48 hours (negative PCR result within 72 hours).
Currently, it is not possible for Americans to convert CDC Vaccination Record Cards to the EU DCC (COVID Green Pass) in Greece. As a result, the Greek Ministry of Tourism advises fully vaccinated Americans to always carry photo ID (passport), CDC cards (paper or digital), and this vaccination record equivalency clarification press release.
The U.S. Embassy in Greece recommends that fully vaccinated Americans print out and carry the official clarification in Greek and English in the event they encounter any hesitancy upon presenting their ID and CDC cards at public locations.
Finally, if you test negative on arrival at Athens International Airport, you can also access a temporary EU DCC via your Passenger Locator Form (PLF). However, this is only valid for up to 48 hours at most as it does not cover vaccination records. Check out the PLF Homepage for more information.
Greek National Tourism Organization COVID Testing Center Database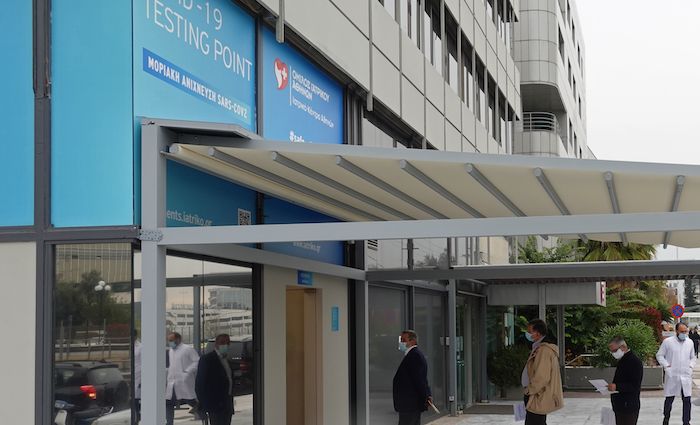 Many Options | Easy Access | Appointments Generally Required
Different medical groups offer multiple clinics, labs, and diagnostic centers where you can get a Covid-19 test. Fortunately, the Greek National Tourism Organization released a list of Covid-19 testing sites to take a PCR or Antigen (rapid) test.
Furthermore, the database is broken down by region (Greater Athens is first). Most locations require appointments and offer both Rapid Antigen and PCR tests. Moreover, you can find both addresses and contact information for each location on the above link.
Prices vary depending on location and the type of test you choose. However, the Greek government capped the cost of rapid antigen tests at €20, so you'll likely pay between €10 and €20 euros.
Travel hack: Tired of scrolling through the list? Unsure which location is closest to you? Fear not! You have other options. For example, the Greek National Tourism Organization's Visit Greece app contains an interactive map of Covid-19 testing locations across Athens and the rest of Greece.
Want an easier way to reserve a test in advance? Click the below button and reserve your test online now!
IASYS Medical Diagnostic Center
Centrally Located | Rapid Results | Appointment Required
IASYS is in central Athens just one metro stop from Syntagma Square. They offer a helpful online booking platform. You have the option to take a rapid antigen, PCR, or the faster and pricier rapid PCR (same-day result if taken before 1:30 pm).
Rapid Antigen Test results are generally available within 15 minutes and accessible via email. Opening hours: Monday-Friday 7:30 am until 8:00 pm, and Saturday 9:00 am until 2:00 pm.
Cost: €10-100
Location
Athens Eleftherios Venizelos International Airport (AIA)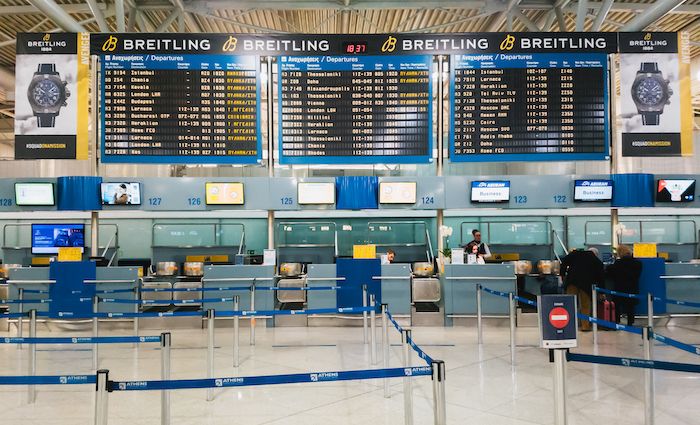 Convenient | 24/7 | Reservation Required
The most convenient testing option is in Athens International Airport, which is interesting since it's not as convenient at many other airports. Personally, I rely on this service any time I travel from Athens to the USA.
Upon arrival at the airport, simply take an elevator, stairs, or escalator from Departures to Arrivals. You will find the testing area at Arrivals between exit points 2 and 3. There will also be signage directing you to the check-in counters. The site is administered by the Athens Medical Group (AMG).
Rapid antigen and PCR tests are available here 24/7 even on holidays. Furthermore, you can make a reservation and prepay on the Athens Medical Group online booking platform. You'll get an email with the necessary security code to access your test results. At that point, you're all set to go to the check-in counter for your flight!
Cost: €20-60
Pro Tip: Check with your airline if traveling within Greece or onward within Europe or the Middle East from Athens for testing requirements and possible testing discounts through airline partners.
Finally, inexpensive Covid-19 self-tests (starting at €5) are readily available at pharmacies across Athens for added peace of mind during your stay. However, these tests are generally not accepted for travel requirements.