Covid tests are now part of life and travel which adds a few steps to the process. Even if you are fully vaccinated, you'll need a negative covid test to enter the USA from France & Paris. The process is only difficult if you fail to plan ahead, but you are reading this article which means you're smart. I'll explain not only how to get a covid test in Paris to return to the United States or other countries, but also how much different covid tests cost in France, and where you can get a covid test in Paris.
---
Update Nov 2nd: You can no longer apply for Pass Sanitaire (Green Pass) in advance. You can do this easily at a Pharmacy on arrival by showing your CDC or equivalent card. Check out the map on this page to find a pharmacy near you.
Update Dec 2nd: Regardless of vaccination status and nationality, the new testing window requirement to return to USA is one day before departure, which means that you need to get tested the day prior to your departure. i.e. if you leave in the evening on Tuesday, you can get tested as early as Monday morning. Click the button below to reserve your Covid rapid antigen test for the day before your departure from Paris.
Headed to Paris? Great idea! Take a look at our Paris guide and dedicate 15 minutes to reading our Top 19 Things to Do in Paris – great advice on what to see in Paris. Also, check out our Paris tours for the most memorable experience.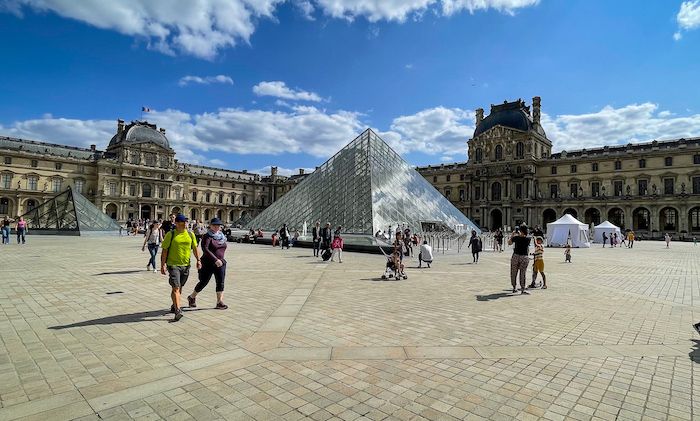 3) Labs, Private Clinics or Pop-Up Testing Sites
Appointment Often Required | Convenient | Central Locations
It's hard not to notice one of the many new testing centers in Paris. There are now even pop-up testing sites. Whether you go to a lab or a new testing site, appointments are sometimes required. Some things to keep in mind are the hours of operation and appointment requirements.
The French government has published a list of available labs and testing centers throughout France. To select a department, choose 75 for Paris. Then, select "open to all audiences" to get the complete list. The website is in French, so be sure to toggle your browser translation to English.
The list of labs and testing centers is by sorted postal code. One hack is to look at the last number of the postal code for the arrondissement. For example, 75004 is the Marais because Marais is the 4th arrondissement and Paris is 75 postal code. There are many testing sites throughout the city, so choose a lab or location convenient for you.
All of the critical information for each lab is on this site. You may notice some testing centers do not require an appointment. Many labs on the list, especially ones that require an appointment, are by Bioborne or BioClinic Be sure to pre-register on their websites to obtain an appointment and have a smooth process.
Before booking an appointment from home, you may want to ask your hotel if their guests have any experience with the testing center you have chosen in Paris. If you booked an appointment before leaving home, you could travel confidently, knowing you have that necessary travel chore done.
Cost: 30-50€
Location
Is this content helpful? Help us by checking out our tours!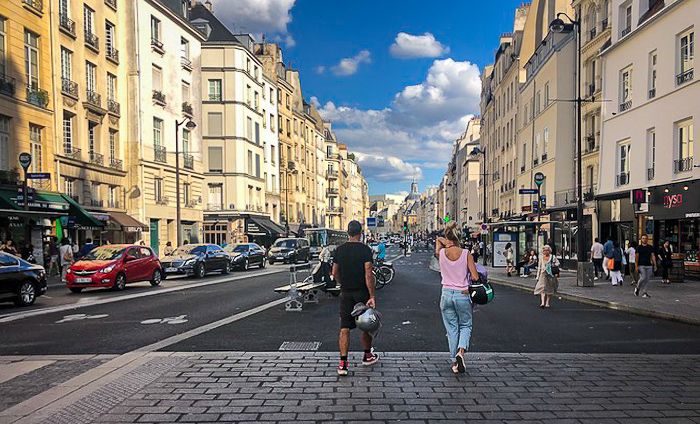 2) Pharmacy
Budget-Friendly | Quick Results | Various Locations
As of Nov 2, French pharmacies will be even busier as they are now the place where American travelers can convert their CDC vaccine cards into Digital French Pass Sanitaire. That will cost 36€. For more and locations of pharmacies doing this service, please check out the map on this French Government Website
Getting a COVID test in Paris at a neighborhood pharmacy is the preferred method of most locals and travelers. Pharmacies are located all over Paris, and there will likely be several in your area of Paris.
Pro Tip: Please email or call your hotel ahead of your trip to find out which pharmacy they recommend in their neighborhood. It also doesn't hurt to bookmark a couple of pharmacies in your favorite mapping app.
Various pharmacies all over Paris offer rapid antigen tests. These tests meet the requirement for travelers flying to the United States. Be sure to research if the pharmacy requires an appointment, but many accept walk-ins during certain hours.
For example, if you are headed to my favorite neighborhood, Le Marais, you might get off at the St Paul Metro stop. Here is a link to the pharmacies near that metro stop.
Pro Tip: Be sure to ask your hotel ahead of time, where the nearest pharmacy is located that offers COVID tests.
Pharmacies are the quickest way to get your COVID test results in hand. Results are returned to you within 15-30 mins from the pharmacy.
Cost: 25-30€
Locations
The Louvre is a must-see! Read about the top things to see in the Louvre.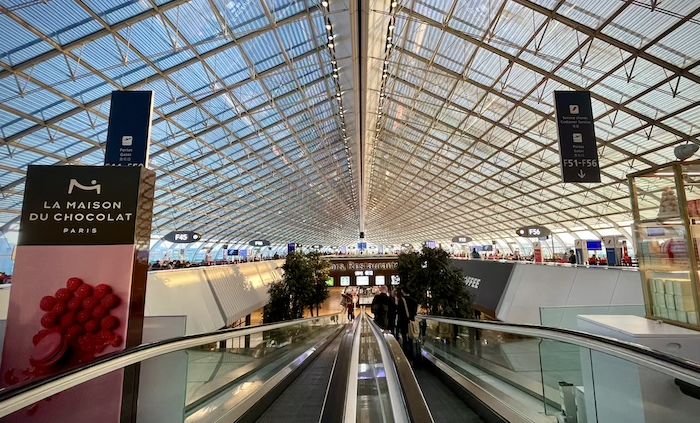 Our Best Guided Tours of Paris
We take away the guesswork with getting tickets and a guide will elevate your experience and make it more memorable!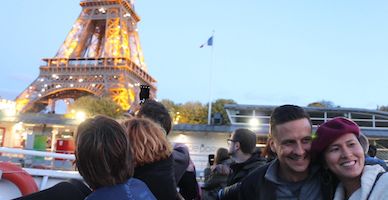 Likely to Sell out
Privileged Access Eiffel Tour with Champagne on the Seine
Sometimes the most amazing moments happen by chance. Other times, they are orchestrated by professionals. Our Eiffel tower tour cruises by the famed monument as it lights up and you drink champagne. After, you'll have tickets to enter the tower and ascend to the 2nd level with an elevator. Admissions included and we'll take care of the details… you simply pay and show up!





See Prices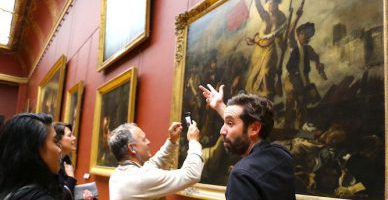 Top Selling
Royal Louvre Palace Tour with Mona Lisa & Crown Jewels
The Louvre is the largest art museum on Earth and the crowning jewel of Paris. It embodies the French vigor for life. Join a passionate English speaking guide for a tour of the most famous artwork. Skip the line admissions included.





See Prices
1) Paris Charles de Gaulle Airport
Appointment Necessary | Last Minute Option | Convenient Location
If you want a last-minute option to get a COVID test in Paris, Charles de Gaulle Airport has a testing center. So unlike getting a COVID test in Rome's Fiumicino Airport, appointments are compulsory. Yes, you are likely going to the airport anyway, but do you want to add 2 hours to your airport time?
Appointments for COVID tests at Paris Charles De Gaulle are available online. The Doctorlib website is in French, so be sure to translate to English in your browser or using google translate. From the booking menu, you can select antigen, PCR, or rapid PCR test. Doctolib handles the booking, and you will have to make an account to secure your booking.
Paris Charles de Gaulle Airport COVID Testing Center Details
The testing center is in terminal 2E. If you are arriving by RER B train from central Paris, then take the escalator upstairs. The testing center is above the train station in terminal 2E.
The operating hours are limited 7 am to 7 pm or 8 pm depending on the day. So plan accordingly so the testing center is open for your scheduled flight.
The results are emailed to you. You will also get a text message alert of your results. Results can take up to 90 minutes, so plan accordingly not to miss your check-in cut-off time.
If you are spending less than 72 hours in Paris, flying in and out of CDG, then you might as well get your test there. The testing center at Paris Charles De Gaulle allows tests to be administered 72 hours before departure. Also, anyone with a valid flight ticket can take a test.
The Reality of Getting Tested at Paris Charles de Gaulle
I'm not too fond of unnecessary stress or time at the airport. I view the airport as a last resort option.
Getting a COVID test at the airport also means it will be too late to upload results to your airline's app or use Verifly if you fly British Airways or American Airlines. It also means you will have to fill out the paper version of the Health Declaration form required to enter the United States.
Cost: 30€ Antigen, 50€ PCR
Location
Bonus Option) A Word about Take Home Tests
Take-home tests purchased before leaving the USA are becoming increasingly popular. I think they are a good backup option, but I have never taken one. They cost about the same, or a little more, as a test in France. If everything goes smoothly, the test can take about the same time as getting a COVID test in Paris.
The most significant caveat is that you never know how long it will take. The tests acceptable for travel require an online consultation. This summer, several outlets reported outrageous wait times for travelers. The variable of wait time was a huge turnoff for me, and I would prefer to research ahead of time where to get a COVID test in Rome and take 20-30 mins out of my day as I'm exploring the city.