Want to experience living history but you're not sure where to start? Perhaps you've heard of reenactment festivals but you're not sure if they're worth your time and money. Wonder no more! Keep reading this list about the best reenactment festivals across Europe, from the perspective of a PhD historian and fellow history nerd.
---
Top 10 History Reenactment Festivals to Find in Europe
I know there are more fellow history lovers out there who are dying to see history re-created! One of the best ways to engage with history is by attending a reenactment or living history event. You'll learn more than you expect from this dynamic and interactive experience. You'd never again think history is boring and might even become a history nerd too!
However, you need to know what makes a good reenactment festival and the differences among them. Some are purely military and some offer a living history approach, representing the day-to-day life of specific cultures and periods.
Additionally, some events are focused on a specific time period while others span multiple centuries. In essence, there is a lot more to reenactment than you might imagine, and each country also has their own specialties.
This list of the best reenactment festivals in Europe is like an introduction for people who want to engage with more historical topics and know what they like and don't like about history.
Let's face it, there's no point in you heading to a Roman history fest if you are into modern warfare like tanks. I cannot emphasize enough that personal taste plays a big role in here. You should consider that first before you go to any of these events to avoid leaving feeling dissatisfied. Choose your movies according to preference, and choose your festivals the same way!
If you've never gone to a European reenactment festival, know that they can be huge, overwhelming, and sometimes tiring (similar to a music festival!). This list will help you be prepared and know what to expect. So buckle up and join me in this journey.
10. Chalke Valley History Festival (England)
Near Salisbury and Stonehenge | Ticketed Event | Multi-period Reenactment | Usually in June
If you have never been to a reenactment event, Chalke Valley is a great place to start. It is a multi-period history event covering almost every century from ancient times to the 20th century. It's the perfect place for newbies to get a feel of what to expect from these festivals as a whole.
Chalke Valley brings a lot of historians, writers, and journalists who give small talks to the public about different historical topics. That means you get to see history in person and get a few educational bits in between.
A cool thing that most reenactment shows have in common is that there are normally lots of merchants too. Chalke Valley is particularly renowned for their food market stalls. You can find goods from locals and all over England, bringing history and culture into a new level.
Nothing quite like seeing a Spitfire plane doing the rounds and eating a proper shepherds pie! Just a word of advice: Bring Wellington boots or hiking shoes. If it rains (as it's prone to doing in England), the area will get incredibly muddy!
Read More: Visit Stonehenge | Where to stay in London
9. Times and Epochs (Russia)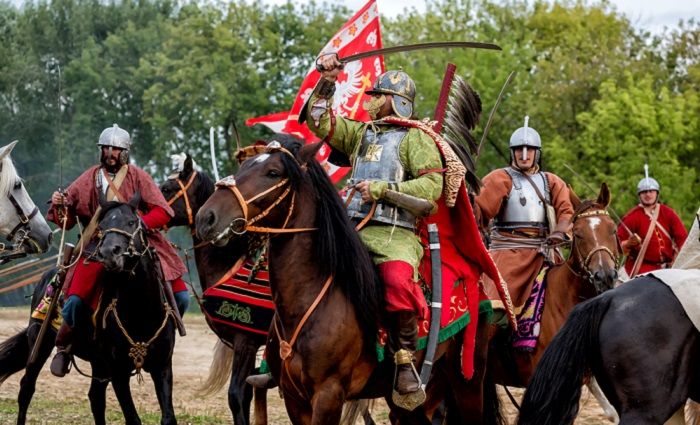 Moscow | Ticketed Event | World History Reenactment | Usually in August
Times and Epochs does a run through of history overall without a specific focus on Russian history. They consider themselves a world history event that takes place over several days. The actual space is also divided in two narratives: The war camp, where you can learn about armies and the history of warfare; and the peace camp, where you can learn about a variety of day-to-day life activities.
However, there are specific moments in time where Russian history shines here. For example, you can spend time between the two camps to learn about the great imperial Russian army and Russian cinematography!
It is the largest history reenactment event in Russia and one of the largest in Europe. So this is the "go big or go home" kind of moment for reenactment initiates. Like most of these events, Times and Epochs takes place during the summer and tickets sell fast, so don't treat it as an afterthought as part of your travels.
8. Natale di Roma Parade (Italy)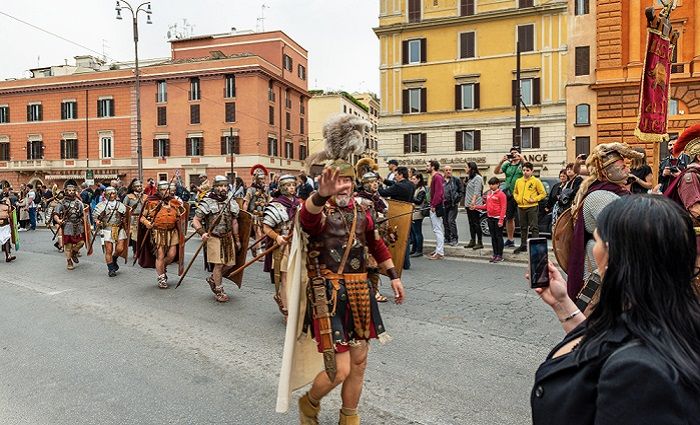 Rome | Free Admission | The Birthday of Rome | Usually in April
The Natale di Roma Parade is one of the oldest reenactment festivals in the world. It takes place every year in the city of Rome, and it serves as a celebration for its birthday. The event consists of a massive parade of Roman reenactors (mostly in military outfits) marching from the Circus Maximus and around the Colosseum. There is also a speech by the "emperor" and sporadic gladiator fights in the Circus Maximus as well.
In addition, it's also one of the largest regular events in Europe—and it is completely free. When at maximum capacity, you'll see up to 1,500 Roman reenactors from all over Europe marching down Rome's streets. Finally, there is also normally a light show around the Pantheon area. So, if you are planning a holiday to Rome, and want to make it extra special, look out for this event.
Read More: Complete guide to Rome | Where to stay in Rome | Top activities in Rome
7. Lofotr Viking Festival (Norway)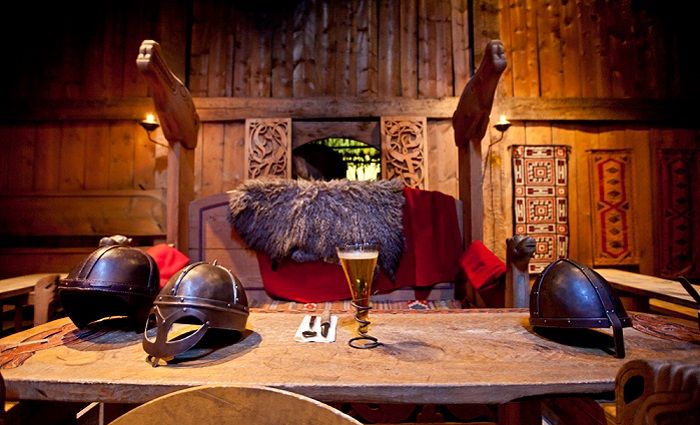 Lofoten Islands | Ticketed Event | Viking Museum | Usually in August
Have you considered visiting a true Viking festival? It's hard to beat a Viking festival that takes place yearly at a Viking open-air museum on a Norwegian island. The Lofotr Viking Museum opened in 1995. It is a museum dedicated to the promoting and understanding the Iron Age and Viking cultures of Norway. They are most famous for their recreated longhouse, which is based in one of the most important archaeological discoveries of the Viking age.
On top of that, the museum opens its doors every year for 5 whole days to celebrate this Viking festival that attracts reenactors from all over the world. You can experience a Viking market, live music, games, competitions, and mock duels. Everything that has to do with the Vikings at home and abroad is found here.
If you're a fan of true Viking culture, the Lofotr Viking Festival is one of the best experiences you will get since it's fun and historical. Beware that there are a lot of "Viking festivals" out there, that are more like a beer-fest party rather than a reenactment show. But in Lofotr you get to enjoy both!
Read More: Places to understand the Vikings | Top things to do in Oslo
6. War and Peace Show (England)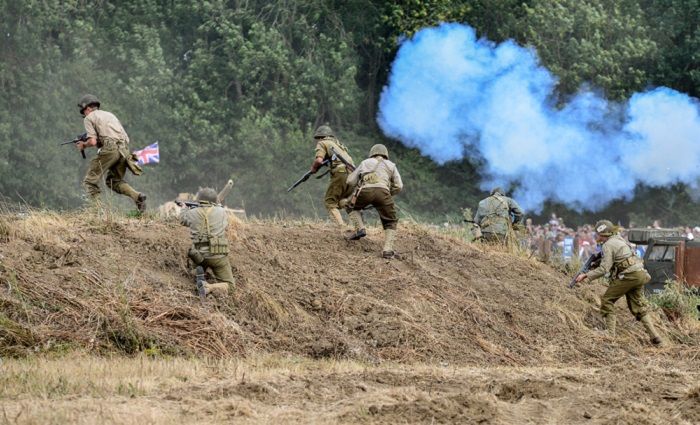 Hop Farm Country Park in Kent | Ticketed Event | Military Vehicles | Usually in July
This is one of the largest events in the UK and the world. It showcases modern military vehicles and recreates modern battles. The War and Peace Show takes place in a farm field in Kent (southeast England), which makes it handy for connections from London.
This reenactment festival will be a dream come true for anyone interested in military events from the First World War and onward. They have on display one of the best collections of tanks in Europe too.
In addition, this becomes a big festival for anyone that likes vintage, retro shops. You can buy anything from military supplies to clothes from different decades of the 20th century, as well as the general vibe of a British festival.
Please keep in mind that this will be a very loud event since they do live explosions and there are plenty of machinery noises, etc. I wouldn't recommend this one as your first experience in reenactment, unless you are familiar with military equipment and the level of noise you'll hear. If you are, or you're sure it's the perfect item on your bucket list, then you'll love it.
Read More: Where to stay in London | Things to do in London
5. Great Roman Games (France)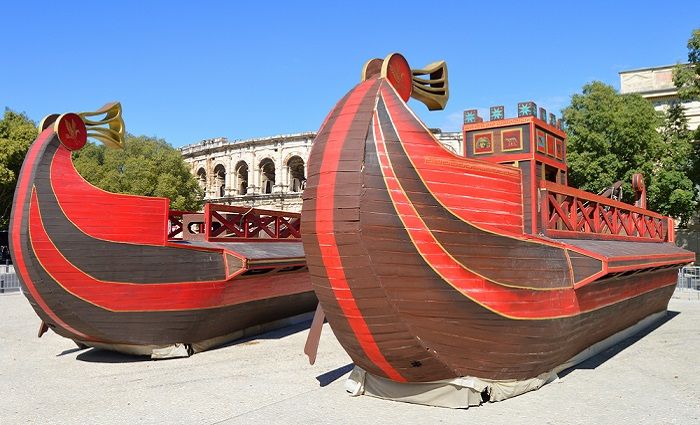 Nîmes | Ticketed Event | Roman History | Usually in April
I like this reenactment event, because it is relatively short in comparison to others in this list. So if you only have a weekend, the Great Roman Games in Nîmes will be perfect for you. This is actually the biggest ancient history reenactment festival in all of Europe—over 500 reenactors take part in the games.
Each year the festival has a different theme, so you can return annually and still see something new. But overall, you should always expect a Roman legionary display, chariot racing, and the big event: The gladiator fight at the arena.
This combat actually takes place in the amphitheater, which is one of the best preserved in the world, so you'll see the games just like a Roman would! This is definitely one of the best places for ancient history immersion.
And if you have any young history nerds coming with you, this is definitely one of the most kid-friendly events. Besides, in addition to what goes on in the arena, the city of Nimes has a bunch of festivities, parades and free activities where you can take part alongside the games.
4. Memorial Waterloo 1815 (Belgium)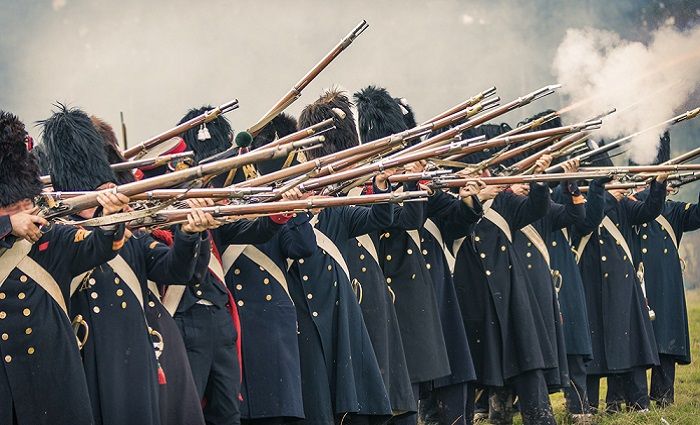 Waterloo in Wallonia | Ticketed Event | Napoleonic Reenactment | Main Event Usually in June
This is perhaps one of the most famous reenactment events in the world. Every year, hundreds or thousands of reenactors from every corner of the earth gather at Waterloo to recreate that iconic battle.
And the fame comes not just from the fact that the battle is a key moment in history. In fact, the historical recreation, liveliness of the battle, noises, and wounded actors, make this a very real spectacle for anyone. There are often specific areas to explore. For example, you could see the camp of the allied forces, two French camps, and Napoleon's headquarters.
Please keep in mind that, just like in the case of Lofotr, this is a historical site that is open for visitors throughout the year. That means that the tickets, amenities, and historical value contribute to educating people regarding the Napoleonic wars. As such, expect it to be pricey and busy.
On a final note, gunpowder gets messy! So do not be too surprised if you go there and end up surrounded by smoke the entire time. This type of cannon smoke is the origin of the term "fog of war" for good reason.
3. The Grunwald Days (Poland)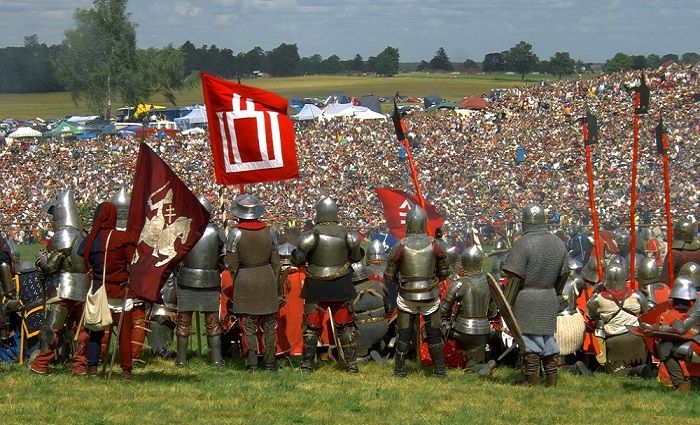 Grunwald | Ticketed Event | Awarded Medieval Event | Usually in July
The battle of Grunwald, also known as the battle of Tannenberg, is one of the most well-known European medieval battles, and this event is one of the pride and joys of the tourism industry in Poland.
Moreover, it has brought thousands of visitors in every year. In fact, this event has won several tourism and heritage awards, which is why you should not miss it. In essence, it is one of the best medieval reenactment events you will ever see.
There is something amazingly powerful about seeing 4,000 knights (at maximum capacity) fighting each other on a field in the heat of the summer months. I have actually met one of the reenactors who participates in this event and also works at the Krakow Barbican.
I can tell you first hand that the fighting is top notch and the quality of the gear, weapons, etc., are some of the best I've ever seen. Moreover, the festivities include access to all the craftsmen that come for this event, which are among the best in Europe. From blacksmiths to fabric weavers, you will experience traditional methods in use since the Middle Ages!
2. Ommegang (Belgium)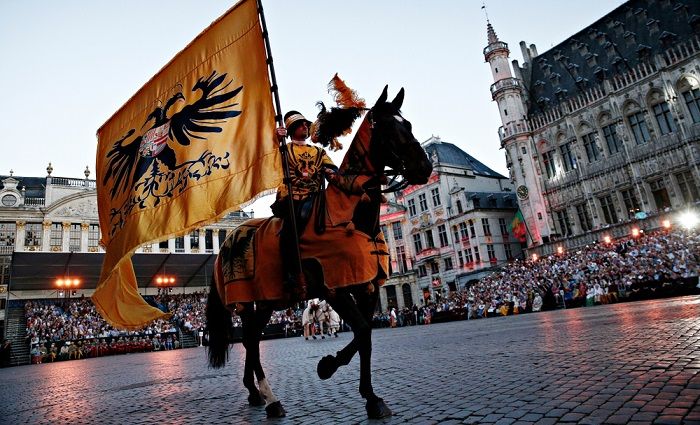 Brussels | Free | Renaissance Parade | Usually in June or July
The Ommegang is a Belgian-based festivity with roots in the Renaissance period. Traditionally, this celebration would be related to the entrance of a king or important dignitary into the city. However, in Brussels the tradition has shifted to modern times so anyone can experience one of the largest, well organized, and free Renaissance reenactment parades.
The parade route goes from the Renaissance village set up for the occasion to the Grand Place, and over the course of four days, you will walk through the streets of a Renaissance town in the Park Royal. Here you will see day-to-day activities, fashion, artisans, etc.
On top of that, you can attend the ever-popular jousting tournaments. Finally, try the beer that has been produced specifically for this festivity by the Haacht Brewery. If you have never attended a reenactment event, and aren't sure about it, head over to Brussels to get your socks blown off!
1. Viagem Medieval (Portugal)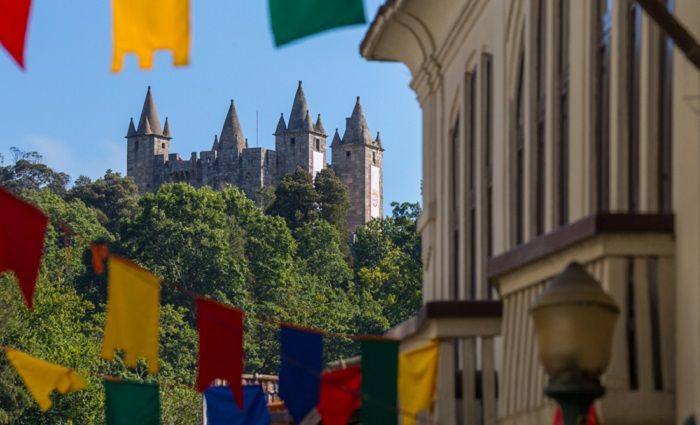 Santa Maria da Feira (near Porto) | Ticketed Event | Best Medieval Festival in Europe | Usually in August
Perhaps you weren't expecting that modest Portugal would have such an ace up its sleeve, and yet, here we are! Just like Grunwald, Viagem Medieval em Terra de Santa Maria has several high points, not just as a reenactment event but as a cultural activity overall.
And I honestly think that this is the best festival, not just because of the quality, the variety, and the length (it goes on for 11 days!), but because it is the most accessible for everybody. It doesn't matter if you are 5, 18, or 60 years old, there are activities for everyone. From spectacles, parades, and falconry, to a never-ending stream of traders and food, live music, and so much more. Viagem Medieval is the most balanced of them all.
It may not be the most historically accurate, but it certainly wins in terms of realism. Moreover, the atmosphere will sincerely transport you back in time. Santa Maria da Feira is an actual medieval city, so the immersion is enhanced by the setting itself. Even if you do not love history, by the end of this you will be crazy about the Middle Ages.
My experience at this reenactment festival was one of the most fun things I've ever done. And even for someone with a PhD, I still learned plenty about Portuguese medieval warfare. I was wowed by the pyrotechnics in the castle assault, and brought some amazing handmade souvenirs that I still cherish to this day. This summer event is not one to miss!