Yes, for the unforeseen future getting a covid test is part of travel. That said, most of the stress lies in finding a testing facility. This article is written from first-hand experience so you can plan a trip to London and reserve a travel covid test with ease!
---
Update Jan 6, 2022: Fully vaccinated travelers to England, do not have to take a pre-test to enter England or quarantine upon arrival according to the British government.
Update DEC 2, 2021: Today President Biden is announcing stricter testing requirements for passengers traveling to the United States. Those traveling to the USA from London or Europe from London will need a negative COVID test result to enter their final destination. Regardless of vaccination status and nationality, the new tightened testing window requirement is one day before departure. This new rule may be a change, but I always get my tests taken the day before I fly back to the USA, and so does the rest of the Tour Guy team. Where to get a COVID test in London is pretty straightforward and convenient because there are so many options for travelers.
Can You Visit London & the UK?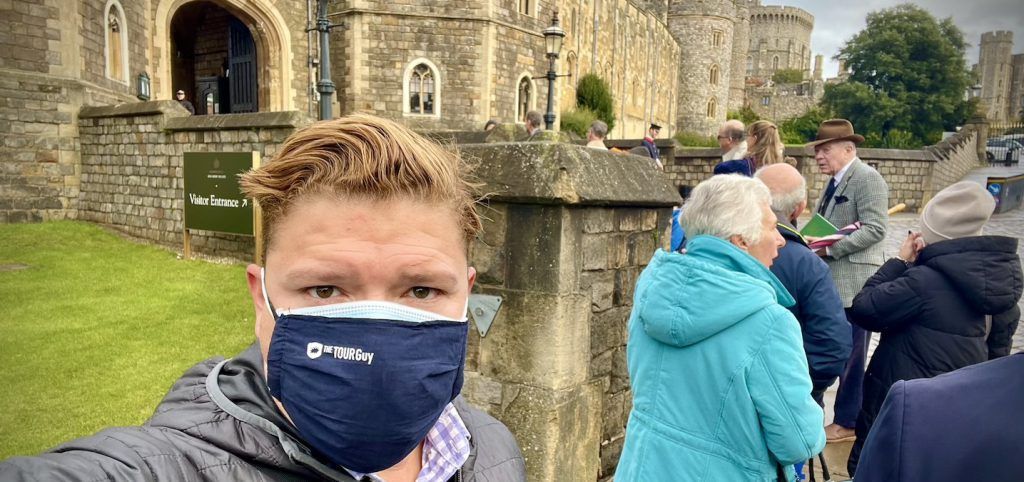 Are you headed to London? Great idea, the sites are practically empty, and you won't get a chance to see them like this in the future. We take away the guesswork with getting inside, and a guide will elevate your visit to the next level! Check out our London tours for the most memorable experience.
Fully Vaccinated travelers wishing to enter England (through any of the London Airports) must book and pay for a COVID test taken no later than Day 2 of arriving in England. Starting Jan 9, 2022, arrivals will only be required to take a rapid lateral flow test within 2 days of arrival. The UK government has an extensive list of providers, but I've narrowed it down to three below.
Also, travelers will need to fill out a Passenger locator form before departure. You will need a reference number from the COVID test booked for arrival to fill out this form. So, book the test first before filling out this form.
I uploaded my vaccine card and Passenger locator form to VeriFly. That made check-in at my departure airport very easy. More importantly, it made getting through customs at London Heathrow efficient and easy.
Pro Tip: US Passport holders qualify to use the e-gates at Heathrow Airport. Use the e-gates for passport control to save lots of time.
Requirements to Return to the United States from London and Europe
Here are some common FAQs that I have been receiving on how to get a covid test to return to the USA from London
Do you need to get a covid test to return to the states?
Quick Answer: Yes (Look at the last updated date at the top of the article)
As of the date of this article, all passengers still need a PCR or Antigen test to return to the United States. Tests are currently mandatory, even if you are vaccinated. The good news is that an Antigen test offers rapid results, 20 mins or less if taken in person at a testing site, and costs anywhere from 19 – 35£ for an Antigen and roughly 70 – 80£ for a PCR depending on where you go in London.
When should you get a COVID tested in London when returning to the USA?
Quick Answer: Tests should be taken the day before your departure before noon, no later than 48 hrs of arrival if traveling to Europe.
I recommend a day prior at the Paddington Station testing site. The Airport works, but you're adding extra stress on the day of departure. A savvy traveler will take care of it in advance. A negative result from an antigen test taken three days before departure is necessary. So day before is usually the best since Antigen results come within a couple of minutes or hours. Beware, I received my Antigen results yesterday after 8 hours of waiting for my self-administered take-home test from Qured. Whereas, I received my results from the antigen test taken at Paddington station within minutes.
Do I have to schedule my test in advance?
Quick Answer: Yes, due to the amount of paperwork involved.
To board your flight to the UK from the USA, you must book and pay for the "Day 2" arrival test. The Day 2 test can be administered anytime before Day 2 of arrival. So, getting a test on the day of arrival is also an option.
Since incoming travelers to London have to take a test to enter the UK, booking the return test will save time.
What is the cost of a COVID test in London?
Quick Answer: 29£ – 129£
Antigen tests are convenient and inexpensive in London, especially compared to PCR tests. The high volume of testing locations, testing options, and low cost make London easy for travelers. I paid 35£ for my test at Paddington Station and the self-administered test I took in my hotel room. Both tests were Antigen since "day two entrance," and final destination tests only needed a "fit to fly" rapid antigen test.
Where To Get a COVID Test in London
The UK Government website is my first go-to resource for checking where to Get a COVID test in London. I quickly realized that there is an abundance of testing options available in London. There were so many listed on the Government website that I referred to the Heathrow Airport site.
I cross-referenced the Heathrow Airport list with the government-approved list to make sure. The testing options on the Heathrow website are approved by the airlines, traveling to Europe and returning to the USA.
3) Self-Administered Test Delivered to Your Hotel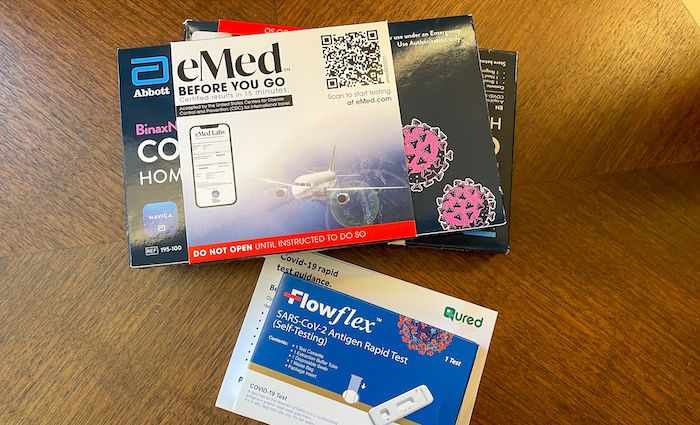 Convenient | Inexpensive | Easy
Qured Test Delivered to my Hotel
If you follow me on social media or have read some of my other COVID articles, you might know I've never taken a self-administered test at-home test. In my previous articles on Where to Take A COVID test in Paris or Rome, I explained how I've never bothered with these types of tests in big cities.
Qured offers an approved testing kit for convenient delivery to your hotel. I chose this option for the required testing for my onward trip to Italy several days later.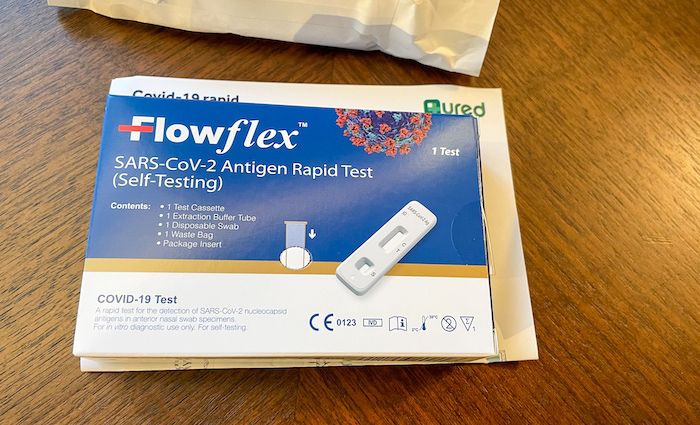 Purchasing the Qured test was no problem, and setting up delivery to my hotel was straightforward. The company emails tracking information when the package is shipped and delivered.
I received my Qured test in the afternoon and immediately tried to schedule the online supervision for my test. Unfortunately, there were no evening time slots available, and I could not take the test until the following morning.
The instructions that came with the test were clear, and my appointment started on time. The test took about 20 minutes to complete.
What I did not realize was the length of time the test results would take. An email from Qured stated results are ready up to 8 hours after the test. It's a good thing I took the test in the morning the day before my flight. I finally received my negative results from Qured after seven hours of waiting.
Abbot Binax Now COVID 19 Ag Card Home Test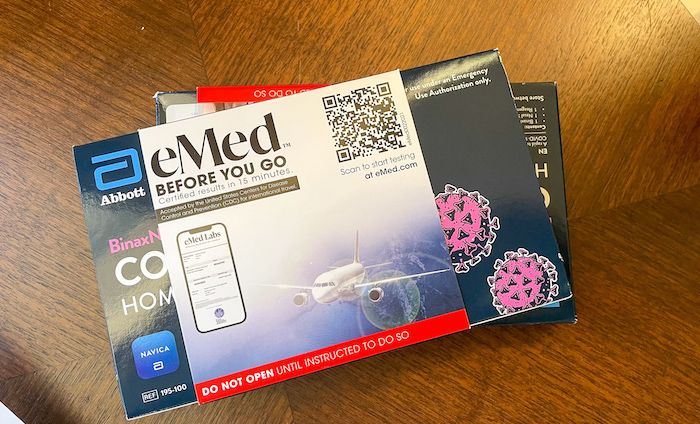 I purchased this test from Emed since it has become popular with many travelers. I bought the test in the United States and packed it to take with me. There were many issues this summer with travelers reporting long wait times for their online sessions. I purchased this test as a backup, but it became the test I took for my return.
I used the link to purchase this test from my airline to ensure it would be accepted for my return trip if I needed to use it. In the end, I decided on the convenience of the take-home test due to my countryside location.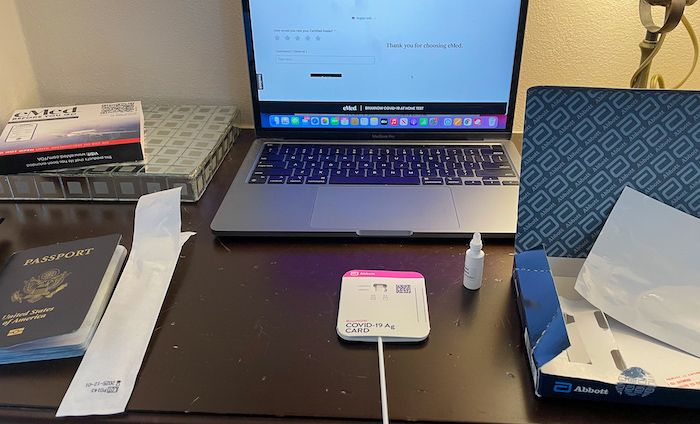 I didn't have to wait for a connection to an agent since I was connected almost instantaneously. The whole process took 20 minutes, including the 15-minute wait for my test results.
Cost: 35-100£
Location
Heading to London? We run tours!
2) Private Testing Sites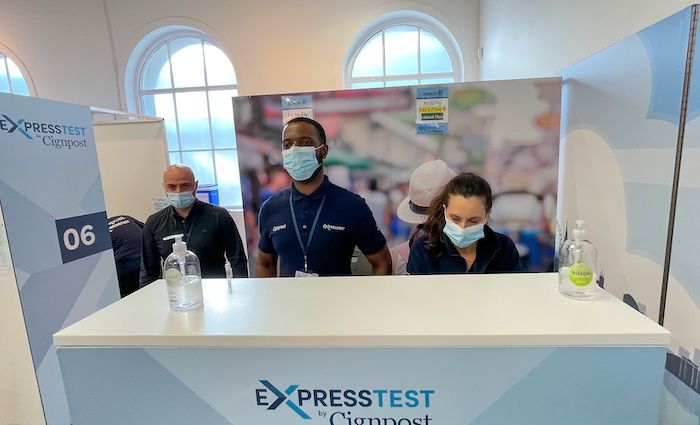 Budget-Friendly | Quick Results | Various Locations
The UK Government lists numerous testing sites throughout London, but let me make this easy for you.
If you are traveling into the city center from Heathrow Airport, you might be taking the Heathrow Express, which travels non-stop from the Airport to Paddington Station in 15 minutes. Even if you arent' taking this train from the Airport, Paddington Station is a convenient location in the city center of London.
I booked my required "Day 2 or Before" testing at Paddington Station with Express Test. They have a variety of locations in London and the UK. The Paddington Station location is convenient for those arriving from Heathrow on the Heathrow Express train.
How to Get to the Express Test Center in Paddington
From the train, I walked down the track and made a right at the central area of the station. For those coming on the tube, follow the signs to Paddington station upon exiting the tube station. At the top of the stairs, make a left and head toward track 1.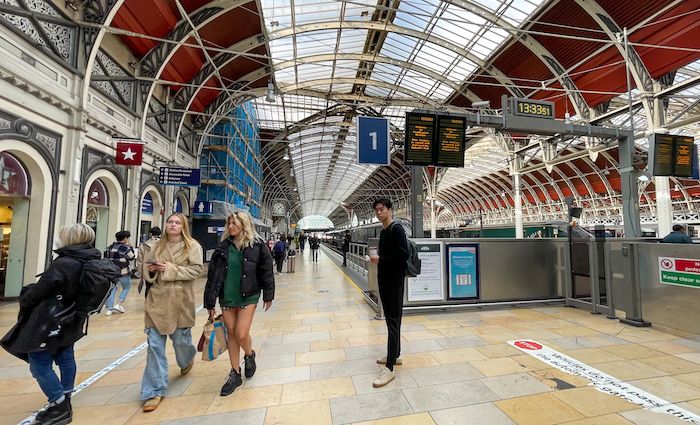 The Express Test is next to track 1. Look for the Express Test sign above the glass door next to the big train clock.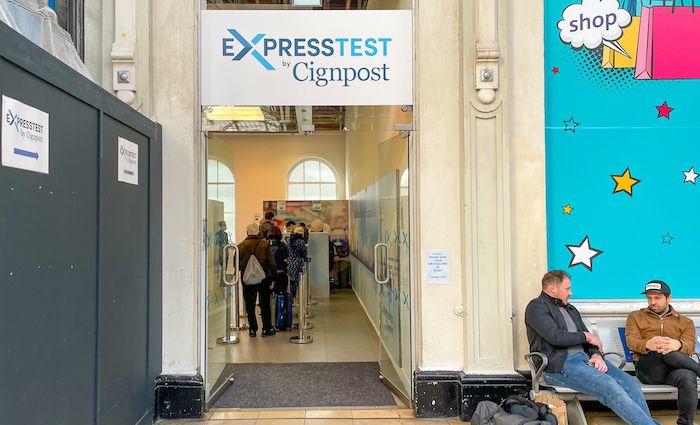 The confirmation letter, which includes a QR Code, must be scanned at reception. Identification or a Passport is also necessary to present at test check-in.
The test took about ten to fifteen minutes to administer.
After my test, I hopped onto the London Tube to head to my hotel. After I came above ground after my 15 min tube ride, I received an email with my test results.
Cost: 35-129£
Location
1) The Airport
In Terminals | Last Minute Option | Convenient Location
If you want to wait until the last minute, the Airport does have a testing center. Express Test administers the tests at Heathrow and Gatwick Airports. At Heathrow, the sites are in T2 arrivals, T3 forecourt, and T5 arrivals.
The confirmation letter, which includes a QR Code, must be scanned at reception. Also, a passport is mandatory for identification.
It is nice to have a last-minute option. This option does require extra time at the Airport. I'm not too fond of unnecessary stress on a travel day. Like the private testing sites, one receives their results in hand within minutes. You will need to present your negative COVID test results upon checking in and boarding.
Using Apps Like VeriFly
Getting a COVID test at the Airport also means it will be too late to upload results to your airline's app or use Verifly if you fly British Airways or American Airlines. It also means you will have to fill out the paper version of the Health Declaration form required to enter the United States.
More importantly, it means you do not get to use the dedicated Vefifly Lane to check into either British Airways or American Airlines.
The new Verifly check-in lane s a time-saving option, especially now that more travelers are headed back to the United States since the country opened up to foreign travelers. I nearly caused a riot at Heathrow by walking past both the economy and business lines to skip the check-in queue. In a busy airport like Heathrow, skipping the queue is recommended at any opportunity.
Cost: 35-129£
Location