There are a lot of perks to staying in an apartment rental when you're on vacation. You may want more space for your group, some extra privacy, or the experience of living like a local. The biggest challenge is finding the right one. In this guide, we've selected the coolest vacation rentals in Brooklyn right now to help you find the perfect place to stay.
---
Pro Tip: Get to know the area even better by taking a peek at our guide to the best things to do in Brooklyn.
Best Apartment Vacation Rentals in Brooklyn, NYC
It's no wonder many visitors choose to stay in Brooklyn. The culture is cool and dining is hot. Want to catch a Brooklyn Nets game? Head to the Barclays Center. Fancy a show? Check out the Brooklyn Academy of Music (BAM). For entertainment, the possibilities are limitless.
Brooklyn has some pretty decent hotels, but there are some things you won't always find at a hotel If you're after more space and comfy digs, there are a lot of great vacation rentals in Brooklyn that will have you feeling like a local New Yorker. It isn't always easy to find the best rentals, so we've taken the hard work out of finding the coolest rentals in Brooklyn to make your vacation that much better.
Our Partnership with Booking.com. If you like our content, please book by clicking on our Booking.com links. The price is the same for you, and we get a small commission that helps support our helpful blog content. We've partnered with Booking.com because they have the most options, great prices, and a solid loyalty program.
Vakb Apartments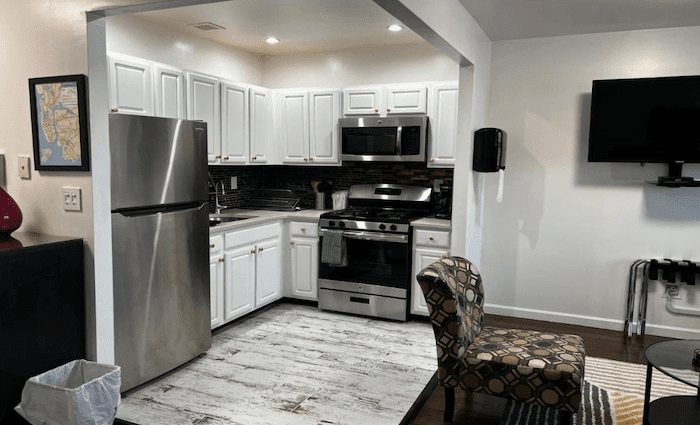 $ | Near Barclays Center | Best for Relaxed Travelers | Clean and Spacious
Located in Bed-Stuy, Brooklyn, this apartment sits on a quiet street and makes for a peaceful stay. But just because it's quiet doesn't make it boring. This property is close enough to some of the area's main attractions. The Barclays Center is about a 25-minute subway ride away. And the Myrtle-Willoughby Avenues station is less than 10 minutes on foot.
As for the apartments, you have the option to choose between a studio or a two-bedroom. In both, you'll enjoy a roomy sitting area with a sofa and a kitchen that can come with a microwave and refrigerator. Plus, there's a dining area and a private bathroom.
Brooklyn Artist Delight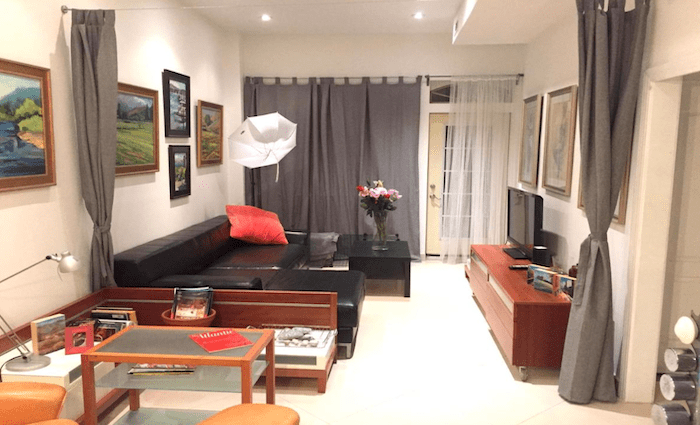 $ | Close to Lincoln Rose Garden | Best for Couples | Breakfast Available
If you want to enjoy some of Brooklyn's outdoor attractions, this rental will do the trick. It's about a five-minute walk to the Lincoln Rose Garden and a 20-minute walk to the Brooklyn Botanic Garden. Local bakeries, restaurants, and ice cream shops are just around the corner, all within 10-minute or less walking distance. Sterling Street subway station is also a few minutes away.
This rental is colorful and artsy. Incredible artwork is strung up on these walls. The property has a shared terrace that overlooks the nearby buildings and a little bit of greenery outside. You'll have a kitchen, dining area, and living area to enjoy. A highlight is the option to have breakfast served in the mornings with a choice of continental or à la carte.
Triplex Carriage House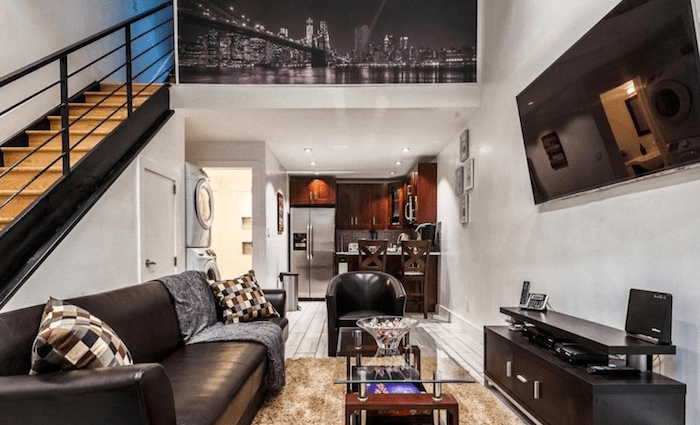 $$$$ | Close to Brooklyn Navy Yard | Best for Luxury Travelers | Private Terrace
We admit that this property is pricey. But if you have the funds to stay like a real baller, this is the place! The rental is close to the Brooklyn Navy Yard with its trendy waterfront cafes and a market to grab your goods. The Brooklyn Bridge, Barclays Center, and Coney Island are all close by. And it's a short walk to the Kosciuszko Street subway station, which means getting around is easy.
The rental is incredible. First, it comes with two spacious bedrooms, a bathroom, and a living room. Second, the kitchen has modern appliances and a washer and dryer. Third, it has a terrace to enjoy great views and fresh air. What's more, if you need a laptop for work or play, they can provide you with one.
Stuyvesant Heights Loft Apartment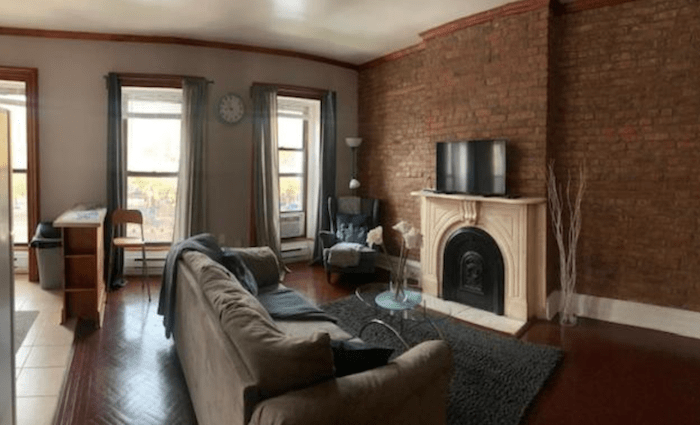 $$ | Close to Brooklyn Museum | Best for Small Groups | Garden & City Views
Staying at this rental means you are within walking distance of the Brooklyn Museum. You can also enjoy a leisurely stroll to Prospect Park in about 30 minutes. And when it comes to the subway, you're in luck! The Kingston-Throop Avenues subway station is only a couple of minutes away.
The property is cozy and charming with brick wall accents and a decorative fireplace. There is a bedroom, a living room, and a kitchen with all the appliances needed to whip up a meal. The space has ample natural light throughout from the many windows. You can also see some lovely city and garden views.
Three Bedroom Family Suite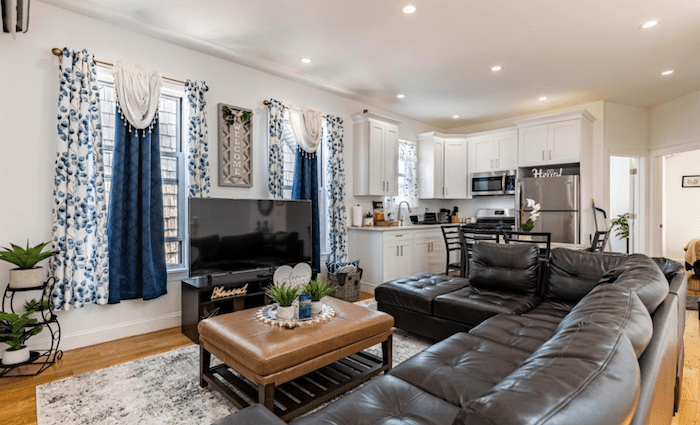 $$$ | Close to Canarsie Pier | Best for Outdoor Explorers | Lots of Room
Anyone who is big into fishing can appreciate the location of this rental. You're just a 30-minute walk away from Canarsie Pier—a place known for its fishing and kayaking. Plus, you're close to many restaurants where you have your pick of a variety of ethnic cuisines. Choose from Haitian food, Caribbean grub, and more.
This rental has three spacious bedrooms—ideal for anyone traveling with a family. It comes with comfy slippers in the bathroom and an oven and refrigerator in the kitchen. The whole space is bright and airy with light neutral tones that make for a lovely relaxing getaway.
Spacious One Bedroom Apartment in Williamsburg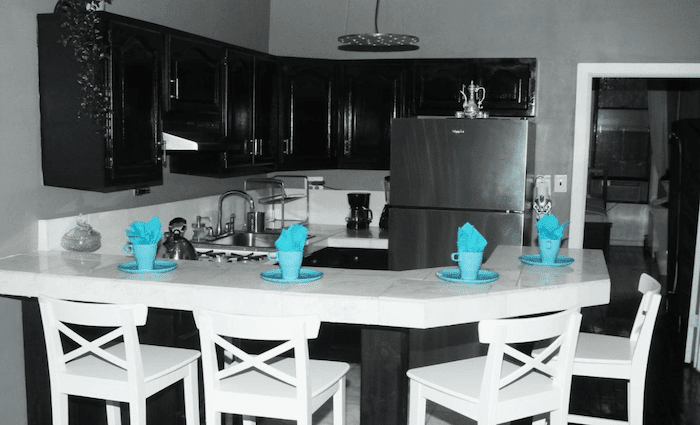 $$ | Close to BAM | Best for 1 or 2 Travelers | Free Parking
Nestled in Williamsburg, you have all the great attractions close by. You'll have your pick of the best bars, restaurants, and clubs. The Myrtle-Willoughby Avenues station is not too far from the rental, which will get you to the Brooklyn Academy of Music (BAM) in a short subway ride.
The rental has one bedroom with a seating area and a kitchen equipped with a coffeemaker and blender for your preferred morning beverage. The kitchen also has a spacious island/bar counter where you can easily eat in. The entire apartment is ultra-modern with minimal decor and furniture. Bonus: you can enjoy free parking if you have a car.
Rochester's Place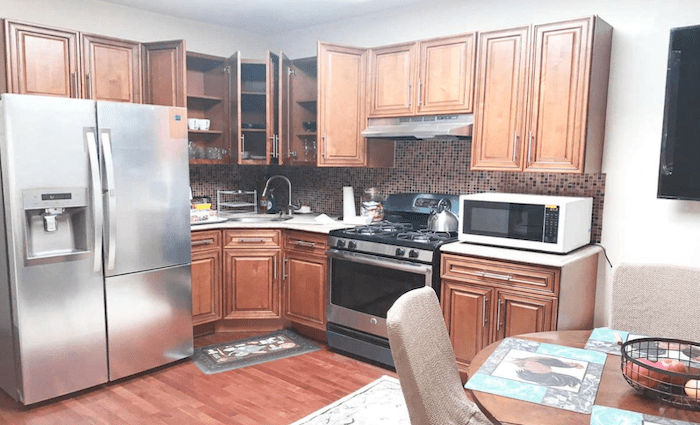 $ | Close to Great Restaurants | Best for Families | Bunk Beds
The Ralph Avenue subway station is about a five-minute walk from this rental—perfect if you are looking to hit up Downtown. For the foodies: you won't have to go far to find a wide range of restaurants. You have your choice of Caribbean fare at Savannah Cafe or Israeli cuisine at Mama Kitchen NY, all within walking distance of your stay.
The rental comes with a living area and a shared bathroom. Bedrooms can come with bunk beds—great for anyone traveling with kids. Many of the guests comment that they were gifted snacks from the hosts throughout their stay. The kids will never want to leave and neither will you.
Two Bedroom Brooklyn Apartment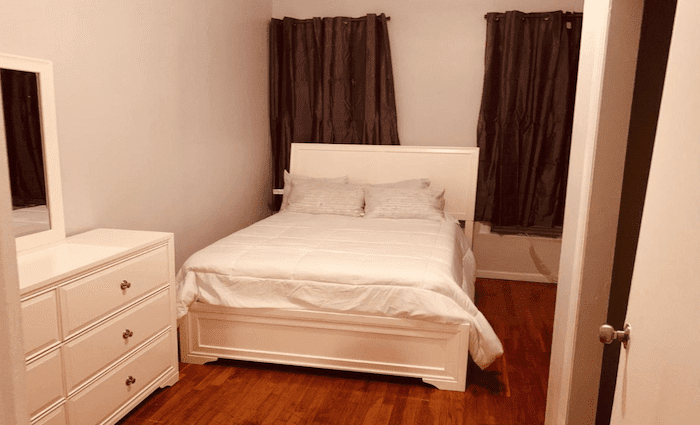 $ | Close to Grand Army Plaza | Best for Restaurant Lovers | Relaxing Bathtub
If you're looking to stay in the Fort Greene area, this is your pad. Here, you're close to all of the area's best restaurants and wine bars. It's also close to the picturesque Grand Army Plaza and not even a 10-minute walk from the Clinton-Washington Avenues subway station.
Inside the apartment, you'll find two bedrooms, a seating area, a dining area, and a kitchen that has a microwave and an oven. The bedrooms are a little small. However, the big living area and oversized sofa make up for it giving you a comfortable place to lounge.
Brooklyn Cream Puff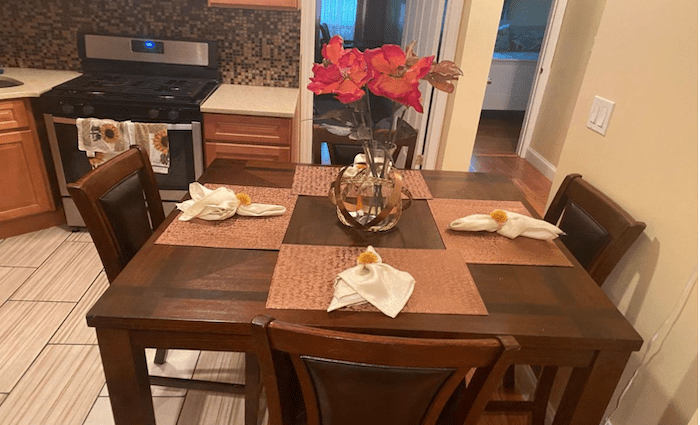 $$ | Close to Brooklyn Children's Museum | Best for Large Groups | Four Bedrooms
This large rental is close to it all. You can easily make your way to Barclays Center, Coney Island, and Brooklyn Botanic Garden in no time. Especially with the Sterling Street subway station mere steps away. For those of you traveling with kids, the Brooklyn Children's Museum is only a 20-minute walk from where you're staying.
The apartment is super homey and comfortable. You'll enjoy four bedrooms, a kitchen, and a dining area with a table that seats four. The living area comes with two sofas to sprawl out on. And we love how the apartment boasts some nice city views.
Fully Furnished Apartment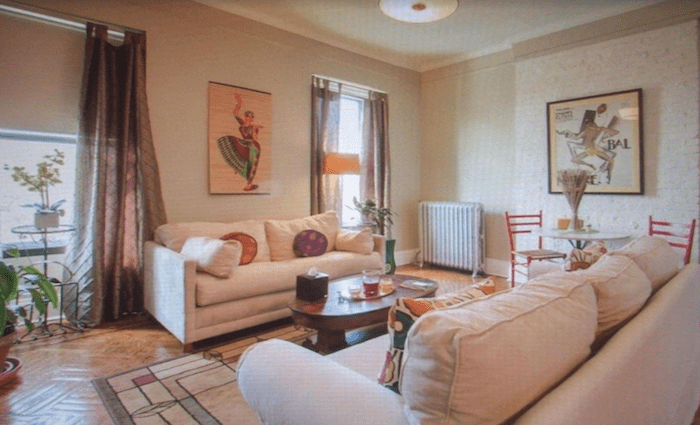 $ | Near Prospect Park | Best for Solo Travelers | Natural Light
This rental is right near Prospect Park. You're only a 10-minute walk away and close to many other attractions, including the Barclays Center. Traveling around is super easy with the 7th Avenue subway station right there.
If you're heading to Brooklyn on your own or with a plus one, this rental is a great option. It's spacious enough for two but incredibly roomy for one. You'll enjoy one cozy bedroom with white brick accents and a relaxed living area that has two sofas and lots of natural light from the large windows. There is even a small dining area that's ideal for breakfast.
Cozy Hidden Gem In Flatbush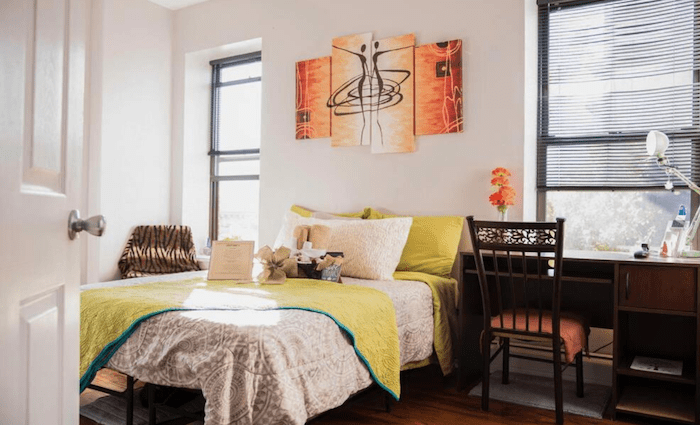 $ | Close to Little Haiti | Best for Cultural Enthusiasts | Writing Desk
This rental is in a prime location. You're not far from Coney Island or the Brooklyn Public Library. You're only a 10-minute walk from the Little Haiti neighborhood—a place we think you should be checking out. Here, you can soak up the local Haitian culture, art, and cuisine. And you don't even need to leave Brooklyn to do it.
This apartment has one bedroom with a charming writing desk, a bright and sunny living area, a bathroom with a tub, and a kitchen with a microwave. The entire space has many windows, so expect gorgeous sunlight all around paired with great street views.