If you're looking for adrenaline-filled outdoors activities in breathtaking scenery, Voss is a great destination in any season. As one of the best places on Norway's west coast for skiing, it's a special place for a winter trip on the slopes. We've put together this guide to the seven best ski hotels in Voss with options for everyone.
---
The Best Hotels in Voss for Skiing
Voss is the best place for extreme sports in Norway, and skiing is no exception. Here it is possible to do outdoor activities all year round. Everything from skydiving to white water kayaking and rafting or beautiful mountain hikes. Combine this with some of the best skiing the west coast of Norway has to offer and Voss becomes one of the more exciting places to visit, both summer and winter.
There are also evening activities you and/or your group can do. One fine place to hang out after a day of shredding is Tre Brør, where they combine great food with a relaxed vibe. Best of all, at 6 pm they open up the downstairs area where you will find the best beer Voss has to offer.
Another place to hang out is Skrot Café and Bar, where they serve great drinks and a small bite to eat. If this is not your style or you travel as a family, then the local bowling is nice, or you can visit the bathing facilities that are also located in downtown Voss.
Voss Resort, which is the ski resort right next to downtown Voss, offers great skiing. With 24 piste runs, you can find something for all skill levels and the off-piste possibilities are almost endless—if you dare to travel out of bounds. You might even find some of the secret locals-only runs. If not, the locals are always helpful, and they might even guide you to the secret powder.
Our Partnership with Booking.com. If you like our content, please book by clicking on our Booking.com links. The price is the same for you, and we get a small commission that helps support our blog. We've partnered with Booking.com because they have the most options, great prices, and a solid loyalty program. Just about every hotel is on Booking.com so our recommendations are not incentivized.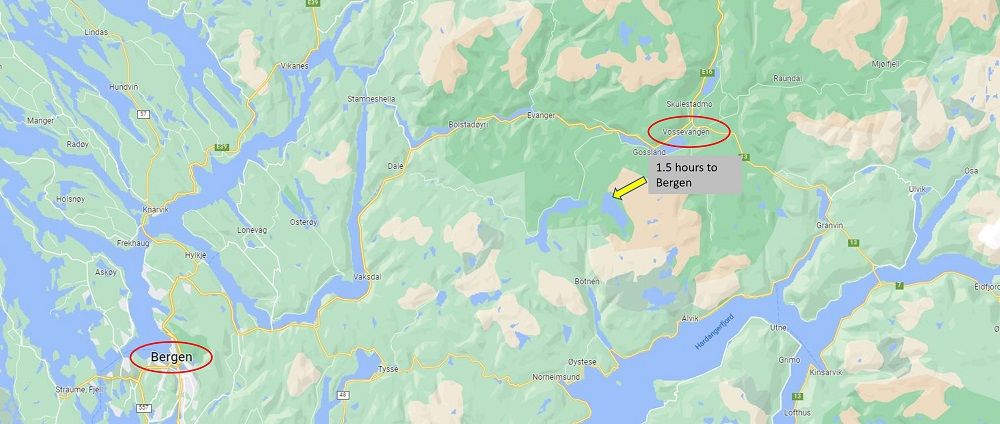 How To Get To Voss
The easiest way to get here is to take a plane to Bergen, which is the second-largest city in Norway with a population of 280,000. From here you can either rent a car and drive the one-and-a-half hours to Voss, following the E16 all the way. Or, the easier option, is to take the train straight from Bergen to Voss. With the train, you will arrive in Voss in just an hour, and everything you need is within walking distance from the station.
Now that how to get there is under control, let's get to what you came here for: The best hotels and rentals in or near Voss.
Fleischer's Hotel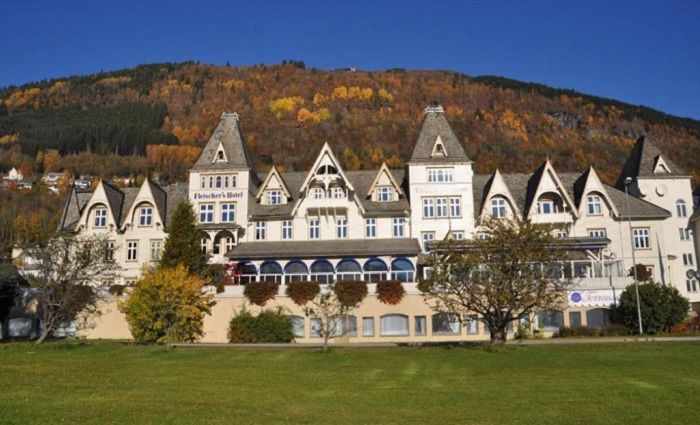 $$$$ | Pool | Hot Tub | Wi-Fi | Sauna
Fleischer's hotel is the oldest hotel in Voss, built in 1864, and is located right next to the train station. When you enter the hotel, it's like going back in time, and the historic feel is unmatched. If you choose to stay at Fleischer's, you can expect great local food and drinks at their two in-house dining areas. They also have an après-ski bar where you can try out local drinks and sit next to the roaring fireplace.
Another bonus of staying at Fleischer's Hotel is that there is no need for additional transportation to go skiing. They have a gondola right next door to the hotel that will take you to the top of the mountain in just eight minutes. At Fleischer's, all the rooms have a historical atmosphere, and you will certainly enjoy your stay here.
Scandic Hotel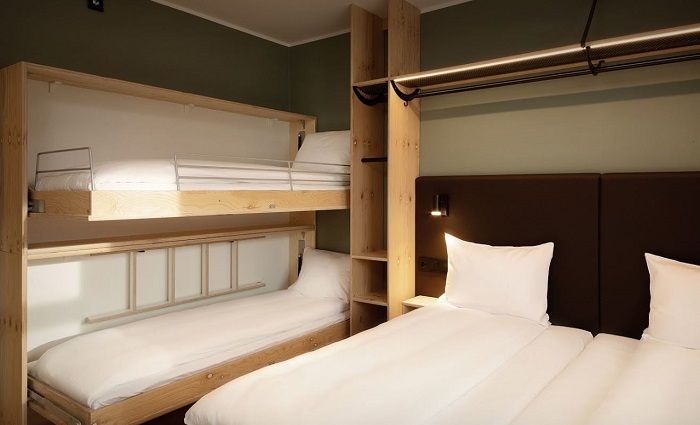 $$$ | Sauna | Restaurant | Wi-Fi | Family Friendly
Scandic is the newest and biggest of the hotels in Vossvengan. It was finished in the autumn of 2019, and is located in downtown Voss, so no need for extra transportation if you choose to stay here. Best of all, kids 12 and under stay for free, and there are multiple room options for families.
Scandic is a classic modern hotel, and there is a breakfast buffet included in the price. You can either choose to have dinner at the hotel or go to one of the local restaurants, which is not far away.
Scandic is also located right next to the ski resort gondola that will bring you straight to the top of the mountain in no time.
Bavallstunet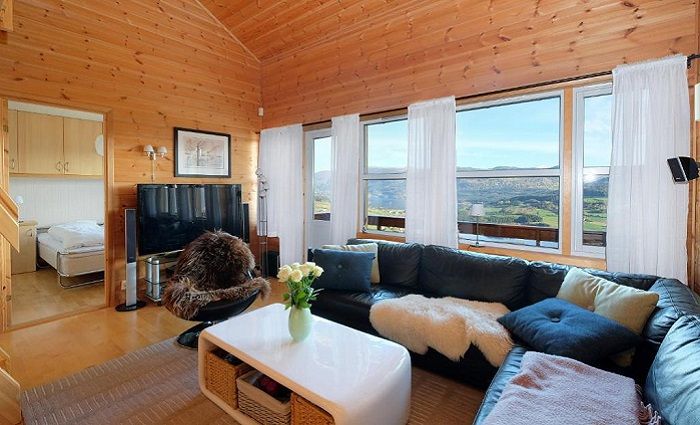 $$ | Kitchen | Sauna | Ski-In / Ski-Out
Bavallstunet is owned by the ski resort, so this is the place to stay if you want ski-in and ski-out. Here you can either rent a cabin for the whole traveling crew or you can rent an apartment. All the cabins and apartments come with a kitchen where you can make all your food for the entire stay. If you choose to stay at Bavallstunet, I would recommend renting a car to make trips to the supermarkets more accessible.
At Bavallstunet there is an après-ski, or as we Norwegians call it "Itte-pao-ski," every Friday and Saturday. There is also a ski rental and ski school right next to the cabins, where they can help you with all of your skiing needs.
Store Ringheim Hotel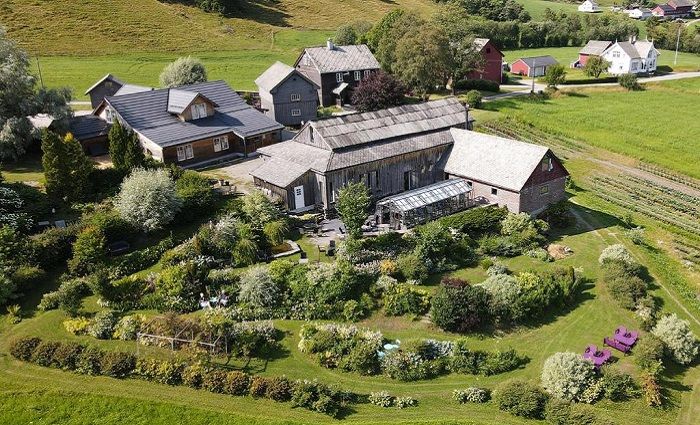 $$$$ | Bar | Wi-Fi | Free Parking
This place used to be an old farmhouse, but now it is fully-restored and has been turned into a hotel and restaurant. It's located one kilometer from downtown Voss, and takes 20 minutes to walk there. At this hotel you feel like you're stepping back in time when you enter. The oldest building is from around the year 1600.
You can also experience the local food at the restaurant that is right next door. Most of the food there is produced on the farm and all the meat is bought locally. When staying at this hotel, I would recommend renting a car to make the trips to the ski resort more convenient since the public transportation options are limited.
Park Hotel Vossevangen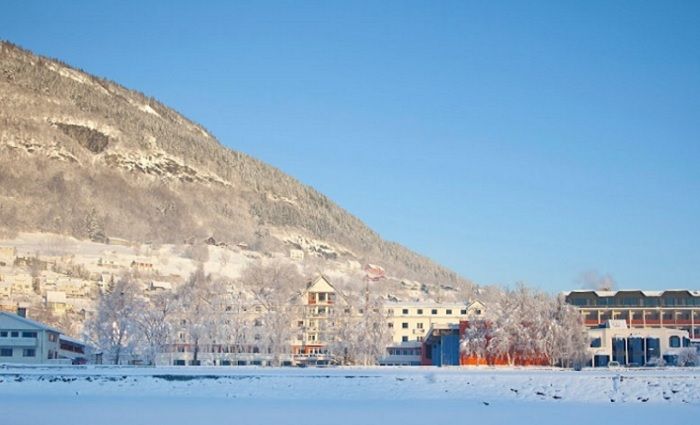 $$$ | Breakfast | Lake Views | Award-Winning Wine List | Free Parking | Wi-Fi
This hotel is located in downtown Voss only a hundred meters from the lake. Here, you will find everything you need within a ten minute walk. It is a traditional hotel with breakfast included and a restaurant in-house. There is also free parking if you choose to rent a car.
If you enjoy wine, this hotel won the "World of Fine Wine" magazine's 2020 award for the best wine list. There is also a bar where you can order local drinks if you prefer that instead.
Haugo Utleige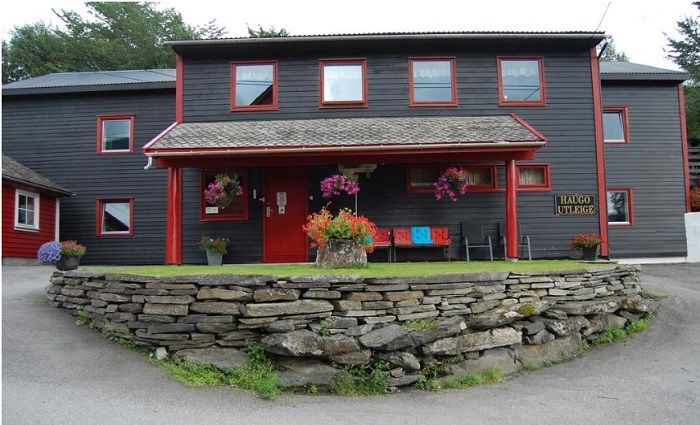 $$ | Wi-Fi | Free Parking | Sauna
This is a rental and not a hotel, but it's such a nice place I had to include it anyway. They have 12 rooms in the main house and two cabins. Here you can either rent the whole house or single and/or double rooms depending on your group size.
There are two common areas and one kitchen in the big house, so there's plenty of room to hang out with the other people renting and maybe plan the next day's adventure. It could be a good idea to rent a car if you choose to stay here. And you'll either have to make all your meals yourself or you could go to some of the restaurants in downtown Voss.
Voss-Tråstølen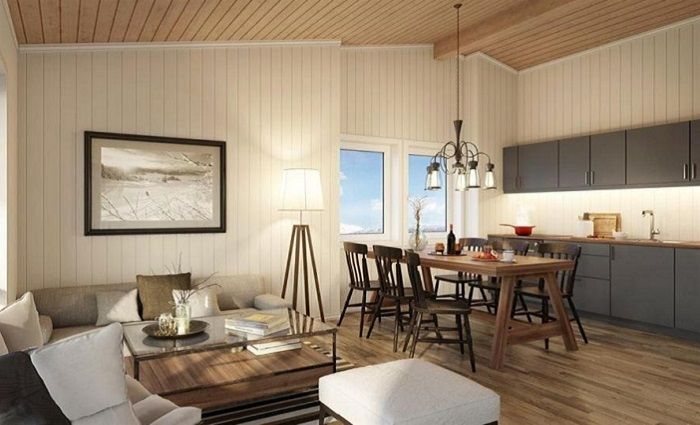 $$$ | Wi-Fi | TV | Ski-In / Ski-Out
This rental is located right next to the slopes of Voss Resort, so it's perfect if you enjoy ski-in ski-out. I would also recommend renting a car if you stay here since it is quite a walk to get to the supermarket or downtown Voss. One positive thing about renting a private place like this is exactly that—the privacy you get. So if that is more your style, I would go for this place.
There is free parking and Wi-Fi at the apartment. Here you have morning sun, but not evening sun—just something to be aware of. There are two bathrooms, and the living area is open plan and modern. There are even some board games for an evening of fun.