The Eye is one of the highlights of the London skyline and is worth seeing even if you don't manage to get tickets. Here are a few of the best restaurants near the London Eye, just in case you get hungry.
---
Pro Tip: Planning what to do on your trip to London? Bookmark this post in your browser so you can easily find it when you're in the city. Check out our guide to London for more planning resources, our top London tours for a memorable trip, and how to see London in a day.
Top Places To Eat Near The London Eye
After seeing the London skyline from up high on the London Eye, you'll want to stop for a bite to eat. From high-end French to low-key Indian and everything in between, here are the best restaurants near the London Eye.
Gillray's Steakhouse & Bar
£££ | Open Early | Buffet Style Breakfast
A good hearty breakfast is an indispensable part of any successful day spent walking the streets of London. Located inside the County Hall hotel on Westminster Bridge road, Gillray's Steakhouse opens early and offers diners a picturesque view of Big Ben while they enjoy their breakfast.
Served buffet-style, Gillray's offers what you would expect of a continental breakfast, but executed with the highest level of attention and detail. They also have some great a la carte options, like the vegan scotch eggs made with fresh hard-boiled eggs coated in bread crumbs.
Whether you're looking for a big breakfast or just something tasty while you enjoy the spectacular view, Gillray's makes sure to put you on the right foot before starting your day. Of course, it's a wonderful place to return to for an impeccably served steakhouse dinner.
Address: County Hall, Westminster Bridge Rd, South Bank
Skylon
£££ | Great View | Modern European
Another great place if you're looking for a view, this riverside spot boasts a breathtaking view of the Thames to go along with its delectable modern European offerings. With the natural light pouring through the windows, we'd definitely recommend Skylon for an upscale lunch that captures the soul of London.
Begin with your choice from the tasting menu—it's all great. We'd recommend the seared foie gras or the Scottish Angus Cross beef fillet. They're just the thing before moving on to the main course. The menu is always changing, but if you can get a taste of their roasted cod with black trumpet mushrooms or the beetroot gnocchi—you won't be disappointed.
Address: Royal Festival Hall, Belvedere Rd
Popular London Tours
Popular London Tours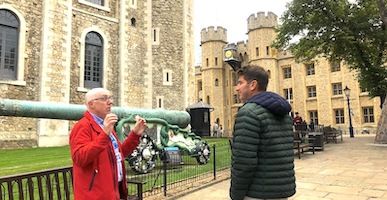 Best Selling Tour
Legends and Lore Tour of the Tower of London
How can you explore London's top attractions without getting overwhelmed? By joining this guided small group tour! With 1,000 years of history and acres of buildings, the Tower of London is easier to explore and understand with the help of your local guide. Best of all, you'll even see the famous crown jewels and have a boat ride down the River Thames.





See price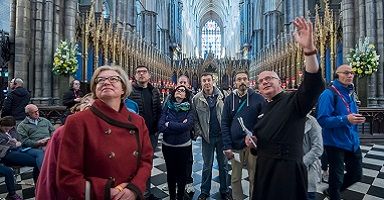 Top Selling Tour
London Walking Tour with Westminster Abbey and Changing of the Guard
This is the perfect tour for someone who wants to get to know the real Westminster Abbey. With skip-the-line entry, you get some quiet time in the nave of the abbey with your guide and small group before exploring the tombs of notable kings, queens, philosophers, and more. Depending on the day, you'll even get to see the Changing of the Guard ceremony at Buckingham Palace.





See price
Not ready to book a tour? Check out our article on the best London tours to take and why.
The BBQ Club
££ | Seasonal Menu | Modern BBQ
Okay, let's cool it with the fancy stuff. It can be hard finding good, down-to-earth BBQ in Europe, so if you're anything like me, this place is a godsend. Located in a decommissioned shipping container on by the South Bank, this no-frills spot is great to pick up and go or to sit down and enjoy the view of the Thames.
Their menu changes seasonally, but we recommend their sample menu for the full experience of what these guys have to offer. Running you about £49, it includes items like Togarashi five-spice duck breast, a 45 dry-aged sirloin, and cod tacos. Bring friends and come hungry!
Address: The Queen's Walk, South Bank
Wahaca
££ | Mexican | Live Music
Lively but low-key, Wahaca is one of the best restaurants near the London Eye for Mexican food served at reasonable prices. From their trendy, modern decor to the live music to the riverside views, Wahaca checks all the boxes for a fun nighttime spot.
First of all, order some cocktails. You can't go wrong with a classic margarita, but the Strawberry and Basil Daiquiri is great as well. You'll want to pair this with a plate of Mexico City nachos to share. They come piled high with salsa, guacamole, and beans. Along with their slow-cooked pork tacos, and black bean and three-cheese quesadillas, you'll leave this place happy!
Address: Southbank Centre Queen Elizabeth Hall, Belvedere Rd
Brasserie Joël
£££ | French | Romantic Dinner
Combining classic and contemporary with an elegant finish, Brasserie Joël is one of our favorite French restaurants near the London Eye. The glass-lined, red and black dining room embodies Joël's spirit of refinement with a splash of spontaneity (and even a bit of fun!)
For starters, we recommend ordering the Terrine of Oak Smoked Ham with Wild Mushroom, along with the Heirloom Tomatoes and Grilled Asparagus. Entrée-wise, Joël keeps things simple: a Traditional Ratatouille or Beef Bourguignon are our recommendations. Along with one of their fantastically curated wines, you'll be set for a romantic London evening.
Address: Park Plaza Westminster Bridge Hotel, 200 Westminster Bridge Rd
La Cucina Di Mamma
££ | Italian and English | Big Portions
Striking a balance between high-end and affordable, English and Italian, and classic and contemporary, La Cucina Di Mamma has something for everyone. It's one of our favorite restaurants near the London Eye. The interior is both sleek and playful, featuring art deco paintings beside decor that could have come straight out of Warhol's Factory.
The menu here offers a wide variety of dishes that should be familiar to any connoisseur of Italian or English cuisine. Yet the preparation is exquisite, and offerings like the Honey Glazed Baked Goat Cheese and Roasted Lamb with Mash are perfect to bring your London day to an elegant conclusion.
Address: 3j, 3k Belvedere Rd, South Bank
Bao Fa Garden
£££ | Beautiful Interior | Sichuan
When it comes to Chinese restaurants near the London Eye, Bao Fa Garden is certainly a standout. With its dark, inviting atmosphere and sweet smells of ginger, peppers, garlic, and chili, Bao Fa brings a complete package to its dining experience.
The Beijing duck is a particular standout from Bao Fa's tastefully crafted menu. It's sourced from a particular breed of white duck, smoked over hardwood to a bright red complexion, and served with chili sauce. It's a knockout. We would also recommend the prawns!
Address: County Hall Building, The Queen's Walk, South Bank
Check Out Our Best Day Trips from London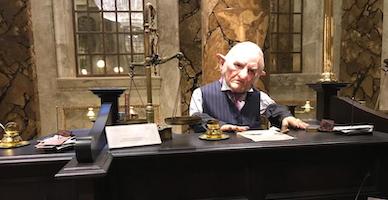 Top-Rated Tour
The Magic of Harry Potter: Warner Bros Studios & Walking Tour of London
On this full-day Harry Potter experience, immerse yourself in the world of witchcraft and wizardry. With your expert, Harry Potter loving guide, explore the filming sights in London before heading to Warner Bros Studios by Private Coach. See the real Hogwarts, Sorting Hat and more on this memorable experience.





Starting at €149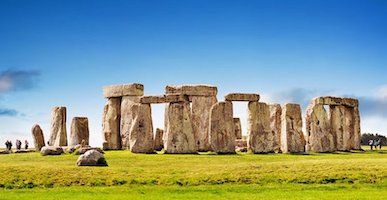 Top-Rated Tour
Windsor Castle, Stonehenge, and Bath Day Trip from London
Join this full-day trip from London for the ultimate day through British history and culture with an expert guide. At Windsor Castle, skip the lines and see how the English Royals live. At Stonehenge, immerse yourself in the mystery of the 4000-year-old Neolithic structures. Lastly in Bath, take in the Roman Baths from the first century AD, the best symbol of Roman Britain.





Starting at €149
Not ready to book a tour? Check out our article on the best London tours to take and why.
Vaulty Towers
££ | Lively and Fun | Modern Tavern
If the London dining scene comes across as a bit stuffy, we offer you Vaulty Towers. It's a South Bank tavern full of bright lights, loud music, and a whole lot of fun. Head here on Fridays and you'll get to enjoy the in-house DJ's Johnny and Patsy spin records till closing time.
And for a bar, the food's pretty great! Mains like Butternut Squash Risotto and Slow Cooked Pork Belly go perfectly with a tall glass of beer and a few friends to share them with. And with their wide variety of cocktails hovering around £8, there's something for everyone at an affordable price.

Address: 34 Lower Marsh, South Bank
Zabardast
£ | Quick Bite | Indian
The perfect spot for a quick bite of homestyle Indian food that is shockingly underpriced, Zabardast is a real hidden gem restaurant near the London Eye. With its cozy, cafe-style interior, it's not as flashy as many of its neighbors. Yet, what it lacks in flash it certainly makes up for in taste.
The specialty here are the flatbread wraps, which can be stuffed with your choice of chicken tikka, kebab, halloumi, and much more. A large portion is only £7.50, so you're not likely to find a better deal anywhere nearby. If you're looking for a quiet place to stop and refuel with delicious food, it doesn't get quite better than this.
Address: 1 Robinson Rd
Chocofruit
££ | Desserts | Beautiful Food
Rounding out our list, we've got something special for you. Located right outside the Royal Festival Hall on Belvedere Road, this small dessert shop may not look too impressive from afar. Yet their handcrafted desserts are some of the best in the area and look just as great as they taste.
You can't go wrong with Chocofruit. From the chocolate-covered Strawberry and Banana Fruit Skewers to the Belgian Waffles piled high with ice cream and nuts, it's a great place to go for a midday treat. Take a seat on a bench and enjoy the view of the Thames, and you'll be set. You'll definitely want to throw a few pictures on Instagram to capture the moment!
Address: Royal Festival Hall, Southbank Centre, Belvedere Road