From suckling pig to bean stews, seafood, and sweet treats like ponche Segoviano, there's plenty of delicious food to try in Segovia, Spain. The only question is where you'll go to eat all these wonderful foods. Leave that to me. As a local expert, I'll guide you to the best restaurants in Segovia.
---
Pro Tip: Planning where to eat in Segovia? Bookmark this post in your browser so you can easily find it when you're hungry. Also, check out our exciting Segovia tours from Madrid and the top things to see in Segovia.
The Top Places To Eat in Segovia
As a resident of Spain for many years, I've travelled the country to see the sights and seek out the best food. Segovia scores high on both counts. The city's Roman Aqueduct is one of the country's top historical attractions and earned UNESCO World Heritage status in 1985.
Meanwhile, the hearty cuisine showcases the best produce of the Castile and León region. You won't find a food scene brimming with Michelin stars, but you'll find honest cooking the locals are proud of. So, let's take a closer look at the best restaurants in Segovia.
If you love food and seeing the sights, you'll love our Segovia day trips. They explore the historical monuments of Segovia and nearby areas as well as celebrate local cuisine with a traditional Iberian lunch or try an authentic cochinillo asado (suckling pig) lunch.
Not ready to book a tour yet? See our Madrid Guide for more info.
Restaurante Panorámico La Postal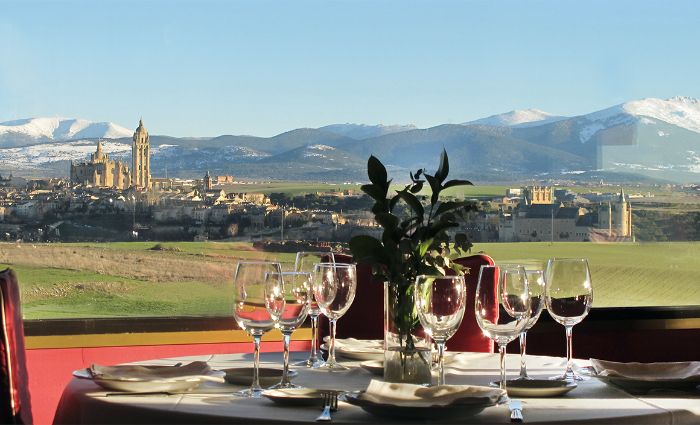 €€ | Castilian Cuisine | Unique Dining Room | City Views
To enjoy Segovia's stunning vistas while tasting some local cuisine, head to La Postal. The restaurant is a 10-minute drive from the center and boasts jaw-dropping views of the city and mountains. You can eat in the main dining room or reserve a table in a restored vintage railway car at the weekends.
They serve local fare including roasted lamb and suckling pig cooked in a wood-fired oven. Plus, you can try creative modern dishes like grilled octopus with potatoes, wild thyme, and red pepper aioli. Or how about wild mushroom risotto with zucchini and white truffle? Best of all is the warm welcome they extend to tourists as well as locals. We recommend booking in advance.
Address: C. Sacramento, 22
Restaurante José María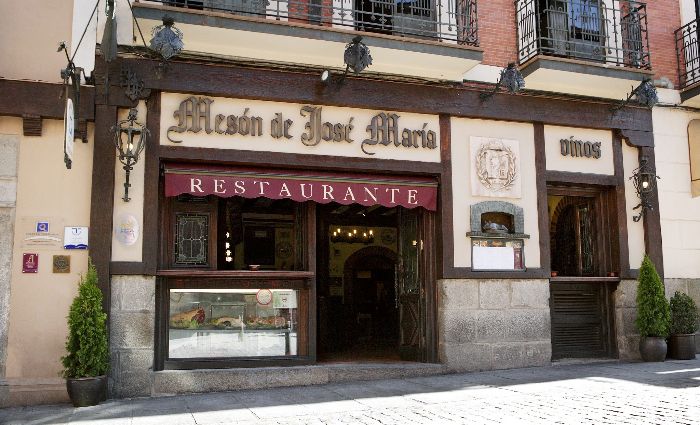 €€€ | Authentic Segovian | Home Grown Products | Legendary Suckling Pig
The suckling pig is the icon of Segovian gastronomy. The dish forms part of the cultural tradition of the people and the land. If you're going to sample this delicacy, do it at restaurant José María.
Why? Because they care so much about this product, they created their own breeding farm. Owner José María is also the chairman of PROCOSE (the Association for the promotion of the suckling pig of Segovia).
As if that wasn't enough, the restaurant also has its own vineyard. There, they craft wine that pairs perfectly with suckling pig. The rest of the menu is full of creative dishes all driven by seasonal produce. The consistent quality earned them a mention in the Michelin guide. But the best endorsement comes from the locals who flock here. Making a booking in advance is essential.
Address: C. Cronista Lecea, 11
Restaurante Pasapan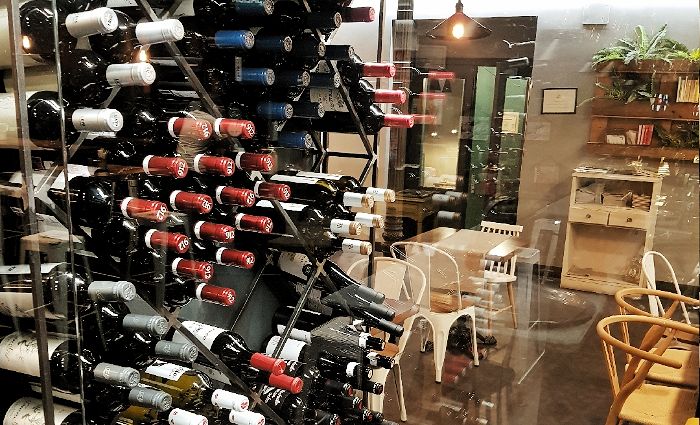 €€ | International Influence | Modern Ambience | Good Veggie Options
A minute's walk from Restaurant José María and 10 minutes from the Aqueduct is Pasapán. The restaurant is an all-round crowd-pleaser in a modern space with an eclectic menu to match. There are global influences from Mexico, Italy, Korea, and beyond. Plus, refined takes on local and national dishes. The menu will also delight vegetarians as it offers more than token options.
Highlights include the cut beef with Peruvian huancaína sauce, kale, shitake and almonds, and the beef chop suey. Just make sure you leave room for one of the delicious desserts. We recommend the baked-to-order apple tart. You'll want to go back.
Address: C. Colón, 5
Asador Maribel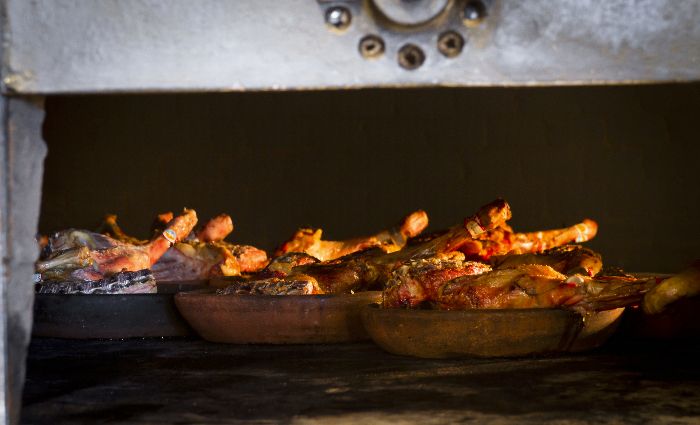 €€ | Wood Roasted Meat Specialists | Aqueduct Views | Terrace
Asador Maribel is another of Segovia's most popular spots for enjoying wood-roasted meat. This time with terrace views of the Roman Aqueduct. But the menu is not limited to suckling pig. There's also an extensive choice of local dishes with meat, fish, and veggie options.
This is a real showcase of Segovian cuisine and one of the hotspots for discerning locals. If there's no room on the terrace, don't worry. The interior is cozy and welcoming. And the service is super-quick—a satisfying contrast to the relaxed atmosphere.
If you want to get a true taste of local cuisine cooked to the highest standard, this is the place. It's my number one choice for high-quality cuisine that won't break the bank.
Address: Av. Padre Claret, 16
Restaurante Bar El Sitio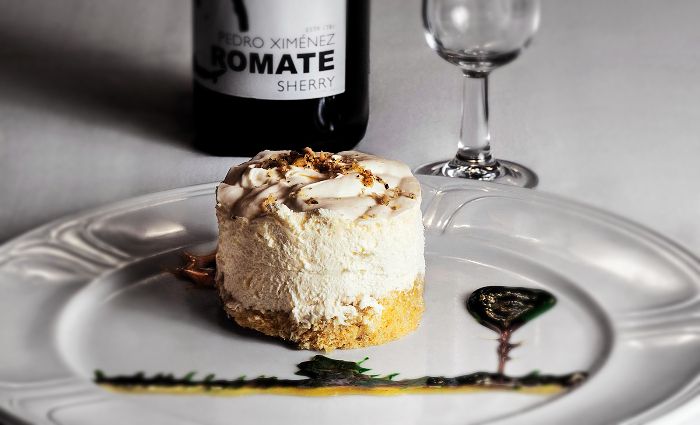 € | Free Tapas With Bar Drinks | Local Weekend Buzz
El Sitio sits in the Jewish Quarter of the city and brings a different vibe. The ground floor is a traditional bar where drinks come with free pinchos (small tapas). So, you can visit for refreshments and a light snack any time of day.
For a larger meal, head upstairs to the restaurant. It has traditional decor and a menu to match, featuring the best of local produce. The place stays open late until 3 am on Fridays and Saturdays. So, it's the perfect place to settle in and get a feel for the local social scene. And maybe sample some of their fantastic wines.
Address: C. de la Infanta Isabel, 9
Casa Comala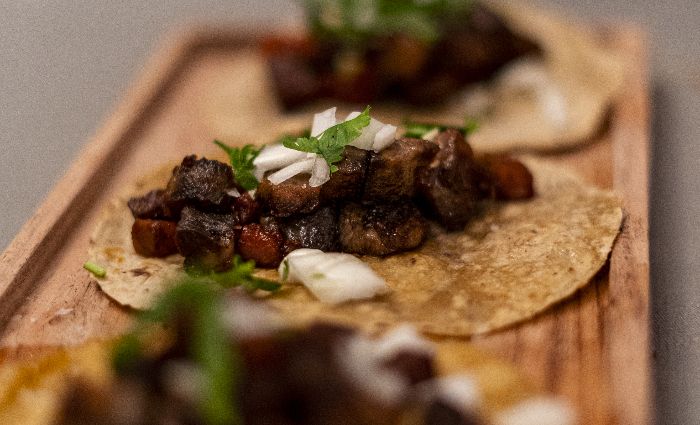 € | Innovative Fusion Menu | Attentive Service | Relaxed Vibe
If you're looking for something a little different, this is the place. Casa Comala is a newcomer on the scene and sits in the shadows of the cathedral. But they have already made an impact with their fusion of Mexican and Segovian cooking. This, along with their funky decor and relaxed vibe makes this a place worth adding to your dinner list.
The food is creative and tasty. There are some interesting flavor combinations, but everything works. For example, you'll find yucas bravas instead of the usual patatas bravas. That's yucca cooked in a tamarind and chipotle sauce.
We guarantee you won't find another menu like this in Segovia. What's more, they take great care in their cooking and presentation, making this a real heaven for adventurous foodies.
Address: C. la Judería Vieja, 5
YUM VEGGIE BAAAR & Speciality Coffee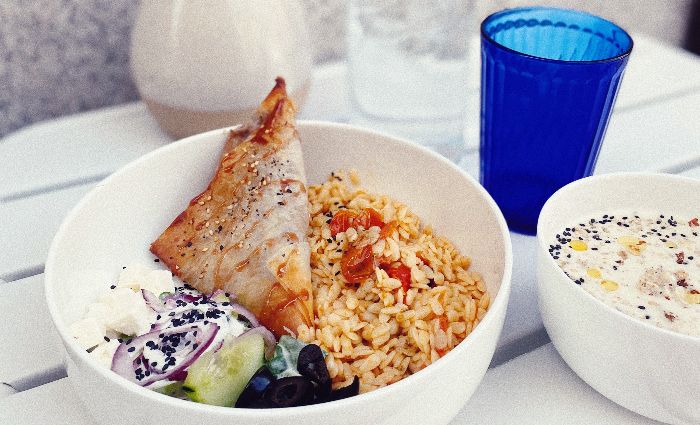 € | Vegetarian and Vegan | Great Coffee and Tea | Breakfast and Lunch Hangout
Segovia is a haven for meat lovers, but vegetarians shouldn't despair. Most of the restaurants offer great meat-free options, but Yum Veggie Bar puts them front and center. A typical dish is harissa-glazed carrots and chickpeas with couscous, hazelnut pesto, and feta. They also specialize in coffee and tea including Kombucha.
The bar is open for breakfast Tuesday to Saturday and lunch Tuesday to Friday. And the menu varies weekly. What's more, the service is warm and friendly. Making this the perfect place for breakfast or a healthy midday pit stop.
Address: Pl. los Espejos, 3
Asador David Guijarro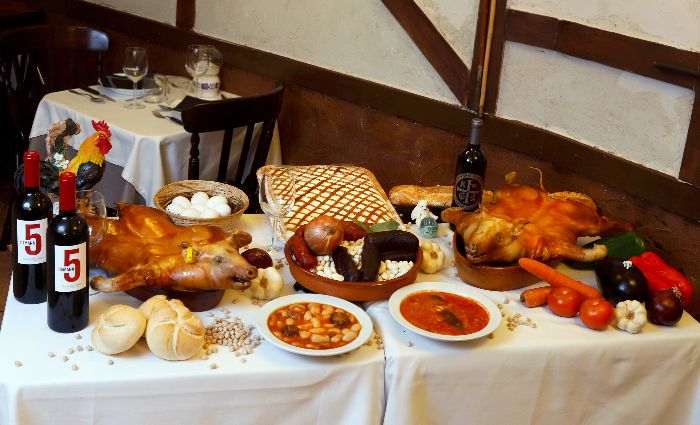 €€ | Traditional Recipes | Set Price Menus
This city center restaurant occupies the space of the city's old whisky bar called El Oso Blanco. Locals still refer to it by this name. The revitalized space is fresh but retains tradition. The same is true of the cuisine, which honors the recipes of local grandmothers using the freshest ingredients.
The menu is a celebration of Segovia. They specialize in local favorites like Judiones de la Granja (bean stew), suckling pig, and ponche Segoviano (sponge cake filled with custard and covered in marzipan). And they offer three-course menus at set prices to make life easy for visitors.
Address: Bajada de la Canaleja, 6
Restaurante El Bernardino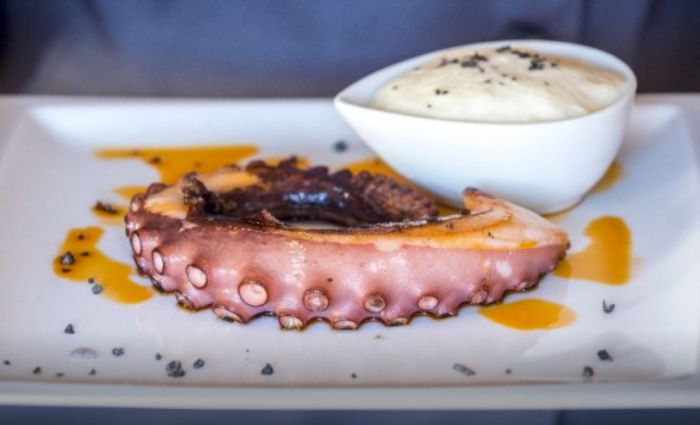 € | Local Cuisine | Rustic Charm | Terrace
El Bernardino dates to 1939, making it one of the oldest restaurants in Segovia. All the rustic charm is retained thanks to the original wooden beams and subtle updates to the decor. Once again, there's a strong local focus here. But with modern and international influences.
The restaurant is in a tourist hot spot but with a good-sized terrace. If you can't get a table outside, head inside and soak up the atmosphere. There's a menu packed with comforting dishes all cooked to the highest standard. Desserts include an ice-cream tart flavored with Castilian whisky distilled nearby.
Address: C. Cervantes, 3
Restaurante De Bote en Bote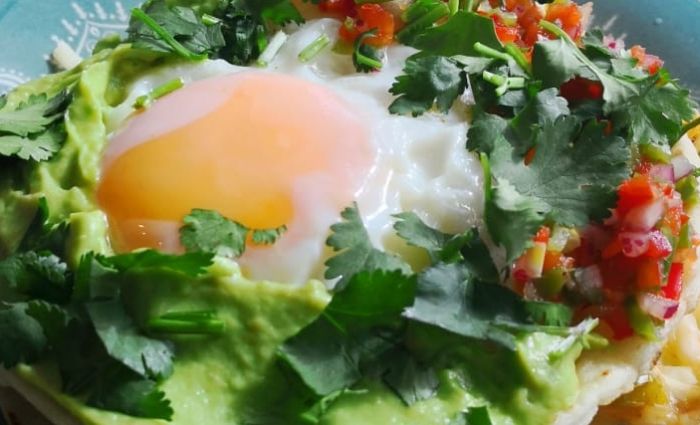 € | Creative Menu | Award Winning Tapas | Veggie Friendly
De Bote en Bote offers something for everyone. There are traditional tapas, creative twists, as well as veggie and vegan options. The bar is limited on space but the cozy setting adds to the appeal.
This is an award-winning bar thanks to dishes like their legendary "Croquetoro." So, it's no surprise the locals rate it as the best and most innovative tapas bar in Segovia. They were also finalists in the national tapas awards of 2019. The owners clearly love what they do and their fun and friendly service reflects that.
Address: Plaza del Dr. Gila, 19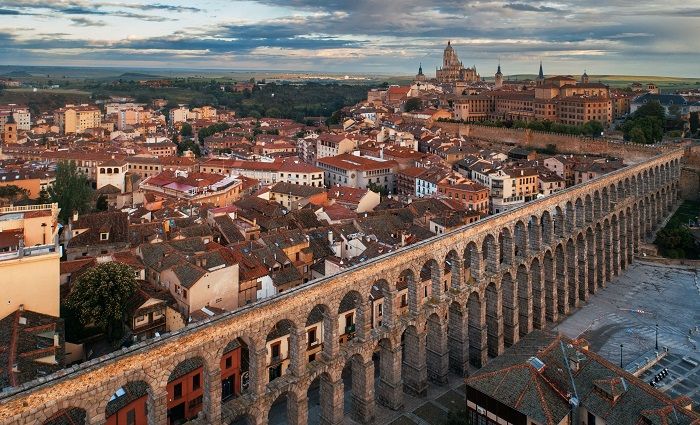 Find the best places to stay
Where To Stay in Segovia
Come to Segovia, Spain, to see the Roman Aqueduct, the Cathedral, and enchanting Alcázar. Find out where our local experts recommend staying in this ancient city. You'll find great hotel deals to make your stay memorable.