You've just finished touring Gardens by the Bay, and your stomach is growling. Time for some food! But where exactly? If you're looking for restaurants near Gardens by the Bay in Singapore, the following list will surely help you satisfy all of your desires in this area
---
Pro Tip: It's easier to organize your trip when you have all your resources in one place. Bookmark this post along with our article on the top foods to try in Singapore, how to visit the Gardens by the Bay, and what to see there.
10 Unique Places To Eat Near Gardens by the Bay
Gardens by the Bay, located in the Marina Bay area, is a haven for nature lovers and aspiring horticulturists alike. The Marina Bay region is packed with excellent restaurants that will take you on a gourmet adventure, whether it's a Mexican fiesta, an Italian lunch, or a Japanese buffet.
We've combed the vicinity for excellent locations that'll connect you with fantastic cuisine… and perhaps a drink or two? Though some are not the cheapest, they are absolutely worth visiting on special days. The Bayfront MRT station is where you'll find both the nature park and these restaurants. Below are the best places to eat near Gardens by the Bay when you're here!
Kafe Utu
$$ | African flavour | Instagram-worthy
At 12 Jiak Chuan Road, you'll find Kafe Utu, Singapore's first African-themed restaurant unlike any other cafés in Singapore. It takes around 11 minutes by vehicle and roughly 25 – 30 minutes by public transportation to go from Gardens by the Bay to the café. This place definitely has its own character you wouldn't want to miss!
Despite the fact that Singapore has an infinite number of cuisines to choose from, it's not every day that you'll come across African food on this Little Red Dot. So, being the daring eater that I am, I knew I had to check out this African-themed café as soon as I heard about it. Exotic foods and distinctive cuisines are my weakness, therefore I'll go for anything out of the norm, such as Swahili Fish Curry or Liberian Peanut Chicken Stew. Surprisingly, they're actually quite good.
Address: 12 Jiak Chuan Rd, Singapore 089265
Café Kreams
$$ | Aesthetic Cafe | Near Tanjong Pagar MRT
Café Kreams is a Korean boutique café located only minutes from Tanjong Pagar MRT, and it also has another wonderful Mexican restaurant that you should not miss just beside the station! So it's roughly 3 MRT stops or an 8-minute driving trip to the nature park.
This gorgeous café on Maxwell Road is known for its picturesque fall canopy that spans the whole ceiling. It serves a variety of coffee and attractive baked pastries, including their quality selection of scones and tarts.
I'm sure many of you remember the dalgona coffee frenzy that swept social media platforms during Circuit Breaker. So, certainly try their Dalgona Krafts. In terms of their sweet delicacies, I believe that both the drinks and the tastes of the scones or tarts are hit-or-miss. If I were to return, I would get the Dalgona Latte with Sweet Potato Scone or the Key Lime Tart with Chia Seed. Not to mention some nice meals to satisfy the belly, however they can be a little pricy.
Address: 32 Maxwell Rd, #01-07 Maxwell Chambers, Singapore 069115
The Blue Ginger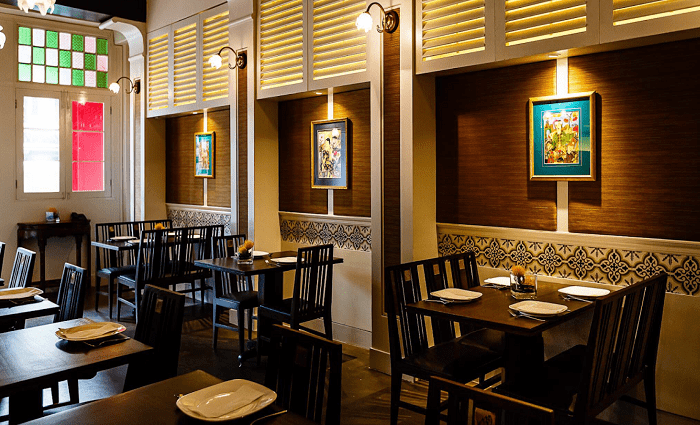 $$ | Peranakan | A beautiful Fusion of Chinese & Malay flavours
When it comes to Peranakan food in Singapore, which is a type of culinary art in and of itself, the popular 2-outlet Blue Ginger has long been regarded as one of the most well-known restaurants on the local culinary scene. This could be an excellent way to introduce international friends to Peranakan cuisine, which is an unique fusion of Chinese and Malay elements recognized for its fiery and sour flavours.
The main outlet is a three-story narrow yet attractive restaurant in the CBD district, near MRT Tanjong Pagar station. So you can rest confident that getting to and from Gardens by the Bay is a breeze.
It's worth noting that Peranakan food is often more expensive in Singapore, owing to the time it takes to prepare most of the foods. Ngo Heong, a Blue Ginger signature is packed with minced pork and prawns wrapped and fried to crunchy golden brown exterior, comes highly recommended as an appetizer. Another option is Kueh Pie Tee, which consists of crispy pie tee cups filled with shreds of bamboo shoots and turnips, topped with prawns. I'd definitely try them before moving on to the delectable main courses like Beef Rendang and Udang Kuah Pedas Nanas, which are tiger prawns delicately cooked in a delightful pineapple sauce.
Address: 97 Tg Pagar Rd, Singapore 088518
The Coconut Club
$$ | Malay Cuisine | Specialize in Nasi Lemak, a traditional Malay meal
The Coconut Club relies heavily on high-quality coconut milk. The owners exclusively import a specific breed of coconut from Malaysia, which is ideal for making their Nasi Lemak dishes. Located at Ann Siang Hill, it's about a 10-minute drive to Gardens by the Bay. Normally, you can buy this dish for a reasonable price at a hawker centre, but not here. But it's definitely worth trying!
Enjoy their trademark Ayam Goreng Berempah Leg Set (S$18.80), where each mouthful guarantees flavourful tastes of delight and satisfaction. This meal is not to be missed when paired with a hearty portion of seasoned organic French Poulet leg. The Fried Kembung Fish Set (S$19.80) is another excellent variant of Nasi Lemak. Head down to The Coconut Club and spoil your dear ones with some extremely amazing cuisine! They only serve the greatest local favorites!
Address: 28 Ann Siang Rd, Singapore 069708
The Feather Blade
$$ | Steakhouse | Steak & Wine
Look at this retro-looking, owner-operated boutique steakhouse on Tanjong Pagar Road; aside from the décor, I'd recommend stopping by this diner restaurant around dinnertime for some steak and a glass of red wine, and voila! Gardens by the Bay will be around a 9-minute drive away, so you'll probably be able to catch the Garden Rhapsody light show.
In terms of their food, My mouth is watering and my stomach is growling just thinking about them. You definitely would want to try their specialities – The Featherblade Gyūdon (SGD 28++) and The Feather Blade Steak (SGD 21++). The Feather Blade's Gyūdon is meticulously constructed in the same way as Japanese cuisine is. Also, choose from a variety of house-made sauces to accompany your steak.
They're more expensive, in my opinion, but if you're a real steak fan, pricing is the least of your concerns for a satisfying dinner. Alternatively, another restaurant in Lavendar that specializes in low and slow American BBQ and smoking techniques for its steaks is worth a try.
Address: 61 Tg Pagar Rd, Singapore 088482
Lime House Caribbean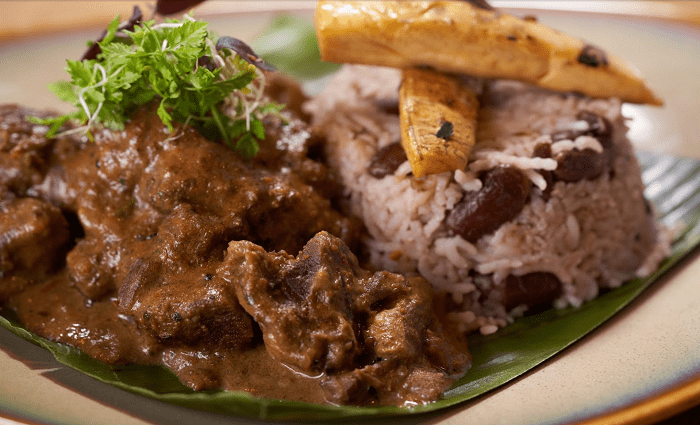 $$ | Caribbean flavour | Poultry-based
Lime House provides you a true Caribbean experience right here in Singapore! It opened its doors in 2013, along the same Jiak Chuan Road as Kafe Utu, with its Caribbean concept of limin', a cultural term used for relaxing with friends over food and beverages, as well as chit chats.
That's one of their favourites, Tribajam Curry Goat. There's something unique about their rice that I can't exactly put my finger on, but the fact that they include beans was actually rather tasty…and absolutely nutritious. Though I'd say they could have larger servings, especially for a dessert fan, I was expecting their Mango N' Coconut Panacotta might be bigger for the price it was selling for. Nonetheless, it provided a lovely ending to the feast.
Address: 2 Jiak Chuan Rd, Singapore 089260
Kko Kko Nara
$$$ | Korean | Originator of Korean fried chicken
Since 2008, this Korean-family-owned business has pioneered the chimaek (Korean Fried Chicken & Beer) & supper culture in Singapore. One of the pleasures, in my opinion, is the setting: fried chicken in a pub-like environment.
KFC is a fave of mine! I'm not talking about Kentucy Fried Chicken here, but Korean Fried Chicken. Now, how about some Korean Fried Chicken and soju for a fresh combination? Plus, there are six distinct flavours to select from for your chicken, such as spicy garlic and yangyum (sweet and spicy).
Address: 68 Tg Pagar Rd, Singapore 088489
Restaurant Euphoria
$$$ | Gastro-Botanica cuisine | Food made with botanical elements
They are Singapore's only fine dining establishment serving Gastro-Botanica 2.0 delights. Try out this restaurant for the first time if you want to have a one-of-a-kind dining experience. After your walk in the park, drive less than ten minutes to this paradise for a fresh gourmet journey! They are unquestionably on another level.
I'd say a three-hour minimum is required for dinner here, because there's no better spot to drink, savor, and be astonished. So, choose between Euphoria's six-course or eight-course menus—both will leave you satisfied, but not so full that walking it off is your only choice.
Address: 76 Tras St, Singapore 079015
Satay by the Bay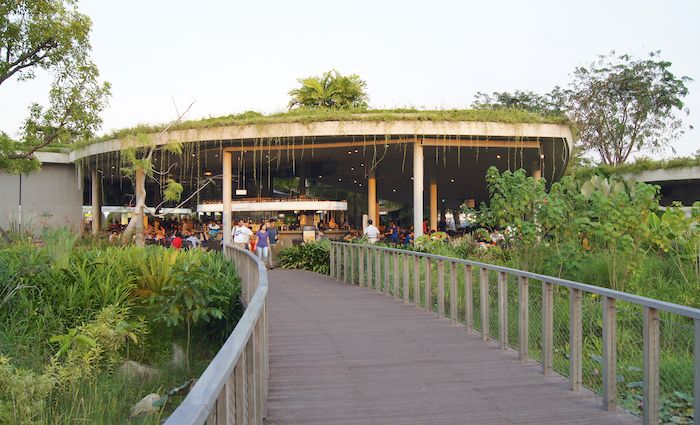 $$ | Mixed | Local Hawker Delights
This establishment, nestled in the quietest nook of Gardens by the Bay, evokes the modest elegance of yesteryear by serving the most extensive assortment of local favorites like carrot cake, laksa, BBQ chicken wings, fried kway teow, roti prata, hokkien mee. The Bayfront MRT Station is the nearest mode of transportation.
Don't forget to stop by this eatery if you're in the vicinity; it's a one-stop destination for enjoying as many local and foreign cuisines as possible while conquering a tourist attraction. Keep in mind that prices may be based on tourist costs.
Address: 18 Marina Gardens Dr, #01-19, Singapore 018953
The Social Kitchen @ Gardens by the Bay
$$ | Western | Plant-based | Social Enterprise
The Social Kitchen, located at Supertree Observatory, is a social enterprise with an aim to serve the underprivileged community by providing jobs with food. A Supertree Observatory admission ticket is required.
This is a completely plant-based restaurant in collaboration with The Vegetarian Butcher. Enjoy delectable plant-based meals, scrumptious pastries, and great coffee while helping people from disadvantaged groups. Even without an image to illustrate what the place or food looks like, I can guarantee this will be one of the best places to eat, owing to the meaning behind why they do what they do.
Address: 18 Marina Gardens Dr, Singapore 018953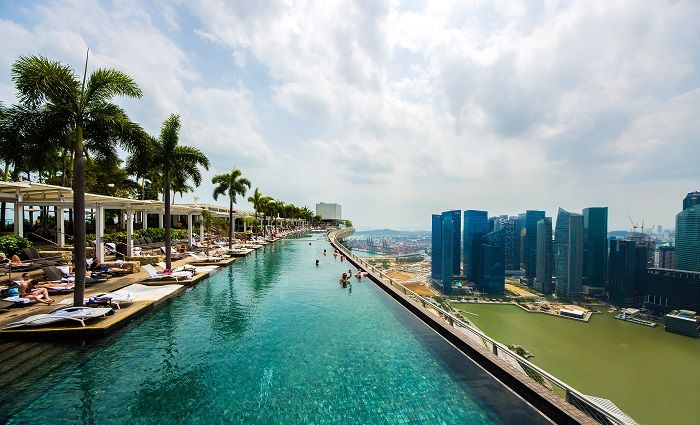 Find the best places to stay
Where To Stay in Singapore
Singapore has a lot to offer visitors, from breathtaking natural beauty to modern cityscapes. In this guide, find out where to stay in Singapore including the best hotels and ideal neighborhoods for you.