Have you been exploring Passeig de Gràcia or one of Antonio Gaudi's famous palaces like Casa Batllò or Casa Milà and your hunger snuck up on you? Not to worry, we're here to serve! That's why we created the best list of restaurants, bars, and places to eat near Passeig de Gràcia, Casa Batllò, and Casa Milà that has ever existed.
---
Pro Tip: Bookmark this page in your browser or our dedicated restaurants in Europe page details the best places to eat by city and then by neighborhood and attraction. Also, don't forget to check out our tours in Barcelona including some amazing food tours!
10 Best Restaurants and Places to Near Passeig de Gràcia, Casa Batllò, and Casa Milà in Barcelona
If you're searching for places to eat along Passeig de Gràcia you have come to the right place. This part of Eixample is one of our favorite parts of Barcelona due to the beautiful architecture, open spaces, and "big-city" feel. The best restaurants are just off Passeig de Gràcia so you don't have to go far.
This list, like all of our restaurant lists, will contain restaurants at every price point. That said, due to the incredible choices in the area it will contain a higher concentration of fine dining than usual. That said, at least 50% of our choices below will be on the less expensive side.
Can Boneta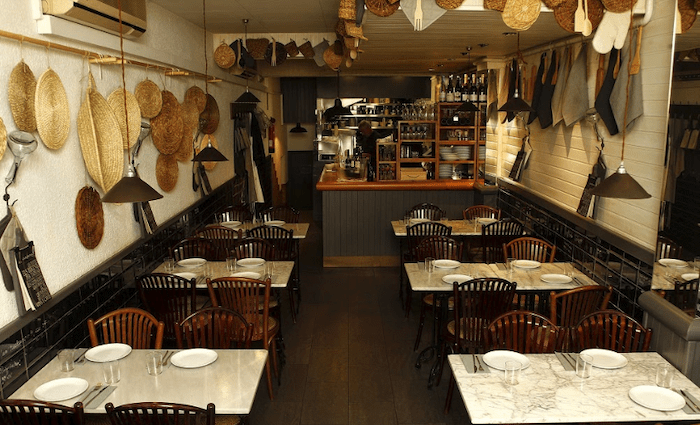 € | Catalonian | No Frills Authentic
If you are looking for an authentic, inexpensive, and local restaurant near Passeig de Gràcia then this is your place. The area is known for its posh restaurants which makes Can Boneta an inexpensive break for your wallet. The food is very good but don't expect anything fancy.
Address: Carrer de Balmes, 139
Bella Italia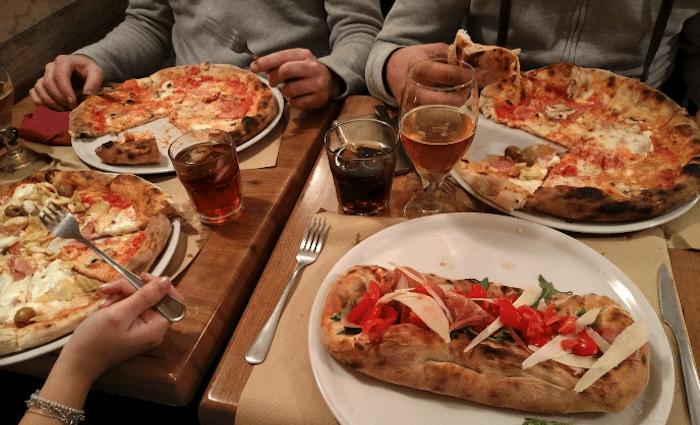 € | Italian | Casual | Family Friendly
This small Italian restaurant with Napolitano owners adds some variety to your diet in Barcelona. It is one of the best restaurants for kids near Casa Milà and Casa Batllò. We definitely recommend it for a quick and inexpensive bite near Passeig de Gràcia.
Address: Carrer de Roger de Llúria, 87
Hours: 1:30 – 4pm | 8:30 – 11:30pm | Closed Tuesday for Dinner
Cervesería Catalana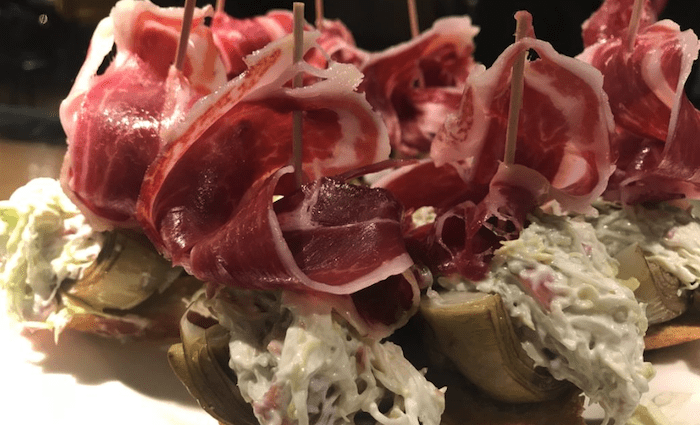 €€ | Tapas & Cerveza
Seafood, tapas & Cervezas is really all you have to say. This place has really creative tapas and tons of seafood options. Definitely a great low-cost option near Passeig de Gracia in Eixample.
Address: Carrer de Mallorca, 236
Hours: 8:30am – 9:30pm
Orea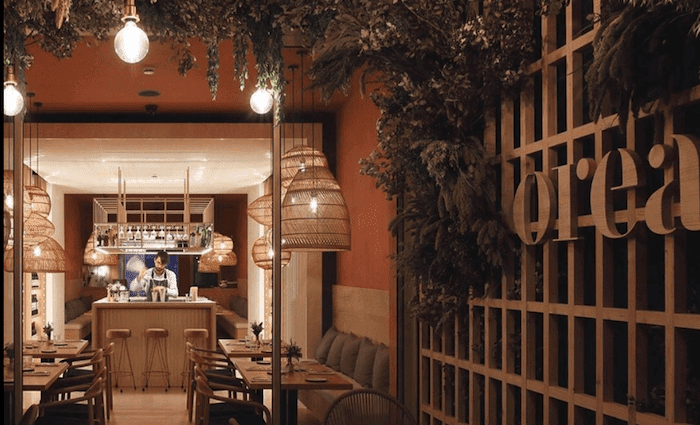 €€ | Creative Cuisine | Seafood
Orea is as much a joy to the eyes as it is to the stomach. For the price, you can't beat it. The recipes are heavily based on vegetables and seafood. It is likely they have some, but I did not see meat on their menu.
Address: Carrer de València, 193
---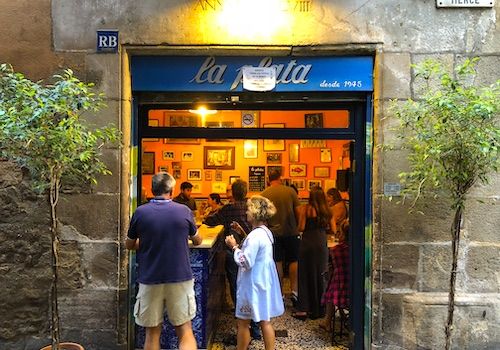 Barcelona Food Tour in Bari Gothic
Looking to get more hands-on with Catalonian cuisine? Our food tour in the Gothic Quarter of Barcelona will get you up to speed on tapas, Spanish wine, and food culture.
---
Etapes
€€ | Mediterranean | Outdoor Seating | Family Friendly
An inexpensive restaurant with a variety of Mediterranean favorites Etapes is a great lunch or dinner choice. You can order Buratta, Suckling Pig, Scallops, and even Paella. You won't break the budget here and if you're lucky you can eat outside.
Address: Carrer d'Enric Granados, 10
Hours: 1 – 4pm | 7 – 9pm | Closed Sunday
El Nacional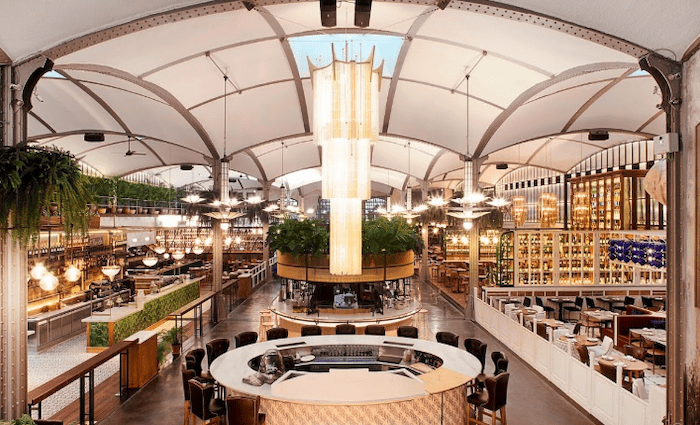 €€ – €€€ | Seafood & Rawbar | Beautiful Design
El Nacionale is proof that the bar for dining is set high in Barcelona. It is a gorgeous interior that gives the feel that you are dining in the most gorgeous food court imaginable. There are 8 different bars and restaurants inside the area specializing in different types of foods. I would sit down at the oyster bar, Ostras, and then possibly head over to the Taperia after.
This is my top lunch restaurant near Paseig de Gràcia.
Address: Passeig de Gràcia, 24
Hours: 1 – 9:30 pm | Daily
Restaurante & Bar Jardín del Alma
€€€ | Garden Seating | Incredible Look & Feel
Looking for a cool and relaxing place to get breakfast, lunch, dinner, or just drinks? Jardin del Alma is located in the Alma hotel in Eixample and is my top pick for breakfast or really any meal. They have all types of international fare and great atmosphere.
Address: Carrer de Mallorca, 21
Hours: 7am – 11am | 1 – 4pm | 8 – 11pm
Lasarte
€€€€ | Fine Dining | 3 Michelin Stars!
Three Michelin stars mean many things. First, you will spend significantly during your night out. Second, you will enjoy a creative array of adventurous food coupled with unbeatable service standards. Finally, you will likely remember the meal for the rest of your life.
Lasarte is the brain child of Chef Martin Berasategui. The restaurant has been recently rennovated further adding to the experience. If you can afford it, Lasarte is a must!
Address: Carrer de Mallorca, 259
Disfrutar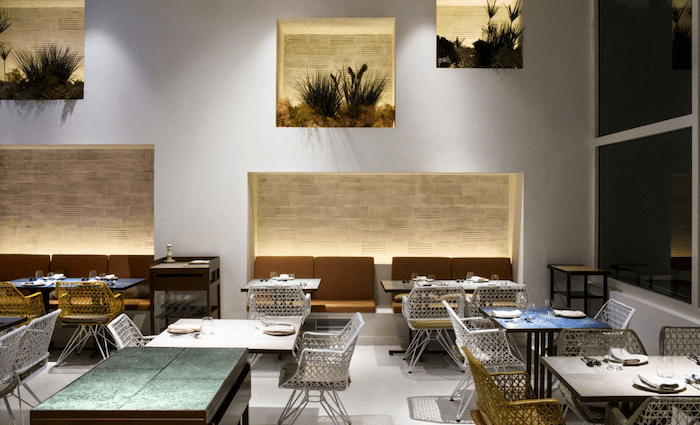 €€€€ | Find Dining | 2 Michelin Stars | Outdoor Seating
Disfrutar is considered one of the best restaurants on our planet. There almost definitely valid reasons why it has only earned 2 stars but the food is not one of them. Michelin rates based on food and overall dining experience.
Regardless, this is quite the culinary journey so if you are in town on an important business meeting or a romantic trip – consider Difrutar!
Address: C. de Villarroel, 163
Hours:
Moments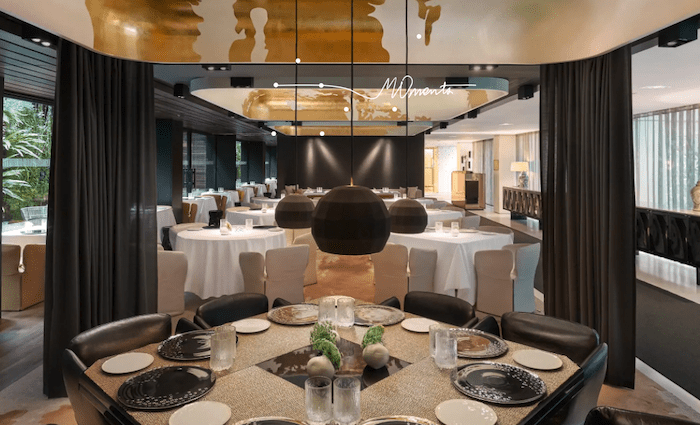 €€€€ | Catalonian | 2 Michelin Stars
Moments is located inside the Mandarin Oriental hotel and is an upscale restaurant offering innovative cuisine. If you are staying at the hotel or in the area it is definitely recommended if you like seafood and incredible food. If you don't like incredible food definitely do not eat here.
Address: Passeig de Gràcia, 38
Hours: temporarily Clsoed
---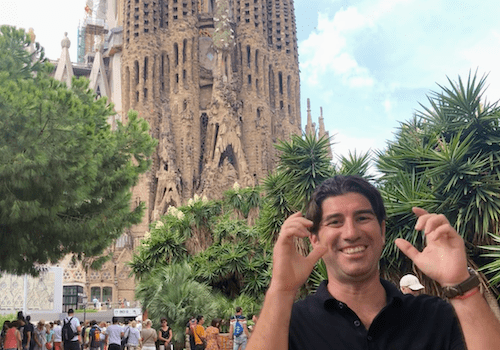 ---