Looking for outdoor spaces and nature in Venice? Admittedly, they are hard to find. More often than not, you are walking down narrow streets and wonder if there is anywhere that feels open in the city. While there may not be many green parks like in Paris, there are a few and plenty of open-feeling squares and a few green spaces if you look hard enough. This guide will make it easy for you to find Venice's gardens, parks, and open spaces.
---
Pro Tip: If you are planning your trip to Venice and think you'll circle back to this article then bookmark it in your browser. Also, the easiest way to get around the floating city of canals is with a local guide. The city is already beautiful but a passionate licensed guide will make it interesting. See our small group and private tours of Venice at every price point.
The 10 Best Gardens, Parks, Beaches, and Open Spaces in Venice
I hear travelers describe Venice as a "tourist trap" and all kinds of other negative comments due to the amount of visitors it draws. Nothing could be further from the truth. Venice is one of the world's most wonderful cities and there is a ton to do. Those who describe it negatively simply haven't done their research. In all my travels, I have never connected on a deeper level with locals like I have in Venice.
My rule of thumb for Venice is when you find yourself in an open space, there will be more locals. The more narrow the road the more likely you are on a tourist path. This guide will help you navigate to the open spaces that locals are drawn too.
Giardini della Biennale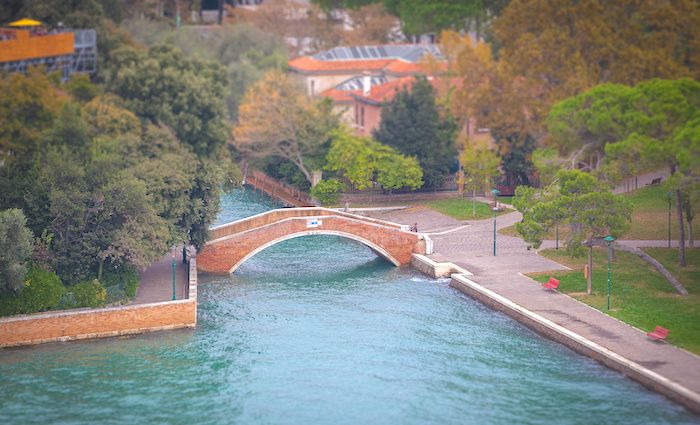 The Giardini della Biennale or Gardens of the Biennale is a pleasant water-side park in the Venice Castello district. The gardens were oddly enough created by Napoleon Bonaparte who drained a swampy marshland and built up the park. It is home to an international art exhibition, possibly the most famous in the world, named Le Biennale di Venezia also known as Art Biennale. It is an international art festival that takes place annually in the Venetian garden.
The garden is the largest green space on the principal island-cluster of Venice and easily the largest park in Venice. It is by far the best garden/park in Venice considering the amount of open green space it offers. Also has some great views.
Address: Map Location
Fondamenta Misericordia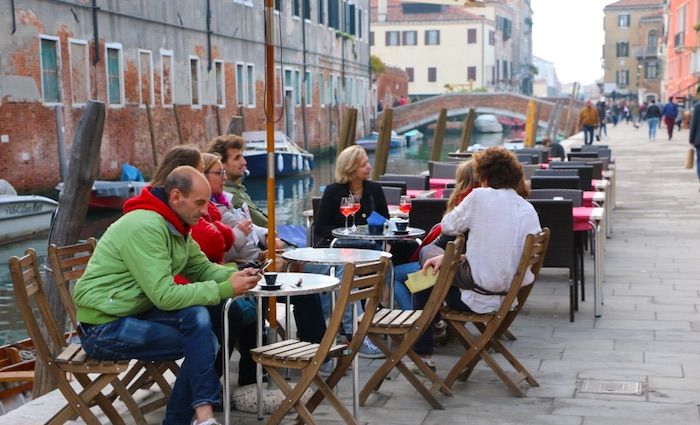 Venice is a densely populated island that gives you the feeling that each house, street and square are connected to one another. It is almost completely built out of stone with the occasional tree popping out here or there. This means you will not find Villa Borghese size park but there are open spaces for people to walk around.
Cannaregio is one of my favorite neighborhoods for many reasons but most of all due to the large canal-side walkways referred to as "fondamente". These large walkways coupled with multiple wider canals which you'll find street by street make the northeast side of Cannaregio feel less claustrophobic than the rest of the city.
The Fondamenta Misericordia is the first of three large fondamente. It is spotted with really cool bars and restaurants where you'll find locals having drinks and eating along side of travelers. Check out our blog of the best restaurants and bars in Cannaregio if you're looking for recommendations.
Address: Map Location
---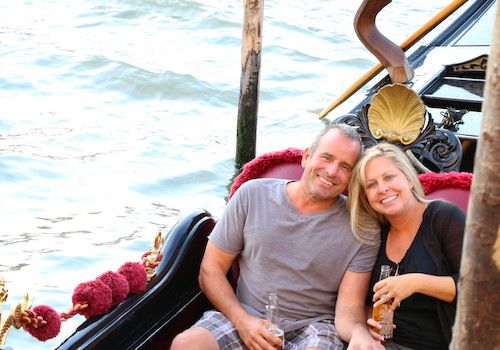 Venice in a Day Combo tour with Gondola Ride
If you want to make sure you experience Venice in-depth, this full-day tour is your best choice. Especially if you're only spending a short time in the lagoon, covering Venice in a day is a smart idea. That way, you can spend the remainder of your time sipping Prosecco by the canals.
---
Lido Beach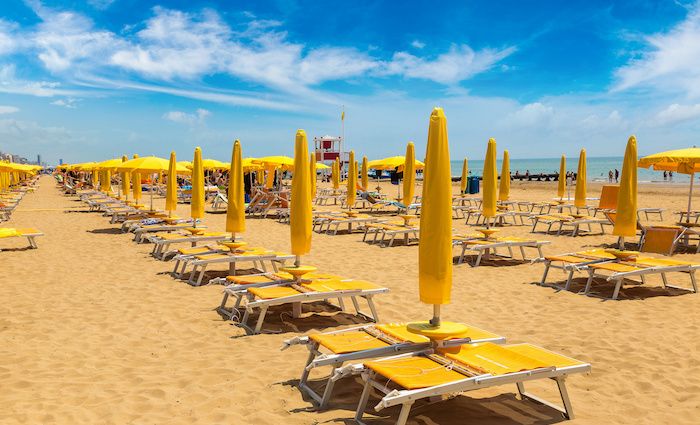 When you think Venice you normally don't think beautiful Italian beaches but it is an island and there are beaches if you can get to them.
The municipality of Venice extends past the main cluster of islands to include many other "satellite" islands like Murano, Burano, Giudecca, and the barrier island of Lido. Lido happens to have some great beaches as well. Clear water, nice sand, and lots of restaurants & beach clubs in pure Italian fashion.
Directions: If you want to get there you can take Vaporetto #1 from St. Mark's Square (Vallaresso) and get off at Lido (S.M.E). From there you walk across the island (10 mins) to the beaches. There are many beach-clubs and even free beaches.
Address: Map Location
Giardini Papadopoli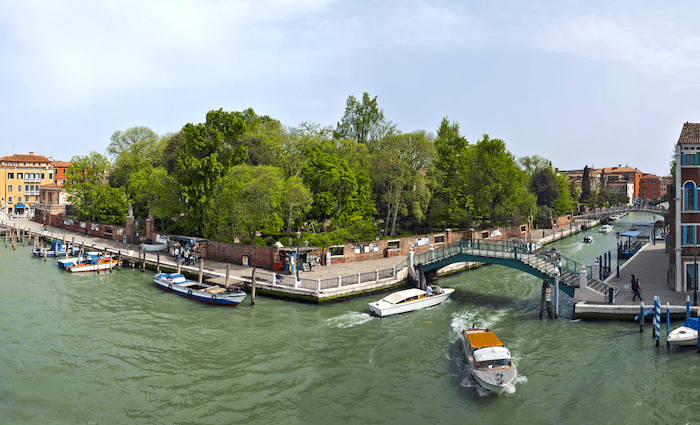 If you are looking for a nice park in Venice, Giardini Papadopoli is a small but nice green space for all to enjoy. It is near Santa Lucia train station in Venice and Piazzale Roma which is the closest you can get to the island in a car. There is a nice playground here for children as well if you are in Venice with kids.
The park is named after the Papadopoli family who donated the land and commissioned the park. It is the best garden/park in the center of Venice that you can easily walk too.
Address: Gardini Papadopoli
Parco Savorgnan
Parco Savorgnan is a small green space right near Santa Lucia train station in Venice. This park also has a swingset and playground for children to play on at no cost.
It is a really cool park as it is extremely well hidden. When in Venice, you'll quickly realize there are very little open spaces other than the larger squares. You can reach this park by finding Calle del Vergola which intersects with Fondamenta Venier. You take the small road between the buildings and it will open up into a park!
Address: Parco Savorgnan
Isola San Giorgio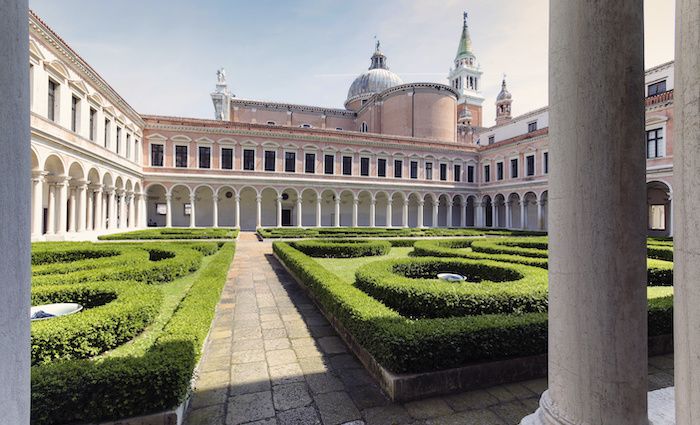 If you are looking for some fresh air and open space, San Giorgio island is a great choice. The main draw is the church of San Giorgio Maggiore. It has beautiful architecture and an amazing cloister with a garden maze. Very cool.
One of the main highlights is San Giorgio Café which has amazing dockside waterfront seating. It is a cool view of Venice and the San Giorgio Marina. You can see St. Mark's Square which makes it really picturesque but this island is surprisingly empty as most tourists don't know about it. Luckily you're not most tourists anymore!
Directions: Take vaporetto (ferry) # 2 from San Marco-San Zaccaria E ferry station. It is one stop to San Giorgio ferry station and the best open space off the main cluster of Venice.
Address: Map Location
Campo San Vio
In a city as crowded as Venice, sometimes the best open spaces are simply squares near the Grand Canal. One of my favorite of these is Campo San Vio. It is located in Dorsoduro district of Venice which tends to receive less tourist foot traffic which makes it quieter.
This little square shares a border with the grand canal. It is home to a few trees, benches and a pozzo! if you are unfamiliar a pozzo is a water-well which is a cool architectural feature.
Address: Campo San Vio
Campo Santa Margherita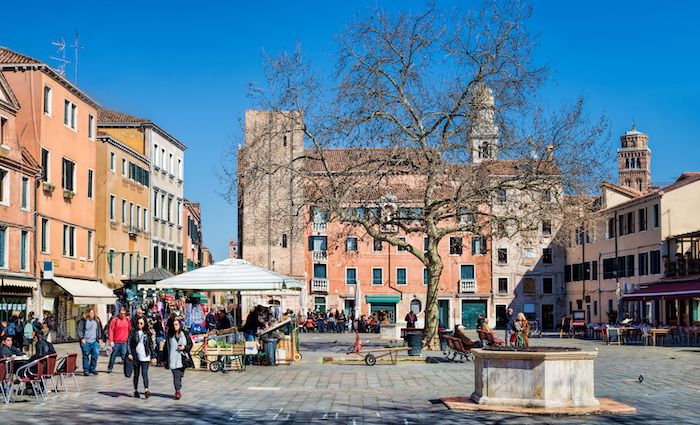 Campo Santa Margherita is the largest square in the Dorsoduro district of Venice. It is a long square with many bars and restaurants throughout. A great place to have an evening drink or plate of pasta. It is a great square to visit and the largest open-space in Dorsoduro.
Address: Campo Santa Margherita
Campo S. Giacomo dell'Orio
Campo S. Giacomo dell'Oro is a central square in Venice on the northest east corner of Venice's Santa Croce district. It is open, long, and has a few trees which gives it a relaxing feel. It is also at the heart of Venice which makes it a nice escape from the normal tourist path and crowded streets. A great place to stop and have a coffee!
Address: Campo S. Giacomo dell'Orio
St. Mark's Square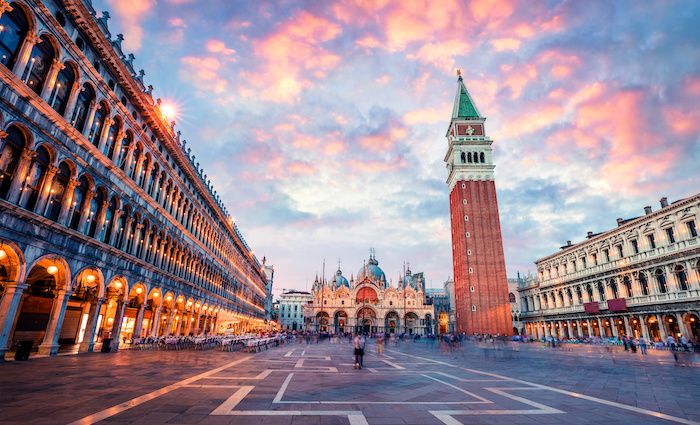 This list would not be complete without the ultimate open air-space in Venice; St. Mark's Square! It is the largest square/piazza in Venice and the most architecturally beautiful space in Venice. I listed this one last due to how obvious it is but I could not leave it out all together. It is one of the most iconic and recognizable squares in the world due to St. Mark's Bell Tower, St Mark's Basilica and the beautifully long building to the left of the Basilica when in front; Procuratie Veccie.
Many will say not to sit down in Caffè Florian as you will overpay for a Cappuccino there but how much should coffee cost when sitting down with a view like this and a 8 piece orchestra playing for you? I say you should in fact sit down at the 2nd oldest caffè in Europe and plan to spend 25€ to 30€ for your coffee. As long as you know what you are getting into and have a good 30 minutes to get the most out of your money – it's worth it!
Check out our article on the top things to see and do near St. Mark's Square for more on this iconic piazza.
Address: St Mark's Square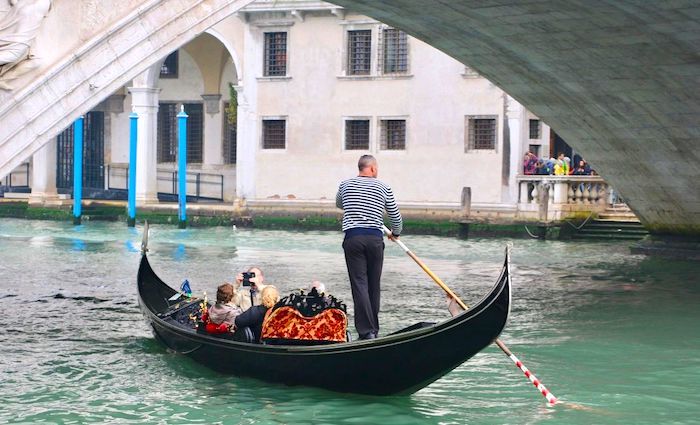 Venice Small Group & Private Tours
We offer an array of small group and private tours lead by local English speaking guides. Joining one of our Venice tours is a safe bet as they've been reviewed by thousands of travelers since we've started operating in 2008. You can book online, receive a voucher and your guide will be waiting at the meeting point.