Giudecca was historically an area with lavish palaces and gardens and is now home to 5-star hotels and some great restaurants. But where to eat when you are there? We got you covered with our local guides mapping out the best restaurants in Giudecca Venice.
---
Brandon's Travel Tip: When traveling to a different country the planning stage can be stressful. By bookmarking helpful articles it is a great way not to forget some vital info that you pick up. Bookmark this post so you know where to eat! Also, check out our Venice tours– Venice is best seen through the eyes of passionate locals.
8 Best Places To Eat And Drink In Giudecca, Venice
Giudecca is an interesting part of town with lots of young people and lots of locals. You will find 5-star hotels and a lot of locals. But what about the food? Since this area is full of tourists where do you eat?
Since nobody likes tourist traps ( myself included) we have asked our local Venetian guides to put together a list of their favorite places when they are in this part of town. We hope it helps you take the guesswork out of your decision and focus on enjoying your vacation. Buon Appetito!
Bar da Monica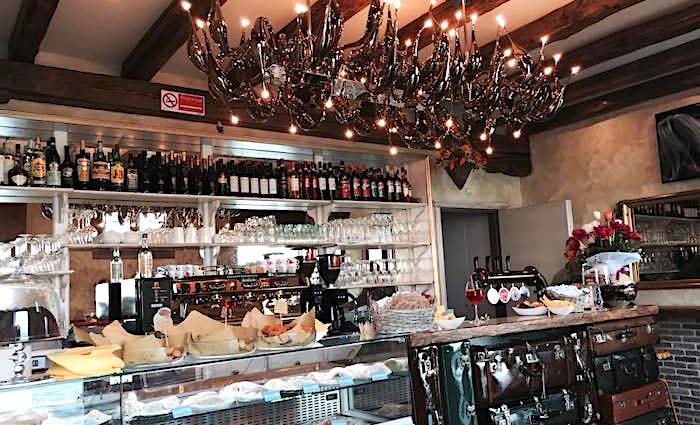 € | Snacks | Aperitivo
It Italy the aperitivo is super important. On the surface it is just a before dinner drink. What it actually is in Italy is an entire process of meeting up with friends and eating and drinking before you go eating and drinking some more. Anytime is good for an aperitivo, but usually 6 PM is the nomal starting time and then dinner from 8 PM onwards.
If you find yourself in Giudecca then Bar da Monica is the perfect place to enjoy your aperitivo. Many people go with the Aperol spritz which is a classic, but beer and wine are also great options. The bar staff is super friendly and always looking to put a smile on the customer's face. It is a local spot as well, so don't be surprised if you find yourself surrounded by a bunch of Venetians!
Address: Fondamenta Croce, 80/81, 30133 Venezia
Hours: 7 AM- 9:30 PM. Always Open
Food and Art Judecca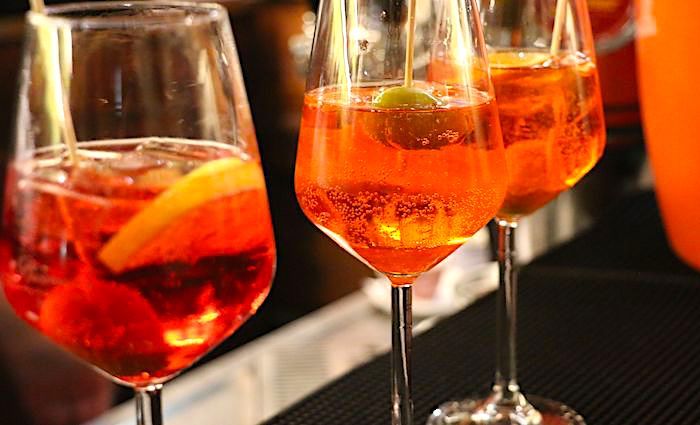 € | Student Caffeteria | Local Experience
Yes, this is the university caffeteria, so don't expect to come here for fine dining. If you read the reviews of this place by foreigners you will not be impressed. However the reviews in Italian from Italians are 99% 5 star. Why? Because the Italians understand that it is a university caffeteria and manage their expectations.
The food is no-frills and tasty and above all cheap. You will find plenty of other restaurants on this list that are presented better and have a higher price. If you want to do a local thing, then pop in here for an easy lunch and practice your Italian you have picked up with some locals.
Address: Campo Junghans, 487B, 30133 Venezia
Hours: 7 AM- 2:30 PM, 6 PM- 10:30 PM Always Open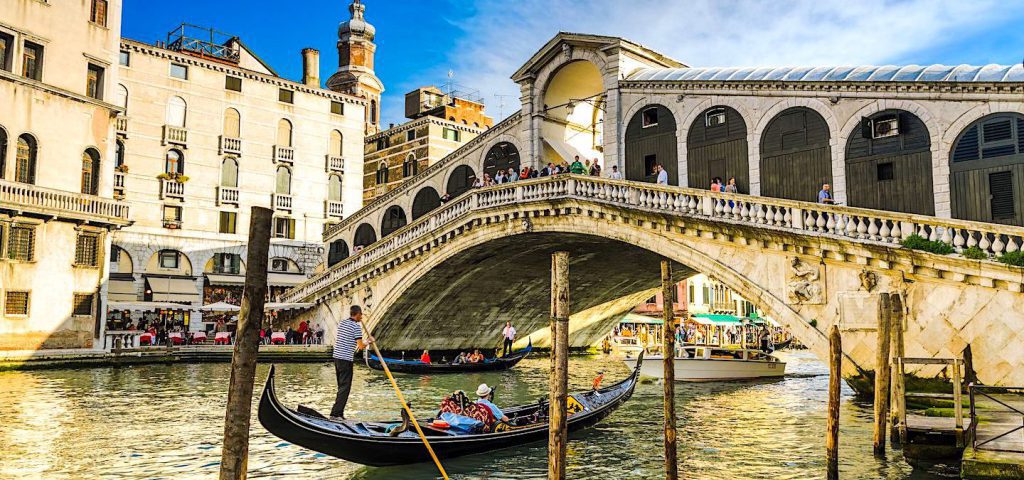 Venice in a Day Combo Tour with Gondola Ride
If you want to make sure you experience Venice in-depth, this full-day tour is your best choice. Especially if you're only spending a short time in the lagoon, covering Venice in a day is a smart idea. That way, you can spend the remainder of your time sipping prosecco by the canals.
Trattoria Altanella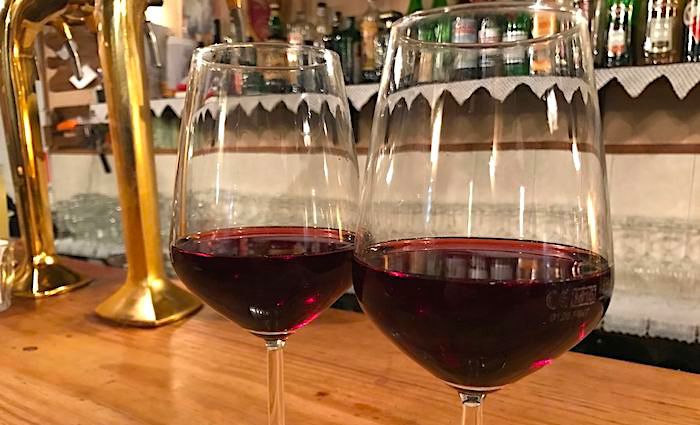 €€ | Family Owned | Hidden Gem
Traditionally a trattoria is a family owned restaurant in Italy. Over time, many of the classic trattorias have been lost, but there are still some left! Trattoria Altanella has been in the same family for four generations!
If you come here for lunch you will mix with locals more than tourists and for dinner, it is the opposite. Either way, the food is great and has a fair quality to price ratio. The cooking is traditional Venetian which means mostly seafood.
Address: 268, Giudecca, 30133 Venezia
Hours: 12:30 PM- 2:30 PM, 7 PM- 9:30 PM Mondays and Tuesdays closed
Majer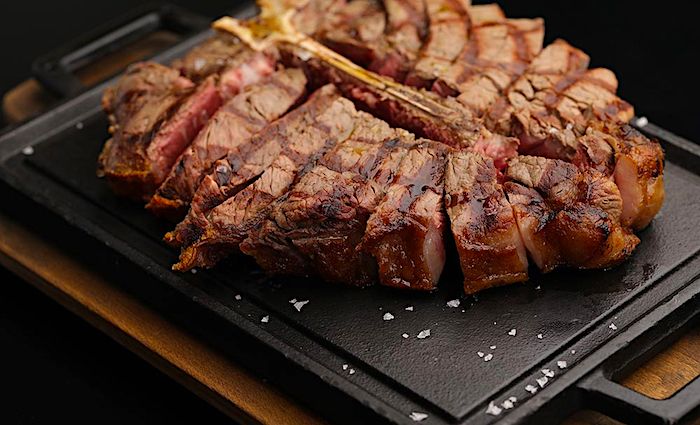 €€ | Modern | Breakfast, Lunch or Dinner
As you are walking around the city of Venice you might see Majer in a few places, but they will only be serving breakfast. At the Majer in Giudecca they have decided to experiment a bit and bring a modern style experiment by offering lunch and dinner at this location.
In almost every restaurant that you will visit in Venice, their specialty will be seafood. Surprisingly when you show up here for dinner, the main courses are almost all meats! From a Waygu ribeye to a Florentine steak, if you are a meat eater they got you covered. Of course, you will also find the catch of the day- this is Venice of course.
Address: Fondamenta Sant'Eufemia, 461, 30135 Venezia
Hours: 7 AM- 10 PM Open Every Day
Ristorante Pizzeria ai Tre Scaini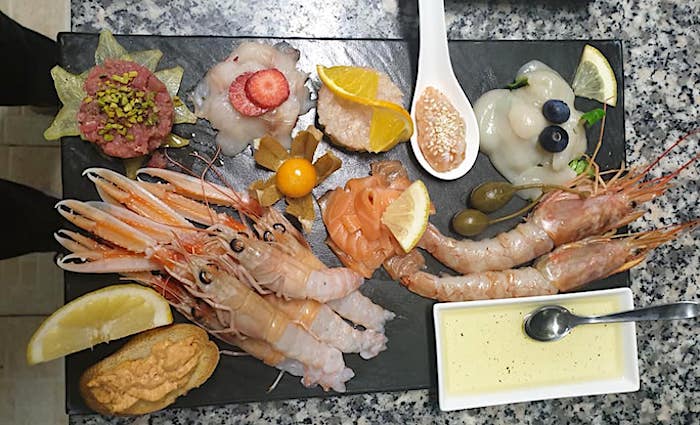 €€ | Local | Outdoor Seating
Like throughout Italy a pizzeria doesn't mean that they just make pizza. Here you can enjoy a nice pizza, but they have so much more. Take advantage of the outdoor seating in their courtyard for that al fresco experience.
As for the menu- Forget about looking at the menu. This goes not only for this particular establishment but everywhere in Italy. The waiters know what is fresh and what is best to eat, so always go with their suggestion. They have a wide array of seafood for starters and main course with seafood risottos and also pizza. Enjoy!
Address: Zitelle, Calle Michelangelo, 53c, 30133 Venezia
Hours: 12 PM- 2:30 PM, 6:30 PM- 10PM Tuesdays closed
La Palanca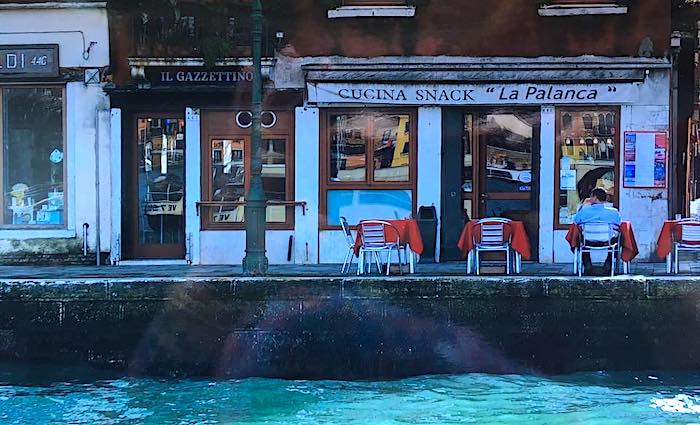 €€ | Seafront | Hidden gem
These cozy little establishment is close to the vaporetto stop and is literally just opposite Dorsoduro. The staff are super friendly and the quality to price ratio is very good.
Like a few other places where you can stop by for a coffee, an Aperitivo, or a main meal. The main fare is seafood, so make sure you ask them what is fresh on that day to get a delicious surprise.
Address: Fondamenta Sant'Eufemia, 448, 30133 Venezia
Hours: 7 AM- 10PM Sundays closed
Oro Restaurant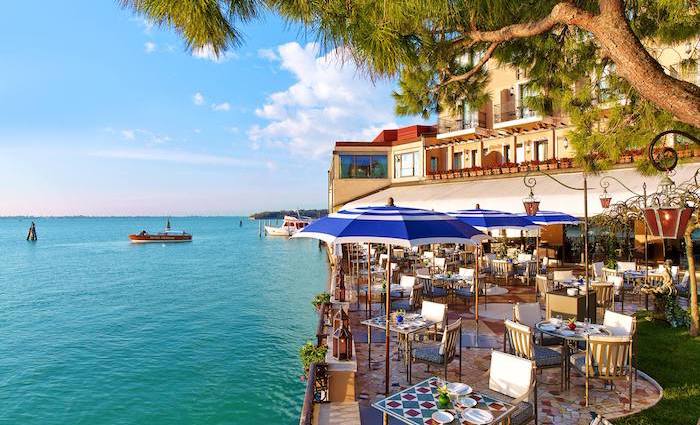 €€€€ | Michelin Star | Fine Dining
The Oro restaurant ( which means Gold in Italian) is located inside the famous Cipriani hotel. The hotel is extravagant and so is the restaurant. Sometimes you have to splurge when you are on vacation. This is definitely a place where you will splurge with a tasting menu running around 300€ a person.
The menu consists mainly of seafood, but for those who prefer meat, there are plenty of options as well. The views are beautiful and the ambiance is chic. Even if a super expensive meal is not on your agenda, you should definitely stop by and check out the premises and maybe have a drink. It is worth it.
Address: Giudecca, 10, 30133 Venezia
Hours: 7:30 PM- 9:30PM Mondays and Tuesdays closed
Bacaromi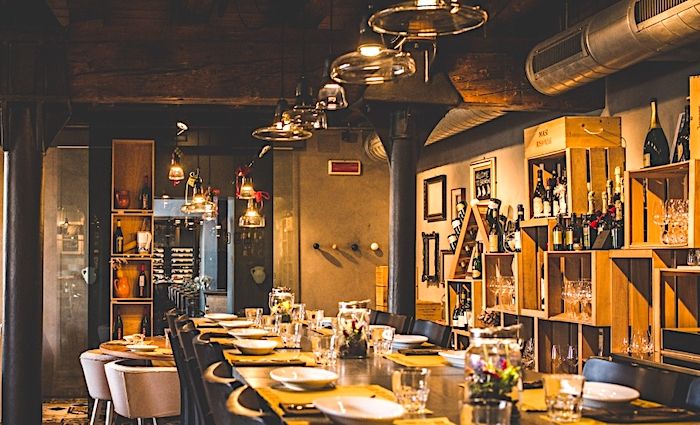 €€€€ | Hotel Restaurant | Beautiful Terrace Seating
As with ORO above with Cipriani, this restaurant is connected to the Hilton which is on the other side of the island. The idea is a set up like a typical Baccaro ( typical Venetian bar) but with a contemporary style. As you can imagine, the price will be higher than at a typical Baccaro as well!
The menu is mostly seafood and the service is impeccable. When dining here make sure you sit outside with a view to the sunset. There is nothing more epic ( or romantic) than looking at a sunset over the lagoon in Venice enjoying a great meal.
Address: Giudecca, 810, 30133 Venezia
Hours: 7:30 PM- 10:30PM Always open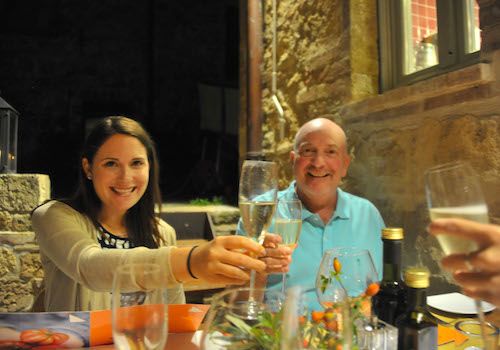 Authentic Venice Evening Food Tour in Cannaregio
Are you looking for the best food tour in Venice? Embark on a foodie-led exploration of Venetian culture that takes you off the beaten path. With a friendly, English-speaking guide by your side, visit some of our favorite bacari wine bars to sample assorted cicchetti dishes. Get a taste of local Venice food culture and learn about the city as you fill your belly with the best regional wine and food.