Michelangelo's David is in the Accademia Gallery in Florence and 1.5 million visitors get inside this tiny museum each year. That means lines, crowds, and congestion. So how do you ensure you'll get to see Michelangelo's David?
Planning! This guide is all about how to get the most out of your visit to Accademia to see Michelangelo's David.
---
Doing a tour of the Accademia is by far the best way to see Michelangelo's David and our tour includes much more than that. Tours in Florence are competitively priced and we keep our groups small. Check out our Florence Tours.
What This Article Covers
Hours & Ticket Prices
How Long to Budget for Your Visit
Accademia Tour Options
What to See at Accademia
Where to Eat Nearby (So Important!)
How to get to Accademia
Hours & Ticket Prices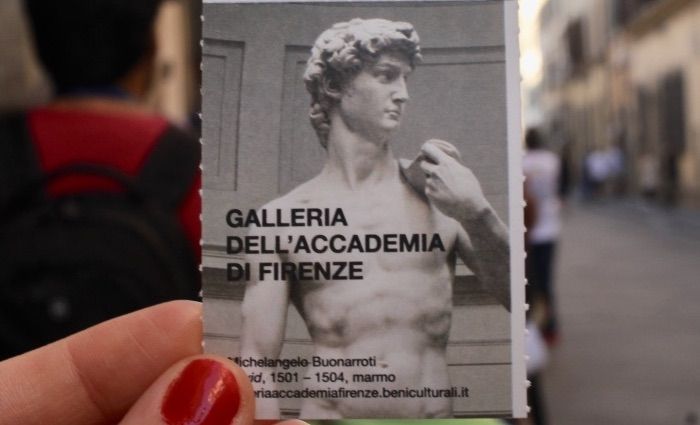 The most important step to seeing Michelangelo's statue of David in Florence is getting tickets for the Accademia Gallery in advance. The key phrase is "in advance" as there are long lines. As always, we recommend you take a tour including Accademia. Tours add to your experience and we run small group tours which vastly improve the experience.
Hours: Tuesday – Sunday 9 am to 6:45 pm (Closed Mondays)
Admission: 8€ per adult | Free >18
October 2020 Hours: Also open from 7pm to 10pm Tuesday & Thursday
Above hours take COVID-19 Restriction into consideration
Accademia Gallery in Florence maintains practically the same hours as all major museums in Florence. Closed on Mondays and open from 9 am to 6:45 pm daily. The ticket office closes 30 minutes before closing each day. Maximum 200 visitors are allowed inside at a time which keeps this very small gallery quite pleasant to visit.
Restrictions:
Water bottles .51ml + (anything larger than standard bottle)
Helmets
Large bags or backpacks
How Long to Budget for Your Visit
Short Answer: 60 minutes
If I read this on any other website I would be skeptical but we are THE source of information when it comes to history and travel in Italy. Still skeptical?
If you go to the official website for Accademia Gallery they have a list of only five things that are "must-see" in the gallery and somehow seeing the David statue is practically two of them (kidding). Even the official website sort of says that it is really all about David and I get it. David may be the greatest sculpture ever presented by humanity.
Twenty minutes should be used exclusively for David. Ten minutes for getting in and out of the building. The next 30 minutes should go to seeing the works of art in our section "What to See at Accademia". There are definitely a few other great pieces of artwork in Accademia but my favorite section is the musical instruments. Did you know the Piano was invented in Florence for the Medici?
Accademia Tour Options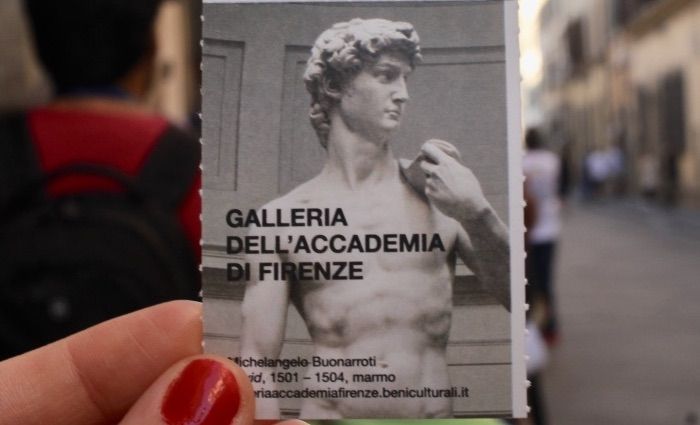 Florence Walking Tour with Statue of Michelangelo's David
This is our most popular tour in Florence. It includes skip-the-line admission to David and Accademia for a guided visit. The English speaking guide then takes you to see the Duomo, Santa Maria del Fiore, from the outside. You'll also see the Baptistry Doors, Piazza della Signoria, Ponte Vecchio, Dante's District, the Bronze Boar, Leather Market and Orsanmichele Church. There is always time for a gelato stop too!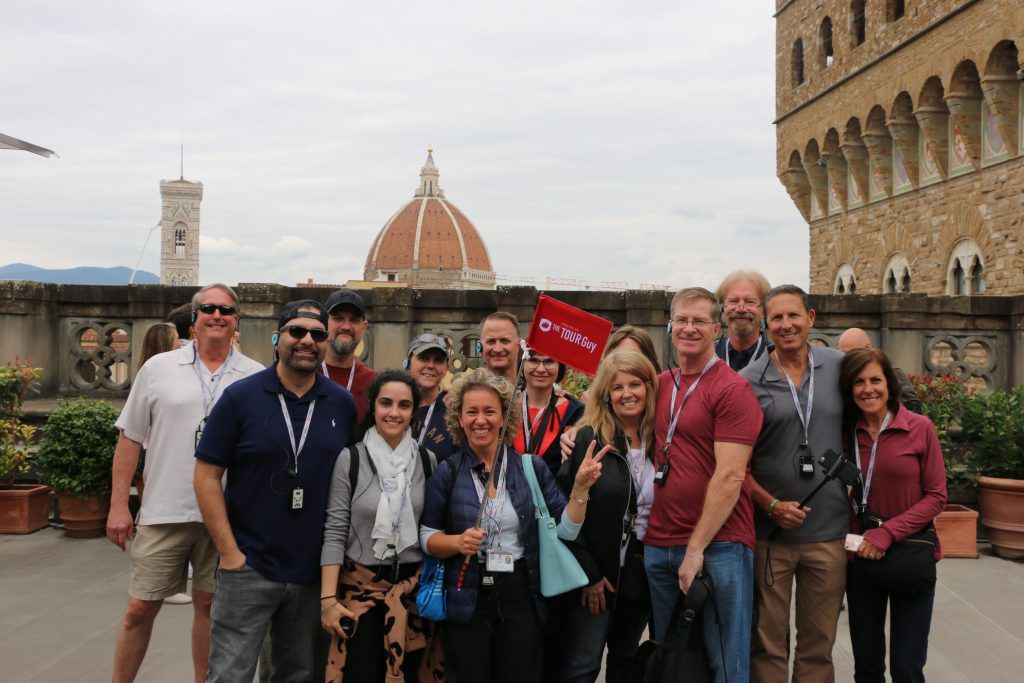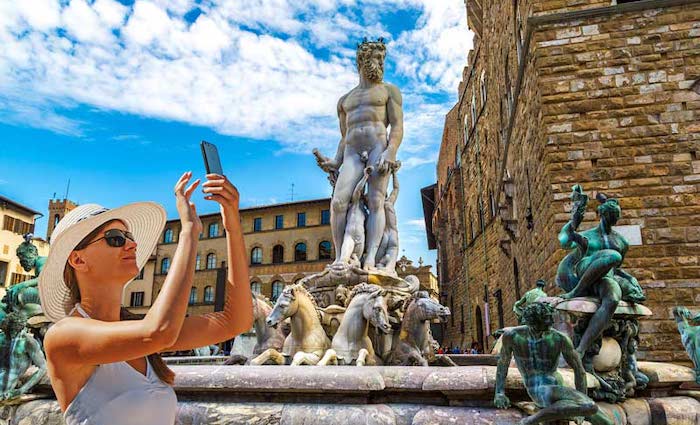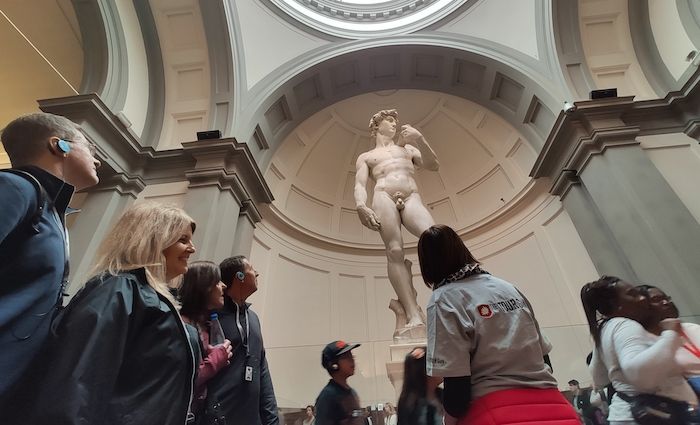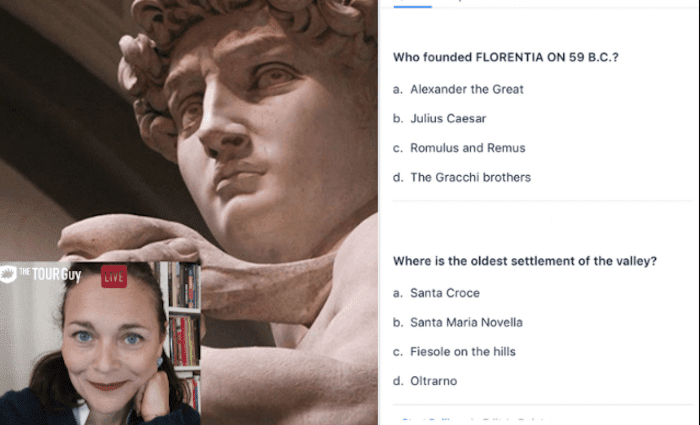 Florence Live Virtual Guided Tour
Not going to be in Florence for a while but want to dive into its history? Our live virtual tours are led by local guides in Florence who are passionate about history and want to bring it to people all over the world. It is a 60-minute live presentation. There is a chat function so you can ask questions or make comments and the guide will respond. These were born out of necessity during the Covid-19 pandemic but will be run in perpetuity.
What to See at Accademia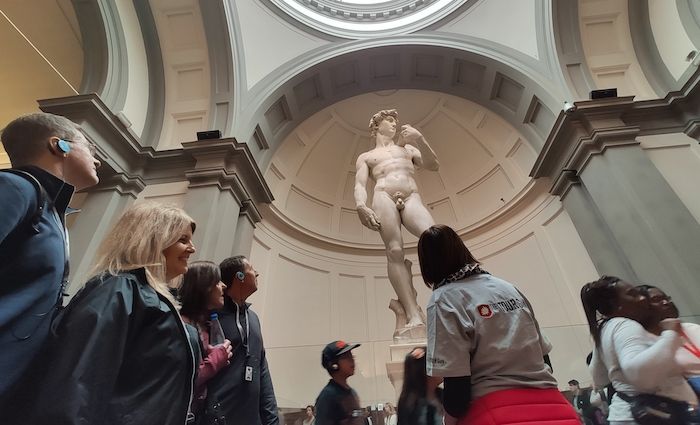 I have seen a great tour guide make a clay pot become one of the most interesting things I have ever see before. The power and passion is really what makes or break a tour. So, while Accademia is a small gallery, there is enough great stories behind the artwork to make it come alive. The below list of things to see at Accademia is the brief overview. If you want more attractions and longer descriptions, see our dedicated article on what to see at Accademia in Florence.
1. David aka The Tribune
David is the main attraction the gallery and without argument the most visited sculpture in Florence. Michelangelo "freed" david from his marble prison in three years. David is 17 feet tall and modeled after the old-testament figure who defeated Goliath at the Valley of Elah when the Isrealites (David) fought the Philistines (Goliath). The statue is considered Michelangelo's masterpiece, at least in terms of sculpting.
2. Museum/Hall of Musical Instruments
Did you play the violin growing up? Well, the Hall of Musical Instruments in Accademia may be a nice stop beyond the David statue. In the 17th century lived a man by the name of Antonio Stradivari who produced musical instruments unmatched for centuries. Mechanical honing of instruments has eventually led to better sound projection but Stradivarius, the name in which his instruments are referred to as were the finest instruments for over 200 years. That is enough time to earn a serious following.
Today, a Stradivarius viola has sold for $16 million dollars. The Museum of Musical Instruments contains multiple Stradivarius including a viola tenor and a cello from the Medicean collection of instruments – their coat of arms decorate both instruments.The viola is reportedly unchanged from the day it was first played. You'll also find a room dedicated to the invention of the piano which was invented for the Medici in 1720.
3. Florentine Gothic Art
This room, dedicated to the 13th & 14th century, houses many gothic alter pieces that are adorned with gold. As a lover of Renaissance art, I don't value gothic art as much as I should. That said, the room deserves a walk through. Keep an eye out for Bonaguida's Tree of Life panel that shows Christ on the crucifix which doubles as the tree of life.
4. Gipsoteca Bartolini
While there is no real artistic significance in this room, it is pretty cool when you understand what you are looking at. Obviously you couldn't really take a photo in the renaissance which makes it difficult to leave a legacy. Therefore, being painted or ideally carved from stone was your only hope for a legacy. The Gipsoteca is a virtual yearbook for anyone who was important in the 19th century.
Noble Russians, Britts, Pols, and anyone else with enough money to have a bust made is in this room.
5. Hall of Prisoners
Leading up to David is the Hall of Prisoners. Michelangelo was quite the artist and took his craft very seriously. You don't labor over a statue for three years without passion. As you may have read, he didn't feel he was the creator of this artwork. He felt more like the liberator and technically he's correct. The statues already exist in the block of marble – he is simply the guy that gets them out. The hallway leading to his masterpiece is lined with his failures. Unfinished statues that didn't make it out.
Referring to them as prisoners is both literal and figurative. They are trapped in marble but they were actually intended to be statue of prisoners holding up columns for the tomb of Pope Julius II.
6. Hall of Colossus
Hall of Colossus is the most significant collection of relevant artwork in Accademia not including David. The center piece is Giambologna's Rape of the Sabines. A heavily use and incredibly significant historical scene from Antiquity. It is a wonderful baroque statue ripe with passion. You'll also find works of art in this room from Botticelli, Ghirlandaio, Perugino, Filippino Lippi and others. They were a tightly knit group of artists that often worked together – the first three created works inside the Sistine Chapel of Rome.
Where to Eat Nearby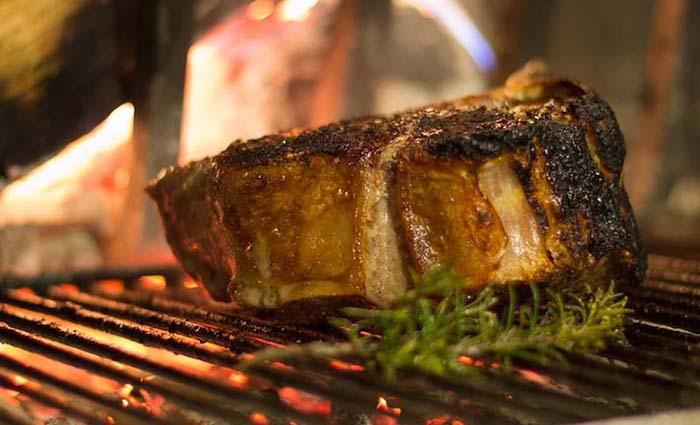 If you are visiting Accademia around meal time it is important to plan out where you want to eat. If you are having a fancy meal, you probably want to reserve a table but otherwise walks-ins are welcome in Florence.
Ristorante Cafaggi(€€) – Looking for a great cut of meat or hearty meal? This is your place.
Fuoco Matto (€€) – Named "Crazy Fire" this stylish restaurant has great pizza and so high quality meats and pastas.
Arà: è Sicilia (€) – Just want a snack? This Sicilian hole in the wall has incredible deserts and delicious supplì.
Ristorante Accademia (€€) – Yes, it name makes you want to scream "tourist trap" but this place is off the charts buono.
How to get to Accademia
Address: Via Ricasoli 58/60, Florence, Italy
Accademia is centrally located in Florence and easily accessible by foot from anywhere in the center.
15 minutes walk from Santa Maria Novella Train Station
8 minutes from Santa Maria del Fiore (Il Duomo)
15 minutes walk from Uffizi Gallery & Ponte Vecchio
30 minutes walk from Piazzale Michelangelo
There is not a massive piazza (square) framing the Accademia. It is situated on a small side street with very little vehicle traffic. You'll know you are in the right place when you start to see long tall signs with David on them hanging on the side of an unassuming Renaissance building. The signs read simply enough, "GALLERIA DELLA ACCADEMIA."