The Uffizi Gallery is a must-see Florence Museum. If you are planning to visit the gallery and want to know what to see then this article is for you. We've reached out to our top local guides in Florence and asked them, "What do we absolutely positively have to see when visiting the Uffizi Museum.
This is what they told us…
---
Sean's Pro Tip: Planning can be tough. You read a bunch, forget it, then read more. I like to bookmark helpful posts in a folder so I can circle back prior to or during my trip. Consider bookmarking this post and a few other great reads:
Top 12 Famous Artworks, Sculptures, and Paintings that You Shouldn't Miss at the Uffizi Gallery
Many of us look at museums as places that were built to be museums because that is what we've grown up with. For Italians, that is largely uncommon. The Uffizi, for example, were built to be offices by the Medici family. The name literally translates to just that.
The Medici loved art so they filled their offices full of it. Eventually it became so ornate that people began visiting by request as early as the 16th century. In 1765 the last Medici heiress, Anna Maria Luisa de' Medici signed over almost all Medici assets to the Tuscan State in the Patto di Famiglia.
This included the Pitti Palace, Uffizi and the Medicean Villas. You have to imagine that one Medici violin built by Antonio Stradivari, currently in the Accademia Gallery of Florence, would sell for over $16 million. This was a monumental move that made it possible for over 4 million visitors to enjoy masterpieces in the Uffizi each year.
This happened in 1765 and by 1865 the Uffizi Gallery was officially referred to as a museum. Here are the must see masterpieces currently housed in the Uffizi Gallery.
12. Balcony Overlooking the Duomo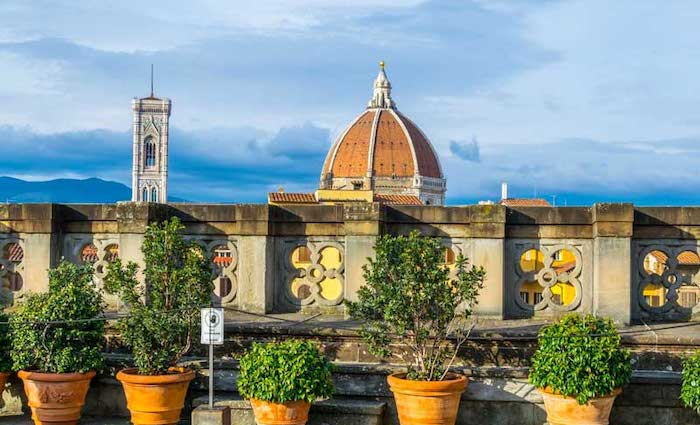 The Uffizi Gallery does not just contain art but is art itself. It also has an incredible viewpoint to see some of Florence's greatest works of architectural art – although the city could even be defined as one large masterpiece as a whole like many other Italian cities.
As you look out the first thing you'll notice is Brunelleschi's dome on the Cathedral of Santa Maria del Fiore aka Il Duomo. The dome was the largest in the world when it was built and is still the largest brick dome in existence. The dome itself is larger than that of St. Peter's Basilica but St. Peter's dome, by Donato Bramante, is significantly taller in height.
You'll also see Giotto's bell tower. This was constructed in the 14th century by Giotto di Bondone. It appears to be part of the cathedral but it is most definitely not. It is separated by just a few feet – enough to walk in between. While the tower was designed by Giotto, it was not finished in his lifetime or that of his successor, Andrea Pisano. Francesco Talenti completed it in 1359. The tower has 414 stairs and a terrific view from on top!
Their are numerous signs and indicators leading to the "Bar" inside the Uffizi. You can follow them for a coffee and incredible viewpoint. Picture featured above.
–
11. Portraits of the Duke & Duchess of Urbino by Piero della Francesca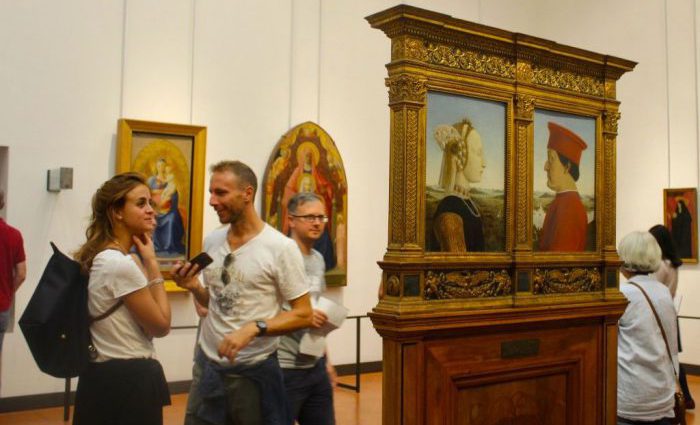 This is a very interesting and peculiar oil on wood painting depicting a very powerful couple, Federico da Montefeltro and Battista Sforza. The Sforza family ruled Milan for hundreds of years. The painting dates back to the late 15th century and is in fantastic condition.
It may look odd and cold but it is actually very romantic. The current setting is beautiful however not original. Since it was painted on wood panels, they were originally connected by hinges.
It was also painted after the young duchess died. She fell ill at 26-years-old and succumbed to pneumonia. You will immediately recognize her pale skin which may be due to her being noble and avoiding the sun or that those who knew her described her as pale to Piero della Francesca.
In essence, there was no obstruction between the couple and they were able to gaze into each others eyes. This is a style of artwork known as diptych. Often put on an alter or even closed like a book.
It is a two-sided painting, which is very rare, so make sure you take a look at the back. It features a horse drawn carriage and a unicorn drawn carriage that is intended to the allegories of triumph.
The triumph is not from a great battle, but of virtues. This time period was extremely conservative and focused on morals. Their "virtues" are written below; Justice, Wisdom, Valor, and Moderation are that of the Duke. The Duchess features Faith, Hope, and Charity.
Location in the Uffizi: Hall #7
–
10. The Ognissanti Madonna by Giotto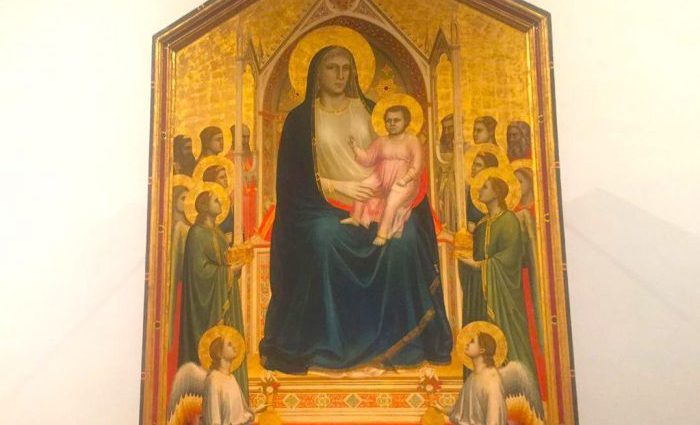 His Ognissanti or Madonna Enthroned was painted by Giotto di Bondone in the late medieval period (proto-Renaissance) and is on wood panel. Giotto was one of the most influential artist leading up the golden-era of the renaissance.
Although this is not the first appearance, Giotto is the first western-European artists to depict 3 dimensional figures. What he did was was a catalyst for a new wave of art and considered highly innovative by artists like Botticelli and Michelangelo who came into their prime more than a century later.
He started Ognissanti Madonna the year after he finished his frescoes in the Scrovegni Chapel which was his masterpieces and a supreme masterpiece in western civilization. Why was the chapel so important and what does it have to do with Ognissanti?
Giotti just finished what would fall into ranks as one of the most important masterpieces in modern hist
Many reasons, but most notably was the change in style. The Renaissance is dated to have started in 1300 and Giotto's chapel was completed in 1305. Without argument, Giotto's Scrovegni Chapel is the first masterpiece of the Renaissance and it was immediately accepted with high regard. Paintings began to show individuals instead of groups and artists began to take credit.
Giotto must have started Ognissanti at maximum months after finishing the Chapel and came at it with vigor. The painting would come to find it's home in Florence and inspire many locally. While the painting definitely shares the rigidness of Byzantine art, which can be torturous at times, it shows signs of artistic evolution – specifically the 3 dimensional figures.
If you are heading to Rome after or have already been, take a look at the floor – recognize the design? They are inspired by Cosmati floors which are common in Roman churches. You may have seen them in the Sistine Chapel!
Location in the Uffizi: Hall # 2 dedicated to Giotto & 13th/14th century art
–
9. Medusa by Caravaggio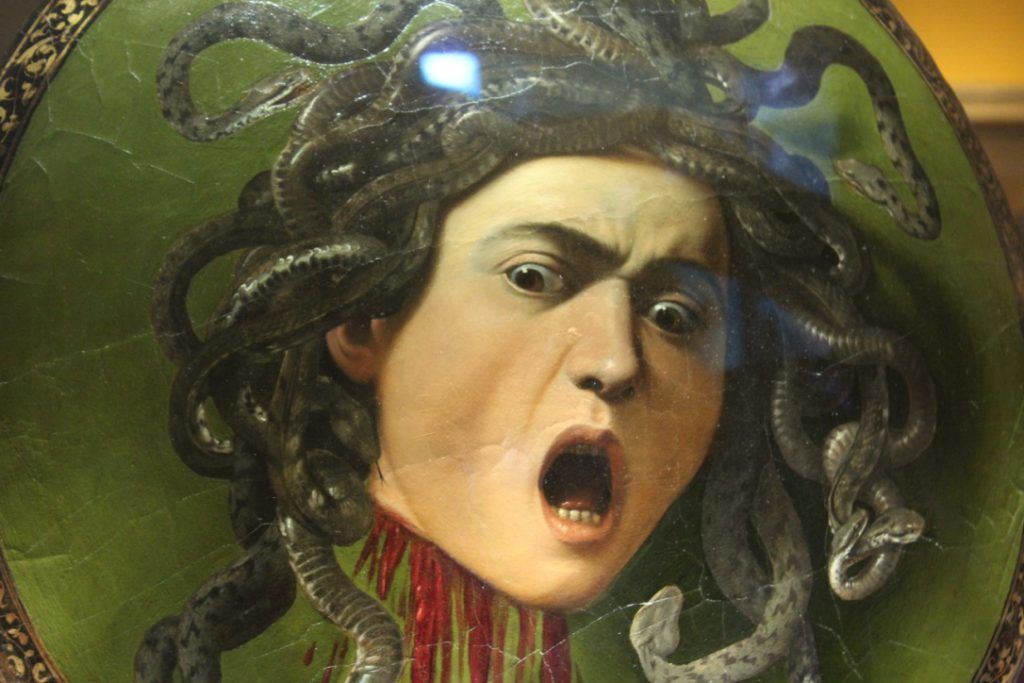 Caravaggio was sort of the Quentin Tarantino of the baroque period. He painted grotesque gripping artwork that turned heads. His Medusa is no exception.
Caravaggio was born Michelangelo Merisi and was from Milan. He went by Caravaggio since you really couldn't go by the name Michelangelo after Michelangelo. He paints dramatic scenes that would have almost definitely made the people of his time feel uncomfortable as they may make you feel uncomfortable today. His parents died at a young age and was an orphan by 16.
You have to imagine how much happened in the almost 300 years between the Ognissanti and Medusa. When Ognissanti was painted it was considered controversial to portray member of a painting as individuals looking in different directions. Medusa has her head chopped off screaming with Pulp Fiction level blood squirting everywhere.
It was commissioned by Cardinal Francesco Maria Bourbon de Monte in 1597 who then gave it to the Grand Duke Ferdinando I de' Medici as a gift (or maybe re-gift?) It is painted on a sort of shield since Perseus used his shield as a mirror to see Medusa when he beheaded her.
Location in Uffizi: the Medusa shield in the Hall #90 dedicated to Caravaggio.
–
8. Venus of Urbino by Titian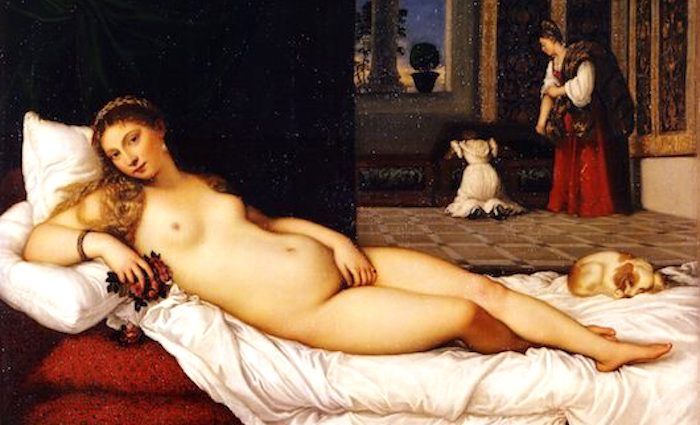 The Venus of Urbino was completed by Titian in 1538, commissioned by the Duke of Urbino, Guidobaldo II Della Rovere. The painting was a gift from the Duke to his young wife.
It represented the allegory of marriage; eroticism, fidelity, and motherhood. The eroticism is evident in the representation of Venus, the goddess of love. The dog at her feet represents marital fidelity, while the girl looking through the chest in the background represents motherhood.
Location in Uffizi: Venus of Urbino by Titian is in the Hall #83.
–
7. Self-Portraits by Rembrandt
Rembrandt was a very important figure as he carried the Italian renaissance north and was a key figure in the Dutch renaissance. He lived during the 17th century and has two self portraits. First as a young man and another as a mature man. He followed the path of Caravaggio painting in a chiaroscuro method to draw attention to key dramatic features. You'll find several Rembrandt paintings housed in the Uffizi including The Old Rabbi.
Location in the Uffizi: Hall of Rembrandt (49)
6. Doni Tondo (The Holy Family) by Michelangelo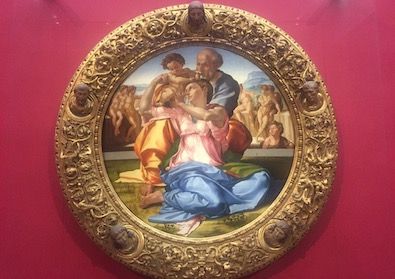 Doni Tondo or The Holy Family is one of a literal handful of free-standing (panel) paintings Michaelangelo this is the only one that has survived. It was commissioned by Agnolo Doni in 1506. The name, Doni Tondo, is very literal. Doni is the last name of the patron and tondo means "round" in Italian – hence the shape of the painting.
It was commissioned by a merchant Agnolo Doni to commemorate the birth of his child or his marriage – possibly both but it is debated. It's a beautiful work of art that commemorates a sort of golden era for Renaissance art in Florence. The frame is also original to the painting which Michelangelo would have likely had designed himself.
Although Michelangelo lived in a heavily documented era, there is a lot of unknowns surrounding this work of art. The frame has 5 figures which are largely unknown. The nudes in the background also hold little significance and their meaning is speculative at best. Also, is the baby being handed to Mary or St. Joseph?
In the end, you are looking at a rarity – Michelangelo's only painting that is not directly connected to a surface.
Location in Uffizi: Hall 3
–
5. Medici Venus attributed to Praxiteles
Venus or Aphrodite is a highly sculpted mythological figure due to what she represents – beauty. The Medici Venus is a 1st century BC copy of a Greek sculpture. This was common as the Romans gravitated towards Greek art – everyone did. The sculpture was taken into ownership by the Medici and attributed to Prixiteles but there is little foundation for that. The base says it was sculpted by the son of Apollodorus but that is not true. Regardless, it is a beautifully done sculpture that was undoubtedly admired by Botticelli and Michelangelo.
Location in Uffizi: Hall of Tribunes
–
4. Annunciation by Leonardo da Vinci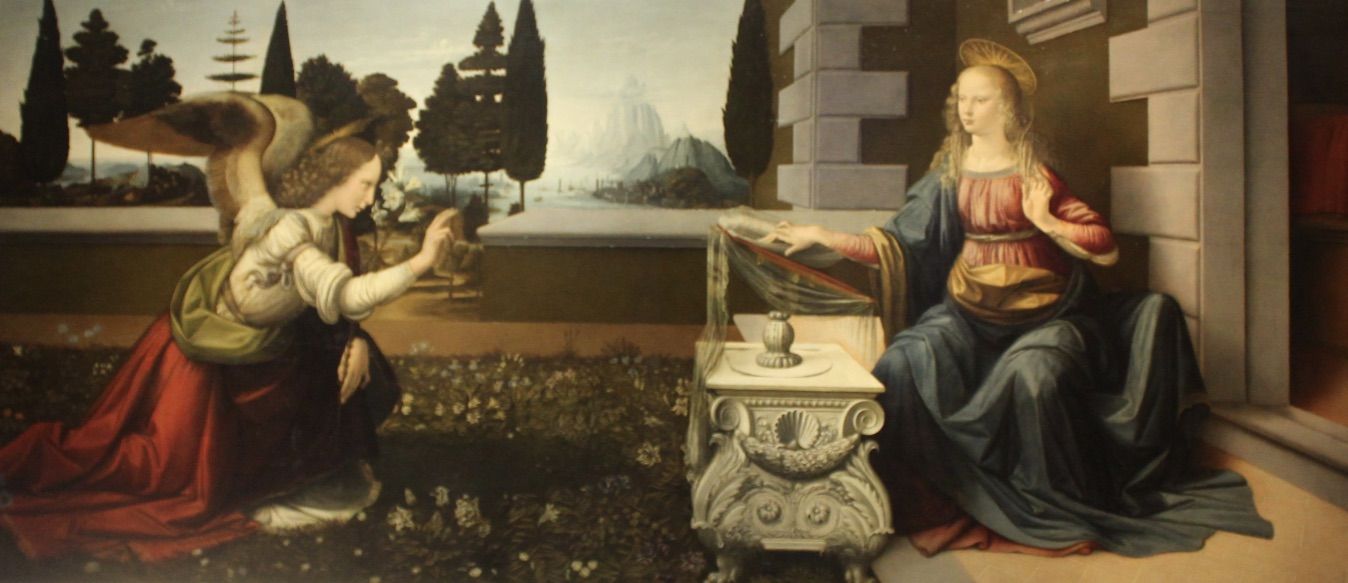 The Annunciation was painted by Leonardo Da Vinci and Andrea del Verrocchio around 1472-1475 and is widely accepted as his first painting – at least commissioned painting.
The painting depicts the moment Angel Gabriel announces to the Virgin Mary that she will conceive and give birth to a son to be named Jesus, "Son of God". It is an extremely early work for Leonardo = he would be in his early twenties at this point and his style was not fully developed.
That said, it would have been greeted with universal acclaim as the style was almost completely unique. Leonardo loved nature and it is very present in this painting. He set a new precedence for spatiality in this painting with his layout of mountains, the stream, and trees.
I hopefully do not ruin this painting for you but it is difficult not to mention that this painting looks like the angel is taking a photo of the Madonna.. does it not?
Location in Uffizi: Hall #15.
–
3. Madonna del Cardellino by Raphael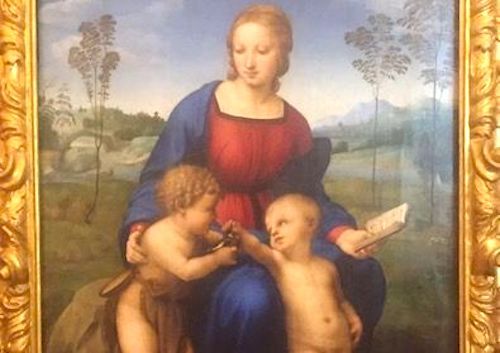 The Madonna del Cardellino or also known as Madonna of the Goldfinch was painted by Raphael (Raffaello in Italian) in 1506 as a wedding gift for his friend Lorenzo Nasi. Looking at the painting, the Madonna is shown young and beautiful. She is clothed in red and blue, the red signifies the passion of Christ and the blue signifies the church.
The painting features the Madonna, mother of Christ, St John as a baby (left) and Jesus Christ (right). John holds a goldfinch which is a symbol of the crucifixion. According to Cristian Dogma a goldfinch came down to take a thorn from the crown of Christ and was splattered by a droplet of blood. From that point forward, goldfinches have had a red dot on their breast.
The painting is riddled with history as it has had a particularly difficult journey from 1548 until 2008. The painting was broken into 17 pieces during an earthquake in 1548 and was restored but stood in rough shape – you could see many cracks. Raphael had been dead for some time at this point and the painting was of significant importance.
In 2002 the painting underwent a more scientific restorations over the course of 6 years and has been hanging in the Uffizi since 2008. It is now closer to its original condition than it has been since 1548.
Location in Uffizi: Hall #66.
–
2. La Primavera by Sandro Botticelli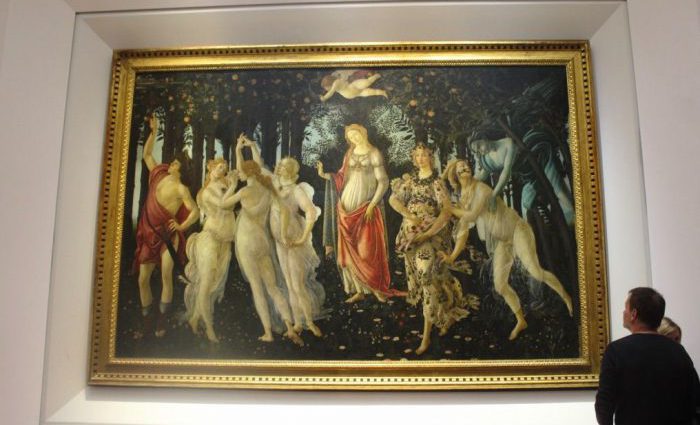 La Primavera or Spring in English is considered to be one of the greatest paintings ever produced. That statement goes far beyond its beauty and artistic expression. La Primavera defied the oppression of artistic expression which arguably could have inspired a massive leap forward in art history. Some of the greatest artists that would ever live followed the career of Boticelli.
The painting was commissioned in the late 15th century commissioned by the Medici Family whose wealth and clout were among the only reasons this painting exists. The 15th century was the height of the Renaissance and this painting would be one of the first in the Renaissance, if not the first, to be completely pagan in nature.
People were burnt at the stake for things such as this but in Florence, the Medici ruled and Botticelli was allowed to realize his vision. The painting symbolizes so much in terms of progress and freedom of expression but also happens to be a masterpiece in terms of artistic ability.
From right to left you have Zephyr, who symbolizes the spring wind, and the nymph Clori. Their daughter, Flora, goddess of flowers, is portrayed as the spring. In center, you'll find Venus as the symbol of love. To our left of Venus are the Three Graces followed by Mercury.
Botticelli trail blazes with his accuracy in depicting the human body. Much of the reason why he portrays persons in the nude or partially nude is feature his skills.
The painting was commissioned for the Medici whom Botticelli was very close to. The painting is riddled with Medici symbolism and even Medici faces. It is practically a year book. The name Medici means "doctors" in Italian and Mercury was the god of medicine.
Location in Uffizi: Hall of Botticelli (10-14)
–
1. The Birth of Venice by Sandro Botticelli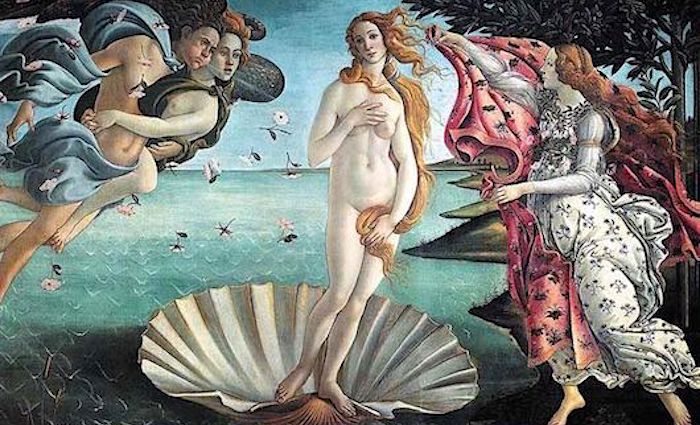 The Birth of Venus has become one of the world's most famous Renaissance masterpieces.It was painted by Sandro Botticelli between 1482 and 1485 for the Medici family. If La Primavera was the first step in freedom of expression then the Birth of Venus was the first big leap.
In the painting you can observe Venus, the goddess of love, standing on a seashell in the center. To the right of her, Zephyr, the god of the west wind is blowing her to the shore. There, Pomona, the goddess of spring, is waiting with a cape to clothe the newborn deity.
Artistically, it is much brighter than La Primavera with a more open landscape behind Venus. Instead of partially clothed, Venus is almost completely nude – risky for the period. The subject is said to be modeled after an Aphrodite statue named Aphrodite of Cnidos but romantics believe it was Simonetta Vespucci – wife of a Florentine trader.
This rumor has been all but dismissed by art critics but I sure do like a good story. Botticelli apparently fell in love with her while painting a commission from her husband and trader, Marco Vespucci. Her likeness is arguably found in many of Botticelli's works but it is heavily refuted.
The birth of Venus is one of the greatest paintings from the 15th century and likely the most beautiful depiction of Venus in history. Venus is the goddess of love and beauty so that may put this painting in the running for the most beautiful painting ever created.
On a personal note, when I saw this painting for the first time I mentally made the decision to leave a life of banking (Wall Street) and work in tourism.
Location in Uffizi: Botticelli Rooms (10-14)