Let's face it, traveling can get expensive. Every meal is out, lots of museums to see and hotels every night. A great way to balance the budget is to integrate some free activities into your schedule.
We've curated a list of free things you can do today in Florence without an RSVP.
---
Related Lists
---
1. Parco delle Cascine
Easily the largest public park near Florence and most commonly used by locals. It is a free public space and quite large. Perfect for a morning run or a beautiful day with nature. Very beautiful in the fall.
Location: Piazzale delle Cascine
2. Giardino delle Rose
The Rose Garden in Florence was created as part of a late-19th century commission to develop the left bank of the Arno river also referred to as oltrarno. It was designed by an architect named Giuseppe Poggi in 1865 and is home to over 400 species of roses.
It is free to enter and features a wonderful view of Florence. A place you could easily walk through on your way too or from Piazzale Michelangelo, a must-see view point in Florence.
Location: Viale Giuseppe Poggi, 2
3. Window Shop on the Ponte Vecchio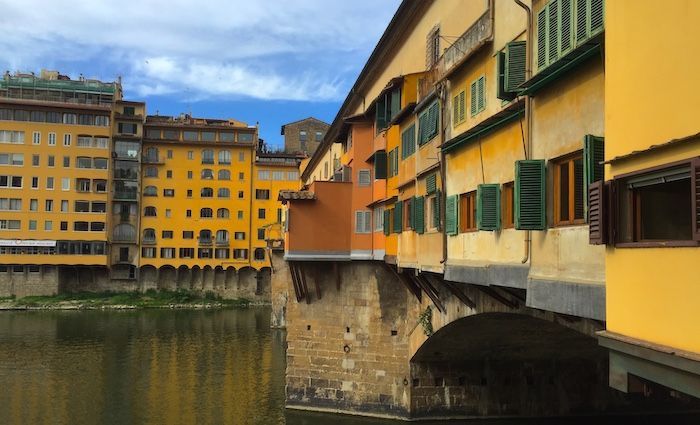 Ponte Vecchio is an excellent example of a medieval bridge in Florence. It is built from stone and supported by archways. It is unique today due to its shops and stores built on the sides of the bridge and the famous Vasari Corridor that can be seen above the shops.
The Vasari Corridor is an incredible structure if you think about it. The Medici, who practically ruled the Republic of Florence, built a hallway to connect their home, Palazzo Pitti, with the town hall, Palazzo Vecchio.
The bridge is mostly occupied by jewelers today and is mostly overrun by tourists wanting to purchase something from "on top of Ponte Vecchio in Florence," which I admit is pretty cool to say.
The jewelers are not there by accident either. This bridge used to be inhabited by farmers of all sorts but the Medici propagated the idea that these types of shops make the bridge and city look fit for peasants. The farmers were forced out which eventually turned into a decree in 1595 excluding them.
Location: Ponte Vecchio
4. Abbey of San Miniato al Monte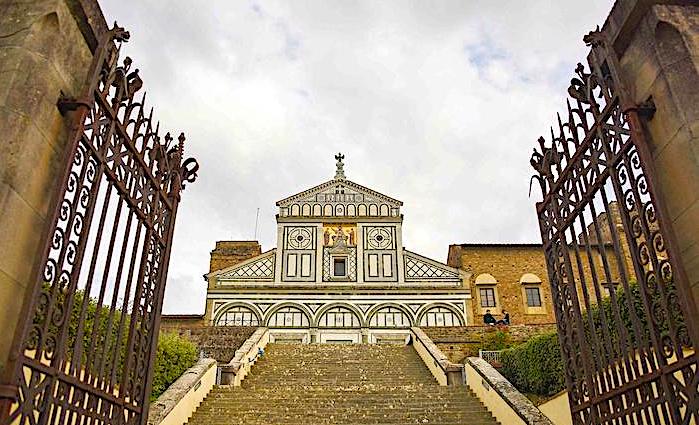 This is one of those sites that most people overlook when they visit Florence. It is perched up on one of the highest points of the city so the views are amazing. If you are going to visit Piazzale Michelangelo for an awesome view, I highly recommend you go up a bit higher and see this amazing Abbey.
The legend about San Miniato is pretty cool, so I will give you a brief summary here. Minas ( Later San Miniato) was an Armenian prince that was serving under the Emperor Decius ( Emperor 249-251). Once the Emperor heard he was a Christian he had him executed by beheading and supposedly after the fact Minas picked up his head an walked to where his hermitage was where the present day church is.
Location: Via delle Porte Sante, 34 (Cemetery of Porte Sante)
5. Garden of the Iris
If you happen to be in Florence from April 25th to May 20th, this is a must. The crest of Florence is known as the Giglio and the Giglio is inspired by the Iris, which is abundant in Florence.
This garden is magical and an extremely local thing to do in Florence. The Iris are beautiful flowers that live cohesively with an olive grove. There is a beautiful view of Florence and wonderful aromas. You won't find many tourists here!
Location: Viale Michelangiolo, 82
6. Parco di Pratolino (Free)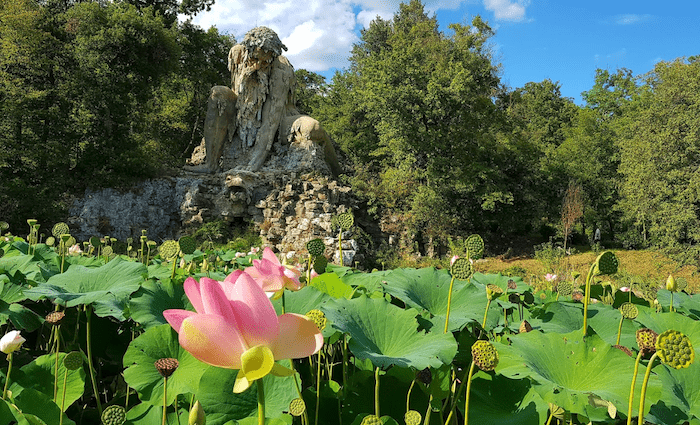 Most "nice" things in Florence had a Medici hand in it. This park is no exception. This large park was first built as a villa outside of Florence by the Medici and they built up the surrounding grounds with all types of "marvels".
The centerpiece is a giant statue of a river god protecting the park. The statue looks like something you would see in Lord of the Rings. It is massive and unique.
It is a great place to visit with kids and even has an adventure park with zip lines and such. The adventure park outside Florence is not free to get into but fun for older kids or groups. Not specifically Italian but would definitely be a cool memory.
Location: Via Fiorentina, 276
Related Lists