The Santa Croce Neighborhood is considered one of the more local neighborhoods in the center of Florence. It is only a 10 minute walk from the Uffizi and Ponte Vecchio but does not get the same level of traffic. This may be the reason why the area has a high concentration of great restaurants – some of the best in Florence. We deployed our local guides and ask them to compile a list of the best restaurants in Santa Croce and this is what we got.
---
Travel Tip: Bookmark this post in your browser. It will come in handy when you're looking for a great place to eat. Also, check out our top foods to eat in Florence when you're wondering what to order. Our local guides helped compile these lists so you can have the most authentic experience possible. If you want to dig deeper – check out our Florence food tour. It's led by local foodies who are passionate about local food and folklore.
The 9 Best Restaurants & Places to Eat Near Santa Croce
The neighborhood of Santa Croce is named after the minor Basilica of Santa Croce or the Holy Cross. The area has a more local and less touristy feel than the parts near Piazza Signoria or Il Duomo. This could be due to the lack of major tourist attractions with the exception of the Basilica of Santa Croce and the Mercato di Sant'Ambrogio.
The area is much more centered towards food which you likely already know if you are looking for places to eat in Santa Croce. Here is our list of the best place to eat in Santa Croce at every price range.
La Cucina del Ghianda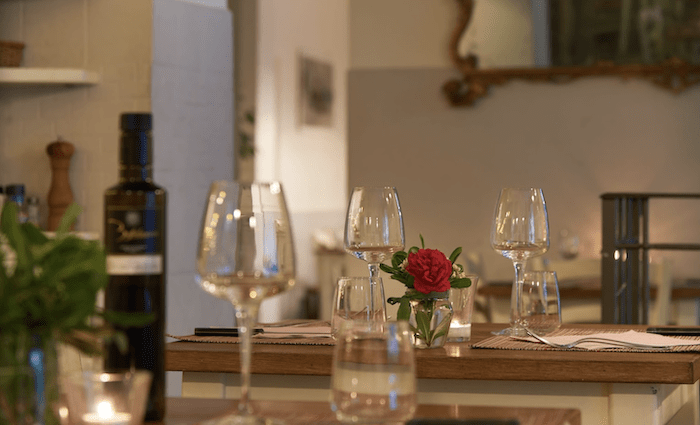 €€ | Tuscany | Family Friendly
I absolutely love when restaurants are able to find some sort of formula to produce amazing food in a cool atmosphere at reasonable prices and La Cucina del Ghianda has figured it out. For this reason they have accumulated praise from Italians and visitors. They have all the traditional Tuscan dishes at decent prices in a great atmosphere. Their lunch menu is great value so consider this for a early-afternoon meal.
Address: Via dell'Agnolo, 85
Hours: 12 – 3 pm | 7:30 – 11 pm | Closed Sunday
Santarpia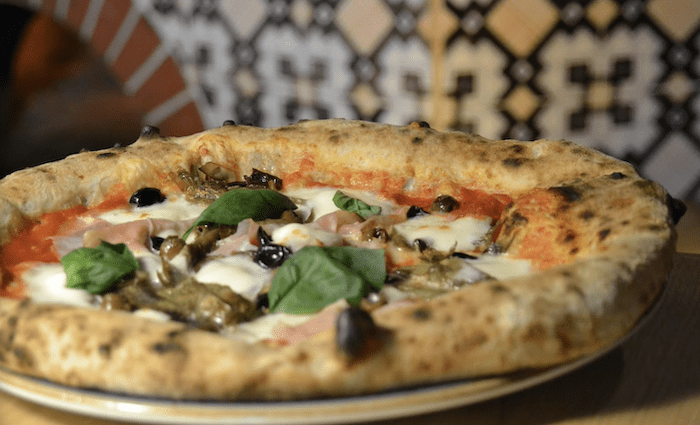 €€ | Pizza | Family Friendly
A few blocks away from Sant'Ambrogio market in the Sant'Croce neighborhood of Florence is a pizza place known as Santarpia. The pizzeria is named after its owner and chef Giovanni Santarpia who is dedicated to high-quality pizza. It has quickly made a name for itself as possibly the best pizza and pizza-like creations in the village of Florence.
This is because Chef Santarpia has focused on the origins of pizza by adopting the Napoleatano style of pizza making. Part of the reason it is one of my favorite restaurants in Santa Croce.
Address: Largo Pietro Annignoni, 9
Hours: 7 – 11 pm | Closed Monday & Tuesday
Macelleria a Firenze Luca Menoni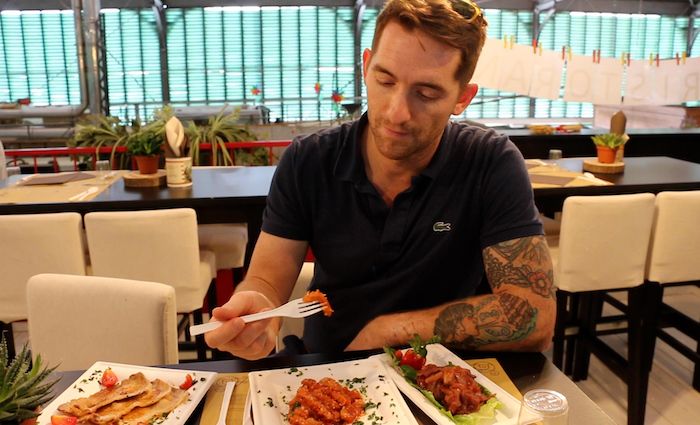 € | Family Friendly | Sant'Ambrogio Market | Traditional Florentine
I went to see Luca Menoni, famed butcher in Florence, when I was filming our video on what to eat in Florence and where. Luca was super friendly and speaking to all his customers which made the experience really positive. It was 10 in the morning but he pushed me to go upstairs to see his rooftop restaurant.
It wasn't rooftop like you are thinking – Luca's butcher shop works out of a market stall which is pretty big. They built a staircase and tiny restaurant on top which was unexpected and delightful. I ate all the traditional dishes like the bollito and they were delicious. It was cheap because technically you are eating on top of a butcher shop and the highest quality because you are eating on top of a butcher shop!
This is a great no-frills and big flavor lunch. Have an open mind and don't look at the menu – ask him if you can try a lot of things and they'll do the work for you.
Address: Inside Sant'Ambrogio Market
Hours: 7 am – 2 pm | Closed Sunday
l'Trippaio Di Sant'Ambrogio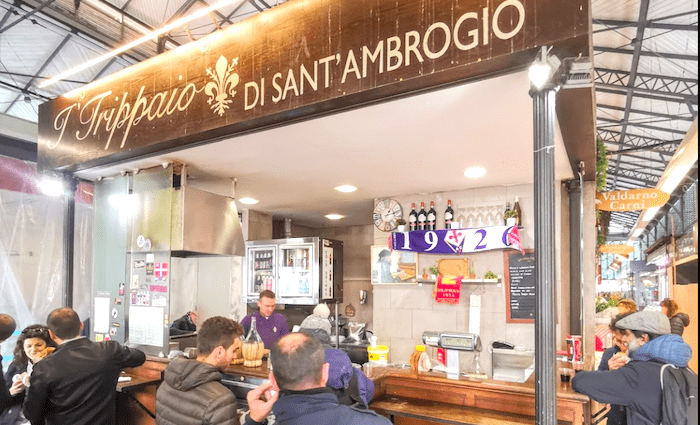 € | Take away | Sant'Ambrogio Market | Lampredotto Sandwich
L'Trippaio has possibly the best lampredotto and trippa sandwich in all of Florence along with other traditional Florentine delicacies that draw in locals for lunch. This is more of a quick cheap lunch spot in Sant'Ambrogio market. They serve other dishes with a rotating daily menu in a street food style that makes l'Trippaio perfect for a quick, tasty, and inexpensive lunch on an action-packed day of sightseeing. This makes it the best budget place to eat in Santa Croce.
Address: Inside Sant'Ambrogio Market
Hours: 7 am – 2 pm | Closed Sunday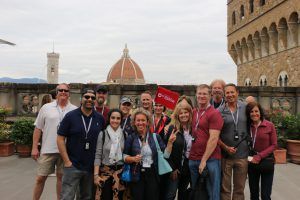 Doing a tour in Florence is by far the best way to understand the sites through the eyes of a local. Our tours in Florence are competitively priced and we keep our groups small. Check out our Florence Tours and make your Florence stay unforgettable.
Panificio Chicco di Grano
€ | Bakery | Take away
Panificio Chicco di Grano is an institution inside the Sant'Ambrogio market. This is due to the attention to detail they take in preparing dough and baking it. A panificio translates to "bread shop" but means much more in Italian. A good panificio really will make anything that is made out of dough or even flour. Panificio has delicious sandwiches, pizza, pastries and even tiramisù!
Address: Inside Sant Ambrogio Market
Hours: 7 am – 2 pm | Closed Sunday
Enoteca Pinchiorri***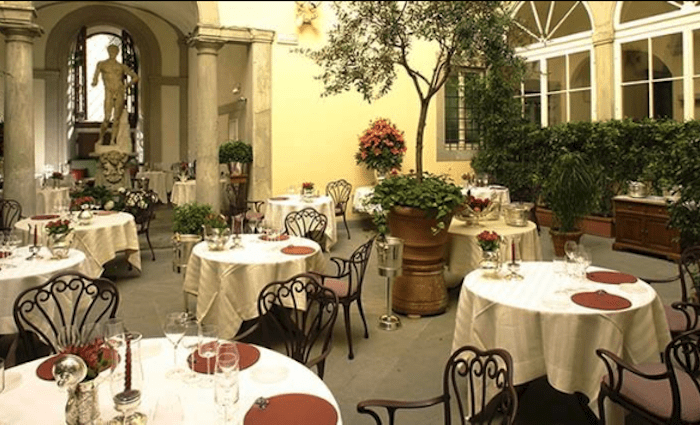 €€€€ | Outdoor Seating | 3 Michelin Stars | Best Restaurants on Earth
Enoteca Pinchiorri has been in it's location in Florence since 1984. In 1993, it was awarded 3 Michelin stars which it has maintained since then. In 2008, it was voted the 32nd best restaurant in the world. The restaurant not only has 3 Michelin stars but 3 chefs; Annie Feolde, Italo Bassi, and Riccardo Monco.
I honestly can say I am not a talented enough writer to accurately describe the quality of food you will eat here. You have to imagine that they have earned 3 stars which means they operate on a completely different level. My recommendation is to bring lots of money, an empty stomach, and dress fancy.
Enoteca Pinchiorri is without a doubt the best restaurant in Florence. It is also without a doubt the most expensive restaurant in Florence. If you have the money then you should go.
Address: Via Ghibellina, 87
Hours: 7:30 – 10 pm Tues – Th | 12:30 – 3pm Fri – Sun
Note di Vino
€€ | Wine Bar | Outdoor Seating
Note di Vino is an excellent choice for a night out in the Santa Croce area. It is filled with locals and internationals enjoying wine and appetizers. Their reviews are so great for a few reasons. First, they have a great view of Santa Croce Basilica from outside. Second, they have really good prices on a large selection of wines. Lastly, they have delicious meat boards and finger food apps which are also at great prices.
You can choose this for an afternoon or evening glass of wine while sightseeing in the area or make a special trip over to the Santa Croce neighborhood for this little gem. It is totally worth it!
Address: Borgo dei Greci, 4
Hours: 11:30 am – 11 pm
Il Cibrèo Trattoria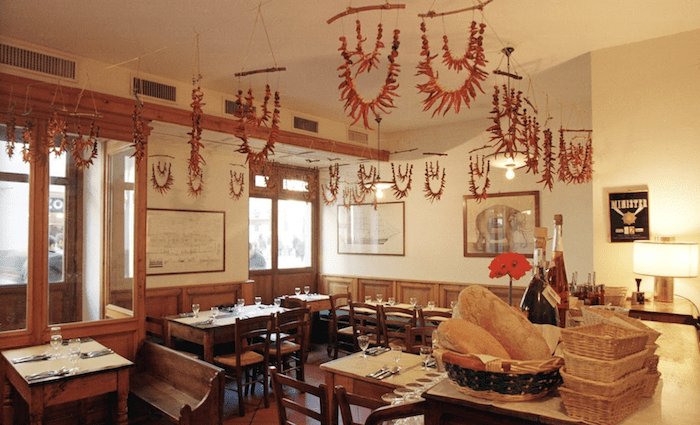 €€ | Traditional Tuscan | Family Friendly
Cibréo is not a restaurant but a Florentine institution for traditional cuisine in the heart of Santa Croce. They are named after a typical Florentine stew, cibrèo, that Catherine di Medici tried to export to France, unsuccessfully, when she moved to Paris.
The restaurant is crowded and they won't take reservations so it is first come first serve. Their outdoor seating will fill up fast on a nice day for lunch so I recommend showing up a bit early to get your seat. Everything they serve is good quality so pick freely off the menu and consider asking a waiter for the best results. They are one of the most widely known restaurants in Santa Croce.
Address: Via dei Macci, 122r
Hours: 12:40 – 2:30 pm | 6:50 – 11:15 pm | Closed Sunday & Monday
Trattoria Moderna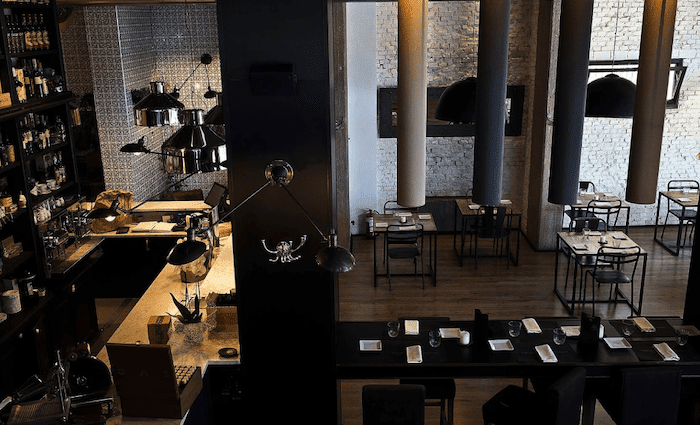 €€€ | Contemporary | Modern Atmosphere
Trattoria Moderna is a very cool and modern place to have a contemporary Tuscan meal seated with locals and visitors alike. This makes it one of the most interesting restaurants near Santa Croce and one of my favorites. Prices are a little high but you get fine dining quality food at a much lower price. It is wildly popular in Florence so expect service to not meet western standards.
Address: Lungarno del Tempio, 52
Hours: 12 – 2:30 pm | 7:30 – 10:30 pm | Closed
Dont forget to check out our Florence food tour. It's led by local foodies who are passionate about local food and folklore.
Related Articles