Looking for different local foods and dishes you should try in Florence? You came to the right place but be aware… some of our Florence recommendations may scare you!
This article is dedicated to the best local food and drinks you should have on your radar while visiting Florence.
---
Related Lists
---
Top 11 Foods and Drinks to Try in Florence
Florence is a small village with a high visitor count in the region of Tuscany. It was its own kingdom until the late 19th century and the home of the famous Medici dynasty along with countless artists and scholars. Dante Alighieri was from Florence and due to his divine comedy, the Florentine dialect is considered the "correct" spoken language of Italy.
The Florentine and Tuscan cuisines are extremely similar if not even the same. The recipes are all based on hearty vegetables as mushrooms and legumes served with gamey meats like rabbit and wild boar. They also have a very particular bread made without salt which takes some getting used to. All the most important dishes are below along with where you should get them. I also added an interesting tidbit about DOP at the end of my list that you should read!
1. Bistecca Fiorentina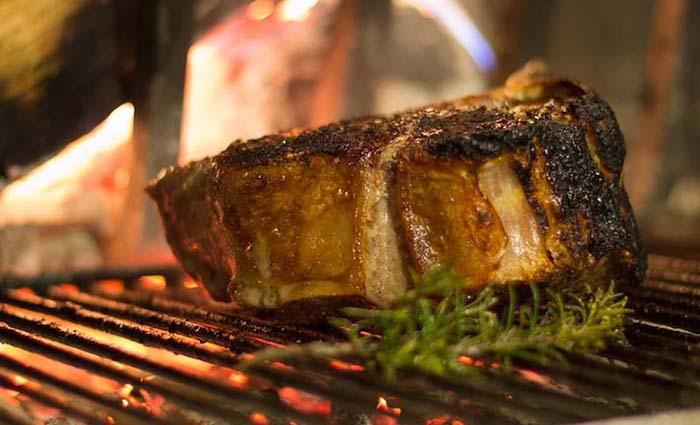 The Bistecca Fiorentina is what it sounds like – a Florentine Steak. The cut of meat can be veal or from a heifer cattle which is a cow that has not birthed a calf yet. Furthermore, it must be taken from a Chianina breed of cattle that have origins in Siena. Before ordering this steak you should know it is commonly served rare.
Like most Italian recipes, there is no fancy marinade to bring flavor to the dish. The flavor comes from the high-quality cut of meat and salt brings that flavor-forward. That said, salt or pepper cannot be added until after it is cooked.
To be a "Fiorentina" it must be grilled over hot coals. The steak is bone-in and comparative to the American T-Bone. You obviously must place it on the grill at room temperature so take it out of the fridge 30 minutes before cooking.
In my research, I have seen an article from Eataly and other English language websites recommending to cook this with rosemary and sage which may be a tasty recipe but it is not the authentic Florentine recipe. You can use rosemary to the plate as a garnish but do not let it touch the steak.
If you search "ricetta bistecca alla fiorentina" you'll get all the Italian recipes for this dish. They may be difficult to read but they contain 4 ingredients. The steak, salt (sale), pepper (pepe), and EVOO (olio).
A side recommendation is if you ever want to cook an Italian dish, search "ricetta" which means recipe and allow your browser to translate the page. English versions of Italian recipes are exactly that – versions. If you want the real thing, you'll have to come to Florence to get it.
Where to get it: We run a food tour in Florence that includes the Bistecca Fiorentina which is an amazing experience. We make updates and changes to our food tours annually to make sure they are the highest quality.
2. Lampredotto & Trippa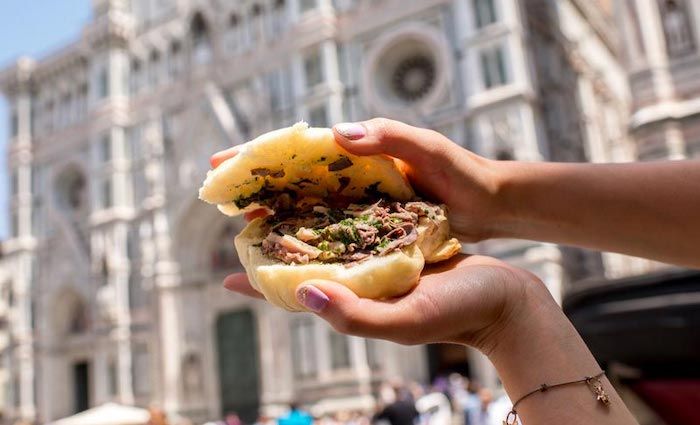 Do you consider yourself daring? If so, find a great Lampredotto stand and have a sandwich prepared out of the fourth stomach of a cow.
How would anyone even think up this dish? Imagine you are a poor farmer and you want to provide for your family. You've invested in a cow and want to get the most from it. Being the marketing-genius farmer you are, you start experimenting with dishes using less desirable parts of the animal to increase your yield per animal. The result is Lampredotto.
It may not have happened exactly like that but you get the point. Lampredotto is likely the product of trying to get the most out of each animal to feed the general population in times where wealth and food were not in abundance. Today, it is a local favorite and definite street food. Lampredotto is commonly served as a sandwich. Some say it is delicious and others cringe at the sight. You'll only know if you try it!
Where to get it: Chiosco del Lampredotto.
3. Cervello Fritto (Fried Brains)
Yes, the brain of an animal fried. Similarly to Lampredotto, the goal was to use as much of the animal as possible – especially parts that contained protein. Fried brain is what it is – which is delicious.
It is made from the brain of a veal calf. The process of cooking it is mostly preparation. Like many tuscan dishes, you soak the meat (brain!) in water with lemon for some time. The process of cooking it is simply to batter and fry it.
Where to get it: Foody Farm Florence (Not always on the menu but often)
4. Coniglio Arrosto Morto
Something that is eaten frequently in Italy but rarely in the English speaking countries is rabbit. Rabbit is a delicious dish if prepared correctly and something you almost definitely must try when in Florence. It has the same texture as chicken but actually has flavor (yes, that was a jab at chicken).
Now, the name of this dish is quite interesting. Roasted Dead Rabbit is the literal translation. It is a very basic dish with minimal ingredients and amazing flavor. That is because it is cooked slowly with high quality fresh ingredients. If in Florence or Tuscany, you should consider rabbit for a nice warm lunch on a cool day.
5. Ribollita
Ribollita is, for lack of a better description, is where it's at. Its a bean, bread and black cabbage (like kale) soup. It has all types of other vegetables like carrots, onions, celery, and more. Super hearty and warm on a cool Tuscan day.
Where to get it: Da Nerbone in Mercato Centrale
6. Pappardelle al Ragù di Cinghiale
Papparedelle are long thin noodles normally of an egg base. They are hearty and filling. A popular Florentine and Tuscan dish is the Ragù di Cinghiale which is made from wild boar (pork).
Easily one of my favorite dishes in Italy, this is a hearty pasta dish that is full of the types of flavor that only wild game can bring. It is a must-try dish while visiting Florence.
What is a ragù?
Beef, pork, onion, carrot, celery and tomato are the main ingredients of a ragù, which is a popular Italian recipe with different versions throughout the peninsula. A ragù is not a jarred tomato sauce brand. In Italy, the only tomato sauce that comes from a jar is something called polpa or passata. This is basically tomatoes that are already broken down into their liquid form so they can then be cooked accompanied by other ingredients. No self-respecting Italian would purchase pre-made tomato sauce.
Where to get it: Osteria Cinghiale Bianco
7. Schiacciata alla Fiorentina
This is a very typical Florentine cake. Like many Italian cakes and cookies, it's not overly sweet or overly topped. It is a simple cake with light orange and vanilla flavors. You can eat a piece of it without feeling like you have to run a half-marathon the next morning but still delicious.
It is the more Florentine of Florentine desserts. Often if even is served with the Giglio (Florentine Flower/Crest) on the top. You haven't really been to Florence unless you've had a piece!
Where to get it: Forno Top
8. Schiacciata con l'uva
This little treat looks more decant than the latter, but made mostly with fresh fruit as the filling. There is only six spoon fulls of sugar in the entire cake! Instead, lots of grapes bring an amazing sweet flavor to this cake.
Both of the dishes could be eaten for breakfast as many Italian treats are.
Where to get it: Forno Top
9. Brunello di Montalcino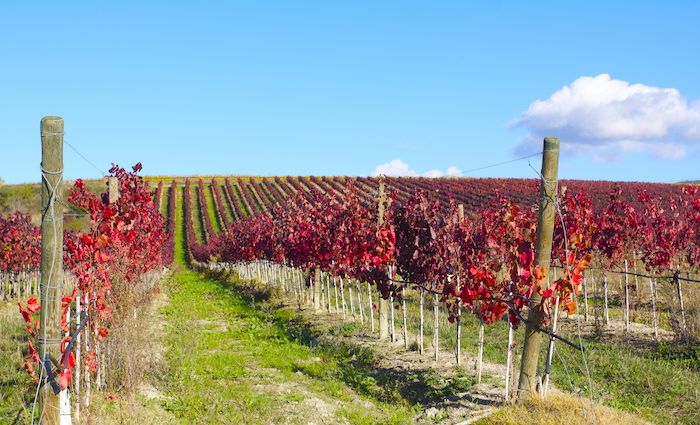 A good Brunello is a deep red powerful wine that will explode in your mouth. Not overly fruity with a great floral smell. Cherry and rose are going to be the main flavors and expect a great earthy smell. It will fill your mouth with flavor and expect a long finish.
If you are drinking this stateside or in the UK/Australia, you will normally pay out the nose for a bottle that is far too young to be drunk. In Florence, you can find a decent to superb bottle for 50€ – 60€ at dinner that would likely cost you $200+ in N. America at a restaurant.
If you're planning a special dinner and want something to knock your socks off, Brunello is the key.
Where to get it: You can get Brunello in almost any restaurant in Florence. If you want to drink it on site we organize day trips to Montalcino from Rome and Florence.
10. Vernaccia di San Gimignano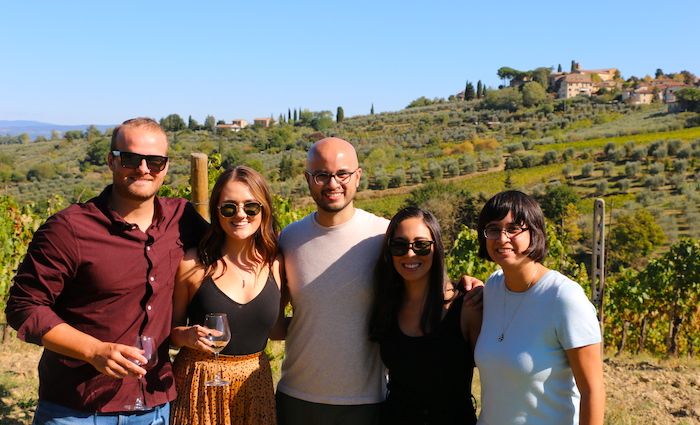 Vernaccia is named after the grape it is produced from. It is grown and produced most commonly near San Gimignano in Tuscany since the Renaissance.
Vernaccia is normally a strong wine with a bouquet of saffron, flower and honey. It is a powerful grape with a distinctive flavor that locals love.
Where to get it: Just about any restaurant in Florence but we have a small group day trip to Chianti that goes to Siena, San Gimignano and a vineyard in Chianti for lunch. Vernaccia is on the menu!
11. Dinner & Drinks in Santo Spirito
The Santo Spirito district of Florence is a great area to go out if you want to get away from the hustle and bustle of central Florence. Remember, Florence is very small so you can easily walk there from your accommodation on the other side of the river.
You'd probably want to start your evening off in Piazza Santo Spirito and take it from there. If you are looking for a really local evening, go to Piazza della Passera. Basically every restaurant in the piazza is great but 5 e cinque is the most local. You can have desert at the restaurant or get gelato at Gelateria Della Passera. Finally, drinks at Caffè degli Artigiani which is typical Italian. Grab a drink, stand outside, and talk about food.
"Local" normally does not mean "super nice". If you are looking for something more bella figura you should hang in Piazza Santo Spirito. There are a few places to eat, mainly Osteria Santo Spirito which is simple and good. Then you can have a simple drink outside at Pop Café in the piazza.
If you want to really do Santo Spirito "right" you should head here early, 5pm, and walk through the Pitti Palace and Boboli Gardens before they close at 6:30 pm. These were the former residence of the Medici Family and occupy most of Santo Spirito. Worth checking out.
What is DOP?
I need to vent about DOP which stands for Denominazione di Origine Protetta. It is basically a government term that defines a product's origins. Almost every dish below is protected by DOP. You can't call bread Pane Toscano unless it follows the rules of DOP. Over 400 wines and 160 foods are protected by DOP. Why am I venting?
I am venting because they don't have this in the states. There are strict laws in Italy if you want to call your cheese Parmigiano that ensures you are getting high quality cheese. That is why it is so expensive in your home country. However, you can make it in Wisconsin using whatever process you want and call it Parmesan without issuess.
I went to Napa in 2019 and was even more frustrated that any vineyard that produces wine in Napa Valley can put "Napa" on the label even if the wine comes from another wine region just as long as it is fermented and bottled in Napa. You pay a premium for those four letters, Napa, to be on the bottle. In Italy, or even all of Europe, you'd get shut down for this and lose all credibility.
This is something that should change in the states but you should understand when going to Italy, if something is labeled "DOP".
Related Lists